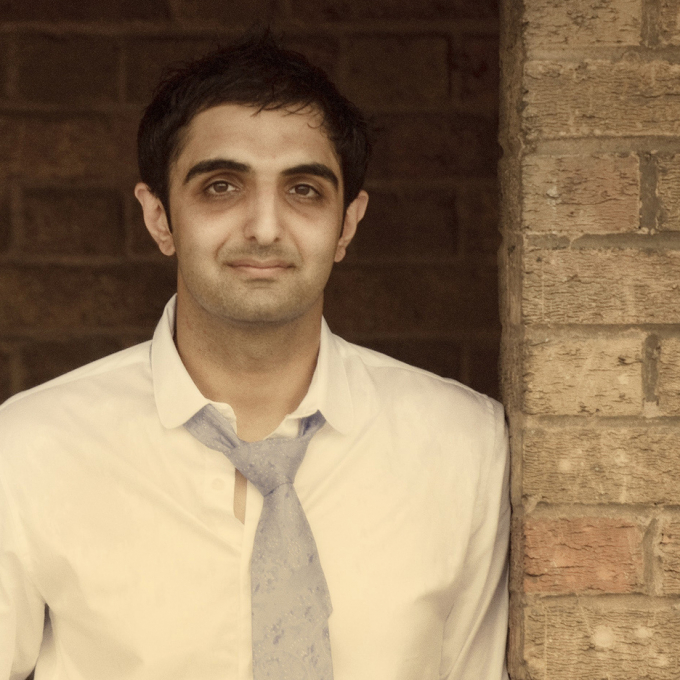 Biography
Sunjeev Sahota was born in 1981 and grew up in Chesterfield, Derbyshire.
His background is Sikh, and his paternal grandparents emigrated from the Punjab region of India in 1966. Sahota had not encountered a novel until he was 18, when he read Salman Rushdie's Midnight's Children; although he had studied GCSE English, there were no novels on the syllabus. He studied mathematics at Imperial College in London, and at this time began to read fiction voraciously. He began to think about writing himself after the terrorist attacks on London in July 2005.
Identified by the Observer as one of the 'Faces to watch' in 2011, his first novel Ours are the Streets was published that year to widespread acclaim. A thoughtful and absorbing debut, it is written from the point of view of a young British-Pakistani man who decides to become a suicide bomber.
Set between Sheffield, Pakistan and Afghanistan, the novel is narrated by Imtiaz, a second-generation immigrant who marries and has a child with a white woman in Sheffield, but who is drawn into association with a group of extremist Islamists during a visit to Pakistan for his father's funeral.
Ours are the Streets was nominated for the Daily Mail Award for Original Paperback Fiction 2011 and the East Midlands Book Award 2012.
His second novel, The Year of the Runaways, was shortlisted for the Man Booker prize in 2015.
Critical perspective
Addressing a newsworthy and hugely contentious subject with great sensitivity, Sunjeev Sahota's absorbing debut novel Ours are the Streets (2011) is told from the point of view of a young British-Pakistani man, Imtiaz, who decides to become a suicide bomber.
Neither didactic nor moralistic, the novel is written as a confessional account committed to paper by its narrator, to be read after his death by his wife, child and extended family: 'I guess knowing you're going to die makes you want to talk'. To his young daughter he writes:
'Noor, my little soldier, I learnt when I went away that any land that attacks your homeland or your Muslim brothers and sisters has to face the consequences of its decisions. Always remember that and carry it with you.'
Such jihadist sentiment is rarely expressed in the novel, but the multifaceted, unresolved notion of a 'homeland', and the question of what constitutes home drives much of the narrative. Imtiaz's eventual involvement in radical Islamism seems more a matter of circumstance, motivated less by religious zealotry than by the desire of an outsider to feel a sense of belonging following his father's death. Sahota himself has observed that, like the 2010 Chris Morris film Four Lions, the novel places much emphasis on the friendship and brotherhood between the young men (leftlion.co.uk, 21 May 2012).
Entering adulthood in Sheffield, Imtiaz has few friends apart from his white girlfriend and later wife, Bekha: their relationship is sketched with warmth and humour, without lapsing into sentimentality or resorting to clichéd observations on racial difference. The young man is disgusted by the drunken revellers who vomit and urinate in his father's taxi, and feels dislocated from the urban environment around him: 'I look out the window and all I can see are row after row of semi-detached houses, Toyotas parked out front, and I don't understand how these people can invest so much hope in those things.'
However, when he travels to Pakistan for his father's funeral he is also made to feel an outsider, as his English accent is mocked and he is cast as a 'valetiya'. From a distance England must be recast in new terms: questioned about his marriage he describes Meersbrook, the district of Sheffield in which his wife grew up, as 'a hill station on the banks of the River Don'. Travelling to Kashmir and on to Afghanistan, continually on the defensive with his companions, Imtiaz initially seems unsure of where 'home' is, before affirming with ill-founded relief that 'I'd found my people'.
Attempting to describe the difficulties faced by second generation immigrants in England to his unresponsive uncle in the ancestral village in Pakistan, he outlines the awkwardness of his position:
'"Honestly Tauji. We don't really know what we're about, I guess. Who we are, what we're here for." But that weren't nothing like what I wanted to say. Even to me it just sounded like the usual crap I'd been hearing for years. I wanted to talk about why I felt fine rooting for Liverpool, in a quiet way, but not England. I wanted to talk about why I found myself defending Muslims against whites and whites against Muslims. [...] "I mean, we're the ones stuck in the middle of everything. Like we're not sure whose side we're meant to be on, you know?"'
The narrator's claustrophobic introversion perhaps hinders the novel's development, however, and, as a number of critics have suggested, Imtiaz's apparent identity crisis fails to offer convincing explanation for his decision to move from passively supporting attacks on US troops in Afghanistan to actively planning an attack on an English shopping centre. It is hard to draw connections between the suburban domestic settings in which much of the novel's action unfolds, and Imtiaz's oft-expressed worries about his marriage and his daughter, with his barely sketched plans for destruction. Whilst the avoidance of an artificial, cataclysmic turning point is admirable, the increasing unreliability of the narrator as he retreats into paranoid seclusion means that the novel drifts as it draws to a close.
The contemporary political context for the actions of the young men is notably muted, and tends to be rendered through the medium of television: the novel refers little to the Anglo-American invasions of Afghanistan and Iraq, and Sahota refuses to exploit a chilling and tense encounter between Imtiaz and an American soldier just over the Afghan border for symbolic purposes.
Ours are the Streets is a hugely promising debut. Through Imtiaz's British-Pakistani dialect, Sahota writes with a restrained and refined palette, and descriptive passages have a rare precision and beauty. In Kashmir:
'the air generally felt much cleaner than it did at home in Lahore, as if each morning it were freshly rinsed out. At that hour it were like a fine new damp green ash were clung to my face. The sun would still just be all orange water spread across the horizon, backlighting the mountains in a roseglow, and down in the city the first lorries would be making their silent way along the river road and out of Muzaffarabad.'
Sahota is currently working on a second novel, to be set in Sheffield and addressing the lives of illegal immigrants.
Dr Guy Woodward, 2013