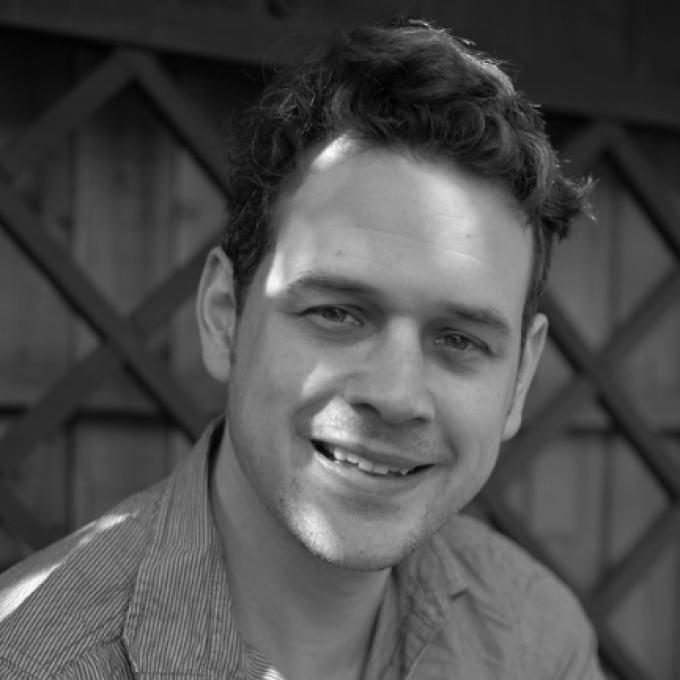 Luke Kennard
Publishers:
Agents:
Biography
Luke Kennard was born in Kingston-upon-Thames in 1981 and grew up in Luton.
He is a poet and writer of fiction. He holds a PhD in English from the University of Exeter and lectures in creative writing at the University of Birmingham.
Kennard won an Eric Gregory award in 2005 for his first collection of prose poems The Solex Brothers (2005, Stride Books). His second collection of poetry The Harbour Beyond the Movie (2007) was shortlisted for the Forward Prize for Best Collection in 2007 making him the youngest poet ever to be nominated for the award.
His third book, The Migraine Hotel, was published in by Salt in 2009 and a pamphlet, Planet-Shaped Horse, was published by Nine Arches Press in 2011. His latest collection, A Lost Expression, was published by Salt in 2012.
His first fiction publication, Holophin (Penned in the Margins, 2012), won the Saboteur Award for Best Novella 2013.
He also writes for the stage and radio and has taken numerous productions to the Edinburgh Fringe Festival.
Critical perspective
Kennard is one of Britain's most irreverent and energetic young poets, whose versatile work rests on a highly distinctive fusion of dark wit and playful absurdity. In his own terms, he tries to discover "serious uses for surrealism." And his varied output dances across generic borders from black comedy to science fiction, propelled by narrative drive and a frantic engagement with the contemporary world around him.
Over the course of four collections of poetry and one short novel he has made a name for himself as at an early age. At 26, Kennard was the youngest-ever nominee for the Forward Prize in 2007 for his second collection, The Harbour Beyond the Movie.
Writing in the Guardian in 2009 Sarah Crown called Kennard, "that rare commodity… both excellent and laugh-out-loud funny". Radio 3's Ian McMillan has hailed him in the Times as "a truly 21st-century writer, taking inspiration from all over the place, unafraid of barriers and conventions."  In Poetry London in 2010 Todd Swift argued that Luke Kennard is "one of the half-dozen thoroughly original poets of his generation, in some ways its young Auden."
Yet he is resistant to easy labels for what he does. "I do believe that poetry can be beautiful, but I'm so wary of the romantic ideas about it," he has told the Times, "There are all sorts of assumptions that go with the word 'poet' that I don't feel comfortable with at all."
Kennard prefers to see writing in a more matter of fact way, "as an act of communication." He explained in 2011 to 3AM Magazine that"it's incredibly rewarding when someone gets it and painful when someone doesn't. But imagining that you deserve a sensitive and dedicated audience, wanting the approval of strangers: that's kind of a mental illness. I'd be doing this, whether anyone was paying attention or not. I'm very, very, very lucky and I'm aware of that."
Explaining his process further at the Greenbelt festival in 2009, he noted that "The poems that I like the most, even if they are strange, are the ones where I think, 'I've thought that, I've had that feeling before, but I've never been able to put it into words.' That's what I want my poetry to do to give people that sense of recognition, either through humour or through an honest self-evisceration."
Formally, Kennard is impressively versatile, ranging from violently interrupted dialogue-driven free verse pieces to more traditionally stanzaic forms. Above all, perhaps, he is known for his experiments in prose poems.  The pieces in The Migraine Hotel (2009) for example, were almost entirely in this mode, exploring the ways in which the seeming freedoms of page width and reader expectation merge with older forms of lyric concision. His work is also know for its use of persona, most obviously his re-occuring alter ego 'Wolf', and uses these mouthpieces to create a Beckettian comedy of voice, based on some of the unique take on theoretical principles  Kennard memorably deconstructed in his riff on Barthes in his poem 'The Author:
Throughout his collections, various thematic threads have come to dominate. Kennard's scenarios typically take place in the darker corners of the soul, taking in violence, competitiveness, schadenfreude, envy and self-hatred, all framed with a voice that is stridently frank. This has allowed him to handle important contemporary themes from psychotherapy to national identity in a deceptively light way. The result is a mix that is accusatory, bracing and often hysterical. "Not since Larkin" Todd Swift rightly notes, "has a poet written so often about death and sex – but this time, with even more candour."
This confident mixture of honesty and impious brio has helped him gain a respectful following, particularly among his peer. In Todd Swift's terms, Kennard exerts a great influence over the British poetry scene. His acclaimed collections of poetry have "introduced an entirely new and distinct style to poetry in the UK … Among poets under thirty-five or so he is almost revered and often imitated. No one else has been able to navigate so cleverly the choppy waters he's claimed for his own. This is modern poetry revisited."
And indeed, it is possible to read Kennard in terms of a dialogue between contradictory influences, all of which he has somehow managed to assimilate. On the surface, there is an explicit grotesque iconoclasm reminiscent of Charles Baudelaire, but Kennard reveals a hinterland that is much more unexpected. One that stretches from early immersion in E.E. Cummings ("The first poetry book I remember reading - picking it off the shelf by chance") to a stint as an apprentice to dominant stylists of British fiction (he recalls the advice received by his younger self to "'Stop trying to write like Martin Amis.' I hadn't realised how obvious my homage was.")
But perhaps most evident is his debt to the New York School of poets, including John Ashberry and Frank O'Hara. "Reading the New York School at the age of 16" he has told 3AM Magazine, "was the first thing that made me even vaguely interested in poetry. I couldn't believe they hadn't had more of an influence in this country. (I subsequently discovered Lee Harwood, Mark Ford, John Ash, John Hartley Williams).
Part of this inheritance explains his deft handling of humour and wit. The comic element is much remarked upon, with critics such as the Guardian's Sarah Crown praising his "sui generis brand of didactic humour." He has won awards for his comedy writing from the National Student Drama Festival. As the promoters at Next Generation Poets put it, "Luke Kennard is a … curator of absurdities, not an autobiographer. Funnier than most, his wit is self-deprecating and utterly snark-free."
From his New York School influences, we might also trace a characteristically American mixture of high and low, a sense that Kennard has been explicit to trace broader features of US culture.  "This is a sweeping statement," he told 3Am Magazine, but I think America has a sustainable literary culture whereas we're committing cultural suicide. And it's because they're comfortable with combining high and low; Playboy, Esquire, Harpers, publishes literary fiction. Same goes for music. I don't know what I would have done in my teenage years without Pavement, Yo La Tengo, Smog, Palace Brothers."
Yet Kennard is at pains to point out that he is nonetheless an explicitly political poet, and like most humourists his work rests on a deeper underlying ethical vision. "I use a vaguely surreal aesthetic but it's massively personal and inherently political." he told  3AM Magazine in 2011.
Kennard has also recently expanded into fiction. 2012's Holophin imagined a dystopian future world, in which memories are aided by a must-have gadget in the form of a tiny, dolphin-shaped microprocessor which cures users of their worst impulses and phobias.  As one might expect from his poetry, this is not a straightforward science fiction piece. Rather, it shared with his other writings the hallucinatory and caustic comic tone that allows him to meditate on identity, technology and the imagination. Blurring the lines between fiction, verse, poetry and prose, the Telegraph hailed it as "a sparky, image-rich novella that reboots familiar genre themes and makes them prettier."
As he develops from enfant terrible to respected tastemaker of the British poetry scene, Kennard can look back on a career that has refused categorization. In particular, he has risen above that spectacular early Forward Prize recognition.   "That was probably the most psychologically damaging thing that could have happened to me" he wryly noted in 3am Magazine, "it's opened up a lifetime of delusion and self-importance" --- one that the rest of his career has sought to "exorcise"
Bibliography
2007
The Harbour Beyond the Movie