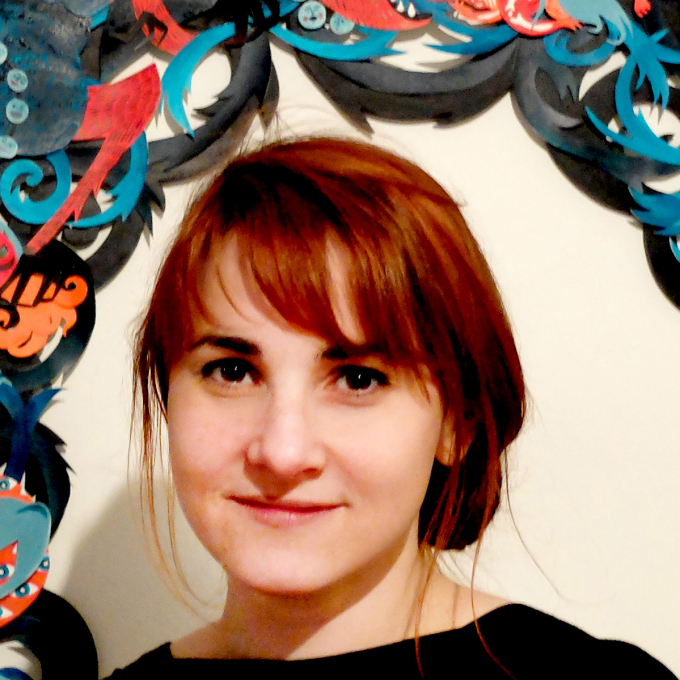 Karrie Fransman
Publishers:
Agents:
William Morris Agency (UK)
Biography
Karrie Fransman was born in Edinburgh. She studied psychology and sociology at the University of Leeds and has worked in advertising, writing and art-directing press, poster and television advertisements.
Her series of comic strips, 'My Peculiar World', was featured in The Guardian for two years until March 2009. She has also done 'reportage' comics for magazines The New Statesman, Time Out and Psychologies. Her story 'The Night I Lost My Love' ran for 20 weekly episodes in The Times during 2009.
Her first book, The House That Groaned, was The Observer's Graphic Novel of the Month in February 2012. It depicts the interconnected lives of the six flat tenants in a decaying town house. The book has an interactive website: www.thehousethatgroaned.com
She developed an award winning comic, 'Over, Under, Sideways, Down' about an Iranian teenage refugee, for The British Red Cross, created an installation for the British Council and Southbank Centre and was commissioned to make a 'Selves Portrait' for an exhibition with Manchester Art Gallery and the National Portrait Gallery. 
Death of the Artist, a mixed media graphic novel, was published by Jonathan Cape in 2015 and was awarded a grant from the Arts Council England. It concerns a reunion of college friends at a cottage in the Derbyshire Peak District, using watercolours, digital art, photography, collage and illustrations.
She has run comic art workshops and spoken at many events in the UK and worldwide, including in Beirut (June, 2012). During 2013 she appeared at the Kosmopolis Literary Festival in Barcelona, the Passa Porta Festival in Brussels, the Festival of European Short Stories in Zagreb, Croatia; and at the Hay Festival in Dhaka, Bangladesh. In 2014 she appeared at the Bastia Comics Festival in Corsica (April 2014). Most recently she has been at the Guadalajara Book Fair in Mexico (November 2015).
Interviews and further information on her current and past projects, publications and workshops can be found on her website: www.karriefransman.com
Critical perspective
The front cover of Karrie Fransman's graphic novel The House That Groaned (2012) is also the front of the house itself, coloured blue at night, with its six flats illuminated by a sickly yellow light. To properly see what is going on within, and the house's skeleton of pipes and timbers, we have to open it up. Three of the inhabitants are mundanely working or relaxing; one tenant appears absent. In another flat, a man is kissing a bald woman – and in a top flat, a food orgy with several naked women is taking place.
Such deliciously perverse scenarios tend to characterise Fransman's art as a comic creator. She seeks to engage emotionally then surprise readers' expectations with tongue-in-cheek shocks, psychological and gender twists, occasionally 'adult' sexual content. Language itself is given an ingenious physicality, often shown assaulting or wrapping itself around her characters.
In interviews, Fransman has remarked that she was 'reared on picture books', in particular Maurice Sendak's subversive Where the Wild Things Are (1963) and Kit Williams' Masquerade (1979), whose beautiful illustrations contained clues to a real-life treasure hunt for a golden hare. She also found Daniel Clowes' Ghost World inspirational. [Beetroot Books Blog, 14 June 2012]
Significantly, she didn't take an art college degree, instead studying psychology and sociology. Such choices not only gave her cartoon art a certain self-taught freedom but also psychological edge in depicting perennial anxieties – usually women's - about safety, job prospects, love lives, and especially bodies. The sly satirical or anarchic humour can be viewed as Freudian displacements of fear.
Such themes appear throughout her apprentice works, black-and-white cartoons and comic strips (dated from 2005 to 2007) which can be viewed on her website. There are slapstick jokes about food ('At Dinner with my Cousin'), satires of contemporary television ('Trasha'). The stresses of childhood and family life are fertile subjects. 'The Super Sonic Hearing Aid' shows a small girl impressing schoolfriends with her new powers. Fransman's vein of humorous fearful fantasy develops, as do her visual metaphors about relationships and bodies: 'All Consuming' has a man's huge pair of lips swallowing up his girlfriend, who glowers in his stomach before being spat out. 'Ghost Houses' summons up 'African beasts and Glaswegian ghosts', bringing to mind Fuseli's famous 18th Century Gothic painting 'The Nightmare'.
'My Peculiar World', her comic strips for The Guardian , are often situation comedies (such as the embarrassment of asking in a pharmacy for a cystitis cure) or about social dilemmas (friends arguing over a restaurant bill). Characters are highly stylised, usually shown in profile with big eyes and a vulnerable expression (especially 'Karrie'). In 'Alarming Thoughts', the dire consequences of not getting up for work in the morning are elaborated. A surreal element emerges, as in 'Weird Weather', in which an eyeball looks out from the sun, as do anxious about the female body ('Calf Surgery'). In 'Elektra Complexities', a boyfriend says: 'Karrie. No boy is ever going to love you as well as your parents'.
Her characters (notably Barbara in The House That Groaned) are often looking for love, a search that seldom ends well. Indeed, in 'The Night I Lost My Love', Ilona and Brendan become separated during a strange party and she goes on an all-night quest for her boyfriend. It's a story full of quirky encounters and funny details. Despairing, Ilona accepts a lift from an ice-cream van man, who shows her photos of his kids called Caramel, Raspberry Ripple and Butterscotch ('You could say I'm a bit of a flake'), then turns nasty. Eventually she is counselled by a café waitress: 'Honey, losing people and learning to let go is life's most valuable lesson'.
In a review of The House That Groaned, Paul Gravett recalls that at the Comica 2010 Festival exhibition he curated, Fransman's exhibit was her own childhood dolls' house, 'which she gutted and redecorated to narrate a creepy story, which could be read by looking into its windows from room to room' [PG Previews, January 2012]. The dolls' house concept is influential throughout the book; the characters have what she calls 'puff-faces'. In one of several significant flashbacks to childhood traumas, Barbara tearfully insists she wants to be 'just like Barbie'. And shy would-be lover Matt, examining her comatose body intimately after rescuing her from a gas leak, finds her 'beautiful. Like a doll'. Such overt voyeurism, problematic morality - and filmic traits – brings to mind Alfred Hitchcock's Rear Window, exhibiting a similar fascination with looking: into other people's lives, their motives, and bodies.
141 Rottin Road turns out to be as rotten as the name suggests, as its six life stories unfold in parallel, humorously yet horribly. They are variously sad (divorcee Janet, running her 'Do or Diet' group), lonely (elderly widow Mrs Durbach), or weird (Brian, turned on by women with facial disfigurements). Most formidable is the ever-swelling Marion, who tells us: 'I'm on a diet of hedonism'. We as viewers flashback to her alcoholic neglectful parents and schoolgirl rebellion, 'fed up of having our bodies constrained by society's demands'. Yet her joyous pursuit of sex and food is shown ultimately to be shallow and uncaring. Meanwhile, Janet gets a succession of phone calls from The Midnight Feast Front, tantalizing her with luscious food descriptions and sexual innuendos. Refusing to be a victim, she goes upstairs in search of her tormentors – or perhaps liberators. Such a tale, told in shades of dark blue, black and white, cannot end happily. Except that it does for two of them, who muse: 'maybe it's worth getting to know your neighbours after all'.
Her book, Death of the Artist, has been described as 'a tale about growing up and the birth and death of each stage of your life. The story is about me and a group of old university friends who reunite and spend a hedonistic weekend at a cottage in the Peak District', during which they create an anthology of comics. It's a mixed media work of watercolours, digital art, photography, collage and illustrations; clearly stretching the form of the graphic novel itself. Such experimentalism, grasp of psychology and playful sense of humour makes Karrie Fransman one of the most distinctive artists in the currently vibrant comic art scene in Britain and internationally.
Dr Jules Smith, 2014