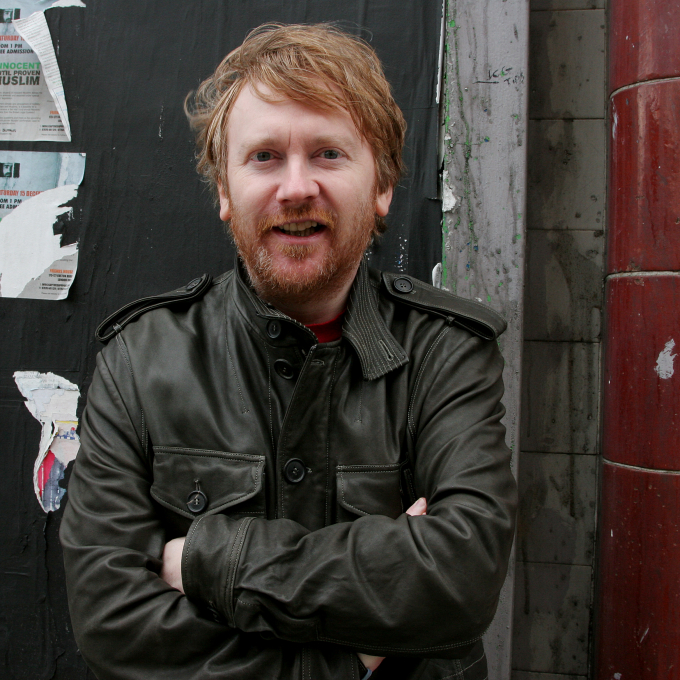 Paul Farley
Publishers:
Agents:
Biography
Poet Paul Farley was born in Liverpool, England in 1965 and studied at the Chelsea School of Art.
He won the Arvon Poetry Competition in 1996 and his first collection of poetry, The Boy from the Chemist is Here to See You (1998), won the Forward Poetry Prize for Best First Collection, was shortlisted for the Whitbread Poetry Award and won a Somerset Maugham Award. He was named Sunday Times Young Writer of the Year in 1999.
He received an Arts Council Writers' Award in 2000 for his new collection of poems, The Ice Age (2002), which was shortlisted for the T. S. Eliot Prize, and won the Whitbread Poetry Award in 2003. In 2004, he was named as one of the Poetry Book Society's 'Next Generation' poets. Further collections are Tramp in Flames (2006) and The Atlantic Tunnel: Selected Poems (2010).
Paul Farley was writer in residence at the Wordsworth Trust, Grasmere, from 2000-2002, and currently lectures in Creative Writing at the University of Lancaster. He also writes radio drama, and several plays have been broadcast on BBC Radio. Field Recordings: BBC Poems 1998-2008 (2009), gathers all his broadcast poetry from the last ten years, with author notes. It was shortlisted for the 2010 Ted Hughes Award for New Work in Poetry. He has also contributed articles on arts and literature to many national newspapers.
In 2007 he edited John Clare (Poet to Poet), and in 2009, his book of non-fiction, Edgelands: Journeys into England's Last Wilderness (2010), written with Michael Symmons Roberts, won the 2009 Jerwood Prize for Non-Fiction.
His latest poetry collection is The Dark Film (2012).
Critical perspective
Within the 24 lines of 'Liverpool Disappears for a Billionth of a Second', which won the 2006 Forward Poetry Prize (Best Single Poem), a series of scenes occur, linked by the title's mysterious scenario.
These show people sitting down for dinner, a train entering a tunnel, 'starlings in shoal, seagulls abandoning / cathedral ledges', and a strange vision of Liverpool: 'all that sandstone out to sea / or meshed into the quarters of Cologne'. They are cut into each other almost cinematically, arising from dreams or memories. Such associations are strengthened by the closing lines, which admit 'I've felt it a few times when I've gone home, / if anything, more often now I'm old'. Farley indeed habitually re-creates what he has called 'a Liverpool of the mind'. This he achieves with an artful mosaic of past and present, a wide grasp of popular culture as well as the specifics of his home city.
Paul Farley is one of the most culturally wide-ranging of current British poets. Born in the mid-1960s, his imagination is equally likely to refer to film, television, pop music and modern art as to literature. His work is free-flowing yet able to give sonnets and other poetic forms the feel of conversation; in this, he looks back more to Auden and Larkin than to 'the Liverpool Poets' Roger McGough, Brian Patten and Adrian Henri (though he shares the latter's feeling for pop art and music). Larkin particularly seems to be his model for mixing the demotic with elevated poetic imagery. But his work also has affinities with contemporaries such as Simon Armitage and Don Paterson. Farley has expressed his interest 'in writing poems 'with character … in that their rhythms have that living / talking / breathing elasticity and believability', often using 'things I overheard years ago; family stories; a phrase from a lost book; things I didn't know I remembered' (Poetry Book Society Bulletin, 2002).
The latter phrase is particularly appropriate for his first volume, The Boy from the Chemist is Here to See You (1998). Numerous Liverpool settings and references occur, for instance 'Cream' (a well-known dance club), Anfield ('A Minute's Silence') and a remembrance of school buses 'winding on their final destination / and we would end up here: PIER HEAD' ('Termini'). Easily its most memorable use of the city as a backdrop is in 'Laws of Gravity', which gives us a window cleaner's precarious viewpoint, 'a hundred rungs above a fifties street'. The narrator is reading from the window cleaner's ledger, 'a guidebook to the port he knew / intimately – its guano-coated ledges, / its weathervanes, his birds-eye river view'. As readers we get to know their thoughts and (by implication) their family relationship, 'where our stories overlap'. We also register a now changed cityscape and its working lives. Yet there are 'no guidebooks' to that vanished 1950s city now, and the poem brings them together: 'this attempt to build it, brick by brick, / descends the page. I'll hold the foot for you'.
The Ice Age (2002) won the Whitbread Poetry Award. Introducing the book, Farley himself made the distinction between writing 'about' as well as 'from' memory, intending to do both. This is nicely borne out in 'Thorns', the longest poem and the one that most clearly engages with the processes of memory, looking back 'as into a thorn bush: / never some easy flashback, / more a tangle to be handled with due care'. The scenario – the narrator summoning up his teenage years on a Liverpool council estate – emerges as a tangled bush of family memories. These include the lost world of his grandfather ('who lived just long enough to see us go decimal') serving in the First World War, and a vignette of his mother. Then, out of the bush, his own teenage self tells him some home truths. Having confronted the past, the narrator observes: 'My speech is still a thorny, north-west stew; I walk along each public right-of-way / a trespasser; there is no single view / worth taking'. Another outstanding poem, 'The Landing Stage', is more elegiac and moving, concerning as it does taking a relative down to the Mersey's edge: 'I'm hoping the river's moods and play of light // might kindle a sentence, or raise you from the deep / and empty stare that gives nothing back'. For this again is about re-creating the past; both the narrator's childhood, and of the relative who is losing her memory. The latter is 'a woman in a wheelchair / who read to me', and the poem goes on to represent her early working life, her 'oxygen-sensitive memory'.
'The Front', the opening poem of Tramp in Flames (2006), has a significance that only emerges when one considers it as a tribute to the opening scene of Terence Davies' film Distant Voices, Still Lives – a study of which Farley published in the same year. Put simply: the film, set in Liverpool, opens with rain pouring down; the poem concludes with 'rain as thick / as diesel slicking the windows'. Cinematic effects are not uncommon in Farley's work, and here the poem suggests a camera's 'full pan from north to south', while the weather front is 'freeze-framed'. Elsewhere, there are other explicit invocations of films – especially associated with childhood viewing – such as Ray Harryhausen's animations in Jason and the Argonauts, and Ursula Andress stepping from the flame in She ('The Lapse'). The book ends with a list of childhood incidents, including 'running up the ramp of the apron at The Abbey [cinema] and touching the screen, expecting it to be warm'. But perhaps the predominant note is that of elegy. In 'The Anecdote', Farley gives us glimpses of the artist Eduardo Paolozzi late in life ('one of my heroes'), and the longest poem, 'Requiem for a Friend', is an evocation of a poetic mentor, the late Michael Donaghy, which concludes by asking for his help: 'in your own way, / as far-off things can help us: deep within'.
Farley's study of Distant Voices, Still Lives was published in the British Film Institute's 'Modern Classics' series in 2006, responding to Davies' highly poetic if emotionally harrowing film about a Catholic working-class family. As well as their Liverpool connection, Farley and Davies are both preoccupied with representing the past artistically; they habitually draw upon music and visual art. He delights in identifying these features and motifs in the film, in sections titled 'Rain', 'House', 'Family', 'Poetry', 'Movies' and 'Afterlives'. Farley was particularly struck by 'its ways with time and memory, which it treats as an architectural thing, as building block and at the same time something fluid and musical'. The film ends with Rose and Tony's marriage in the late 1950s, and Farley concludes his study with an ingenious comparison to Larkin's contemporaneous poem 'The Whitsun Weddings', which carries 'a similar weighty cargo: the hopes and ambitions of a generation'. The book is a fascinating personal response to the film, as well as reflecting Paul Farley's own concerns.
Dr Jules Smith, 2008
Bibliography
2010
Edgelands: Journeys into England's Last Wilderness
2010
The Atlantic Tunnel: Selected Poems
2009
Field Recordings: BBC Proms 1998-2008
2007
John Clare (Poet to Poet)
2006
Distant Voices, Still Lives
1998
The Boy from the Chemist is Here to See You
Awards
2012
Foyles Best Book of Ideas
2012
Poetry Book Society Choice
2009
Forward Poetry Prize (Best Single Poem)
2009
Jerwood Prize for Non-Fiction
2009
Society of Authors Travel Award
2006
Forward Poetry Prize (Best Poetry Collection of the Year)
2005
Forward Poetry Prize (Best Single Poem)
2002
Whitbread Poetry Award
1999
Somerset Maugham Award
1999
Sunday Times Young Writer of the Year Award
1998
Forward Poetry Prize (Best First Collection)
1998
Whitbread Poetry Award
1997
Geoffrey Dearmer Memorial Prize