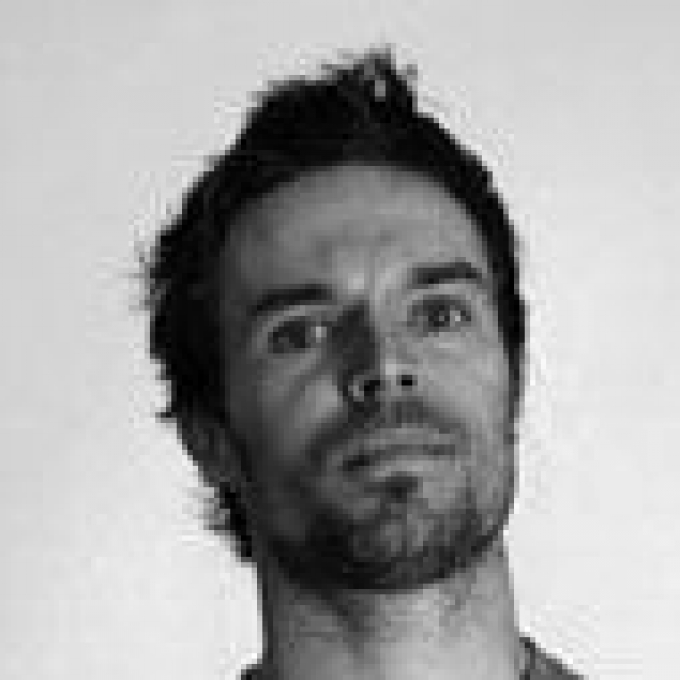 Oliver Jeffers
Publishers:
Biography
From figurative painting and installation to illustration and picture-book making, Oliver Jeffers' work takes many forms. His distinctive paintings have been exhibited in multiple cities, including Lazarides Gallery and the National Portrait Gallery in London, the Brooklyn Museum and Spring Break Fair (Armory Week) in New York, and Gestalten Space in Berlin. 
Oliver's picture books — including The Incredible Book Eating Boy (2006),  This Moose Belongs to Me (2012), The Day Crayons Quit (2013) and its sequel The Day The Crayons Came Home (2015, both #1 NYTimes Bestsellers) and Once Upon an Alphabet (2014) — have been translated into over 30 languages. Working in collaboration with Studio AKA, Oliver's second book Lost and Found (2005) was developed into an animated short film that has received over sixty awards, including a BAFTA for Best Animated Short Film. 
Picture book awards include the The New York Times Best Illustrated Books, Smarties Award, Irish Book of the Year, The Red House Book Award, British Book Design Award, and The Blue Peter Book of the Year. Oliver won a NY Emmy in 2010 for his collaborative work with the artist and director Mac Premo. In 2013 Oliver co-directed with Mac Premo the video for Ordinary Love by U2, and more recently made art for, and helped art direct, U2's Innocence and Experience World Tour. 
Oliver is from Belfast, Northern Ireland, and now lives and works in Brooklyn, New York.
Critical perspective
A widely-acclaimed painter and illustrator, Oliver Jeffers continues to be best known for his series of picture books for young children.
In the first three of these books: How to Catch a Star (2004), Lost and Found (2005), and The Way Back Home (2007) we follow the adventures of an unnamed boy (a sort of 'everyboy') as he returns a penguin to the South Pole, or tries to catch a star, or journeys to the moon. This blue-eyed hero whose prominent nose dominates an otherwise featureless face (no hair, no eyebrows, no lips, no ears, only occasionally a mouth) is always dressed in a red-striped jumper, with blue trousers covering his stilt-like legs (for he has no feet, either). This unusual sounding, but surprisingly ordinary-looking boy lives in a detached house in an unidentifiable suburban location. If this little boy has parents, they are always absent. Perhaps this absence explains the touching, dysfunctional friendships that the boy goes to the ends of the earth to forge: with a penguin, a star, and then an alien. There is an existential quality to this little lad lost in the universe, an orphan-like figure who features in Oliver Jeffers' entrancing artwork as a minimalist blob within a gigantic landscape.
The beautifully spare washes that fill the pages of these books are not conventional 'illustrations' in the sense that they do more than simply illustrate or form a backdrop to the text. Jeffers' innovative style allows him to 'plot' by brush rather than pen, to foreground image over language. Sometimes he adopts and adapts a comic book format through a sequence of images; at other times the images are devoid of text so that the adult reader is forced to narrate spontaneously, or let the pictures speak for themselves. It is the relationship between words and images that particularly excites Oliver Jeffers, who has said in interview: '[u]ntil I got really involved, I hadn't realised how just a few words can totally change the meaning of a picture.'
If the plots of Jeffers' stories seem surreal and fantastical, what brings them alive is their insistent connection to the ordinary, the mundane and the everyday. This may be a boy on improbable and epic quests, but he still finds time to eat his lunch and dinner, or have a bath. In a brilliant comic episode in The Way Back Home, the boy jumps from the moon and swims back home in order to get the things he and the alien will need to fix their flying machines (the pair have crash-landed on the moon). However, when we turn the next page we find the boy, having reached home, slouched on a chair in his living room eating popcorn and watching his favourite tv programme with the now portly-looking penguin from Lost and Found. On the opposite page the alien looks at his watch in the darkness of outer space before the boy 'suddenly remembered what he should be doing and rushed off to the cupboard to get what he needed'.  It is these ordinary diversions that make the stories faithful to a sort of reality (always important for a young audience), even as they indulge our fantasies. The central conceit of How to Catch a Star, that a boy finds and befriends a star, works so well because the tale carries a very plausible, everyday explanation, it is a starfish (not a fallen star) that the boy has found. As Joanna Carey observed recently in a Guardian interview with Jeffers:
'In some ways, Jeffers's drawing is childlike - almost schematic - but it is never demeaning or condescending. Together, the plangent simplicity of the drawing and the powerful emotions of the boy make these stories genuinely moving. With a gentle humour and an airy touch, free of extraneous detail, he celebrates the emotional freedom of the child whose imagination is not yet weighed down by the limitations of reality.'
Jeffers takes his readers in a slightly different direction with The Incredible Book Eating Boy (2006). The 'look' of the book is instantly recognisable but the range of painting materials and techniques is multiplied, with many of the pages somewhere between collage and palimpsest. The hero of this narrative is Henry, a boy who is not just metaphorically 'consumed' by storytelling, but who literally consumes storybooks. The more Henry eats, the brighter he becomes, until he eventually discovers that (as with all consumables) there are down sides to an unbalanced diet. The Incredible Book Eating Boy generated much critical praise on publication, along with numerous groan-worthy puns: The Guardian described it as 'mouth-wateringly irresistible', The Observer said 'this is a book that children will devour', while the Times Educational Supplement concluded 'The whole thing looks good enough to eat'.
In The Great Paper Caper (2008) the physical materials of the book itself are once again under threat in a 'green' whodunit that invites its readers to rip up the text's covers and recycle them for aeroplanes. Centred on the mysterious decline and fall of a forest, Jeffers develops a salutary ecocritical tale for young children, while all the time avoiding preacherly messages and self-righteous tones. Jeffers' latest work, The Heart and the Bottle (2010) tackles an even more sensitive issue: the death of a parent, and the ensuing relationship between love and loss as seen through the eyes of a little girl. Containing a cameo appearance by the unnamed hero of the early books, Jeffers sensitivity, style and sense of humour carry what might in other hands been a risky plot.
For me though, the ultimate litmus test of Oliver Jeffers' success has to be as a father rather than a critic. Having two young boys aged two and four who night after night remain equally engrossed by the entire Jeffers collection, speaks volumes to me. Indiscriminate and passive readers these are not!
Dr James Procter, 2010
Bibliography
2015
The Day the Crayons Came Home
2014
Stay Where You Are And Then Leave
2014
Once Upon An Alphabet: Short Stories for All the Letters
2013
Five Go to Smugglers Top
2013
The Day the Crayons Quit
2013
The Terrible Things That Happened to Barnaby Brocket
2012
The Boy Who Swam with Piranhas
2012
This Moose Belongs to Me
2010
Noah Barleywater Runs Away
2010
The Heart and the Bottle
2008
The Great Paper Caper
2006
The Incredible Book Eating Boy
Awards
2015
Texas Bluebonnet Award
2015
CBI Book of the Year Awards Book of the Year Award
2015
CBI Book of the Year Awards Children's Choice Award
2014
CBI Book of the Year Awards Children's Choice Award
2014
Children's Book Council Children's Choice Book Awards
2014
The Hay Festival of Literature and the Arts Inaugural Hay Medal for an Outstanding Body of Work
2013
Kate Greenaway Medal (shortlist)
2013
Orbil Prize Best Illustrated Book
2013
CBI Book of the Year Awards Honour Award for Illustration
2012
CBI Book of the Year Awards Honour Award for Illustration
2012
Irish Book Awards Junior Children's Book of the Year
2012
The New York Times Book Review Best Illustrated Children's Books
2011
V&A 2011 Book Illustration Award
2010
New York Emmy Awards Best Commercial
2010
New York Emmy Awards Best Graphics
2010
British Book Design and Production Awards
2009
British Academy Children's Awards Best Illustrated Film
2009
Bisto Book of the Year Award
2009
Kate Greenaway Medal
2008
Dublin Airport Authority Irish Children's Book of the Year
2008
Roald Dahl Funny Prize
2007
British Book Awards Children's Book of the Year
2006
Blue Peter Book of the Year Award
2006
Booktrust Early Years Award (Pre-School Award)
2005
Bisto Prize (Ireland)
2005
Kate Greenaway Medal
2005
Nestlé Children's Book Prize (Gold Award)
2004
Booktrust Early Years Award (Best New Illustrator)
Author statement
Oliver Jeffers' practice as an artist is concerned with the difference between things, the space between perceived absolutes. For the last several years Oliver has been interested in the gulf that exists between logical thinking and emotional understanding. His interest in figurative painting stems from its non-objective process: the decisions the artist makes in representing the subject effect how it is viewed. His interest in mathematics stems from its objective process: mathematics strives to explain using universal terminology. His interest in combining mathematics and art comes from the idea that mathematical language can explain the formal aspect of a subject, the same aspect that painting interprets as beauty. That changed the day he met Dr Hugh Morrison, a Quantum Physicist from Queen's University, in conversations they shared about the relationship between traditional figurative painting, human behaviour and mathematics, Jeffers came to realise philosophical similarities shared by either enterprise. He continues to cross examine emotion and logic.