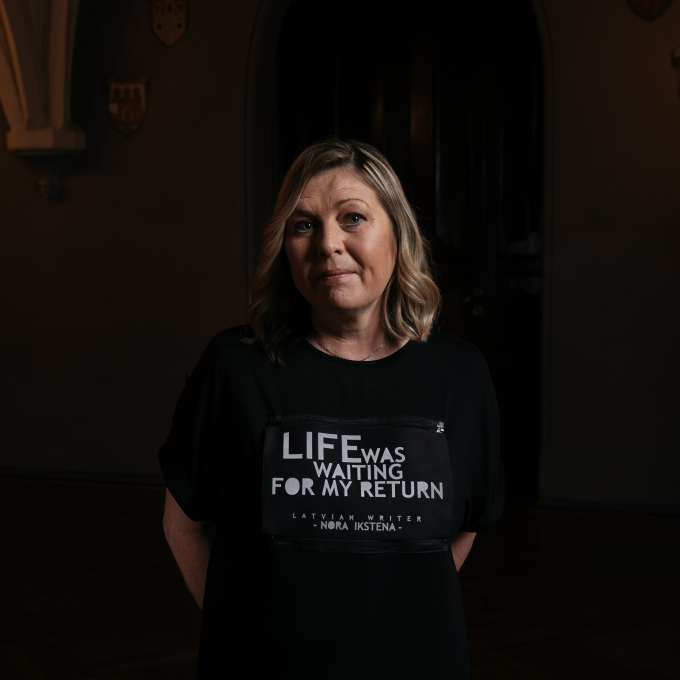 Biography
Nora Ikstena is a prose writer and essayist. Ikstena is one of the most visible and influential prose writers in Latvia, known for elaborat style and detailed approach to language. After obtaining a degree in Philology from the University of Latvia in 1992, she went on to study English literature at Columbia University. In her prose, Nora Ikstena often reflects on life, love, death and faith. Soviet Milk (2015, shortlisted for the Annual Literature Award for best prose), Besa (2012), Celebration of Life (1998), The Virgin's Lesson (2001) are some of her most widely appreciated novels.
The novel Amour Fou has been staged for theatre, and published in Russian (2010); other works have been translated into Lithuanian, Estonian, Georgian, Swedish, Danish, etc. Ikstena is also a prolific author of biographical fiction, non-fiction, scripts, essays, and collections of short prose. Her collection Life Stories (2004) was published in English in 2013, and Hindi in 2015. Her story Elza Kuga's Old Age Dementia was included in the "Best European Fiction 2011" anthology.
Ikstena is an active participant in Latvia's cultural and political life, and a co-founder of the International Writers and Translators' House in Ventspils. In 2006, she received the Baltic Assembly Prize in literature.
Bibliography
2015
Mātes piens / Soviet Milk (Riga: Dienas Grāmata)
2014
Ulubeles pasakas / Fairy-Tales of Ulubele (Riga: Dienas Grāmata)
2013
Dievmātesdraudzene / The Friend of Our Lady (Riga: DienasGrāmata)
2012
Dzīvespriecīgais vakarēdiens / The Joyful Supper (Riga: DienasGrāmata)
2012
Besa (Riga: Mansards)
2011
Vīrs zilajā lietusmētelītī / The Man in a Blue Raincoat (Riga: Dienas Grāmata)
2009
Amour Fou (Riga: Dienas Grāmata)
2009
Šokolādes Jēzus / Chocolate Jesus (Riga: DienasGrāmata)
2007
Esamība ar Regīnu / Being With Regina (Riga: DienasGrāmata)
2006
Sīlis spoguļstiklā / A Jay in the Mirror Glass (Riga: DienasGrāmata)
2004
Dzīvesstāsti / Life Stories (Riga: Atēna)
2002
Pasakas ar beigām / Fairy-tales with Endings (Riga: Pētergailis)
2001
Jaunavas mācība / The Virgin's Lesson (Riga: Atēna)
1998
Dzīves svinēšana / Celebration of Life (Riga: Atēna)
1997
Maldīgas romances / Deceptive Romances (Riga: Jāņasēta)
1995
Nieki un izpriecas / Trifles and Joys (Riga: Karogs)