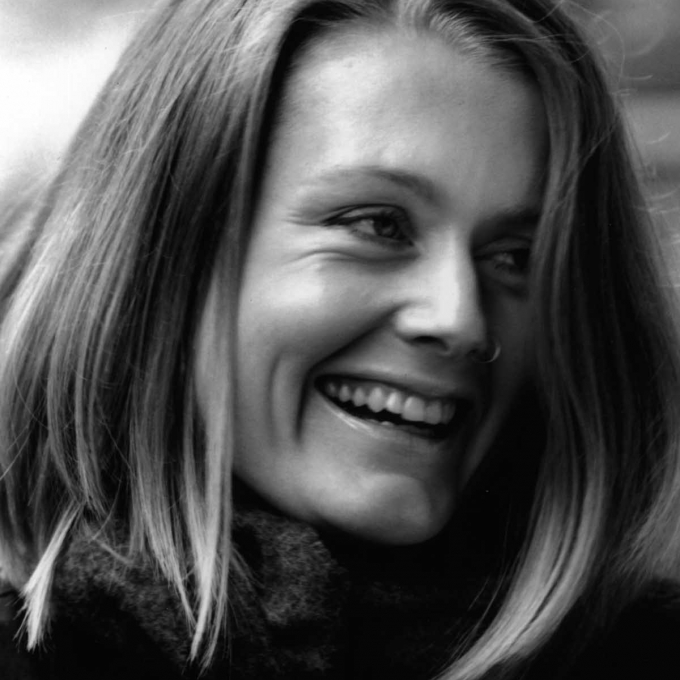 Nicola Barker
Publishers:
Agents:
Biography
Nicola Barker was born in Ely, Cambridgeshire, in 1966.
She spent part of her life in South Africa but returned to England when she was 14. She was educated at King's College, Cambridge.
She is the author of two acclaimed collections of darkly comic and surreal short stories: Love Your Enemies (1993), which won the David Higham Prize for Fiction and the PEN/Macmillan Silver Pen Award, and Heading Inland (1996), which won the Mail on Sunday/John Llewellyn Rhys Prize. A third collection of short stories,The Three Button Trick, was published in June 2003.
Her novels include: Reversed Forecast (1994); Small Holdings (1995); Wide Open (1998), the story of two brothers coming to terms with their past, which won the International IMPAC Dublin Literary Award in 2000; Five Miles from Outer Hope (2000), about a teenage girl living on a small island situated off the Devon coast; and Behindlings, published in 2002.
Clear (2004), was inspired by the transparent plastic box in which David Blaine was suspended near Tower Bridge, London, and Darkmans (2007) is the story of Edward IV's court jester and his biographer. Darkmans was shortlisted for the 2007 Man Booker Prize for Fiction and the 2008 Ondaatje Prize.
The Burley Cross Postbox Theft (2010) was published as both print novel and iPhone app. Her most recent novels areThe Yips (2012), a comic novel set in Luton, In the Approaches (2014) and The Cauliflower (2016). 
Critical perspective
Long a critics' darling among the literary establishment, Nicola Barker has finally been recognised since her Booker nomination for Darkmans (2007) and The Yips (2012) as one of the most distinctive and darkly comic voices in modern English fiction.
Her works combine the neurotic effervescence and free-wheeling experimentalism of David Foster Wallace with the mordant wit of Martin Amis, with whom like she shares an affinity for carnivalesque chronicles of decaying British wastelands. The result is an idiosyncratic alternate universe of gruesome excess and mischief that is as instantly recognisable.
At once comic fabulist and acidic moralist, Barker's shifts in tone are just as recognisable. As Patrick Ness has written, "she is a serious writer, certainly, maybe even a 'serious' one, but it is difficult to think of another contemporary novelist who will so relentlessly pursue the truth and then punctuate it with a honking red nose, who will expose real pain and human complexity while at the same time squirting water in your eye." (The Guardian, 2007)
Her characteristic canvas is an England of forgotten and overlooked landscapes, peopled by outsiders and outcasts. The reader is often forced to find, if not affection for, then recognition of those who are traditionally given scant regard in society. These include the unloved, the unlovable, the ugly and inept. Her settings are often harsh; barely inhabited islands or desolate suburbs are used as apt spaces for the isolated characters. The affection for the outcast is brought about by the humour that is indicative of her oeuvre, which draws on the surreal and black comedy to undermine assumptions of normality, just as her form and style tends to challenge prescriptive expectations of what should be inside a 'proper' novel.
Barker's first published work is a collection of ten short stories, Love Your Enemies (1993). These include 'Layla's Nose Job' and 'The Butcher's Apprentice'. Barker's attraction to the use of the surreal comes into view with these and other stories. Other collections include Heading Inland (1996), and The Three Button Trick (2003), which offers a selection from both this work and Love Your Enemies.
As well as these short story collections, Barker is also a prolific novelist. Her first novel, Reversed Forecast (1994), draws on a betting term for its title and uses bird allergies and gambling as themes. Small Holdings (1995) is set in a park in North London and has Phil, Doug and a one-legged ex-museum curator called Saleem as its main protagonists. In 2003, these novels were re-published together as an omnibus under the main title Reversed Forecast.
In Wide Open (1998), winner of the 2000 International Impac Dublin Literary Award, a bleak atmosphere is created by the majority of the action taking place on the Isle of Sheppey. Violence and paedophilia are strong undercurrents as the emotionally isolated characters seek to escape from their pasts. This is written in such a way as to challenge the reader's expectation of a neat, linear narrative. As though to assert the improbability of those who are so damaged by their history finding a happy ending, closure is avoided. Lives that have been fragmented continue to be fragmented at the end of the novel.
The use of a stark backdrop is maintained in Five Miles From Outer Hope (2000), as a dysfunctional, unbelievably quirky family exist in a ramshackle hotel on an island off the coast of Devon. This is set, for the most part, in the summer of 1981, which is signified playfully with references to the band Soft Cell and reported news of the time. It is narrated by Medve, a 6'3" 16-year-old girl. Her voice sounds authentic, but it is arguable whether the strained musings of a 16-year-old are of universal interest. This work gains weight, however, with the introduction of La Roux, the South African army deserter, and the flash forwards to the future are particularly resonant.
Behindlings (2002) draws on Wesley, who first appeared in the collection Heading Inland. The Behindlings appear to be his followers as Barker investigates the allure of charisma. Alex Clark's review for the Guardian, 'Lost in Fog' (28 September 2002), argues that this work is, at times, bewildering: "Barker's writing is fast-paced and frantic to the point of mania, but it can also be slapdash and pointlessly kooky". That Clark finds this novel praiseworthy overall, perhaps demonstrates Barker's ability to coerce the reader to take interest in her characterisation even when the plot is not wholly understandable.
The stylistic choice to draw on contemporary events, such as the actions of the murderer Jack Henry Abbott being referenced in Five Miles From Outer Hope, can be seen once more in Clear: A Transparent Novel (2004). In the earlier novel, Medve's allusions to actual occurrences often feel artificially imposed as reminders of the era.  In Clear, though, Barker is more fluent in depicting the context. David Blaine and his orchestrated spectacle, in which he lived in a transparent box by the Thames for 44 days without food, is central to the plot. Both the stunt and the crowd's reaction are the main narrative threads. The reaction to his public self-imposed starvation becomes the means for the novel to engage with values in contemporary society. Through the narrator, Adair, a male perspective is offered and is one that equivocates, yet is also obsessed by, the hungry artist. The literary references, including Kafka and Shane, signify a more complex interest in the influence of life on art and vice versa. In 'A Writer's Life: Nicola Barker' in the Telegraph (29 August 2004), Barker recalls how Clear was written over the space of three months as she drew her inspiration from the spirit of the time. The repugnance she felt towards an article in the Guardian written by Catherine Bennett, which celebrated the derision of Blaine, drove Barker to write a letter in his defence in which she argued the contempt shown to Blaine was "bad manners", and her novel followed soon after.
Her next work, Darkmans (2007), can fairly be considered Barker's breakthrough novel. A nearly 900-page epic with only the barest of relatable plots, it takes place in the sprawl of Kent where the Channel Tunnel emerges from the ground to find a cast of drug dealers, refugees, podiatrists and the mysterious historical figure of John Scogin, Edward VI's medieval court jester. This is Barker's re-imagining of an Ashford where the membrane between the contemporary and the distant past is unstuck, resulting in a melange of historical evocation, modern-day social commentary and narrative roller-coaster.
To many, it was her masterpiece. Sam Leith in The Spectator thought it "a visionary epic" (August, 2007). To The Guardian, it was "just the sort of bravura performance that will probably inspire vitriol in a certain breed of reviewer as too ostentatious, too brazen. Pity them, reader, for being unable to embrace such a loud shout of glorious, untidy, angry, joyous life. Barker is a great, restless novelist, and Darkmans is a great, restless novel." (August, 2007). It was shortlisted for the Booker and won the Hawthornden Prize in 2008.
Barker followed this triumph in 2010 by Burley Cross Postbox Theft, a shorter work that also marked a change in geography and tone. Focusing on Skipton PC Roger Topping's investigation into undelivered letters, the novel transforms the quaintness of rolling hills Yorkshire into a Barker-esque world of Little England eccentrics, ill deeds and hidden darkness and delusion. "It may be lightweight when set against the expansiveness of Behindlings, the profundity of Darkmans, or the more serious play of Clear," thought the Guardian, "but for inventiveness and verve, for those wild exaggerations that exactly skewer the truth, no one else comes close". It was also published as an iPhone app, which seems as fittingly bizarre a portal for entering Barker's universe as any other.
The Yips (2012), her second Booker-nominated novel, set its sights back on the condition of England, and was marketed by its publisher as "the filthiest state-of-the-nation novel since Martin Amis's Money". Barker returns us to the Home Counties and to a cast of misfits that spin off from the tale an celebrity ex-golfer of fading glamour, featuring vicars, cancer and coma survivors and sex therapists, all rendered in a novel that is strikingly reliant on extended dialogue. It seemed the culmination of some of the restless energies of the previous works, and a crystallisation of the themes of fame and decay that have concerned Barker from the outset.
However, the critical reception was less unanimous. For Philip Hensher in the Independent, "the result is one of Barker's rare disappointments … the sort of temporary loss of form which even the best novelists can be excused". Clare Lowdon in The New Statesman lamented that "the reader has to run to keep up but when you get there, it isn't worth the effort" (August, 2012).
Such divided response is an inevitable result of what Barker calls the "insane vitality" of her extreme fictional worlds. And ultimately, her status as an acquired taste is a large part of her appeal and mystique. Whether her next work will charm or repel the critics with its oddness, vividness and sheer invention, Barker's voice seems established as a murmuring counter-narrative to early twenty-first century national life.
Dr Julie Ellam, 2006 and Dr Tom Wright, 2013
Bibliography
2010
Burley Cross Postbox Theft
2003
The Three Button Trick: Selected Stories
2000
Five Miles from Outer Hope
Awards
2012
Man Booker Prize (longlist)
2007
Booker Prize (shortlist)
2003
Granta Best of Young British Novelists
2000
International IMPAC Dublin Literary Award
1996
Mail on Sunday/John Llewellyn Rhys Prize
1994
PEN/Macmillan Silver Pen Award
1993
David Higham Prize for Fiction