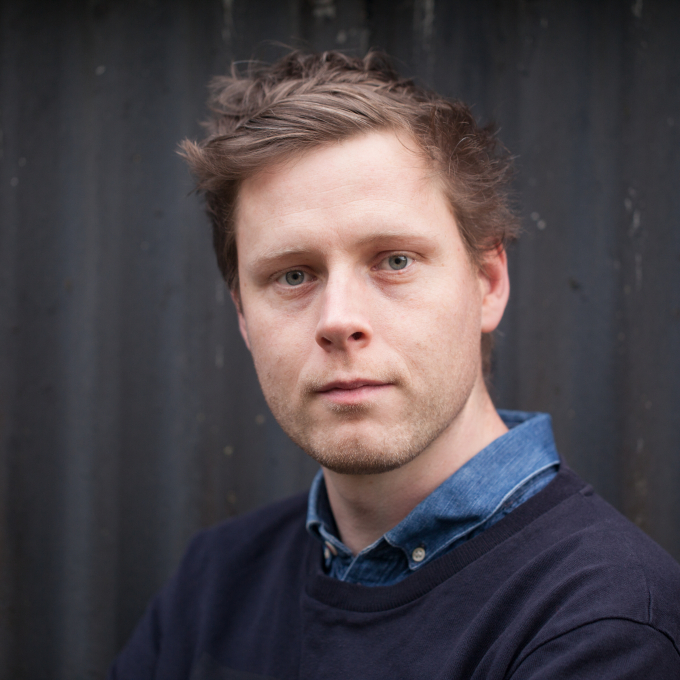 Biography
Max Porter is Editorial Director of Granta and Portobello Books.
His debut novel Grief is the Thing with Feathers was published in 2015 by Faber and was translated into 23 languages. It won the International Dylan Thomas Prize.
He lives in South London with his wife and children. 
Critical perspective
Max Porter's 2015 striking first book Grief is the Thing With Feathers was one of the eeriest, most exuberant and rapturously received fictional debuts in recent British writing.
In a work that Porter has called "a multi-voice fable … a short book which moves between prose, poetry, play script, fairytale and essay" a bereaved Ted Hughes scholar deals with the death of his young wife while raising two small children. The result was hailed as a fantastical mixture of dark comedy and poignant beauty, capturing the contours of mourning, the domestic tenderness of single fatherhood and way that literature helps us cope with life.
The set-up was that of a potentially straightforward misery-memoir. A household is shaken to its foundations by the sudden and unexpected bereavement, whose cause is left deliberately unclear, and Porter transitions between the voice of the father and a unison chorus of the two boys, dipping in and out of each character's distinct style of mourning. As each come to terms with the loss of mother and wife, the result is humane and wrenching. The father shuffles around "waiting for the shock to give way, waiting for any kind of structured feeling to emerge from the organisational fakery of my days." The boys register their loss and the effect on their father: "We guessed and understood that this was a new life and Dad was a different type of Dad now and we were different boys, we were brave new boys without a Mum."
Such subject matter was close to Porter's own childhood experience of parental loss. But rather than capturing these emotions through stark realism, he took a decision that helped liberate the scenario's creative potential. It is very soon revealed that the "thing with feathers" in the title and the crow on its cover are not just figurative. In the opening pages, the doorbell rings late at night, and the Dad opens it to be confronted and carried aloft by a giant bird:
Feathers between my fingers, in my eyes, in my
mouth, beneath me a feathery hammock lifting me up
a foot above the tiled floor.
One shiny jet-black eye as big as my face, blinking
Slowly, in a leathery wrinkled socket, bulging out
from a football-sized testicle.
SHHHHHHHHHHHHHHHH
                                                            shhhhhhhh.
And this is what he said:
I wont leave you until you don't need my anymore.
                                                   Put me down, I said
Not until you say hello.
In this way we are introduced to 'Crow', an anarchic force who becomes part of the household trio of voices, simultaneously (in Porter's terms), "babysitter, counsellor, analyst, mischievous housemate and eventually friend." (ICA interview). Crow's anarchic voice is utterly unique and deftly saves the narrative from the risk of maudlin introspection: the minute that Dad allows the full rush of his loss to wash over him ("I miss her so much it is a vast golden prince, a concert hall … the whole city is my missing her"), the irreverent bird punctures the emotion with caustic bluntness: "Eugh, said Crow, you sound like a fridge magnet." 
As the above passage shows, the book unfolds in prose that is far from conventional. Rather than simply narrate what might still have been an accessible and straightforwardly magical realist conceit, Porter instead embraces the fluid possibilities of style and layout to transform the material into something else entirely. The playful Beckettian exuberance of the language, especially when capturing the utterances of Crow, makes what are dramatic monologues come alive in the readers' ears, chiming with neologisms and assonance. Typography and layout is used just as radically, with paragraphs presented as stanzas, and key moments in the protagonists' confessional flow marked by radical jolts on the page.
As Porter explains it, this innovative style was a product of his career as publishing editor and bookseller, and desire to avoid replicating the kinds of works he saw around him. "It couldn't be imitative of anything else because I didn't want any crossover with what I'm doing in the day or what anyone else is doing" he told The Bookseller, "I read so many conventional novels and non-fiction in my day job so I seek out children's books and poetry and plays, always looking for that electric shock jolt of great things in hybrid forms."
Several of those influences are on clear display in a book that becomes a moving meditation on the consoling power of literature. That allusive sensibility is there from the title onwards, with its twisted invocation of the Emily Dickinson poem "Hope Is The Thing With Feathers," and readers will discover that flashes of other maverick forebears (from Russell Hoban's Ridley Walker to the brothers Grimm or the impish Edgar Allan Poe of 'The Raven') is not just an affectation but part of the theme of the book.  
The most obvious and important reference point is Hughes. The main protagonist is an author struggling to finish the book he is writing called Ted Hughes's "Crow" on the Couch: a Wild Analysis. Porter is vocal about his own long-standing passion for the poet. "At first, I was almost embarrassed," he says. "I thought, 'I can't like Ted Hughes, he's a poet laureate, for God's sake.' But none of the establishment stuff takes away from how dark and brilliant and deep and clever he is." It is the "dirty, messy, shocking" Hughes of the seminal 1970 collection Crow that provides something of the mood and linguistic richness of Grief is the Thing With Feathers, but also Hughes the writer of children's fables just as dark as Porter's.
Nonetheless, Porter is at pains to point out, however, that readers need not know their Hughes to appreciate the book. "I would hate to exclude a reader who hadn't read Crow … it's not Hughes' crow, it's my crow and it's about the obsession of the father with the crow. There are in-jokes in there about Hughes and Faber but they're only a device, I'd hate for people to feel they wouldn't get it. I hope that by using Hughes I haven't limited it in any way but it was so seductive to me, I couldn't resist." (The Bookseller interview)
Reviews for the book were universally positive. Adam Mars Jones in the London Review of Books spoke for many when he praised the "the dance Porter's book does towards and away from various sets of convention, a sort of hesitation waltz or one-person tango." To Sarah Crown in the Guardian it also "reminds publishers that the best book aren't always the ones that can be pigeonholed or precis-ed or neatly packaged." The novel was duly longlisted for the Guardian First Book Award and Goldsmiths Prize, and won the International Dylan Thomas Prize, the Sunday Times Dunlop Writer of the Year Award.
Following this critical endorsement of his talent for innovation, Porter feels breaking the mould of form "won't be such a preoccupation for me next time; I feel as though I've scratched that itch." Most recently he has been immersed in collaborative writing projects relating to his other major interest in visual art and sculpture, as he lets his much-awaited follow-up take shape.
What is certain is that Porter will continue to fight against the constraints of genre.  "For me the point is hybridity" he recently explained, "getting rid of the silo mentality of genre, the idea that poetry and prose need to be separate, that crime fiction and romance never meet. Those are economic things, they're economically determined and it's therefore worth interrogating and mistrusting them as powerfully as you possibly can as a writer." (Storgy interview, 2017).
Tom Wright, 2017