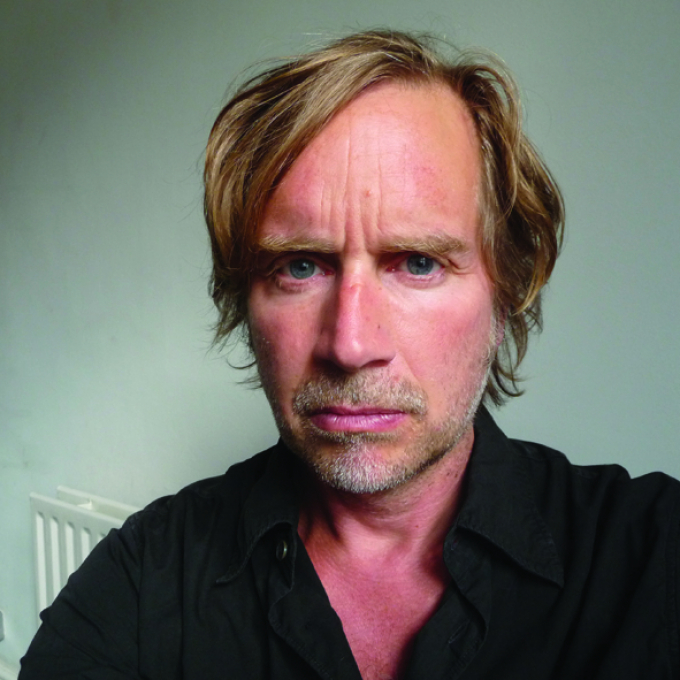 Biography
The poet Mark Waldron was born in New York, and has worked in advertising for many years. His first collection of poems, The Brand New Dark, was published by Salt in 2008, and The Itchy Sea followed in 2011.
Waldron was runner-up in the 2006 New Writing Ventures prize, and he was listed by the Poetry Book Society as a Next Generation Poet in their 2014 list.
He lives in East London.
Critical perspective
Mark Waldron is an observer of contemporary life and its noir absurdities. Having worked in advertising for many years, he is keenly attuned to the commercial culture that infiltrates all aspects of modern life, from the industrial and technological to the personal and sexual, and the ways in which that culture can be subverted and mocked.
Published by Salt, his first full collection of poems, 2008's The Brand New Dark (whose title alludes to the discourse of marketing with which Waldron is professionally familiar), was well received as a 'witty, subversive, often darkly comic' collection of poems — 'full of unusual images and turns of phrase', all 'far removed from the clichés and superficiality of modern commercialism', as Ben Wilkinson noted for the TLS as he observed that 'the world which Waldron deftly unpicks is a bleakly decadent and harrowingly pertinent one'.
Waldron's poetry sharply interrogates the conditions of late modernity with a range of subversive devices and novel perspectives. One of the most effective of these is in the ironic distance he effects through the cast of characters that inhabit his poetry, avatars in which dark impulses can be sublimated. He has himself said that he wants his poetry to have a 'theatrical element' and for it to be 'populated by characters with different voices', a desire that gives shape to the black comedy of his writing, but also hints at some deeper complexity of self. 'A poet once asked me why I don't write about myself', he has remarked. 'I thought that was a bizarre question because I regard everything I write as being about me. It's just that I might dress up as a dog or a prince or a hydrofoil or a stone before I embark on a poem. I do like populating what I write with characters and voices with which I can confront different concerns of mine, or rather characters and voices with which I can confront the same few concerns from different angles. I can sidle up to myself and catch myself with my guard down if I'm dressed up as a puppet (or whatever).'
In introducing his edited anthology of the Best British Poetry 2013, Ahren Warner identified Waldron as a poet 'writing consistently better than virtually any other at the moment'. Waldron's particular brand of deadpan surrealism (with unignorable debts to John Berryman and John Ashbery), which is to the fore in his two collections for Salt, 'mixes the formal with the colloquial, the tragic and the comic, the intensely personal and the comically detached, in a style which is startlingly original without being obscure'. The combination comes off with more engagement and charm than its ingredients might suggest. Indeed, as Wilkinson concluded, 'The Brand New Dark is above all an entertaining collection of accessible poems'. It is 'a book for all the people who don't like poetry as well as for the people who do.'
Reviewing Waldron's follow-up, The Itchy Sea (2011), for the Guardian, Wilkinson found it a 'middling','at times disappointing successor'. He praises Waldron's 'gift for novel perspective with intellectual cunning' — singling out for particular praise the subtle and accomplished efforts 'The Sea' and 'Your Hand' — though finds overall that the collection's poems too often 'settle into second-rate image-making', 'the balance between the fantastical and the truths and pains of life is, in the end, too often awry'. Nevertheless, The Itchy Sea declared itself a continuation of Waldron's signature combination of vivid, original and entertaining vignette-like dissections that 'hold the reader's attention in a world that's full of dazzling distractions'.
Waldron was named by the Poetry Book Society as one of the Next Generation Poets in their once-in-a-decade list in 2014. Their citation for him describes the persona of his poetry as 'a guest at a demented cocktail party', 'surrounded by all manner of riotous and peculiar behaviour which will later be recorded and relayed with a deadpan indulgent smile'. For John Stammers, Waldron's surreal takes on modern life have marked him out as 'the most striking and unusual new voice' in contemporary British poetry. We recognize the oddness of the world we inhabit all the more keenly in the phantasmagoric mirror of his conspicuously innovative wordplay.
Dr James Emmott, 2015