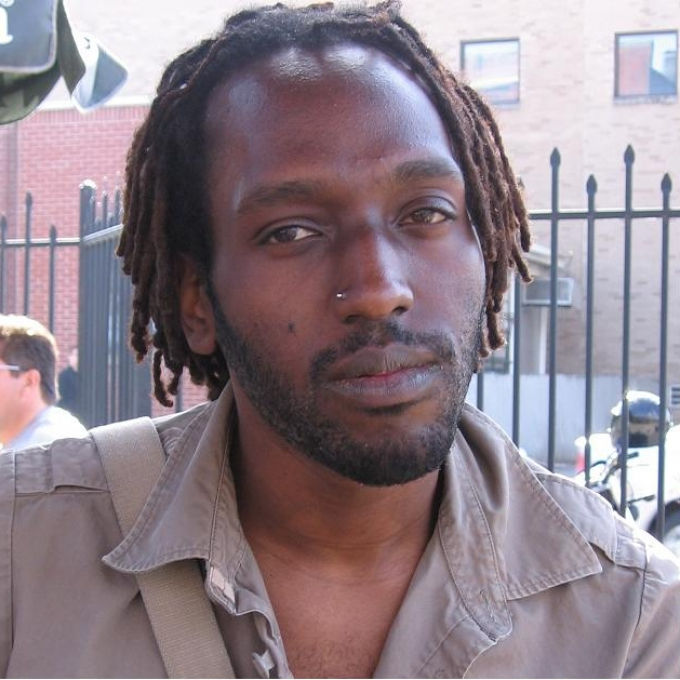 Biography
Kei Miller was born in 1978 and grew up in Kingston, Jamaica.
He studied English at the University of the West Indies and moved to England to study for an MA in Creative Writing at Manchester Metropolitan University in 2004.
His first book was a collection of short stories, Fear of Stones and other stories (2006), shortlisted for a Commonwealth Writers Prize (Caribbean and Canada Region, Best First Book), and this was followed by two poetry collections - Kingdom of Empty Bellies (2006) and There Is An Anger That Moves (2007). His first novel, The Same Earth, was published in 2008.
His most recent books are the novel, The Last Warner Woman (2010), a further poetry collection, A Light Song of Light (2010), shortlisted for the 2010 John Llewellyn-Rhys Memorial Prize and the collection The Cartographer Tries to Map A Way to Zion.
In this new collection Miller dramatises what happens when one system of knowledge, one method of understanding place and territory, comes up against another. The cartographer, used to the scientific methods of assuming control over a place by mapping it ('I never get involved / with the muddy affairs of land'), is gradually compelled to recognise – even to envy – a wholly different understanding of place, as he tries to map his way to the rastaman's eternal city of Zion. As the book unfolds the cartographer learns that, on this island of roads that 'constrict like throats', every place-name comes freighted with history, and not every place that can be named can be found.
Kei Miller has been a visiting writer at York University, Canada; the Department of Library Services in the Britih Virgin Islands; Vera Rubin Fellow at Yaddo; and International Writing Fellow at the University of Iowa.
He is also the editor of New Caribbean Poetry: An Anthology (2007), and teaches Creative Writing at the University of Glasgow. He lives in London.
Critical perspective
Journalism has played a long if neglected role in the formation of 20th-century Caribbean literature, from C.L.R James and Samuel Selvon to Earl Lovelace and Olive Senior. It is perhaps no coincidence then to discover that Kei Miller's grandfather, Percy Miller, worked on the Jamaican Gleaner for much of his life.
Just as V.S. Naipaul famously fictionalized his father, Seepersad Naipaul's, career at the Trinidad Guardian in A House for Mr Biswas (1961), so Kei Miller recalls his grandfather's work in 'First Book of Chronicles':
'My grandfather worked on North Street
Writing articles devoted to yam, seeds,
The art of growing callaloo in rows
As neat as newspaper rows.'
Neat lines of print, callaloo, and poetry converge in Kei Miller's 'chronicle' dedicated to the former editor at the newspaper's 'Farmer's Desk'. What the lines suggest is a connection between everyday life and the printed page that leads Miller to reflect more broadly on the connections between art, writing and life. Movingly, the speaker goes on to recall 'a book my grandfather never wrote', apart from three solitary pages: 'a fiction truer than the earth /he chronicled, a story that would last / longer than the day, destined for more / than the wrapping of fish.' The ambition to the 'timeless' realm of literature that is no longer discarded like the daily paper is rendered impossible by a job that takes up time. Yet if journalistic writing consumes the nascent artist that was his grandfather, it provides the grandson with the raw materials for his own literary craft.
As with much of Miller's writing, this poem has strong biblical resonances that are condensed here in the 'chronicles' of the title. His first collection of poems, The Kingdom of Empty Bellies (2007) combines the Gospel according to St John with the music of Bob Marley, while A Light Song of Light (2010) contains praise songs in a biblical landscape divided by darkness and light. Miller's favourite phrase comes from the Old Testament: 'Write down the vision, make it plain, so that he who readeth may run'. In his novel The Last Warner Woman (2010), it is Adamine Bustamante's visit to a Revivalist Church that seals her fate. Elsewhere, in his collection of stories for teenagers, Fear of Stones and other stories (2006), Miller combines myth, superstition, parable and reality in a series of intense studies of the figure of the outsider in Jamaican society:
'Mary was a woman who knew many things. She knew how to crack eggs in basin of water, leave them overnight and then see if they took the shape of ship or coffin or anything that might signal the future. She knew howling dogs digging up the yard meant that somebody was going to die for sure. Mary knew how to read signs, so that morning when the woodpecker bored his way through, she wiped her onion hands into the floral skirt, looked skywards and whispered a prayer of thanks. It had worked out finally. Lord be praised!'
In these lines from 'Walking on the Tiger Road', the opening story of the collection, Miller shifts seamlessly from the realism of routine domestic details (cracking eggs and onion hands) to a world of symbols and superstition. As Judy Stone puts it in her preface to the collection, the stories share 'an essentially Caribbean magic realism', embracing 'obeah and the supernatural to illuminate the failed in society'.
In The Same Earth (2008), a novel reviewed in The Independent as a 'humorous, bittersweet fiction' that 'combines the fantastical realism of Marquez with the domestic comedy of Andrea Levy', Miller seems to market himself to a more mainstream readership. The Same Earth has also been compared with the popular Alexander McCall books, and the publishers have sought to capitalize on this, including questions and notes for reading groups. None of this seems to compromise Miller's art, however, and the novel more than demonstrates the author's ability as a captivating storyteller full of wit, and lively satirical intelligence. Take this passage from the section titled 'The Silly Thing England Assumed about Her Colonial Subjects':
'Like most mothers, England hoped she had been a good one – and even if she didn't give out much money to her children, she expected at lest that they had learned the important things: how to behave properly and in a civilized manner; how to eat with their mouths closed; how to say please and thank you and cheers, mate! So when the likes of Purletta Johnson arrived, England was taken aback. England was put out. England frowned.'
Shifting between Manchester, England, and Watersgate, Jamaica, there is a relaxed and understated confidence to Miller's fiction that is reminiscent of the early writing of Samuel Selvon, another pioneering novelist on the theme of migration between England and the Caribbean.
In his next novel, The Last Warner Woman, Miller is playful in a quite different way. Here an old Jamaican woman's recollections of her remarkable journey from a leper colony to an unbelieving England becomes an opportunity for narrative experimentation and metafictional self-reflexivity. As finely plotted as The Same Earth, but more self-conscious, this latest book allows the craft of writing to cross into the content of the text in a way that poses, as Scotland on Sunday put it: 'questions about the very nature of storytelling ... [This is] … a novel for those who are prepared to be teased, willing to roll their tongues around colourful patois and willing to suspend disbelief, relinquishing their need for things to turn out as they ought to, in exchange for exploring things as they might be.'
Given the range of the output outlined above it is easy to forget that Miller is still a young man. Nevertheless, he has already been recognized as a major talent by some the region's most important writers, including Lorna Goodison ('Raise high the roofbeams, here comes a strong new presence in poetry') and Olive Senior ('Some of the most exciting poetry I've read in years').
Dr James Procter, 2010
Bibliography
2014
The Cartographer Tries to Map A Way to Zion
2013
Writing Down the Vision: Essays & Prophecies
2010
A Light Song of Light
2010
The Last Warner Woman
2007
New Caribbean Poetry: An Anthology
2007
Kingdom of Empty Bellies
2007
There Is An Anger That Moves
2006
Fear of Stones and other stories
Awards
2014
Forward Prize for Poetry
2014
Costa Book Award for Best Poetry Collection (shortlist)
2014
Next Generation Poet
2014
OCM Bocas Prize for Caribbean Literature
2013
Rex Nettleford Fellow in Cultural Studies
2009
Silver Musgrave Medal from Institute of Jamaica
2007
Commonwealth Writers Prize (Caribbean and Canada Region, Best First Book)
2007
International Writer's Fellowship at the University of Iowa