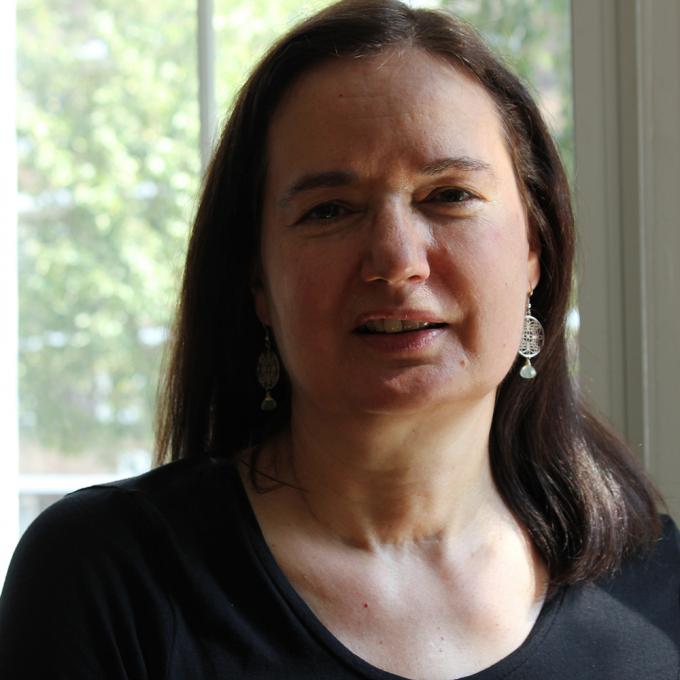 Biography
Poet Jo Shapcott was born in London in 1953.
She was an undergraduate at Trinity College, Dublin. She is Professor of Creative Writing at Royal Holloway College, University of London, where she teaches on the MA in Creative Writing.  She is the current President of The Poetry Society.
Her Book: Poems 1988-1998 (2000), consists of a selection of poetry from her three earlier collections: Electroplating the Baby (1988), which won the Commonwealth Poetry Prize for Best First Collection, Phrase Book (1992), and My Life Asleep (1998), which won the Forward Poetry Prize (Best Collection). She has also won the National Poetry Competition twice. Together with Matthew Sweeney she edited an anthology of contemporary poetry in English, but gathered from around the world, entitled Emergency Kit: Poems for Strange Times (1996).Jo Shapcott has worked with a number of musicians on collaborative projects. She has written lyrics for, or had poems set to music by, composers such as John McCabe, Detlev Glamert, Nigel Osborne, Alec Roth, Erollyn Wallen, Peter Wiegold and John Woolrich. Her poems were set to music by composer Stephen Montague in The Creatures Indoors, premiered by the London Symphony Orchestra at the Barbican Centre in London in 1997. From 2001-2003, during the BBC Proms season, she presented the weekly 'Poetry Proms' on Radio 3.
Her book Tender Taxes, a collection of versions of Rainer Maria Rilke's poems in French, was published in 2002. The Transformers, due for publication in 2010, is a collection of public lectures given by Jo Shapcott as part of her Professorship at Newcastle, and she is co-editor (with Linda Anderson) of a collection of essays about Elizabeth Bishop.  Her translation, with Narguess Farzad, of Poems by Farzaneh Khojandi was published in 2008.
Her latest book of poems is Of Mutability, published in 2010, shortlisted for the Forward Poetry Prize (Best Poetry Collection of the Year) and overall winner of the 2010 Costa Prize.
Critical perspective
In the introduction to her popular anthology Emergency Kit: Poems for Strange Times (1996), Jo Shapcott explains that the idea for it originated in the poetry classes that she – and her co-editor Matthew Sweeney – ran in London during the late 1980s.
They wished to acquaint their students and readers with a range of international poets from the last 50 years, especially American and European, favouring poetry 'which strikes from new and surprising angles'. Among the poets they highlight, prominent are Elizabeth Bishop's 'surrealism of everyday life' and Miroslav Holub's scientific context, and they draw this conclusion: 'Isn't it inevitable, then, that poetry should be written these days which makes free with the boundaries of realism, crossing this way and that, at will?' Perhaps not surprisingly, these elements – surreal, scientific and frequently surprising angles on the everyday – have been essential to Shapcott's own highly engaging poetry.    
She first came to prominence in 1985, winning that year's National Poetry Competition with 'The Surrealists' Summer Convention Came to Our City'. This imagines the playful effect of Surrealist interventions on 'city fathers' and inhabitants: 'It was delightful in the streets / but there was outrage in the suburbs now that / it was no longer safe to stay in at night'. The poem was included in her first collection, Electroplating the Baby (1988), the title poem of which indicates Shapcott's longstanding concern with scientific subjects; or more precisely, as the critic Edna Longley pointed out in the Bloodaxe Book of 20th Century Poetry (2000), her interest 'in the zone where poetry and science meet'. As Shapcott explains, the poem is inspired by Victorian popular science magazines. It describes, in a deadpan humorous manner, a French doctor's method for producing 'indestructible mummies' by electro-metallurgy on cadavers. 'He encloses it in an envelope // of bronze, copper, nickel, silver or gold / according to the wealth or caprice // of those who survive. / Does this waken your curiosity?'
A vein of sardonic humour, distanced by jargon or terminology, is not infrequent in her work – as is the erotic note, delightfully so in 'Love in the Lab'. In this, lust-struck technicians 'touched souls' above the pipettes and, convinced that 'writing is mystical', remove labels from all the specimen jars: 'At dawn, rows of bare glass/ winked at their exhausted coupling/ against the fume cupboard'. Indeed, though she could not be described as an emotional poet, to think of Shapcott as a rationalist would be misleading. Rather, her poems are witty in their intellectual conceits; often dramatic monologues and fables, giving us all kinds of voices – cartoon characters ('Tom and Jerry Visit England'), creatures, a sub-atomic particle and, most famously, The Mad Cow. The latter first appeared as the concluding sequence of Phrase Book (1992), a brilliantly imaginative response to the-then crisis over Mad Cow Disease. Far from presenting the tragedy of farmers or human victims, 'The Mad Cow Talks Back': 'I love the staggers. Suddenly the surface / of the world is ice and I'm a magnificent / skater turning and spinning'. In other satirical angles on the zeitgeist, the cow goes shopping, dancing, works in the City ('I find/ the air in my brain helps combat/ the stress') and even 'Tries to Write the Good Poem': 'The police came once when I was doing my death dance'.
Another significant section of Phrase Book is 'The Windows', a group of 15 poems responding to Rilke's French work Les Fenetres (1927). Not strictly translations, these poems she terms 'after Rilke', allowing the windows to speak, and their reflections of a narrator musing on his absent lover: 'I do want love deep down, somewhere in the back / of my spine / I watch the window now as if she were a woman / stretching the stars / into dawn, everything a lover must know'. She later returns to her preoccupation with Rilke in Tender Taxes (2001), but gives her versions a freer approach. As she explains, she gives voice to his flowers in Les Roses by realizing them as women; with 'an edgier feel' to his pastoral Switzerland poems by relocating them to 'the borders of Wales, where my family has its roots'. 
Her Book: Poems 1988-1998 (2000) is a selection from her work including My Life Asleep (1998). The latter sees the return of The Mad Cow, who 'Is a Vogue Model' ('look / how I am snarling at the photographer') and 'In Space'. Other poems give voice to a bat, pig, cheetah, a 'Quark', and even the humble cabbage: 'We stalk the garden / under the moon discussing politics with politics'. She also extends her repertoire in European poetry with poems after Hans Magnus Enzensberger and Marina Tsvetaeva ('Motherland'). Perhaps the most memorable of all her poems of metamorphosis is put into the voice of the sea goddess mother of Achilles. 'Thetis' has the flavour of Auden's 'The Shield of Achilles', reflecting contemporary horrors of violence through its mythological surface – but from a female viewpoint. Thetis rejoices in her powers of transformation: 'I'm laughing / to feel the surge of other shapes beneath my skin'. But, as she struggles with her rapist Peleus, even taking the form of a tigress can't shake him off. She finds herself 'thrown down, bound, / raped until I bleed from the eyes, / beaten out of shape and forced to bring forth War'.     
Shapcott's critical work has also been significant, for instance in co-editing a collection of essays about the American poet Elizabeth Bishop: Poet of the Periphery (2002). And her engagement with Rilke's French poems formed the subject of 'Speaking through a French Mouth', the first of the public lectures she gave at Newcastle University, where she was a visiting professor during 2001. Her second lecture examined the ways in which writers are influenced by their reading; how the work of G.M. Hopkins was 'transformed' in the works of Elizabeth Bishop, Seamus Heaney and other poets. In her third lecture, Shapcott told a series of stories illuminating the relationship between readers and writers. These three lectures are collected in The Transformers (forthcoming 2010). Jo Shapcott is highly engaging as a poet, luminously intelligent as a critic, anthologist and broadcaster. Having been President of the Poetry Society since 2005, she continues to be a widely admired and influential figure in British poetry.
Dr Jules Smith, 2009
Bibliography
2010
The Transformers: Newcastle/Bloodaxe Poetry Lectures
2008
Poems/Farzaneh Khojandi
2006
George Herbert (Poet to Poet)
2002
Elizabeth Bishop: Poet of the Periphery
2000
Her Book: Poems 1988-1998
1999
Last Words: New Poetry for the New Century
1999
Poetry Quartets No. 5
1997
Penguin Modern Poets 12
1996
A Journey to the Inner Eye: A Guide for All
1996
Emergency Kit: Poems for Strange Times
1988
Electroplating the Baby
Awards
2010
Costa Book of the Year
2010
Forward Poetry Prize (Best Poetry Collection of the Year)
1999
Forward Poetry Prize (Best Poetry Collection of the Year)
1991
National Poetry Competition
1989
Commonwealth Poetry Prize for Best First Collection
1989
New Statesman Prudence Farmer Award
1985
National Poetry Competition
1982
South West Arts Literature Award