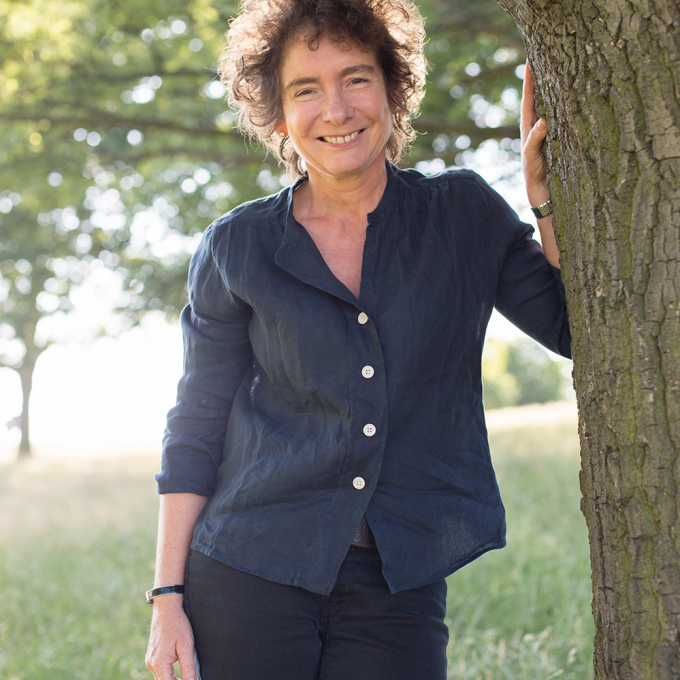 Jeanette Winterson
Agents:
William Morris Agency (Suzanne Gluck)
Biography
Novelist Jeanette Winterson was born in Manchester, England in 1959.
She was adopted and brought up in Accrington, Lancashire, in the north of England. Her strict Pentecostal Evangelist upbringing provides the background to her acclaimed first novel, Oranges Are Not the Only Fruit, published in 1985. She graduated from St Catherine's College, Oxford, and moved to London where she worked as an assistant editor at Pandora Press.
She is a regular contributor of reviews and articles to many newspapers and journals and has a regular column published in The Guardian.
One of the most original voices in British fiction to emerge during the 1980s, Jeanette Winterson was named as one of the 20 'Best of Young British Writers' in a promotion run jointly between the literary magazine Granta and the Book Marketing Council.
Her novels include Boating for Beginners (1985), published shortly after Oranges Are Not the Only Fruit and described by the author as 'a comic book with pictures'; The Passion (1987), twin narratives following the adventures of the web-footed daughter of a Venetian gondolier and Napoleon's chicken chef; Sexing the Cherry (1989), an invented world set during the English Civil War featuring the fabulous 'Dog Woman' and the orphan she raises; and three books exploring triangular relationships, gender and formal experimentation: Written on the Body (1992), Art and Lies (1994) and Gut Symmetries (1997). She adapted her novel, The.PowerBook (2000), for the National Theatre in 2002. Lighthousekeeping (2004), centres on the orphaned heroine Silver, taken in by the keeper of the Cape Wrath lighthouse, Mr Pew, whose stories of love and loss, passion and longing, are interwoven in the narrative.
Jeanette Winterson adapted Oranges Are Not the Only Fruit for BBC television in 1990, and also wrote Great Moments in Aviation, a television screenplay directed by Beeban Kidron for BBC2 in 1994. Her radio drama includes the play Text Message, broadcast by BBC Radio in November 2001.She is the author of a collection of short stories, The World and Other Places (1998), and a book of essays about art and culture, Art Objects, published in 1995. In 2000, she also edited a series of new editions of novels by Virginia Woolf.
Her latest novel is The Battle of the Sun (2009), a childen's book which follows two other books for children, The King of Capri (2003) and Tanglewreck (2006).She also recently edited Midsummer Nights (2009), a collection of stories by contemporary writers inspired by opera, to commemorate the 75th anniversary of the Glyndebourne Festival of Opera; and wrote the children's thriller, Ingenious, for BBC Television.  In 2009, The Lion, The Unicorn and Me was published - a children's story for Christmas.
Jeanette Winterson lives in Gloucestershire and London. In 2006, she was awarded an OBE, and in 2011, her memoir, Why Be Happy When You Could Be Normal? was published. The Daylight Gate (2012), set in Lancashire in the 1600s is about the Pendle witches and she has also published The Gap of Time (2015), a cover version of The Winter's Tale from the Hogarth Shakespeare series.   
Critical perspective
Over the last thirty years, Jeanette Winterson has worked across the genres of film, essay, novel, children's literature, short story, 'comic' (as Winterson herself describes Boating for Beginners (1985)), even self-help guide: Fit for the Future (1986). However, it is the formal indeterminacy and genre-bending of her individual works, for which Winterson is perhaps best known.
Oranges are Not the Only Fruit (1985), still the best known of Winterson's works, sets the tone in this sense. Somewhere between autobiography and novel, her debut combines gritty realism, the bible, and elements of fantasy, fable and fairytale in a composite narrative that Winterson has called 'fiction masquerading as memoir'.
In her brilliant new memoir (2012), a book she describes as the 'silent twin' of Oranges are Not the Only Fruit, Winterson recalls the genesis of her debut, and her mother's initial response: '"But it's not true …". Why Be Happy When You Could Be Normal? responds to the accusation with characteristic irony and wit, by foregrounded her mother's own warped sense of reality: 'Truth? This was a woman who explained the flash dash of mice activity in the kitchen as ectoplasm' (6). Earlier in the same memoir, Winterson says of the indomitable matriarch:
She was a flamboyant depressive; a woman who kept a revolver in the duster drawer, and the bullets in a tin of Pledge. A woman who stayed up all night to avoid sleeping in the same bed as my father. A woman with a prolapse, a thyroid condition, an enlarged heart, an ulcerated leg that never healed, and two sets of false teeth – matt for everyday, and a pearlised set for 'best' (1)
The passage captures perfectly the qualities of Mrs Winterson and her kitchen sink world in Oranges: both everyday (Pledge and dusters) and extra-ordinary (revolver, bullets), a visceral, embodied, grotesquely real subject, but also somebody spiritual, theatrical, flamboyant, larger than life.
Rather like her mother's 'pearlised' false teeth and concealed arsenal of weapons, Oranges are not the Only Fruit, masquerades as a straightforward, first person narrative. On the surface is the story of a girl growing up in the north of England with her adoptive, working-class Pentacostal parents. However, beneath the veneer, we encounter hidden depths and fantasies, alternative desires. Oranges'setting may be local (Accrington), but its themes are far from parochial: religion, love, sex, and sexuality. These large themes have since become signatures of Winterson's writing, but their role in Oranges is particularly important because it signals how the book breaks with many of the established conventions of women's writing in the mid-1980s. Winterson has said that she was deliberating striving in her debut to break with received assumption that women write about 'experience', and the immediate world in which they exist, 'while men write wide and bold – the big canvas, the experiment with form' (3).
Structured around the first eight books of the bible (Genesis to Ruth), the narrative is shaped by and, intriguingly, framed within, the very symbolic discourse (religion) its protagonist steadily breaks with. In Winterson's welding of imagination and observation, experience and experiment, there is a subtle binding of form and content that is reminiscent of that other fruit in Winterson's later work, Sexing the Cherry (1989): 'grafting is the means whereby a plant, perhaps tender or uncertain, is fused into a hardier member of its strain, and so the two take advantage of each other and produce a third kind, without seed or parent.' (78). Tender, uncertain, without seed or parent: these are all terms we could apply to the adopted, lesbian identity of Jeanette of Oranges, as she shoots up from the age of seven to sixteen.
Adoption, Winterson tells us in her memoir, fuels storytelling and self-invention because it leaves a hole or absence that demands to be filled. Like an open wound that will not heal, this absence is written on the body, and on the text: 'your fingers learn a kind of Braille … There are markings here, raised like welts. Read them. Read the hurt.' (5). The scar is also sign of the psychological trauma of adoption, and an event that must be repeatedly returned to.
Orphan figures recure in Winterson's work. In the seventeenth-century London of Sexing the Cherry, Jordan is discovered on the banks of the Thames, and taken in by Dog-Woman. Dog-Woman is a grotesque giantess whose scared, unsightly body has more than a whiff of Mrs Winterson about it.  In the cyberspace scenarios of The Powerbook, Ali, our interactive narrator emerges as a 'digital Orlando for the modern age', adopted by strict religious parents who own a Muck Midden. Most recently, in the futuristic dystopia of The Stone Gods, we have the orphaned figure of Billie Crusoe who is rejected by her young mum: 'My mother's body split open and I was the cargo for salvage. I suppose you have to believe there was something worth salvaging and with me it seems that nobody did.' It is a description that recalls the depiction of adoption as an open wound in Why Be Happy When You Could Be Normal? When we encounter her, Billie is thinking about how to fill the holes left by abandonment and the absence of home.
Flitting between past, present and future, these brief summaries are also suggestive of the extent to Winterson's fictions are about time, travel and even time-travel. Viewed as an oeuvre, her work moves extensively, radically even, across space and time, in ways that undo deterministic, bounded notions of identity. These are themes that receive their most explicit treatment in Sexing the Cherry, a novel about the globe-trotting Tradescant, but also a more ontological sense of travelling as dwelling:
'Some people who have never crossed the land they were born on have travelled all over the world. The journey is not linear, it is always back and forth, denying the calendar, the wrinkles of the body. The self is not contained in any moment or any place, but it is only in the intersection of moment and place that the self might, for a moment, be seen vanishing through a door….' (80).
Once again here, Winterson thinks of identity as an opening, an entrance, or exit. However the gap or vacancy left by adoption is not anything that can be filled in a positivistic or permanent sense so that absence becomes presence, lies become truth. On the contrary, it is a hole that in Winterson's work generates an art of disguise, masquerade, and cover up. The gaping wound is not so much sutured as it is bandaged in Winterson's writing.
From the formal and visceral veneers of Oranges, to the palimpsest that is Written on the Body in which the narrator assumes multiple personas, male and female, from Lewis Carroll's Alice to the Arthurian Sir Lancelot. From, the doubles and re-gendered subjects of Art and Lies (Sappho, Handel, Picasso), to the spellbinding witchery of Winterson's latest book The Daylight Gate (2012) a gothic novella set in 1612.
Dr James Procter, 2013
Bibliography
2011
Why Be Happy When You Could Be Normal?
2009
The Lion, The Unicorn and Me
2009
The Battle of the Sun
1998
The World and Other Places
1985
Boating for Beginners
1985
Oranges Are Not the Only Fruit
Awards
2012
Independent Booksellers' Week Book Award
2005
Commonwealth Writers Prize (Eurasia Region, Best Book)
1999
International Fiction Prize for Experimental Literature (Italy)
1990
BAFTA (Best Drama Series/Serial)
1990
Prix d'argent Best Script (France)
1987
Mail on Sunday/John Llewellyn Rhys Prize
1984
Whitbread First Novel Award