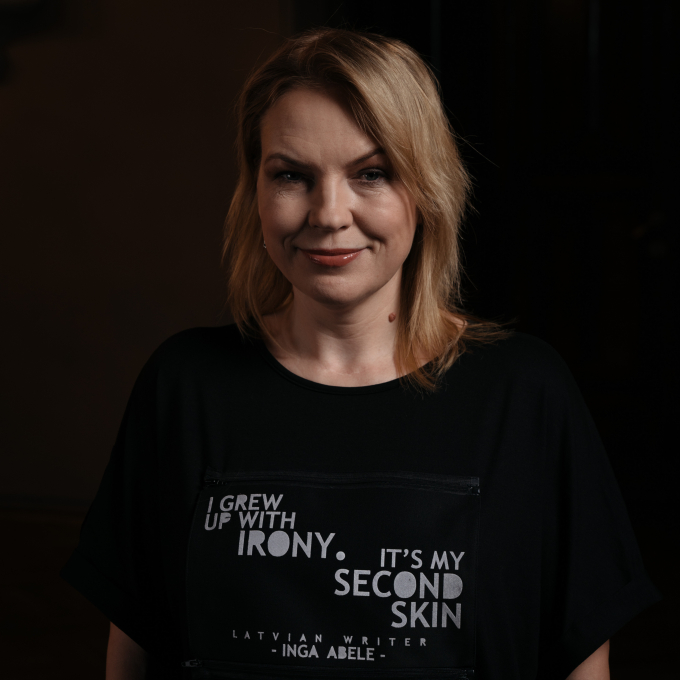 Biography
Inga Ābele is a prose writer, poet, and playwright. Her prose is masterfully poetic, creating powerful emotional imagery and atmosphere. Ābele's plays and prose are psychologically intense – heroes find themselves in borderline situations from which they want to escape, and the solutions are not always the happiest. Ābele often depicts places of "otherness", authentically, in fine detail and without judgement, like eccentric rural societies or socially de-classed communities.
Ieva, the main hero of the novel High Tide, has grown up in the countryside and married young, reluctantly and not yet understanding what she wants out of life. She falls in love and moves to the city with her lover. At first, the only thing readers know is that her lover is dying, while at the same time Ieva's husband ends up in jail for murder, but the circumstances of these events are revealed gradually. While the story takes the reader back to a tragic event, other story-lines are also resolved, particularly the relationships between Ieva and the women in her family – her grandmother, daughter, granddaughter. 

Some of Ābele's strongest work is found in her collection of stories Observations in the Time of Snow. The diptych A Sudden Change in the Wind tells of the relationship between a young man and woman and how they end up in situations which cause them to reconsider their values. On New Year's Eve, Ieva and Pāvils' car skids off the road in a snowstorm and the couple, blaming each other, are forced to continue onward by foot. But as the situation becomes more and more dangerous, their feelings also change.
Ābele's distinctive style of writing is represented in novels like Wicker Monk and Thunder, which are partially based on historical events and supported by thorough research. The protagonist in Wicker Monk is Francis Sebalds, an important Latgalian cultural leader and Catholic priest who, as a result of his own stubbornness, was wrongfully expelled from the church, whereas the novel Thunder tells the story of the racetrack right after the Second World War.
Bibliography
2017
Duna (Dienas Grāmata)
2014
Klūgu mūks (Dienas Grāmata)
2013
High Tide (Rochester, NY: Open Letter)
2010
Kamenes un skudras (Dienas Grāmata)
2008
Paisums (Dienas Grāmata)
2004
Sniega laika piezīmes (Atēna)