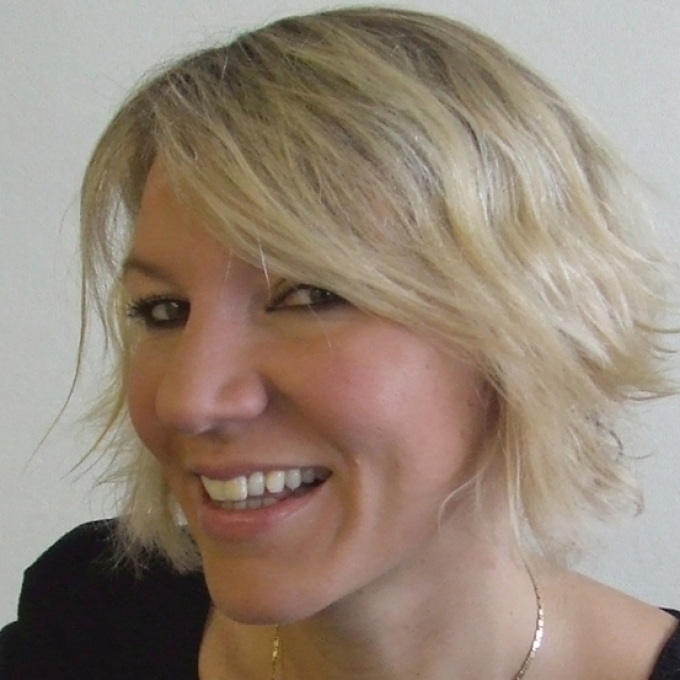 Biography
Hannah Lowe is a writer living in London.
Her first poetry collection Chick was published by Bloodaxe in January 2013. It won the 2015 Michael Murphy Memorial Prize and was shortlisted for the Forward, Aldeburgh Best First Collection Prizes and Seamus Heaney First Collection Prize. She had already published a chapbook, The Hitcher, in 2012, which was followed by a short chapbook R x, published by sine wave peak, in October 2013.
Another chapbook Ormonde was published in November 2014 by Hercules Editions. In September 2014, Lowe was named as one the Poetry Books Society's Next Generation poets.
Her family memoir Long Time, No See was published by Periscope in July 2015 and featured as BBC Radio 4's Book of the Week in the same year. 
Her second poetry collection, Chan, also from Bloodaxe, was published in 2016. This was followed by a pamphlet The Neighbourhood published by Out-Spoken Press in 2019. 
The Kids, Lowe's third full poetry collection, was published by Bloodaxe in 2021. It won the Costa Poetry Award 2021, was the Poetry Book Society Choice for Autumn 2021, and is shortlisted for the T S Eliot Prize.
Critical perspective
Hannah Lowe is a poet and memoirist whose evocative work has used the enigmatic figure of her Chinese-black-Jamaican father to probe the mysteries of multicultural London.
She came to prominence with Chick, a collection loosely based around an attempt to explore the secrets her late parent, a migrant who supported his family through gambling (under the card shark nickname 'Chick') in London's old East End.  In doing so the book offered a unique insight into the recent history of the capital and introduced a new perspective on sometimes overlooked marginal figures from the city's past.
Lowe felt that his story was one that needed to be told.  "Dad loved poetry, so he'd have been proud, if a little embarrassed," she told the Sunday Times upon the publication of Chick. "He lived a marginal existence, so for him to be acknowledged as part of the British story is emotional." Her inclusion on the list of the Poetry Society's Next Generation Poets has served as a recognition of her own literary contribution to this 'British story.'
As a poet, Lowe has been explicit about her influences. She counts American poet Philip Levine as "by far my biggest inspiration," not least for his attentiveness to urban life. Other inspirations include Anne Sexton for her confessionalism, Michael Donaghy for his emphasis on narrative, and the austere lyric verse of John Glenday, for what she calls its "sparer and distilled writing." Inevitably, her immersion in the Caribbean world of her father led her to the great poets of the region, including James Berry, Derek Walcott and younger voices such as Christian Campbell, Kei Miller and Tanya Shirley.  (Jen Campbell interview)
Lowe has also explained how she was inspired to tell the story of her father after insights gained from studying "marginal" literature at university,
I kept doing courses in black women's writing and postcolonial literature, but I wasn't putting it together. I just thought, Oh, I'm interested in this. I was just beginning to realise that perhaps I was interested in the story of his life, and in my identity and how race is constructed, all of those things — and then he died." (Caribbean Beat)
Much of what Lowe knows about her father's early life is from notebooks and tapes he used to document his own story. And being a light-skinned inheritor of this complex history, Lowe sees herself as in a good position to complicate and challenge the notion of a 'black writer'. As she told Caribbean Beat:
Twenty or thirty years ago in Britain, when minority literature, black literature, started getting studied, things were said like, 'These are voices from the margins that have unique insights,' and I think things that I can say complicate that a bit, because I'm not a voice from the margins at all.
Her hope is that her example might help people ask "what is race, what does 'black' look like? … For years and years and years I never said anything like that. It was in poetry that I got to make a claim."
The collection Chick attempted this work of retrieval. These deeply personal narratives of loss, love, regret and intimacy are Lowe's way of attempting to discover her father. The collection starts by immersing us in the world of Chick and his journey to London in the 1940s, reveling in the poetry of gamblers's language, connecting us back to a mysterious distant history: "These ways are old, going back to the rattling alleys of Shanghai." As the collection unfolds, the pieces switch between past and present, and these glimpses of 'Chick' are mixed with treatments of Lowe's own childhood and adolescence. Through poem after poem, as our glimpses of 'Chick' accumulate, Lowe depicts a complex father-daughter relationship, which culminates in almost overwhelming feelings of love and grief at the end of his life, and his funeral, with the ace of hearts on the coffin, and "flowers shaped as dice." As the poems drift away from Chick, the collection loses its focuses somewhat along the way, and Lowe is at her best when the her attempt to capture her father's essence remains at the centre.
Chick is also a book as much about hidden chapters of the British capital as about Lowe's father. As John Glenday has put it in his review of the work, "this is a collection cross-hatched with myth and history, a hymn to London as much as to its characters." The evocative place names pass by in all their evocative, everyday eloquence, with "the city's mapped by dim-lit poker clubs where you had played." Lowe's filmic representations of the capital and its locations accumulate to create a vivid portrait of a city at a particular time and place.
Lowe followed Chick with a cycle of poems and non fiction pieces based on the journey of the ship that carried Jamaican immigrants to the UK in 1947. Published as a chapbook under the ship's name of Ormonde – a less famous companion to the SS Windrush – this marked a further stage in Lowe's exploration of black British history.  It included an afterword by the writer and historian Mike Phillips who helped contextualize the world in which 'Chick' moved and the lives of his fellow immigrants.
In July 2015 Lowe published Long Time No See, a more direct memoir treatment of her father's experiences, and continued her project of bringing a neglected chapter of multicultural London to life. She is also completing work on a second collection of poems entitled Chan.