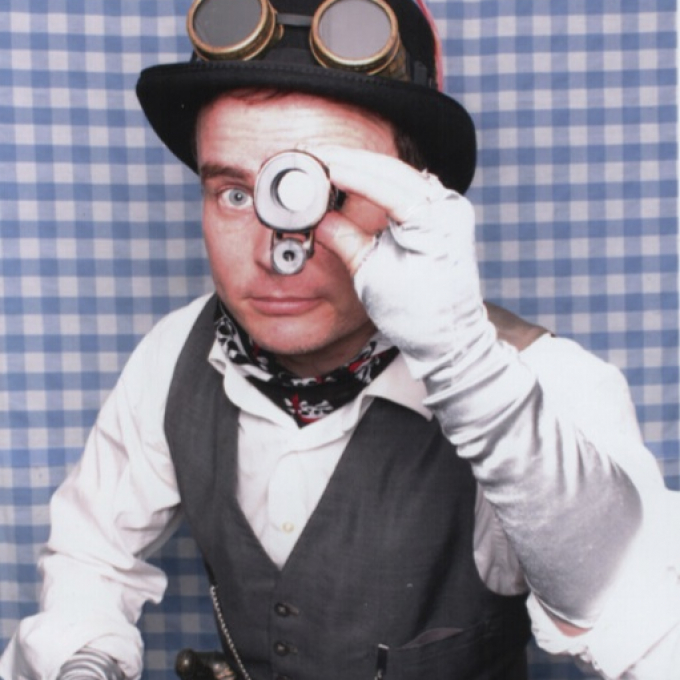 Gareth P Jones
Publishers:
Agents:
Biography
Gareth Phillips Jones was born 30th December, 1973 in the semi-mythical city of Birmingham. At the time the number one single in the hit parade was Merry Christmas Everybody by Slade. The first story he ever wrote was inspired by true events and was about a miscarriage of justice in which a boy called Gareth got told off for talking in class. This did not get published. When he was a bit older he wrote other things that did not get published.
He worked for a bit in TV, producing disposal light entertainment shows such as The Big Breakfast and Richard & Judy. Then, one day, a nice lady called Sarah kindly agreed to publish something he had written. This was The Dragon Detective Agency. Since then he has written various books in various genres, from the comic-gothis The Thornthwaite Inheritance, to science fiction, Space Crime Conspiracy. He won The Blue Peter Book of the Year for The Considine Curse. He has written ten Ninja Meerkats books, and four in the series The Adventures of the Steampunk Pirates,
Now that he has children of his own (Herbie & Autumn), he has taken to writing picture books. The Dinosaurs are Having a Party and Are You the Pirate Captain are illustrated by Garry Parsons and published by Andersen.
He has three books with Hotkey, tackling subjects such as ghosts (Constable & Toop), magic (The Society of Thirteen), time travel (No True Echo) with a fourth due out in 2016.
Gareth now spends most of his time writing books, visiting schools and performing at festivals with his ukulele (every book he writes has a theme song). He also still dabbles in TV from time to time.
When he's not doing these things he can be found hanging out with his wife Lisa and children or playing the slightly ludicrous number of stringed instruments in his front room.
Bibliography
2013
The Society of Thirteen
2013
The Ultimate Dragon Warrior
2012
The Big City Bust-Up
2011
The Escape from Ice Mountain
2011
The Eye of the Monkey
2011
The Clan of the Scorpion
2010
The Space Crime Conspiracy
2009
The Thornthwaite Inheritance
2008
The Dragon Detective Agency: The Case of the Stolen Film
2008
The Dragon Detective Agency: The Case of the Vanished Sea
2007
The Dragon Detective Agency: The Case of the Wayward Professor
2006
The Dragon Detective Agency: The Case of the Missing Cats