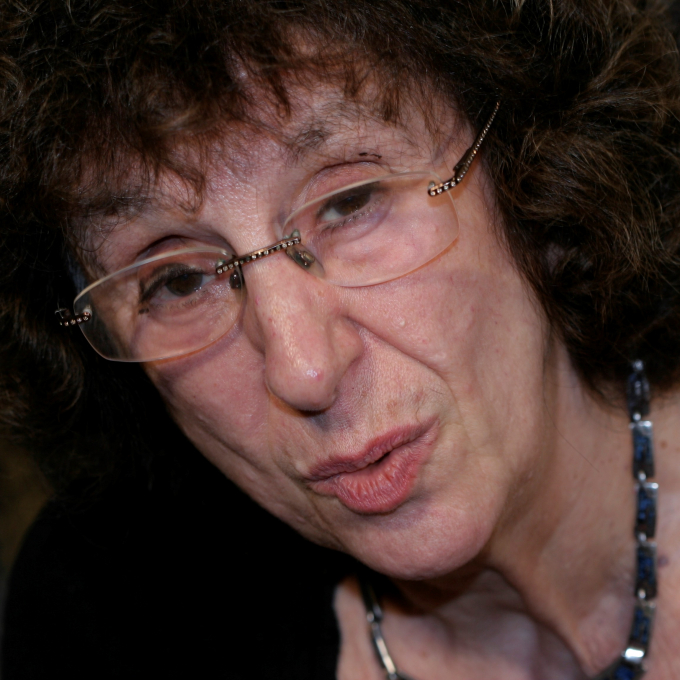 Elaine Feinstein
Publishers:
Agents:
Biography
Poet, novelist, short-story writer, playwright, biographer and translator Elaine Feinstein was born on 24 October 1930 in Bootle, Lancashire. She was educated at Newnham College, Cambridge and holds an honorary doctorate from the University of Leicester.
She has worked variously as an editor for Cambridge University Press (1960-62), as Lecturer in English at Bishop's Stortford Training College (1963-6), as Assistant Lecturer in English Literature at the University of Essex (1967-70), and as a journalist. She contributes to many periodicals, including the Times Literary Supplement, and was Writer in Residence for the British Council in Singapore and Tromsoe, Norway.
Elaine Feinstein's first volume of poetry, In a Green Eye, was published in 1966. Her later work has been influenced by the poetry of Marina Tsvetaeva, a poet whose work she has translated from the Russian. She received a Cholmondeley Award in 1990.
Her first novel was The Circle (1970), which, like much of her early work, explores themes of female identity seen both inside and outside the family unit. Later novels, such as The Survivors (1982), draw on her knowledge of 20th-century European history and an awareness of her own Jewish heritage. Her most recent novel is The Russian Jerusalem (2008).
She is the author of a number of plays for television including Breath, televised by the BBC in 1975, and The Diary of Country Gentlewoman, a twelve-part series (based on Edith Holden's novel) produced by ITV in 1984. She has also written radio plays, including Foreign Girls (1993) and Winter Meeting (1994), and is the author of several biographies, among them studies of the singer Bessie Smith and the writer D. H. Lawrence and a portrait of the late Poet Laureate Ted Hughes, published in 2001. Her book, Anna of all the Russias: The Life of a Poet under Stalin (2005), is a biography of Anna Akhmatova.
Elaine Feinstein is a Fellow of the Royal Society of Literature, and was elected on to the Council of the Royal Society of Literature in 2007. She lives in London. Her most recent poetry collections are: Talking to the Dead (2007), dedicated to the memory of her husband, Arnold; and Cities (2010).
Critical perspective
Elaine Feinstein is a distinguished writer, both versatile and highly productive.
In addition to numerous poetry collections and novels, she has written plays for radio and television, as well as several biographies. She has been acclaimed as a translator of Russian poetry, especially the works of Marina Tsvetaeva and Anna Akhmatova with whom she has a special affinity. Tsvetaeva and other Russians feature prominently within Feinstein's Collected Poems and Translations (2003), notably in the beautiful 'Poems for [Alexander] Blok': 'Your name is a kiss of snow / a gulp of icy spring water, blue / as a dove. About your name is: sleep'. In her preface, Feinstein explains that translation 'helped me to find my own voice'. Even though Tsvetaeva was 'a dangerous example', she 'taught me to be unafraid of exposing my least dignified emotions'.
'People have always been the centre of my concerns', she has further observed. Her family and domestic life, her writer friends in Britain or abroad, people passing by; all are described with sympathy, if also with some scepticism. Her own Jewish cultural heritage, and the wider Jewish European experience in the twentieth century, has also informed her writings. In poems such as 'Hotel Maimonides' she discusses her dream fears, and dilemmas about Israel and the Palestinians, grateful to 'have lived in a rare island of peace'. 'Annus Mirabilis 1989' recalls watching a 'dissident cabaret' in Budapest; Einstein is portrayed as a Jewish tailor - 'they raked him with strobe lights and the noise of guns'. She is 'chilled by the audience euphoria' and left to ponder 'the resilience of an old monster', anti-Semitism.
Feinstein's novels often feature Jewish characters. The tense poignant action of The Border (1984) concerns a couple forced to flee from Austria when the Nazis take over. Loving Brecht (1992) follows the life and times of Frieda Bloom, a Jewish cabaret singer whose turbulent emotional life takes her from Weimar Berlin to Stalin's Moscow, from New York to eventual refuge in London – all due to her on-off involvements with Bertolt Brecht, Lotte Lenya, and Kurt Weill. Feinstein is particularly good at identifying the manifold ways in which male and female writers interact and inspire each other to produce art. In one minor yet significant scene, her Russian poet lover Seryozha lends her a book of poems by Anna Akhmatova: 'And the shafts of her lyrics pierced straight to my own heart'. Her most recent book is The Russian Jerusalem (2008), a fascinating mix of fiction, autobiography and poetry, in which the author, with the ghost of Marina Tsvetaeva, reconstructs the fates of the great Russian writers during Stalin's Terror.
The Terror and its aftermath is also a dominant subject in her biography of Akhmatova, Anna of All the Russias: The Life of a Poet under Stalin (2005). Feinstein often illuminates important episodes in Akhmatova's difficult but ultimately triumphant life by interpolating her own translations of passages from the poems. To Akhmatova, she states, 'poetry was a mysterious gift which also had obligations and involved an imagination of human suffering'. This witness to bitter experiences (her own and the Russian people's) also had a religious dimension: 'Akhmatova felt she had been appointed by God to sing of this suffering'. The book focuses on Akhmatova's relationships with men, her failed marriages though also her many supportive lovers and admirers (from the painter Modigliani to, decades later, Isaiah Berlin). Feinstein's own acquaintances, notably with the poets Margarita Aliger and Joseph Brodsky, proved useful in researching Akhmatova's later years, when, post-Stalin, she was at last able to accept awards in Europe. Akhmatova is given a 'heroic place among a small band of poets who could trust one another, even in a vicious world'.
Feinstein's other biographical studies include two other writers with turbulent lives: D.H. Lawrence and Ted Hughes. In Lawrence's Women (1993), she argues that the need to break away from female domination (by his mother and then his wife Frieda) was a central theme of Lawrence's works. She concludes that 'It is the task of our generation to learn to read him again with compassion'. Ted Hughes: The Life of a Poet (2001) was clearly a more personal project. Feinstein was a long-time friend of Hughes and had been a contemporary of Sylvia Plath at Newnham College, Cambridge; they also had mutual friends such as the sculptor Leonard Baskin. Feinstein found another link in their shared fascination with poets from Eastern Europe 'who understood the human brutality of the twentieth century'. Hers is a notably sympathetic account of Hughes' life. Beset by personal tragedies as he was, his 'belief in the power of poetry to heal the human spirit', she writes, marked Hughes' 'whole being'.
Feinstein's later poetry collections are Daylight (1997), Gold (2000), and Talking to the Dead (2007). They show both stylistic maturity and a philosophical acceptance of life. Daylight features a number of elegies for deceased writer friends, recalling happy holiday occasions and the sadness of loss: 'now we're left only with / a little honey and sun from Mandelstam's bees' ('Homesickness'). Indeed, the collection revolves around friends but also memories of research trips with her husband: 'at your side I was never afraid, looking for / Dom 99 in the snows of suburban Moscow, / or carrying letters through Hungarian customs' ('Bonds'). The lives of writers inspire rueful observations, as when visiting Pushkin's house and Akhmatova's single room: 'Russia treasures her poets, once they're dead. / In England, we depend on one another' ('Dead Writers'). 
Gold opens with a lengthy narrative in the voice of Lorenzo da Ponte, Mozart's librettist, who tells of his life, loves, and travels, concluding that 'Politics, manners, morals all evolve/ uncertainly. Best then to be bold'. But her own family worries and mortality begin to dominate life ('Prayer for my Son', 'Casualty'). These loom ever larger throughout Talking to the Dead, the voice of a widow speaking to her deceased husband. It opens with a poem at his burial, 'like an embryo under the squelchy ground, / without a birth to wait for' ('Winter'). Yet tragic loss or mourning doesn't set the tone. Rather, the poems are about her unfinished engagement with him – in memories, arguments, the sensuality they shared. 'Will you take these poems from me now, // as if they were Akhmatova's snowdrops, / or a flame in a clay dish?' ('Flame'). Their emotional force is worthy of her Russian mentors: 'Still, the loneliness in marriage / is something I can toast. / I drink to your hostile stare, / our quarrels, your infidelity'. Here, as always in her writing, Elaine Feinstein's human concerns continue to engage us.
Dr Jules Smith, 2010
Bibliography
2009
Bride of Ice/Marina Tsvetaeva
2008
The Russian Jerusalem
2005
Anna of all the Russias: The Life of a Poet under Stalin
2003
Collected Poems and Translations
2001
Ted Hughes: The Life of a Poet
1995
Lady Chatterley's Confession
1993
Lawrence's Women: The Intimate Life of D. H. Lawrence
1992
Black Earth/Marina Tsvetayeva: Versions by Elaine Feinstein
1988
First Draft: Poems by Nika Turbina
1987
A Captive Lion: The Life of Marina Tsvetayeva
1981
The Feast of Eurydice
1979
Three Russian Poets: Margarita Aliger, Yunna Moritz & Bella Akhmadulina
1977
Some Unease and Angels
1976
The Ecstasy of Dr Miriam Garner
1975
The Children of the Rose
1973
The Celebrants and Other Poems
1971
Selected Poems of Marina Tsvetaeva
1971
The Magic Apple Tree
1968
Selected Poems of John Clare