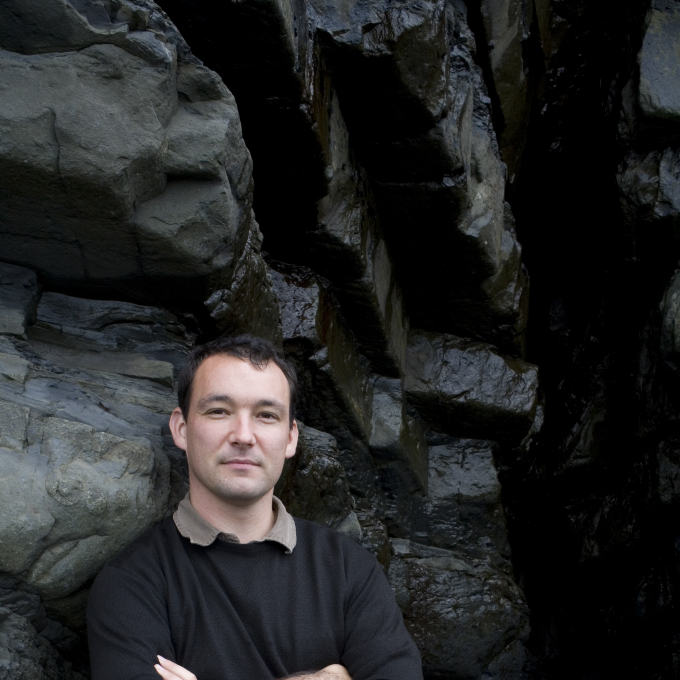 Cynan Jones
Publishers:
Agents:
Biography
Cynan Jones was born in 1975 near Aberaeron, Wales where he now lives and works.
His first novel was The Long Dry (Parthian, 2006), which won the Betty Trask Award in 2007.
This was followed by Everything I Found on the Beach (Parthian, 2011), and Bird, Blood, Snow (Seren, 2012). Further work has appeared in Granta Magazine, the New Welsh Review and various anthologies.
His latest novel, The Dig, was published by Granta in 2014.
Critical perspective
Award-winning fiction writer Cynan Jones is one of Welsh literature's most underappreciated names. Over the course of three novels and numerous short pieces, he has become an increasingly recognized presence.
As the Sunday Times observed in 2014, when eagerly greeting Jones's third novel, Dig, "Novels that deal with the real, lived experience of the British countryside are thin on the ground these days." Jones's series of novels have met this criteria. And they do so by using an authentic intimacy with his own patch of coastal west Wales to explore the moral paradoxes of community, isolation, beauty and danger of modern rural life.
All of his works are set within the dramatic scenery of Ceredigon and Pembrokeshire, and have helped to draw readers to an overlooked and sometimes poorly understood slice of British life. Their acclaim has allowed him to join his heroes Niall Griffiths and Andrew Davies and Owen Martell as a voice helping to capture and define the modern Welsh experience.
However, Jones is notably ambivalent about being seen as either explicitly Welsh or British. The latter label, he has told the Guardian, "is a political term, a colonial term, and I acknowledge that's the reality, but it's not something I feel. If I was answering honestly, I'd say I was Welsh. These are facts – I am Welsh and I write. It's not something I have any control over. It's more important for me to be a good writer than being British or Welsh."
At the same time, he has distanced himself from the linguistic and literary traditions of his home region. "I speak Welsh with some people. I don't write in it" he told the New Welsh Review in 2013, "There's perhaps a change of sound to the English I use, a bias in the choices I make as to pace, the order of words. But mostly I avoid the over-wrought, emotional prose that some may see as being traditionally associated with the term 'Welsh writing' and which perhaps comes from the verbal flamboyance of the Welsh language." (New Welsh Review)
In keeping with novels that repeatedly stress the importance of collective cultural heritage, Jones explains that he sees writing fiction not "as an outlet," but more as a form of "remembering." He claims to work above all to the motto "'Write as if you're remembering': I've scribbled that to myself on a postcard by my writing desk." And yet he explains that he turned to writing relatively late in life. "I began trying to write fiction seriously at 28, after five years working as a copywriter" he told the New Welsh Review, "a job I did to teach me how to write properly. I gave myself two years to write something worthwhile."
His first award-winning debut novel The Long Dry (2006) was the result. The book is set over a long summer's day on a Welsh farm where a cow has gone missing, leading the farmer Gareth to set off through the blazing sun to find her.  The novel follows the search, interwoven with gripping elements of his life and family on the Ceredigion coast. 'The Long Dry' of the title is deliberately resonant, speaking to both the agricultural threats of drought and animal thirst but also the protagonist's sexual and emotional  anxieties. As the book develops into a voyage through memory and anxiety, Gareth's quest becomes symbolic of larger forces in his personal life, and his troubled relationship with his wife Kate.
Jones has said that this elemental and almost mythic tale was inspired by taped reminiscences from his North Wales-born grandfather: "He spoke it shortly before he died - cameos of the past and the people he remembered of his childhood." But The Long Dry also drew upon his own experiences of frustration, which he knew had potential for mass relatable appeal: "Part of my book is the story of myself. There was a moment on the farm that informed the book. It was one of those days when things were going wrong, and in trying to help things go less wrong, came the thought that this is tough and it's not enough just to keep going. It's a risky book to write. It's a bit of a tightrope." The resulting book was written the book in a short ten day burst of activity: "I had this kind of idea and I literally fired it out. I wrote it from start to finish - it was almost a nervous thing". (Western Mail, 2007)
The book met with an impressive critical response. In the Telegraph, Tim Pears thought it "vividly real, profoundly lyrical, a book of cruel sadness and deep, deep beauty." Nial Griffiths thought it a "wonderful book ... … a paean to the corruptibility of the flesh… characterised by moments of startling imagery and stirringly intense lyrical beauty." The Long Dry won the Betty Trask Award from the Society of Authors in 2007, and saw the author nominated as the Hay Festival Scritture Giovani 2008."The prize for me is more about validation, especially as it's judged by writers," Jones wrote after the announcement, but stressed that most important was "the praise of writers I respect like Niall Griffiths and Andrew Davies has given me the sense to keep doing what I'm doing."
His second novel,  Everything I Found on the Beach (2011) focused on the lives of three men at sea off the Welsh coast. The first, Hold, is fisherman mourning the death of a friend and worried about his widow. Grzegorz, the second, is a Polish immigrant who has come to Wales with wife and baby in tow to find low paid work in a slaughterhouse. Fate brings them into contact with the third figure, 'the big man', an Irish criminal attempting to deal with newly amoral underworld codes. As their paths cross, the novel becomes a tightly-plotted morality tale, exploring the ambiguities of heroism and desperation in a struggling economy.
With this book, Jones has said that he "wanted to try something different, a little more arch .., more a deliberate narrative. Men in some respects isolated from their families, ostensibly a thriller. (Western Mail interview). And the book gained high praise from The Library Journal, who argued that, 'as in William Faulkner's most moving work, Jones seemingly surveys the whole of existence by describing the humblest details of life on this postage-stamp of unnamed Welsh soil."
His third short book, Bird, Blood, Snow (2012) re-told the medieval Welsh myth of Peredur, turning the Arthurian quest narrative into what the book's jacket promotes as a "modern Quixotian romp." The original was a tale of overcoming adversity to arrive at maturity, and Jones translates this into a modern tale of a wayward young hero, hoping to escape life's downward cycle in modern Wales. The New Welsh Review thought the book "a compelling and challenging new story that engages in a dialogue with the original text by thematising its violence and sense of self-fulfilment, while also adopting a playful stance towards textuality."
Jones truly returned to prominence with his 2014 novel, Dig, a striking treatment of the controversial topic of badger baiting.  The novel tells story of Daniel, a sheep farmer, and an unnamed figure that sells badgers to local youths for use in brutal staged fights. As their stories collide, Jones wrings an emotional moral struggle out of their conflict, and draws dramatic power out of a series of explicit and primal set-piece depictions of badger baiting scenes. When asked whether he had himself come into contact with this world, Jones told the Observer that whilst it was "obviously not acceptable … it certainly goes in west Wales":
It seemed the right background to give the people I wanted to write about - the bizarre, determined, repetitive cruelty of catching badgers, and the impending sense that the animal is trapped. So is the adolescent in his situation, and the guy who's organised the dig; they're products of their environment. … At no point did I want to glamorise it. I think it has to be a fairly unnerving acknowledgement that he is being drawn to trapping badgers as a means of finding companionship with his father."
The resulting novel, filled with the communal cathartic power of violence, was compared to Hemingway and Cormac McCarthy, and attracted his most high profile reviews since his debut.
Some reviewers were unsure that the violence and episodic structure of the narrative served real purpose. Writing in the Sunday Times, Andrew Holdate thought that, beyond the "dramatic and beautifully drawn set-pieces" Jones seemed "as if he is straining too much for effect … the book never really develops beyond its individual scenes into a satisfyingly developed whole. The central short story around which The Dig is organised is powerfully immediate; the rest, despite the occasional pyrotechnics, never truly coheres." This was also the verdict of the Irish Times, who thought it "short yet overwritten … a flat, mannered narrative that feels far longer than it is and ends limply, appears to be working his way towards a momentous happening that never occurs." Yet others found the combination of mythic brutality set against stunning Welsh backdrops to be strength. The Guardian's nature writer Patrick Barkham thought it "a tender and sensuous depiction of the deep connections both good and bad people have with the earth and its animals… The Dig is brilliantly alive; a profound, powerful and utterly absorbing portrayal of a subterranean rural world."
Jones continues to write, doubling up with work as a wine-seller and sometime teacher, as his profile as one of the undisputed chroniclers of Welsh life grows.
Bibliography
2011
Everything I Found on the Beach