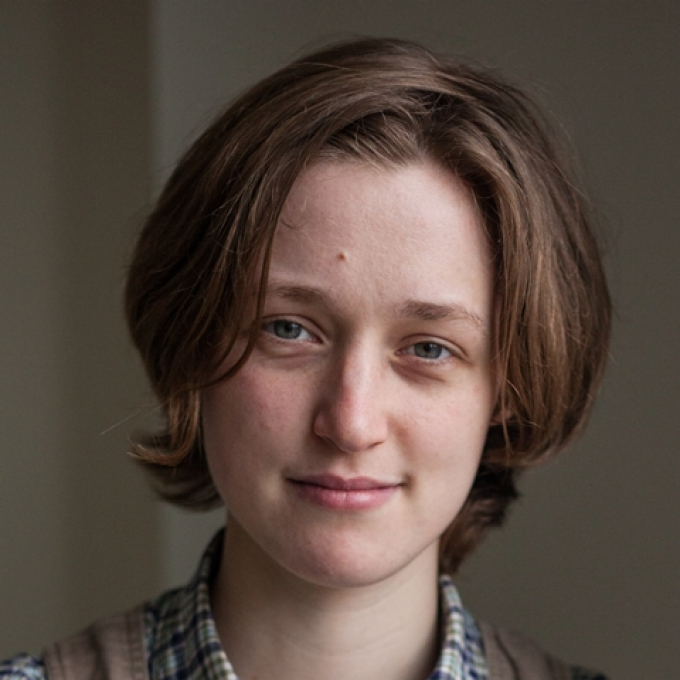 Biography
Claire North is the pen name of Carnegie-nominated author Catherine Webb, who also writes under the name Kate Griffin.
Her debut novel as Claire North, The First Fifteen Lives of Harry August (2014) was selected for the Richard and Judy Book Club, the Waterstones Book Club and the Radio 2 Book Club. She was shortlisted for the Sunday Times/Peters Fraser + Dunlop Young Writer of the Year Award (2017).
This was followed by three further novels: Touch (2015), The Sudden Appearance of Hope (2016) and The End of the Day (2017)
She is currently writing a novella for Charlie Brooker's 'Black Mirror' franchise, alongside Cory Doctorow and Sylvain Neuvel, scheduled for release in February 2018.
Catherine currently works as a theatre lighting designer. A lifelong Londoner, Catherine describes herself as a fan of big cities, urban magic, Thai food and graffiti-spotting.
Critical perspective
Claire North has established herself as one of the most inventive British writers currently working in the creative borderlands between fantasy and science fiction.
Best known for her critically-acclaimed reincarnation fantasia debut The First Fifteen Lives of Harry August (2014), she is now the author of four high-concept thrillers that have earned her a cult following.
The Guardian has praised her ability to tackle 'serious subjects with a lightness of touch, enviable readability and an assured narrative control.' While the San Francisco Chronicle has hailed as 'an exciting voice in contemporary fantasy.'
At first, however, no-one was quite sure where this voice was coming from. Her first novel was published with minimal fanfare as to its author's identity, but such was its assured tone that more than one reviewer speculated that the author might be a well-known name in disguise. 'If I were asked to speculate,' ventured the Irish Independent 'I suspect the author is male, that if Anthony Burgess were still alive it could be him, and that it might be one of Martin Amis, Ian McEwan, William Boyd or Julian Barnes'. As another blog asked, 'Do we have another one of J.K. Rowling's works in hand?' (Boredtodeathbookclub.com)
Though such speculation was amusingly off-base, there was indeed an apprenticeship behind these early successes. 'Claire North' is in fact the pseudonym of prolific and energetically multi-genre writer Catherine Webb, who had been publishing under names including Kate Griffin for over a decade, most notably a fantasy series set in an unsettlingly magical alternate modern-day London. As the author herself puts it, 'the writing styles and the content of Claire North books are very different from Kate Griffin books, and while I'm massively fond of them all, it's good to have a clear marker to indicate a different voice and style between each series.' (Bookplank interview). In keeping with that spirit, what follows is focused entirely on North's writings under that name.
Webb started young, recalling how she was motivated to fashion her own fictional worlds when she realised she had reached 'the bottom of the fantasy bookshelf in my local library' (SMH interview).  And her Claire North writings demonstrate an intense immersion in the world of writers she admires: both the influences one might expect such as Iain M. Banks, Ursula LeGuin or Douglas Adams, but also the big picture social awareness of George Orwell, noir tone of Raymond Chandler, and the unmistakeable comic exuberance of Terry Pratchett. To that list one might add the broader category of magic realism, whose flamboyance and risk-taking elements North manages to build upon in order to ask broader questions.
North is an enthusiastic and eloquent champion of the possibilities of science fiction and fantasy calling it 'a genre of awesome that I know and love.' 'You can do so much with SF' she explains, 'push at so many things, poke characters up new and interesting routes and generally muck around more than you can in other areas… Identity is a big chunky word, and I guess one of the perks of SF/Fantasy is you get to poke at it with time travel, brain-manipulating technology and dead people.' (Girl With Head in Book interview)
Her debut The First Fifteen Lives of Harry August opened in just such a fashion, throwing its readers and protagonist headlong into a strikingly strange scenario:  
'The second cataclysm began in my eleventh life, in 1996. I was dying my usual death, slipping away in a warm morphine haze, which she interrupted like an ice cube down my spine.'
We learn as the novel progresses that Harry is one of the kalachakra: people who live their lives only to be reborn back at the start, with the mixed blessing or curse of a full set of memories of their entire experience. As the quote suggests, we encounter Harry when he is already a veteran of the cycle. Only this time he is given a message from a thousand years in the future that he must act upon:
'The world is ending', she said, 'The message has come down from child to adult, child to adult, passed back down the generations from a thousand years forward in time. The world is ending and we cannot prevent it. So now it's up to you.'
As only Harry can reach back far enough in time to eliminate the problem, he must deliver the message to a club of the other kalachakra, and investigate the possibility of saving the world. He discovers, however, that possibility is something of a futile quest. But along the way, in a non-linear narrative, North takes us darting back and forth through a fast-paced series of lives, exploring possible uses of consequence-free immortality for both good and ill.
In some ways it was a familiar set-up, reminiscent of not just recent fiction such as Kate Atkinson's Life After Life or David Mitchell's Bone Clocks, but also the mixture of pain and redemption of the 'Groundhog Day' scenario. Like those other works, North was able to avoid the pitfalls of high-concept overthinking to fashion a character-rich narrative about friendship across time that also played games with ideas, rather than the other way round.  Reviewers were struck by North's execution of this difficult conceit. The Guardian considered it 'a gripping read that is often quietly profound, emotionally affecting and intellectually dizzying... a subtle study of friendship, love and the fluid complexity of existence.' The Irish Independent called it 'a superb novel, part thriller, part science fiction involving time travel, and part a serious and reflective look at our times.'
North followed this up with Touch (2015), using a similarly elaborate and time-spanning set-up. The focus in this case was on a body-shifting entity known as Kepler, who could leap and project from person to person, temporarily inhabiting their skin whilst putting the host's consciousness to sleep. After surviving an assassination attempt, Kepler travels body-by-body across Europe to attempt to find out why 'it' is hunted. Again, North pulled off the concept, and the Guardian concluded that North had once again 'utilised a bizarre conceit to explore questions of identity, gender and emotional disaffection in a novel that is by turns poignant and intensely gripping.'
The Sudden Appearance of Hope arrived in 2016, this time exploring the theme of memory through a title character whose predicament is to be immediately forgotten once out of sight of those she meets. The novel also functions as a dystopian satire on social media obsessions with a plot revolving around 'Perfection' - an app that helps users reach an idealised version of themselves by following its instructions for their social interactions. When the app leads to a friend's suicide, Hope investigates its workings, and suspects it might have connections to her own 'forgotten' condition. Like Touch this was a novel about re-invention with a sympathetic lonely protagonist at its core.
North's most recent novel is the darkly comic The End of the Day (2017), immediately hailed by the Guardian as 'her most ambitious' to date. Set in the office of the figure 'Death' – located, wryly, in Milton Keynes – it follows the life experiences of Charlie, who is on Death's payroll as PA and 'Harbinger'. He travels the world to bring news of impending doom to the individuals and cultures with whom his boss will soon collide. Again the author makes full use of this risky, cinematic concept, exploring profound metaphysical potential and finding scope for comedy.
As the reviewer on Tor.com reflected, this was in some ways North's most conclusive novel: 'Asking is all North has done in her novels till now—and there's value in that: in open-ended questioning. But here, at last, in The End of the Day, she ventures an answer. And the answer, at least initially, is simpler than you'd think. What, then, is death? Why, it's life!' The Guardian praised a 'surreal, whimsical conceit that allows North to examine bigotry, global warming, humanity's propensity for violence – and the big one, the meaning of life and death. Every one of the short 110 chapters is shaped with philosophical panache.'
At this point in her career, North has amassed a loyal band of fans – and it might not surprise anyone that one of those is 'Black Mirror' creator Charlie Brooker. As befits someone who also specialises in dark and unsettling high concept speculative tales, he has invited North to contribute to a new anthology of official Black Mirror stories, alongside the writers Cory Doctorow and Sylvain Neuvel.
Now celebrated as much for her current pseudonym as her other prior authorial selves, North is clearly managing to balance both the admiration of critics and the demands of the market. As she puts it, this is all down to her commitment to pursuing her own personal vision:
'I've been poking at this gig for long enough to be aware of the needs of commerce and respectful of it to a degree, but ultimately I write what I want to write, when I want to write it, for my own delight, as I figure that way the book will come out better anyway and I'll have a better time of things.' (Girlwithherheadinabook.com interview)
'Sometimes I'm aware of the balancing act that these things require' she adds, 'but generally it's nothing more than that – a wee nudge in the background of the brain. Not least because if you can define what makes a 'Claire North novel' you're probably a better person than me.'
Tom  Wright, 2017
Bibliography
2014
The First Fifteen Lives of Harry August
2016
The Sudden Appearance of Hope