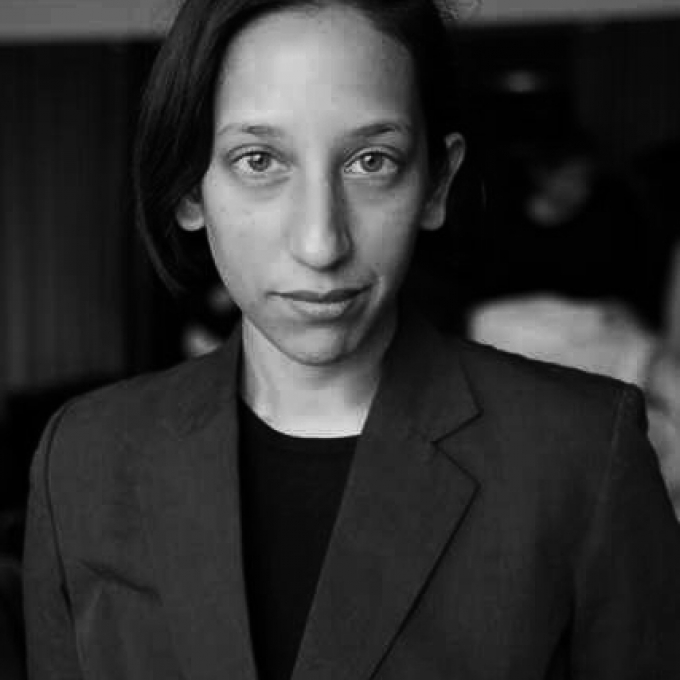 Biography
Bidisha Mamata is a British writer and broadcaster based in London.
Educated at Oxford University and the London School of Economics, she began writing for newspapers internationally at 15 and signed her first book deal at 16.
Her second novel was published at 21 and her third book, a travel memoir, in 2008.
She writes for The Guardian, the Financial Times, Mslexia, The Observer, New Statesman, New Humanist and various other publications internationally.
Her fourth book, Beyond the Wall, reportage on the Middle East, was published in 2012.
Her fifth book, Asylum and Exile: Hidden Voices of London, was published by Chicago University Press in 2015.
Bidisha is a regular broadcaster for the BBC, and has presented Bidisha presented BBC Radio 3's "Night Waves", Radio 4's "Woman's House", "Archive on Four" and "Heart and Soul" and the World Service series "The Word" and the arts show, "The Strand."
She also lectures in political theory, moral and political philosophy and journalism and does outreach work in UK schools, charities and prisons.
Critical perspective
Bidisha is a writer and broadcaster whose literary career can be neatly divided into two strands. At first, she was the rebel of British fiction and style magazines during the late 1990s, a wildly precocious talent specializing in spiky, boisterous portrayals of young multicultural London.
Over the last decade, she has managed to translate this early notoriety into a more serious new profile. She now combines roles as a respected and prolific broadcaster with an emerging role as commentator on social justice issues and international affairs, publishing a book of reportage from Palestine, with a similar book treatment of the dispossessed of London due in 2015.
Speaking to Time Out about this re-invention in 2013, Bidisha explains her career in terms of a move towards urgent global themes: "We need to recognise that we live in a totally interconnected world and that the world's problems are our problems. Talking about style, fashion and music is, of course, fun but I think there has been an enormous resurgence globally of anti-corruption, anti-sexual violence, anti-dictatorship." (Time Out Beijing, 2013). She has devoted her career to framing these movements and problems for a wide audience.
The story begins, however, with the figure she struck in the 1990s, which Independent recalls as "the beautifully belligerent, fiercely intelligent, mono-monikered teenage author who burst brashly on to the literary scene with Seahorses, the novel she'd written at the age of just 16."  (Independent, 2008)
"At 13/14 I loved going to gigs," she explains, "and I started my own fanzine. I sent off an album review of Nirvana to a few mags and NME got back within a fortnight. It all snowballed from there. It's only now I realise how rare that is." She soon began a prolific career writing for arts and style magazines such as i-D, Oyster, Volume, Dazed and Confused and the NME, and won her own opinion columns in the Big Issue and Independent.
She famously signed her first book deal with HarperCollins at 16, and published her first novel Seahorses (1997) two years later. The novel was an urban noir, casting a caustic eye on figures from the London media, film and music world, and the sexual adventures of its highly unlikeable male protagonists. Not entirely autobiographical, the novel nonetheless managed to authentically skewer the pretentions of the male-dominated world that Bidisha had so successfully infiltrated.
Reviews were mixed, with some praising Bidisha's maturity, others finding the tale ill conceived. The Spectator found it "'quite plainly the work of an extraordinary talent… Seahorses would be an impressive debut for any novelist, let alone one so young." The Independet found it "remarkably mature debut." However, others saw in it signs of haste, with the Guardian claiming that the "relentless" book was "not easy to enjoy and too thin on real emotions to be really shocking" and "prone to pretentious and overlong description." The Times sensed a certain cynicism in the modishly urban subject matter, speculating that Bidisha "seems to write what she thinks the book world wants her to write."
She followed this debut up with Too Fast to Live (2000), a re-telling of the Arthurian legend, set against a darkly violent contemporary London background. As Bidisha recalls, she wanted to find a fusion of Anglo-Saxon and Scorsese, and aimed "to mix those two loves – do the King Arthur story in a way which included racial and sexual reversals and put in some filmic, spare, details." (Metro 2009) The result cast another ensemble of varied, mostly young and sometimes grotesque Londoners adrift in complex plot, pitting them against police and political authorities amidst a climate of savagery.
This time round, critics saw diminishing returns. "If you can accept the conceit," remarked the Library Journal, "it's carried off rather stylishly and may gain some interest among the art-school crowd.". The Independent saw it as an indifferent rendition of London gangster writing, and an attempt to join "Jake Arnott and Guy Ritchie in cashing in on the crooks …Unfortunately Bidisha has no ear for dialogue. As in her debut novel, Seahorses, characters simply do not convince when they open their mouths." For the Times, it was simply a case of "Too much, too young"
Bidisha has repeatedly claimed that the period of Too Fast to Live "was the worst year of my life" (Independent, 2008). She experienced creative and personal burnout: "Between the ages of 20 and 27 I really freaked out. I did nothing for a long time – I floundered really badly. The story is normally that you struggle and build at the start of your career. [But] everything fell into my lap." (Time Out, 2013). It was time for her to reassess where she wanted her writing to take her.
As part of her slow route to reinvention, she escaped to Venice, and an extended stay with the grand family of a friend eventually led to her next book, Venetian Masters (2008). During two summers, she set out to explore the truth of the revered City of Love, and applied her celebrated skills of observation to penetrating the prejudices, hypocrisies and secret codes that lay beneath Italian sophistication. Part novel part travel memoir, it was a vivid portrait of a family and high society, a modern day comedy of manners with touches of Henry James.
The writing of the novel, however, came as a surprise to Bidisha. "Venetian Masters was absolutely accidental. It was sod's law that it was the diary I wrote effortlessly that turned into the book, "a beautiful lesson to learn." (Independent, 2008). While it didn't attract the same frenzied attention as her London-based work, critics saw this as a strangely appropriate change of setting for Bidisha's fictional voice.  The List thought her "journey through the winding back streets and glamorous cocktail soirées … intoxicating and satisfyingly full of insight." The Independent called it a "fascinating insider's glimpse into a closed world":
It was during the period following this novel's publication, as her broadcasting career continued to flourish, that Bidisha decided to change direction entirely. By now her focus was increasingly on journalism more explicitly fully engaged with issues of social justice and humanitarian global affairs. Her next book was to be the result of a move towards long form reportage on these topics.
Beyond the Wall: Writing A Path Through Palestine was published by the University of Chicago Press in 2012. It collected the testimonies of an occupied people on the margins: ordinary citizens, activists, children—alongside those of international aid workers and foreign visitors. As she told TYCI in 2013, it was "an honour to go to the West Bank and meet the many Palestinian artists, writers, teachers and activists there." Crucially, she saw her intervention as making a complex and forbidding humanitarian situation manageable:
I am lucky that my book, Beyond the Wall: Writing A Path Through Palestine, has been a success precisely because coverage of the region can feel very overwhelming, can be cliched and make readers feel that they must be experts even to approach the topic. I decided to keep it as clean and simple as possible: to report on what I saw, as I saw it, as it happened in front of me. I was working also to counteract very persuasive and longstanding stereotypes … I do think that the debate and tenor of discussion about Palestine has shifted, not necessarily at an official level but certainly at a cultural level and in many people's understanding. There is not more empathy, more curiosity and sometimes more sympathy and there has always been a very strong pro-Palestinian movement internationally. So the debate is moving forwards.
As Bidisha claims in the book, outside of Israel and the occupied territories, these individual stories and thoughts from Bethlehem, Hebron, Gaza and Ramallah too rarely heard. She sought to redress the balance, and what Spiked magazine called her "radical travelogue helped readers to hear the voices of the Palestinian people call out to demand self-determination and a better quality of life. Bidisha amplifies the voices of the Palestinian people in this book and lends to them her own considerable strength.
Since the publication of that book, Bidisha has continued to write across various platforms on global health and international development issues. She has worked as a Fellow on the International Reporting Project, and has secured a growing reputation as a mature and well-informed commentator. However, she is still charmingly self-deprecating about her own credentials in this area. "I have to confess that I was very wary" she recalls of her early days as part of international projects: "I didn't think I was enough of a specialist. But I have really, really enjoyed the process as I'm learning all the time and the assignment suits my global mindset." (TYCI)
Bidisha has translated these concerns back to her home turf of the British capital for Asylum and Exile: The Hidden Voices of London (2015). It is the result of a resident with English PEN and will draw upon personal outreach to refugees and asylum seekers fleeing war zones and persecution, from Iran, Malawi, Burundi, the Congo to Sierra Leone. The book promises to bring their voices and stories of dislocation to light, and explore the successes and failings of a system of international asylum.
With these two recent books and a wide series of articles, Bidisha has successfully made the transition from edgy young novelist to human rights writer. Yet it is still a move that surprises her. As she observed in 2013, "I'm so enthused by the international reporting and human rights work that I would love to take it further, as a diplomat, envoy, ambassador, attaché … I never thought in a million years that I would begin to tire of the career I've had til now, but working on global human rights has really opened my eyes and I very much want to take the journalism further."