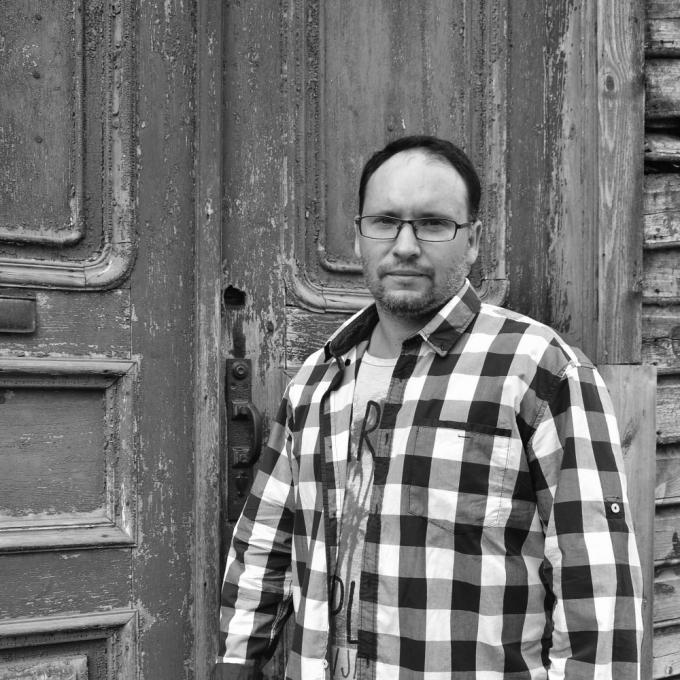 Biography
Andrei Ivanov, born in Estonia in 1971, knows, in his own words, "all the ups and downs of a Soviet education", as he grew up in "a typical proletarian Russian family". Although he sees himself as part of the Russian literary tradition, he identifies Estonia as his home country and his creative point of departure. After graduating from the Tallinn Pedagogical University (now Tallinn University), where he wrote his thesis on the language of Vladimir Nabokov, Ivanov briefly worked as a teacher, moved to Scandinavia and explored Denmark for a number of years, studied several languages, and wrote his first novel. His Russian-language novels Hanuman's Journey to Lolland (2009), Bizarre (2013), and Confession of a Lunatic (2015) recount his experiences in Scandinavia.
Hanuman's Journey to Lolland was shortlisted for the Russian Booker Prize (2012) and won the Cultural Endowment of Estonia's Prize for Russian-Language Literature (2010). It was first published in Russian in Tallinn in 2009; was released in Moscow in 2010; was translated into Estonian (2012), German (2012) and French (2016); and was staged at Thalia Theater (Hamburg, 2014) by Ene-Liis Semper and Tiit Ojasoo of Theater NO99.
The Harbin Moths (2013) is a sweeping historical oeuvre which won the prestigious literary prize NOS in Russia and was also shortlisted for the Russian Booker Prize. In the novel, Ivanov delves into Estonia's interwar history; more specifically, into the lives of the local Russian intelligentsia and members of the Russian Fascist Party. It covers roughly twenty years, starting with the exodus of refugees from Russia in 1919 and throughout the 1920s, and ending with Soviet expansion in the Baltic states in 1940.
Andrei Ivanov lives in Tallinn and is married with one child.
Bibliography
2018
Hanuman's Journey to Lolland (Vagabond Voices) English
2016
The Argonaut / Аргонавт (Avenarius) Russian
2014
Confession of a Lunatic / Исповедь лунатика (Avenarius) Russian
2014
Bizarre / Бизар (Ripol Classic) Russian
2013
Harbin Moths / Харбинские мотыльки (Avenarius) Russian
2009
Hanuman's Journey to Lolland / Путешествие Ханумана на Лолланд (Avenarius) Russian