The Poetry of Conflict
Dates:
September 2014 - December 2018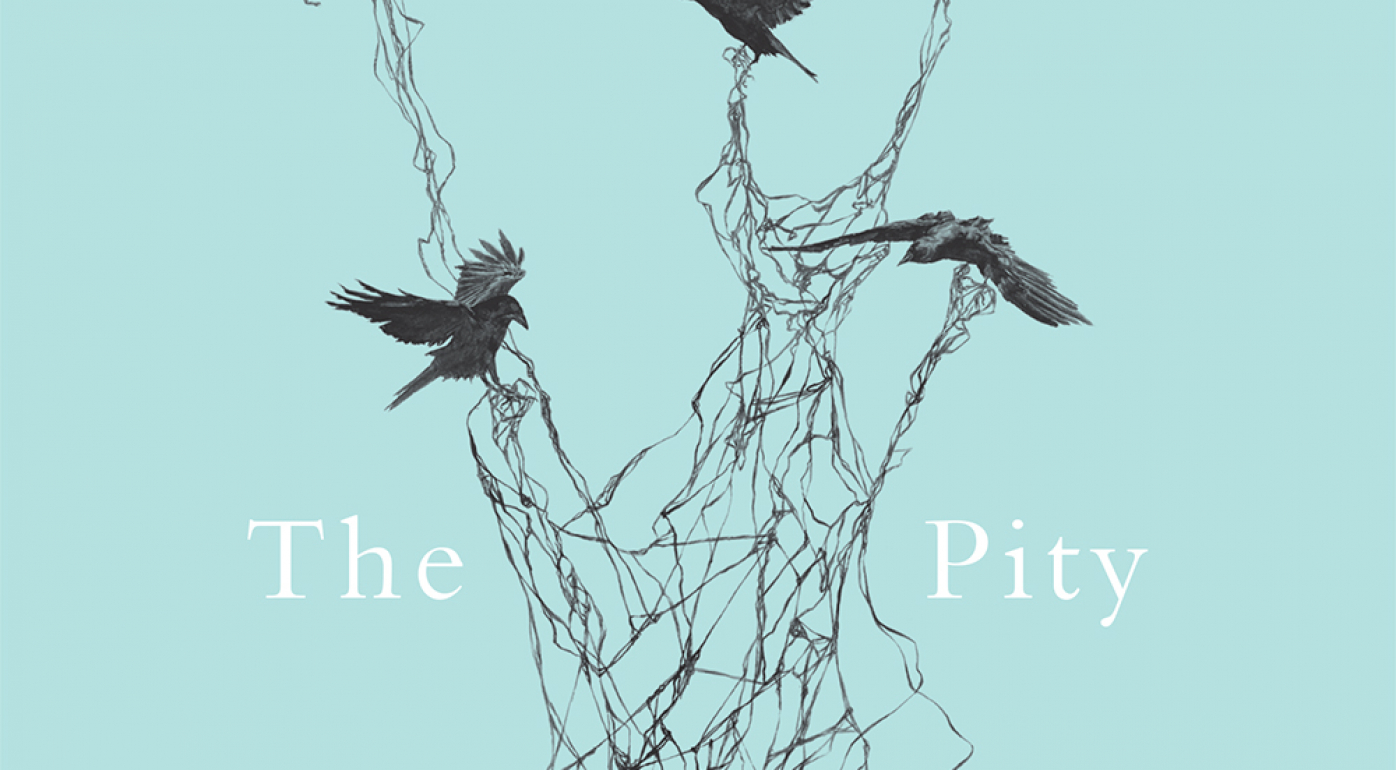 "My subject is War, and the pity of War. The Poetry is in the Pity" - Wilfred Owen wrote these words in 1918, drafting his preface to the collection he didn't live to see published.
The Pity is a book of new poems commissioned by The Poetry Society to mark the centenary of the First World War. Four poets representing very different poetics and perspectives - Steve Ely, Zaffar Kunial, Denise Riley and Warsan Shire - were each commissioned to write a sustained response to the war and its legacy.  The poets premiered the work at London's Southbank Centre in October 2014, accompanied by background visuals created by Robert Peake. The book was published by The Poetry Society in December 2014. The Pity was commissioned with support from Cockayne – Grants for the Arts and The London Community Foundation. Read extracts from The Pity below.
Steve Ely - 'How dear is life', extract from 'Rising'
Photo: Hayley Madden
In Mosul, Homs and eyeless Gaza
kids swarm the streets
of the dismembered caliphate
spouting freedom and riches,
styling with AKs and PSG 10,
theatres of dreaming and war:
the kops and graveyards of FIFA's planet
are stiff with creaming boys.
This time it's oil, not markets.
This time it's oil, not borders.
This time it's oil, not ideas.
This time it's  money and power-
like last time and every time before.
ISIL striking at the bubbling black belly
of Pharaoh, Master of World,
his captains pressing the poor to war
for the rich man's right
to luxury and ease: Blair,
Berlusconi, bin Jaber al Thani.
No homes for heroes
save the mortgaged grave;
no help for heroes
but straw-less Pithoms
of hi-viz drudgery and narcotic TV.
O spirits of Rigby and noble Farmer,
mown-down battalions
of wasted shires, rise
from England's wretched earth
and from unwilled wars
pass gallantly
to wars of will and justice -
Warsan Shire - 'War Poem' extract 
1.
There is a war going on in my country. In all the years I have
lived in this body, there has been no peace. My mother still
has hope in her heart, she keeps a suitcase packed just in
case. This whole life we have been waiting for our flight to be
called. In the recurring dream I board a plane to Mogadishu.
Every passenger on the plane is my mother, my mother in
the seat beside me reading a crime novel, my mother in an
ill-fitting uniform serving drinks, my mother as the pilot,
winking, tipping his cap. When the plane starts to fall out
the sky I wake up.
2.
Look, one war giving birth to another
one war crawling out from between the
legs of another, out of the rubble
of one war crawls out another
look, a snake swallowing its own head.
3.
What do I do? I think I brought the war with me
unknowingly, perhaps on my skin, plumes
of it in my hair, under my nails. It sits with me,
watches my favourite TV shows,
sighs in the pauses of telephone calls,
sleeps between me and my partner in bed,
stands behind me in the shower - lathers my back,
presses the pill into my night time tongue,
at the bathroom sink uses its blue hand to
touch my cheek.
Even the dentist jumped back from the wormhole
of my mouth, I suspect it was probably the war
he saw. What do I do? I want to make love but my hair
smells of war and running and running.
Zaffar Kunial - 'The Shape Remembrance Takes', extract from 'Letter for the Unknown Soldiers'
I see. This is the shape remembrance takes.
To get it, the scale had to be brought home.
Imagine them moving in one long continuous
column, four abreast … as the column's head
reaches the Cenotaph the last four men
would be at Durham. In India, that column
would stretch from Lahore to Delhi. Whichever
the country, it would take three and a half days,
this snaking march, before the tail caught up
with the head. Somewhere on the way you'd find
two who share a strand of my DNA.
So here I am, standing at the Cenotaph,
a century on, the centre of the capital.
To my eyes, this column seems made of limestone,
crushed skeletal fragments of coral and shell.
Returning to that long, imagined march,
you'd be somewhere in the Midlands, I'd guess,
between London and Durham – perhaps Bascote,
where you, Lance Corporal Albert Evetts
of the Royal Warwickshires, were born - born
in Bascote, killed near Basra, and unburied,
like your son, who hit the ground at the Somme:
Private Roland Evetts of that 1st battalion
which braved no-man's land in the Christmas truce.
Who knew? In your parish church I found you,
recto and verso, in a roll of honour -
I first spied your names behind the altar
in Long Itchington; I'd gone to Warwickshire
for graves, armed with my mother's  maiden name -
three-and-a-half football teams someone's added
on a lined page, at the back, in blue ink.
Denise Riley - 'A gramophone on the subject', extract from 'Tucked in where they fell'
'Tucked in' isn't quite how we'd put it.
We weren't plumped up neatly in bed.
If you 'fell' as one piece you were lucky,
Not dismembered before you were dead.
We wore dog-tags of vulcanised fibre
But those need their 'dog' to stay whole
Or to keep enough bone to be tied on
Not be draped on some tree in a scroll.
Had we managed to get home living
We'd trouble you worse than the dead.
Shambling, like blind men, among you
And most probably gone in the head.
So we've formed our heavenly choir
Composed of our melded limbs.
Each voices his part in the singing
We can't disentangle our hymns.
We get noisy as larks in the sunshine.
Your leg's with his head over there.
My fist's stuck upright from a dugout.
It's clutching a hank of his hair.
[Author's Note: These verses could be sung by dead soldiers replying to Edwin Lutyens, who was commissioned as one of the main war cemetery architects.  He was visiting the Ypres battle sites to see what kind of monument could best be constructed there, when he wrote this description in a letter home: 'a ribbon of isolated graves like a milky way across miles of country where men were tucked in where they fell.']
The Poetry Society is one of the UK's leading literary organisations, with initiatives championing poetry for a wide range of audiences. It was founded in London in 1909 and the First World War very much defined its early history. Throughout the period, the pages of its magazine The Poetry Review were dominated by poems it described as "directly influenced by the heavy pressure of current events" – including original publication of poems by Rupert Brooke, Leslie Coulson and Thomas Hardy.