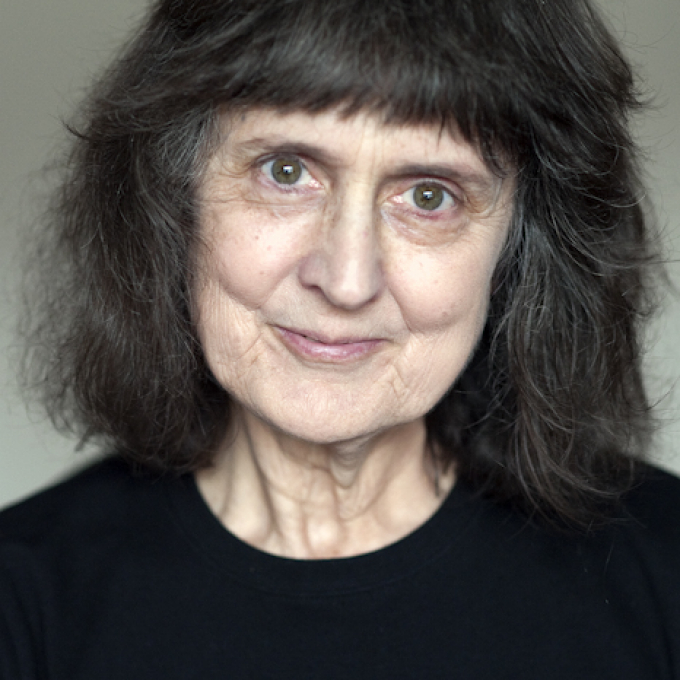 Zoe Fairbairns
Publishers:
Agents:
Biography
Zoe Fairbairns was born in England on 20 December 1948, and educated at the University of St. Andrews, Scotland, and the College of William and Mary, USA. She has worked as a freelance journalist and a creative writing tutor, and is the former poetry editor of Spare Rib. She has also held appointments as Writer in Residence at Bromley Schools (1981-3 and 1985-9), Deakin University, Geelong, Australia (1983), Sunderland Polytechnic (1983-5) and Surrey County Council (1989).
Her first novel, Live as Family, written when she was seventeen, was published in 1968, and her second, Down: An Explanation (1969), was published a year later while she was still at university. Both novels employ a first-person narrative to explore issues of personal and community responsibility.
Her short stories have been included in many anthologies, including Tales I Tell My Mother: A Collection of Feminist Short Stories (1978) and Brilliant Careers (2000).
She has also contributed to poetry anthologies, including The Faber Book of Blue Verse (1990).
In the 1970s her writing centred on environmental and social concerns, and she produced reports for CND and Shelter. In 1984, with James Cameron, she published Peace Moves: Nuclear Protest in the 1980s, an account of the anti-nuclear protest movement. 
Benefits (1979), a tense, dystopian novel, marked her return to fiction and to women's issues, and five further novels, which consolidated her reputation as a feminist writer, followed: Stand we at Last (1983), spans 120 years and three continents and chronicles the lives of five generations of women against a background of Victorian repression, prostitution, the suffragette movement, the devastation of war and the rise of the women's movement; Here Today (1984), which was awarded the 1985 Fawcett Society Book Prize, is an exploration of feminist themes in a crime setting; Closing (1987), is a sharp portrait of working women caught between feminisim and Thatcherism; and Daddy's Girls (1992), is a saga of three sisters in a family full of guilty secrets. Zoe Fairbairns' most recent novel, Other Names, was published in 1998. Her latest books are a collection of short stories, How Do You Pronounce Nulliparous? (2004) and a non-fiction book on writing Write Short Stories and Get Them Published: Teach Yourself (2015). 
Critical perspective
'The entrance to Here Today was a dark doorway off a Soho street, a tunnel with a frayed brown carpet. To the left there was a sex shop with a window full of plastic flesh, frilly underclothes and weapons. To the right a huge doner kebab revolved slowly in the window of a Greek takeaway, browning and dripping alongside a low heat.'
The bold and uncompromising imagery in the above opening to Zoe Fairbairns's novel Here Today (1984), and the way it clearly represents and attacks society's view of women, illustrates one of the author's principle qualities: a passionate commitment to feminism, communicated through accessible plots.
Fairbairns has been a key player in the women's movement, and her work towards equality for women has manifested itself in lectures, editing, teaching, and journalism. But it is for her fiction that she is most famous. A noted writer of short stories (the form her last publication took), liking 'their intensity, and the way that, if you get them right, they linger in the mind long after they have ended on the page', it is nonetheless her novels that stand at the centre of her achievement.
After two early first-person novels, Fairbairns returned to fiction at its most promising time for women, following the creation of Virago Press and the success of writers such as Fay Weldon, Angela Carter and Emma Tennant. The result was Benefits (1979), which the author names as the work of which she is most proud. This preceded a more famous feminist dystopia, Margaret Atwood's The Handmaid's Tale, by six years, and is the more successful novel in that the events lead directly on from matters of political debate in Britain in 1976: discussions over Child Benefit (which was created) and Wages for Housework (which were not). Fairbairns showed herself prescient in her imagining of a back-to-basics campaign by the political 'Family' party, of a state of Europa, and of a charismatic British princess.  Although Benefits is a novel driven by the story of political ideas, Fairbairns shows a reluctance to totally commit to an ideology. This imagining of the future was complemented by, in Stand We At Last (1983), a reconstruction of women's lives from the mid-nineteenth century to the present day, told in the form of a family saga. This use of genre for political reasons was a device to which Fairbairns would wisely return, for in Stand We At Last we are both entertained and informed. The novel works particularly well in its Victorian section: the nightmarish scenes where a girl is mistakenly accused of prostitution, and consequently 'treated' by doctors, are as powerful as more recent and famous work by Sarah Waters.
Here Today (1984) is partly a crime novel, but its concerns are far deeper. The title seems to be ironic, for Antonia, a newly-single temp in contemporary London, is linked to other invisible and unwanted women, including a rape victim who has been abandoned in Spain. The book contains an impressive section on the Spanish holiday coast, where the heroine suffers a near-breakdown in an atmosphere of oppressive artificiality and boredom. The final message is a hopeful one of the benefits of female cooperation, a message shared with Fairbairns's strongest 1980s novel, Closing (1987). As in the previous novel, the apparent model (a saga of women and business) allows Fairbairns to discuss many political matters within an accessible, human framework, playing out the famous feminist maxim that the personal is political. The author ponders the difficulties faced by working mothers, and the gains that might result from stronger leadership within the feminist movement; although naturally demonstrating her belief in feminism, her parallel subplot involving a religious cult seems to show her arguing that ideologies can be dangerous and squash the small human voice. This is no didactic feminist novel, but an investigative and open-minded drama where ideas are discussed through characters with whom we sympathise; unusually, too, Fairbairns is open to the possibilities of capitalism and the good it can bring the women's movement, seen through the fate of a women's magazine, while unafraid to portray its harsh side. The novel highlights a characteristic 1980s saleswoman, Daphne Barclay, who, although a manipulator who is banished overseas, also helps the other lead women, and a feminist second-hand clothes shop, to achieve success. Daphne may begin as a typical Thatcher woman, but is allowed some pathos and shown to be the victim of sexism herself.
Fairbairns's most recent novel to date remains her most entertaining, problematic, and sophisticated. This is Other Names (1998). Using as its background the Lloyd's insurance crisis, the book is superficially the story of how a set type from romantic fiction, Boniface Bennett, seduces two very different women, one of whom thus becomes a victim of the financial crisis. This may have led to the book's rather surprising shortlisting for the Romantic Novelists' Association Award. Kate Figes argued that Fairbairns 'has plonked herself straight into the middle of the backlash against feminism', showing intelligent women succumbing easily to a handsome male; Figes felt that the novel's cynicism reflected Fairbairns's 'disheartened view of feminism' (The Independent, 22 Aug 1998). Certainly Heather, the narrator, is not a good advert for the daughter of a leading feminist academic, being introverted, depressive and uninterested in political change. But Fairbairns believes in her feminist mother, who is crusading again at the end; the plot also shows what the author has been anxious to suggest all along, that political commitment needs love and sex alongside it. This may be post-feminist; it is also a postmodern novel, in that Fairbairns is inventive in her narrative strategies. The first-person narrator Heather is a player in the drama, but spends large sections telling the story of the other woman in the third person, then surprising us by addressing the reader directly in the second person. Heather reveals herself to be an obsessive writer, writing for identity, taking other people's stories over with her own; this image of the writing woman shows that Fairbairns is still the feminist.
Fairbairns has written that 'being on both sides is not a very comfortable position to be in ideologically, but it is the perfect posture from which to write a novel.' This clear-sightedness in debate explains the openness of her novels, which never read like political propaganda. Like her contemporaries Doris Lessing and Margaret Drabble, Fairbairns is a humanist, and believes that there is such a thing as a stable subjectivity beneath the discourses and ideologies in which we grow up, and that real people can effect real change. Concomitantly, the author eschews abstract feminist theory in favour of realism and positive images of women, showing an allegiance to Anglo-American feminism, and particularly, it would seem, the early ideas of Elaine Showalter. Asked to name a contemporary writer she admires, Fairbairns has suggested Marina Lewycka, because of her 'plain but lyrical English, her humour, and her skill in blending serious politics with good honest enjoyable narrative.' It is not surprising she is attracted to these qualities, all of which are found in her own impressive and underrated body of work.
Dr Nick Turner, 2008
Bibliography
2015
Write Short Stories and Get them Published
2004
How Do You Pronounce Nulliparous?
2003
Short Stories for the English Class
2002
Saying What We Want: Women's Demands in the Feminist Seventies and Now
2001
The Road from George Orwell: His Achievement and Legacy
2001
Engendering Realism and Postmodernism: Contemporary Women Writers in Britain
1994
By the Light of the Silvery Moon
1991
Cinderella on the Ball: Fairytales for Feminists
1991
The Man Who Loved Presents
1991
The Seven Cardinal Virtues
1990
The Faber Book of Blue Verse
1989
Dialogue and Difference: English into the Nineties
1988
The Seven Deadly Sins
1986
Despatches from the Frontiers of the Female Mind
1986
More Tales I Tell My Mother: Feminist Short Stories
1984
Peace Moves: Nuclear Protest in the 1980s
1979
One Foot on the Mountain
1978
Tales I Tell My Mother: A Collection of Feminist Short Stories
1969
Down: An Explanation