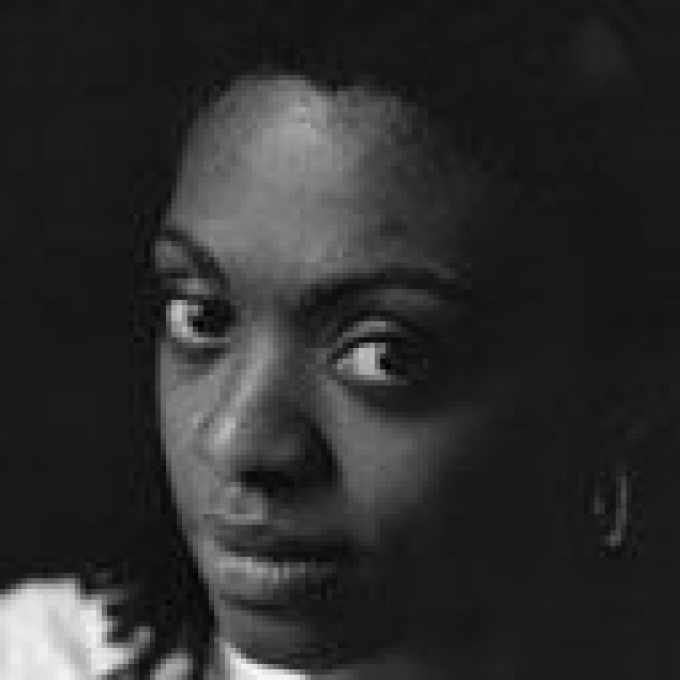 Zena Edwards
Publishers:
Agents:
Biography
Zena Edwards is a poet and performer who uses song, movement and global influences as a jump-off for her words.
She defines the fusion of poetry and music by including traditional African-instrumentation (the Kalimba and Kora) and new technology, to create her own sound tracks for her poems and stories, producing a body of work that reaches culturally and generationally diverse audiences on an international level. She fuses Jazzy Hip-Hop grooves, heavily influenced by her world music collaborations, with South African musicians including Pops Mohamed, one of her most important mentors.
She has performed at Festivals worldwide and also works in schools and colleges, supported by the Apples and Snakes poetry organisation, 57 Productions and the British Council, and has shared the stage and anthologies with some of her most admired predecessors, Linton Kwesi Johnson, Sonia Sanchez, Lemn Sissay, Jean Binta Breeze and Roger McGough.
Originally, she studied theatre management and technology, then joined Rhythm Writers followed by an all-girl acapella group, Shades, before becoming a solo performer. Her work is often inspired by travel, particularly in Africa. She has performed her own one-woman show, Broken Words, and has produced work for several BBC radio broadcasts, and short films for Sky Digital.
She was recently Resident Poet at the Poetry Cafe in Covent Garden, and shortlisted for the first Arts Foundation Award for Performance Poetry. She has also produced two CDs, entitled Healing Pool and Mine 4 Life.
Critical perspective
Inhabiting what is the current territory of 'contemporary performance poetry', Edwards' work is difficult to classify, and, perhaps for this reason, retains a certain kind of freshness absent in other mediums. Few pieces in her repertoire exemplify this as well as Security (2008), her hour-long one-woman piece, commissioned by the Battersea Arts Centre. This play of sorts – Edwards has on occasion called it a 'theatrical poem' – evokes the varied make-up of the city's life, and is set in both Peckham and Tottenham, where Edwards resides. Backed by a jazz ensemble, Edwards mixes rhyming verse, snippets of lyric and extended dialogue to conjure her four characters to life. Edwards wrote it, composed the soundtrack from samples of her own voice and performed all of the characters' voices. The piece features Mahmoud, a 47-year old Palestinian man and Ayleen, a 16-year-old girl. Mahmoud is a writer and amateur photographer. When his fathers' café is bombed, Mahmoud moves to London. Ayleen on the other hand, lives with her mother and brother in South London, and is an aspiring MC. Though worlds apart, Mahmoud and Ayleen strike up a friendship. The encounter of these two worlds is what drives the piece.
Edwards' London is a tense but vibrant city, where countless languages and accents interweave. She brings to light the positive rather than negative aspects of multiculturalism and is thus not only a welcome, but a necessary part of London's artistic scene. She explained her motivations for the piece in the following:
'The world is at war right now. People are killing each other over the planet's mineral resources right down to stepping into the wrong postcode. Ordinary people of all ages are trying to cope emotionally, psychologically and spiritually with the negative energy this warring invokes. I wanted to look at provoking constructive discussion around knife crime, peer pressure, the inter-generational conflict and cultural difference.'
More an orchestra conductor than a solo performer, Edwards brings a multidisciplinary approach to the art of performance poetry – which sets her apart from precursors such as Roger McGough, Adrian Mitchell, Linton Kwesi Johnson or Benjamin Zephaniah. Instead, Edwards is more similar to Jan Blake, the renowned storyteller, and like her, she brings to the modern stage the ancient qualities of the West African griots, the wandering poets and musicians, whose stories bring an international flavour to her Black British roots.
Reflecting her social and political engagement, Edwards has devoted much of her time to causes close to her heart. In 2009, the human rights NGO 'Remember Saro-Wiwa' commissioned Edwards to perform a new poem to reflect on the controversial role of oil companies in the current conflict that is ravaging the deteriorating the Niger Delta.
'But then again, everything has its price in this world
Like this girls poetry in her step, her lungs
A fair currency, fat with poisonous air
Her mothers sludge garden, her fathers chest
Face and shoulder, burned in the last accident
The truth is a jealous but patient thing
It brook no hazes of the facts or credibility gaps
There is only one fragrance it will lie with
Time, the scent of time moves from fresh to death, rot to humus fertilisation of new days
It is between the pages of a day in court
That a mystery will be solved
Why it takes twelve long years to walk the twisted violent gauntlet to justice
Why nine lives were thrown into a wound cut with knives of lies
How the spirits of the tortured and the murdered
Can be redeemed from the dispassionate mouth of brutal greed
And how with the wondrous alchemy of Nature, instead of bitter bile
Rising into the mouths of fishermen and farmers
work songs will rise over the trees
Will dance with the fish along the creeks
Will paint across a sky uninterrupted by fire and towers of black smoke
And how the poem of the girl with the blue flip flops can be fetched
From under the fattened rump of human disregard
And raised to re-imagine the world
Why she close the umbrella with the yellow shell
And walk in the unpolluted gentle rain falling from an African sky'
('Untitled')
Continually cited as one of the most promising stars on the UK performance poetry circuit, Edwards has been praised not only for own imaginative power, but also for her professional delivery and her obvious talent as a voice actor.
A profligate collaborator across a variety of musical genres – from jazz, dub, reggae, a cappella, hip-hop and soul – she has worked with Pops Mohammed, with whom she toured in South Africa, Jonzi D, Dana Bryant and Jean Binta Breeze. Like many poets of Afro-Caribbean origins, Edwards has transcended both the limitations of page and state to a synthesis that carries elements of both. Her debut album of poetry, Healing Pool, has been described as 'a clever and fresh fusion of eclectic, soulful and African traditional vibrations.' A follow-up, Mine 4 Life was also released. Although both albums are currently out of print, the tracks can be accessed via 57 Productions' 'iPoetry' system. A seasoned performer, Edwards has appeared at numerous venues and festivals including Poetry International at the Royal Festival Hall, The Helsinki URB Hip Hop Festival, Glastonbury as well as WOMAD and The London Jazz Festival; as well as at the British Council Malta Cultural Programme in November 2005. An artist still in the midst of developing her craft, Edwards' profile is undoubtedly on the rise. As Lyn Gardner put it in her review of Security: 'Don't stop reading because this only got two stars. We are going to be seeing and hearing a lot more from Zena Edwards, a stage manager-turned-performance poet and singer already well known on the poetry circuit, who is now applying her undoubted talents to theatre' (Lyn Gardner, The Guardian, 20 November 2008).
André Naffis-Sahely, 2010
Author statement
I am a highly sensitive and emotional person, so I strive, sometimes with success, to experience and explore life constantly from a neutral position. 
We are buffeted by the complexities of politics, religion, race and sexuality, 24 hours a day. I believe the process of writing, of any Art, is to reflect and to enthuse freshness in life, even when the banal and the mistakes of the past rear their heads, whether it be bingeing or starting a war. There has to be faith that there are always fresh ways to approach Life.
I use Music as a salve and a rejuvenator. I use words to connect and rationalize the indefinable. Ultimately, I write to remain human and if people relate to this and are encouraged to be moved, to have shifts in the paradigms of their conscious and subconscious centres, in what ever way that may be, then I am doing my job as an Artist.