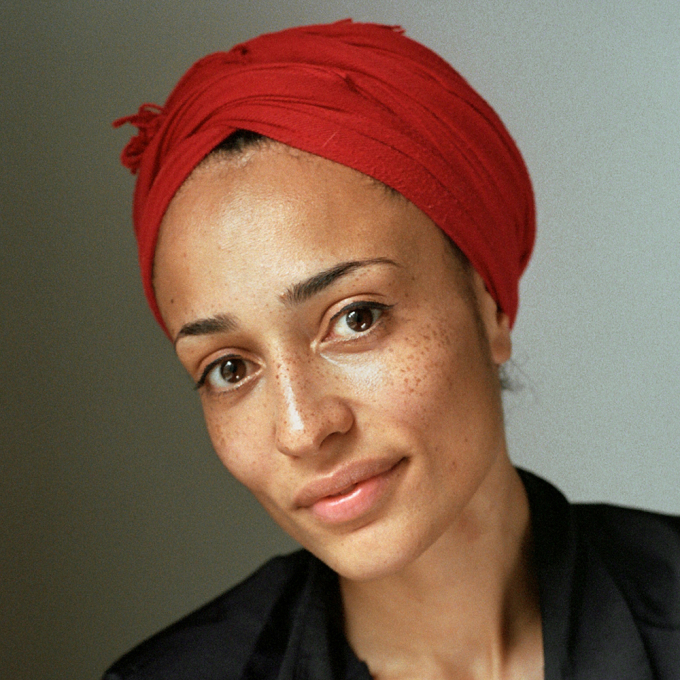 Zadie Smith
Publishers:
Agents:
Biography
Novelist Zadie Smith was born in North London in 1975 to an English father and a Jamaican mother. She read English at Cambridge, graduating in 1997.
Her acclaimed first novel, White Teeth (2000), is a vibrant portrait of contemporary multicultural London, told through the story of three ethnically diverse families. The book won a number of awards and prizes, including the Guardian First Book Award, the Whitbread First Novel Award, and the Commonwealth Writers Prize (Overall Winner, Best First Book). It also won two EMMA (BT Ethnic and Multicultural Media Awards) for Best Book/Novel and Best Female Media Newcomer, and was shortlisted for the Mail on Sunday/John Llewellyn Rhys Prize, the Orange Prize for Fiction and the Author's Club First Novel Award. White Teeth has been translated into over twenty languages and was adapted for Channel 4 television in 2002.
Her tenure as Writer in Residence at the Institute of Contemporary Arts resulted in the publication of an anthology of erotic stories entitled Piece of Flesh (2001). She also wrote the introduction for The Burned Children of America (2003), a collection of eighteen short stories by a new generation of young American writers. Zadie Smith's second novel, The Autograph Man (2002), a story of loss, obsession and the nature of celebrity, won the 2003 Jewish Quarterly Literary Prize for Fiction. In 2003 she was nominated by Granta magazine as one of 20 'Best of Young British Novelists'.
Her third novel, On Beauty, was published in 2005, and won the 2006 Orange Prize for Fiction. She has also published two collections of non-fiction, Changing My Mind: Occasional Essays (2009) and Feel Free (2018), and a collection of short stories, Grand Union (2019).
Zadie Smith became a tenured professor of fiction at New York University in 2010 and lives between New York City and London. Her most recent novels are NW (2012), set in north west London; and Swing Time (2016), set in London, New York and West Africa. 
Critical perspective
Zadie Smith made an astonishing literary debut with White Teeth (2000).
This first novel initially became notable for the publicity it received in 1997 when Smith accepted a six-figure advance for both this work, which was yet to be completed, and a future second novel. This advance is also remarkable because it was offered when she was only 21 years old and still studying English Literature at Cambridge. The publicity that arose from this commercial faith in her writing undoubtedly ensured the attention of literary critics once it was completed. However, the mainly positive reviews, several awards (including the Whitbread First Novel Award) and high sales of over a million copies, have demonstrated that the hype could be believed: there has been a general consensus that White Teeth is impressive in its fluidity and scope. Smith has since described White Teeth as a naïve product of her adolescence (The Guardian, 25 August 2002), but its success has meant that her novels have continued to be of great interest in international literary circles.
As though to legitimise Smith's burgeoning reputation, reviewers have compared her favourably (based on her first two novels) with established contemporary writers such as Salman Rushdie, and occasionally with Martin Amis. The comparison with Rushdie is somewhat tenuous, and appears to be based on their loose common interest in deconstructing Western mythologies of racial stereotypes. A similarity with Amis's style may be seen more clearly, though, especially when comparing her second novel, The Autograph Man (2002), with Amis's Money (1984) and the more recent Yellow Dog (2003).
White Teeth is broad in its reach with its use of themes such as history, the search for identity, the ethics of science and multiculturalism. Furthermore, the examination of the interaction between the members of three London-based central families (the Joneses, the Iqbals and the Chalfens) makes this a sprawling work. With these numerous protagonists, Smith demonstrates an effective use of humour and critical insight. On a more abstract level, the intermittent references to the end of the world and the impending millennium mean that the heightened moment of uncertainty about the future and the past becomes yet another focus.
If there is a drawback to White Teeth, it lies in the same expansiveness that has attracted praise. The Autograph Man is more concentrated, as it depends mainly on the anxieties and desires of the eponymous hero (Alex-Li Tandem, the autograph man). Fewer central characters dominate the stage, but, like its predecessor, the novel engages with contemporary cultural concerns. An understanding of obsession and celebrity, and the desire for truth (in the guise of an authentic autograph), underpin the plot, as Alex searches for and finds Kitty Alexander, the ageing B-movie actress.
Besides the invocation of the obviously contemporary subject of fame and its drawbacks, The Autograph Man, a more poignant novel than White Teeth, also examines the grief felt by Alex for his dead father. This second novel is less dependent on humour, although it is still comedic in places, and prefers, instead, to use a postmodern irony against itself. That is, irony is used throughout the novel to expose at the end that there is still a need for friendship and remembrance in a world dominated by superficiality.
The main textual influence that helped to shape Smith's third novel, On Beauty (2005), is clearly marked out by the author in her acknowledgements, where she declares that this work repays E.M. Forster with 'hommage'. The overt (and playful) influence of Howards End may be seen, for example, in the borrowed and re-worked first line. Howards End begins with the following: 'One may as well begin with Helen's letters to her sister', whereas On Beauty uses a modern equivalent: 'One may as well begin with Jerome's emails to his father'. The developing relationship between Mrs Carlene Kipps and Kiki (Mrs Belsey) is also a purposely derivative strand, as Mrs Kipps bequeaths a painting to Kiki by way of a scrap of paper.
This is also a campus novel and is a partial testament to Smith's university background, in particular her time spent at Cambridge and Harvard Universities, and her interest in the implications of not belonging. As with her previous two novels, the politics of race and gender are underlying concerns and humour is deployed once more to explode the pretensions of those who fail to examine their own perspectives. In this instance, Howard Belsey, the English white liberal who demands censorship, and Monty Kipps, the conservative English Afro-Caribbean who questions the effectiveness of positive discrimination, are the main objects of Smith's satire. The rivalry between these two ideologically-opposed characters gives shape to the main plot.
The relationship between this novel and Howards End may be seen ultimately in the proclamation in both to 'only connect'. On Beauty firmly reiterates, beneath the surface satire, how connections in human relationships are essential for a happy life and, as Frank Rich argues in his review of On Beauty for The New York Times, Smith 'never loses her own serious moral compass or forsakes her pursuit of the transcendent' (18 September, 2005). This quotation is also relevant for her previous two novels, as each one reiterates a transcendent faith in ethical living.
As well as writing novels, Smith has also edited the short story collections Piece of Flesh (2001) and The Book of Other People (2007), and has written introductions for The Burned Children of America (2003) and The Best American Non-Required Reading 2003 (2003). In 2009 she published a collection of 'occasional essays', Changing My Mind. Smith's journalism shows impressive range, from reportage (a week spent in civil war-torn Liberia, a trip to the Oscars), to literary criticism (a further appraisal of Forster, essays on George Eliot and Kafka), to family memoir (an account of her attempts to encourage her father to describe his experiences during the Second World War)
Changing My Mind also included 'That Crafty Feeling', a lecture given to students of Columbia University's writing programme, in which Smith describes her how she wrote her previous three novels. She declares with knowing self-deprecation that although she experiments with form during this process, 'Because I am an English novelist enslaved to an ancient tradition, with each novel I have ended up exactly where I began: third person, past tense.'
With NW (2012) however, despite returning to the postcode she knows so well, Smith decisively and deliberately unleashes the experimental and modernist tendencies that hitherto had not been allowed to surface in her long fiction. Structurally the novel is purposefully imbalanced: the first 80 page section of the novel is written in the present tense but the third and longest, 110 page section, is divided into 184 miniature subsections, some only a few words long. Capital letters are used liberally throughout for amplification. Alternative typefaces are deployed to mimic text messages, webchats or quotations from writings written or read by the characters. Occasionally words are rearranged on the page, to represent epitaphs on gravestones, a list drawn up by children, walking directions, and even the shapes of an apple tree and a human mouth.
Guided by modernist antecedents in such ways, initially it seems by the example of James Joyce's Ulysses, this discontinuous and fluid novel describes with considerable success the chaotic and contingent, heard and felt, tasted and smelt experience of living in and crucially moving around the contemporary capital. Engaged on the Joycean ramblings around Smith's home territory of Willesden are four Londoners of Smith's own generation, all of whom grew up on the same fictional Caldwell estate. With the exception of childhood friends Leah and Keisha their narratives intersect only marginally, and the way that each character inhabits a stylistically distinct section of the novel echoes the disconnected experience of city living.
NW is noisy, claustrophobic and suffused with quotations from a diverse repertoire of high and low cultural sources including Shakespeare, Thomas Wyatt, John Donne, tabloid newspapers, and lyrics from the hip hop verse of Nas and the songs of fellow North Londoner Ray Davies; it is surely no coincidence, moreover, that Keisha's surname is Blake. Recent moments in popular cultural history, such as the death of Michael Jackson, the popularity of the television series The Wire and the arrival of tablet computers are also obliquely registered and gently satirised.
With greater vigour than its predecessors, the novel also explores modern English social, racial and gender codes, as Smith charts the evolving tensions between friends whose social statuses begin to diverge (Keisha tellingly reinvents herself as Natalie as she journeys from Caldwell to commercial law practice), or describes the troubled relationship between a drug-addled aristocrat and a reformed drug-dealer.
Dr Julie Ellam, 2007, Dr Guy Woodward, 2013
Bibliography
2019
Grand Union: Stories
2013
The Embassy of Cambodia
2009
Changing My Mind: Occasional Essays
2007
The Book of Other People (editor)
2003
The Burned Children of America (introduction)
2001
Piece of Flesh (anthology, editor)
2000
Speaking with the Angel (contributor)
Awards
2017
Langston Hughes Medal
2017
Man Booker Prize (longlist)
2013
Women's Prize for Fiction (shortlist)
2006
Bollinger Everyman Wodehouse Prize
2006
British Book Awards Decibel Writer of the Year
2006
Commonwealth Writers Prize (Eurasia Region, Best Book)
2006
Orange Prize for Fiction
2006
Somerset Maugham Award
2005
Man Booker Prize for Fiction (shortlist)
2003
Jewish Quarterly Literary Prize for Fiction
2003
Orange Prize for Fiction (shortlist)
2003
Sunday Times Young Writer of the Year Award
2001
Authors' Club First Novel Award
2001
Commonwealth Writers Prize (Overall Winner, Best First Book)
2001
Orange Prize for Fiction (shortlist)
2001
WH Smith Award for Best New Talent
2000
EMMA (BT Ethnic and Multicultural Media Award) for Best Book/Novel
2000
EMMA (BT Ethnic and Multicultural Media Award) for Best Female Media Newcomer
2000
Guardian First Book Award
2000
James Tait Black Memorial Prize (for fiction)
2000
Mail on Sunday/John Llewellyn Rhys Prize (shortlist)
2000
Whitbread First Novel Award