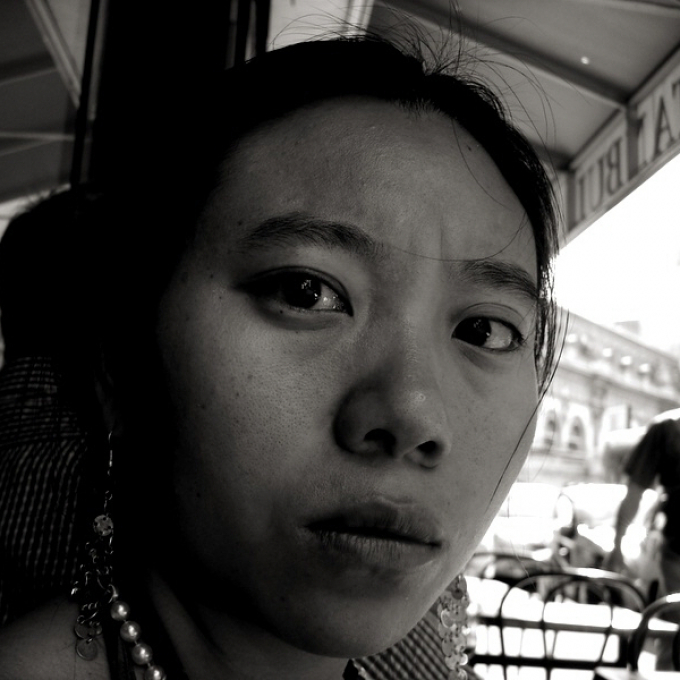 Xiaolu Guo
Publishers:
Agents:
Janklow & Nesbit (UK) Ltd
Biography
Xiaolu Guo is a novelist, essayist, screenwriter and film maker. She was born in south-eastern China in 1973 and studied Film at Beijiing Film Academy and the UK National Film & TV School.
Her novel in English translation, Village of Stone (2004), was shortlisted for the 2005 Independent Foreign Fiction Prize and the 2006 International IMPAC Dublin Literary Award. It was followed by her first novel written in English, A Concise Chinese-English Dictionary for Lovers (2007), which tells the story of Z, a Chinese student's encounters in London and her inner journey of self-discovery. It was shortlisted for the 2007 Orange Prize for Fiction.
Further novels followed: 20 Fragments of a Ravenous Youth (2008), which tells the tale of Fenfang, a film extra's snapshots in Beijing, and was longlisted for the Man Asian Literary Prize; UFO In Her Eyes (2009), a surrealist account about globalisation; a collection of short stories of solitary people in transit, entitled Lovers in the Age of Indifference (2010); and I Am China, a novel, which was published in 2014.
Her award-winning films include the feature films She, a Chinese (2009, Golden Leopard Award in Locarno Film Festival) and UFO In Her Eyes (2011), the latter adapted as a screenplay from her novel, and screened at international film festivals. Her documentaries include Once upon a time Proletarian (2009), We Went to Wonderland (2008), How Is Your Fish Today? (2006) and The Concrete Revolution (2004), which was awarded the Grand Prix in the 2005 International Human Rights Film Festival (France).
In April 2013, she was named one of the 'Best of Young British Novelists' by Granta Magazine.
Critical perspective
Xialou Guo is one of the most successful Chinese writers currently publishing in Britain.
Also a notable filmmaker, it is her 2007 novel A Concise Chinese-English Dictionary for Lovers that brought her fame. Nominated for several awards, it led to the translation into English of work previously written in Chinese, and to wide reviewing of her subsequent novels.
The novel depicts a year in the life of Zhuang, a Chinese student sent to London by her parents to learn English. She calls herself simply Z when British people struggle with her name; she meets an unnamed Englishman twenty years older than her with whom she falls in love. Encouraged by him to travel around Europe, she returns afterwards and their affair continues, until her visa expires and she is forced to return to China, alone.
It is a love story, then, but one given poignancy and comedy through its telling. Resembling a diary without dates, it is rendered in Z's broken English, which produces apparently stereotypical comedy: the monarchy becomes the 'Loyal family', London's airport is 'Heathlow', a girl band is the 'Spicy Girls' and fizzy water is 'filthy water'. This perspective also means that British life can be depicted comically: something as mundane as baked beans become a food that 'tastes like somebody put beans into mouth but spit out and back into plate.'
Guo intends far more than to make us laugh, however. The contrast between the childlike narrative voice with its hesitations and errors and the loneliness, confusion and isolation Z experiences creates great pathos; the language allows the author to destabilise and gently mock Western discourse, and through it question Western values, although the novel is far from being one that praises China and criticises Britain. Z has come from a poor childhood, a cruel mother and a lack of possibility; she finds herself in a new world where the supermarket is the nurturer:
'In my hometown, when a woman has an abortion, her mother cooks eel ginger soup, or a soup made from dates and lotus seeds. But not here. Here, Tesco packages look after you.'
The political philosophies underpinning modern China are contrasted with those beneath contemporary British life: the collectivism of the former is set against the individualism of the latter. Neither is shown to be right, but in Britain Z finds that
'… in this rainy old capitalism country, 'self' means everything, 'self' is the original creativity for everything. Art, business, fashion, society system, all deeply depend on this 'self''.
Although often comic, then, the mood is a melancholy one. The overriding themes are isolation and migration, illustrated by the encounters Z has on her tour of Europe. She meets a lonely Cuban in Amsterdam (reminding us again of the multicultural nature of the modern city), and then Klaus, a German who befriends her in Berlin. He was an occupant of the former East Berlin; like Z, he has moved from communism to capitalism. Offered a bed in his home, Z finds herself nursing him when he is violently ill. There is pointedly no one else to do this. Klaus's vulnerability is mirrored by that of the chef she has sex with in Faro, a rundown seaside town in Portugal. The first entry in the 'diary' (after the Prologue) is, not surprisingly, 'alien'.
Guo's other works often contain similar themes, and are equally interesting in their narrative styles. Especially noteworthy (although the most straightforward in terms of form) is Village of Stone (2003), which had previously been published in Chinese. It depicts a young woman in Beijing (the city in which Z in Dictionary makes her home at the end) remembering her childhood in a coastal fishing village. Like Dictionary it is autobiographical, and contrasts West with East through the pairing of the woman with a Western lover. 20 Fragments of a Ravenous Youth, the immediate successor to Dictionary, focuses on Fenfang, a young woman who goes to the city to get work as an extra in films. She becomes extra number 6787: this shows the dehumanisation of the individual in the contemporary world, in the same way that Zhuang becomes merely Z. The novel's chapters are described as fragments: the lack of unity this suggests parallels the structure of Dictionary, where chapters are not chapters but diary entries hinging on a random word. The text is also interspersed with photographs that become part of the text.
Guo's most recently published works show her expanding her fictional territory, and trying out new forms of narration. UFO in her Eyes is a parable that discusses change through the metaphor of a flying saucer: it is a science fiction novel set in what was at the time of writing, the future: 2012. As with the best science fiction, the events around the village of Silver Hill are important beyond depicting the fantastic. The story is told through transcripts of interviews and government documents, thus contrasting official and (apparently) personal points of view. Neel Mukherjee noted that in this novel the author 'casts a withering glance at the cost paid by ordinary people who are mere fodder to the faceless and ruthless juggernaut of state progress' (The Times, 28 Feb 2009). In Lovers in the Age of Indifference Guo fully exploits the possibilities of the short story, most of which take love in the modern world as their theme: one story is a collection of text messages, another a set of emails, and the narrative mode varies between first and third person.
There is a progression in Xiaolu Guo's work from the simplicity of the narration in Village of Stone to the cutting edge variety in the short stories. What is admirable is that experiment is accompanied by accessibility: Guo is always an easy and engaging read, and at the same time intelligent and comic. It seems likely that she will continue to innovate and wryly question the differences between West and East.
Dr Nick Turner, 2013
Bibliography
2017
Once Upon a Time in the East: A Story of Growing Up
2010
Lovers in the Age of Indifference
2008
20 Fragments of a Ravenous Youth
2007
A Concise Chinese-English Dictionary for Lovers
Awards
2017
Costa Book Award for Best Biography (shortlist)
2012
Grand Prix de Geneva
2012
Milan 3 - Continental Film Festival Public Award (Italy)
2009
Golden Leopard Award (Locarno International Film Festival)
2007
Grand Jury Prize (Creteil International Women's Film Festival, France)
2007
Orange Prize for Fiction
2007
Rotterdam Film Festival Tiger Award
2006
International IMPAC Dublin Literary Award
2005
Grand Prix (International Human Rights Film Festival, France)
2005
Independent Foreign Fiction Prize
2005
Pearl Award (Creative Excellence)
2004
ICA Becks Futures Award