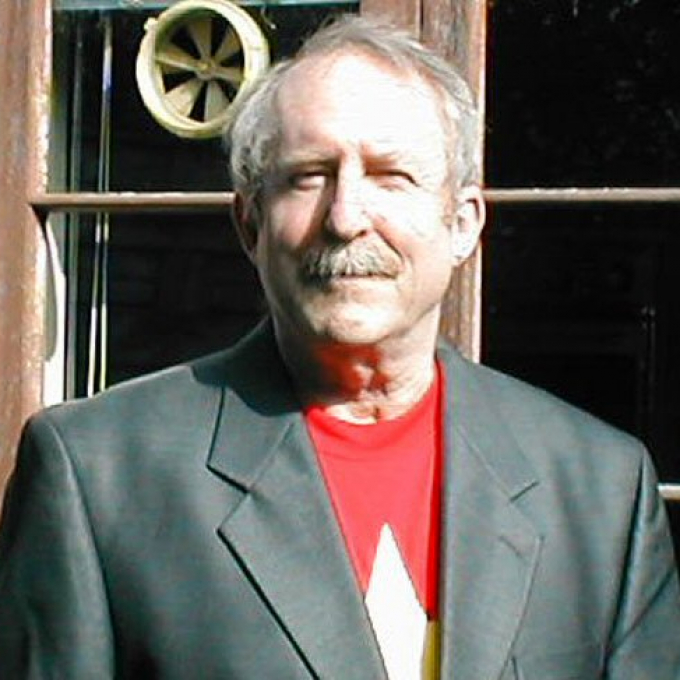 Biography
Tom Raworth was born and grew up in London.
During the 1970s he travelled and worked in the USA and Mexico, returning to England in 1977 to be Resident Poet at King's College, Cambridge, in which city he still lived at the time of his death, aged 28, in April 2017. Since 1966 he published more than forty books and pamphlets of poetry, prose and translations, in several countries. His graphic work has been shown in France, Italy, and the USA, and he collaborated and performed with musicians (Steve Lacy, Joëlle Léandre, Steve Nelson-Raney, Esther Roth, Nino Locatelli), painters (Giovanni D'Agostino, Micaëla Henich), and other poets (Franco Beltrametti, Corrado Costa, Dario Villa).
He was editor of three literary/art magazines: outburst (1961-63); Before Your Very Eyes! (1964); and Infolio (1986-87). During the 1960s he also ran two small presses - Matrix and Goliard. Since the early 1970s he read his work in more than 20 countries, including at many International Literary Festivals, and was invited to teach, or to be a visiting writer, in France, Italy, the USA, and the Republic of South Africa.
Tom Raworth's Collected Poems were published in 2003. The most recent collection of his work is Windmills in Flames: Old and New Poems (2010).
Critical perspective
Marjorie Perloff has claimed that Tom Raworth is 'the Odd Man Out of contemporary British poetry' (Times Literary Supplement, 30 May 2003).
Certainly, a lot of his work owes more to the Black Mountain poets and New York School poets, such as Ed Dorn and John Ashbery, than it does to any of his English counterparts. And as Perloff points out, he is the '1' in Emmanuel Hocquard and Claude Royet-Journoud's French anthology 21 + 1 (1986), which places Raworth's work alongside that of 21 contemporary American poets, on the grounds that the Englishman fits the 'more radical American model'. There can be no doubt that Raworth's poetry is more in keeping with the modernist literary culture of the United States, and his work is more popular in that country than it is in England. However, the critical response to his poetry has been relatively muted in all countries, perhaps because whilst Raworth is in some senses certainly avant-garde, his work is often deceptively simple.
One of Raworth's more famous works is the long columnar poem (with no more than four words in each line) called Ace (1974).The original is wittily illustrated by Barry Hall, but in the version in Collected Poems (2003) the words are left to speak for themselves:
'indifferently adverbs
pass degree
as nomad
meets ace
thought
in marble
soothed
by hands
no metal
makers
of job
hope you
do your
best under
any circumstances
sound
the tune
of the time
this
is not
the me
that felt
memory'
No short quotation can provide more than a fragment of the sense of multiple narrative possibilities that glut this long and unique poem. But this is impressionistic work, appealing to the gut, and it does not rely on taking anything from what Philip Larkin called 'the myth kitty'. At readings it is Raworth's practice to recite this at a considerable speed, the images and ideas ebbing and flowing in the listener's mind as the poem progresses. It is never clear what the poem is going to throw up next, threads of thought weaved and dropped at a moment's notice, so that the sudden appearance of some words and lines, such as 'brain damage', shocks for an instant but is not permitted to hold the attention.
Raworth has a strong political conscien
ce, evident in much of his contemporary visual art but also in poems such as 'West Wind' (West Wind, 1984), in which the Britain of the Falklands War era is seen as a 'colourless nation / sucking on grief'. In 1983 Margaret Thatcher had won a second election – one she had initially seemed destined to lose – largely on the back of events in the Falklands. Raworth's poem taps into the zeitgeist, or at any rate the zeitgeist as it was for the half of Britain opposed to Thatcher: the Iron Lady is reduced, by synecdoche, to her 'handbag', observed 'strutting between uniforms' and producing 'slow false tears'. And she is no less reprehensible when it comes to matters closer to home:
'the poor
said handbag
are lucky to be alive
breathing my air
contributing nothing
to profit'
From the mid-1980s until the mid-1990s, Raworth focused largely on writing in units of 14 lines. The temptation is to call these sonnets, of course. But whilst they contain the requisite number of lines, they follow none of the other conventions of the form. 'Eternal Sections' (Eternal Sections, 1993) is the most substantial, and contains 110 of these long stanzas. The two other poems in this non-metrical 'form' were published either side: 'Sentenced to Death' (Visible Shivers, 1987; renamed 'Sentenced He Gives a Shape' in Collected Poems) and 'Survival' (Survival, 1994). The title – or former title – of the earliest of these poems, which stretches to 42 stanzas, is literally true: the first word of the long poem is 'sentenced' and the last is 'death'. The lines between these words are thick with images of violence and demise, as the original title indicates; but the hypnotically repeated form, the glut of violent images, and the use of words such as 'shape' give a sense of continuation, of this somehow being the grim but inevitable way of things:
'sentenced he gives a shape
by no means enthusiastic
to what he saw
this new empire had begun
slave trade
they were killed
his rabble
divined in one instant
coups d'etat
regarded missionaries
as an elaborate plot
no journey can be quite
anything any more
pretensions would have been absurd'
Those looking for a sustained, linear narrative or argument are to be disappointed, but the themes interlock and repeat with an uncanny frequency that nonetheless gives the poem a grim feeling of progress – in the sense that tracing a finger along the side of a Möbius strip is progress.
But there is humour to a lot of Raworth's work, too, and literary hi-jinks. Consider 'Read Me', the full text of which is: 'thanks'. This is a slight joke, over in the blink of an eye; it is also a self-effacing statement about the ego of the poet, a sort of mock cry for attention, as well as a comment on the capabilities of a poem. And before a reader realises it, the imperative has done its job. We might be reminded of the cake and bottle in Alice's Adventures in Wonderland, but reading the poem leads to no magical transformation. It is perhaps interesting to consider these implications in light of a quirky comment Raworth has made about his recent collection Windmills in Flames (2010): whilst the poems 'have no purpose', they are somehow able to 'help the reader lose weight, have an attractive smile, be at ease with members of the opposite (or their own) sex, have relief from constipation, speak in tongues, fillet herrings and ultimately boost the Nation's economy'.
Rory Waterman, 2010
Bibliography
2000
Landscaping the Future
1988
Tottering State: New and Selected Poems, 1963-1987
1987
Six Sonnets for Gothenberg and Geneva
1986
Lazy Left Hand: Notes from 1970-1975
1979
Nicht Wahr, Rosie?: Miscellaneous Poems 1964-1969
1975
That More Simple Natural Time Tone Distortion
1974
Bolivia: Another End of Ace
1973
An Interesting Picture of Ohio
1971
Penguin Modern Poets 19
Awards
2002
Philip Whalen Memorial Award (USA)
1999
Poetry Skipper Gold Medal (Italy)
1972
Arts Council Writers' Award
1970
Arts Council Writers' Award
1969
Alice Hunt Bartlett Award