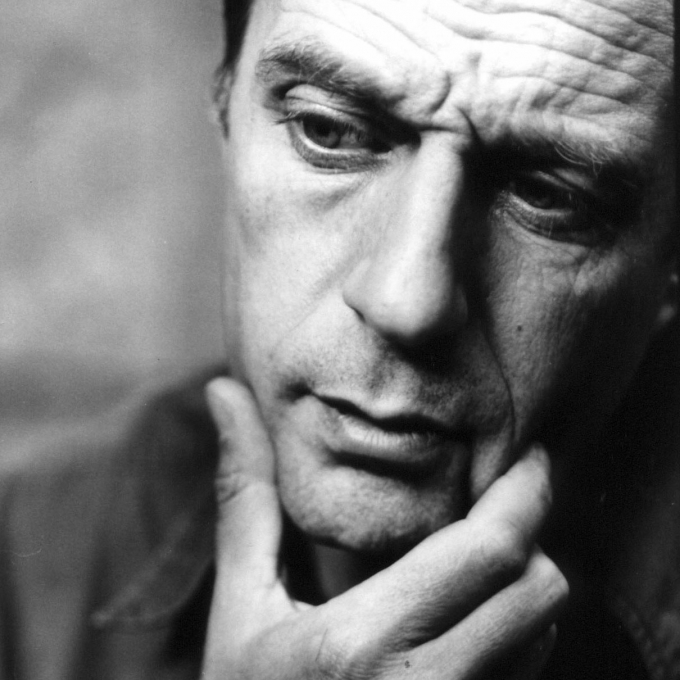 Biography
Born in Leeds, Yorkshire, on 25 January 1949, poet, critic and playwright Tom (Thomas Neilson) Paulin was raised in Belfast in Northern Ireland where his father was the headmaster of a grammar school, and his mother was a doctor.
He was educated at Hull University and Lincoln College, Oxford. He lectured in English at the University of Nottingham from 1972 until 1989, and was Reader in Poetry from 1989 until 1994. He was a director of Field Day Theatre Company in Derry, Northern Ireland. He has also taught at the University of Virginia and was Fellow in Creative Writing at the University of Reading. He is now G. M. Young Lecturer in English at Hertford College, Oxford. He is a well-known broadcaster and a regular member of the panel for the BBC Television arts programme 'Newsnight Review'.Much of his early poetry reflects the political situation in Northern Ireland and the sectarian violence which has beset the province since the late 1960s. His collections include A State of Justice (1977), winner of a Somerset Maugham Award; The Strange Museum (1980), which won the Geoffrey Faber Memorial Prize; Liberty Tree (1983) and the acclaimed Fivemiletown (1987), which explores Northern Irish Protestant culture and identities. Later collections include Walking a Line (1994) and The Wind Dog (1999), which was shortlisted for the T. S. Eliot Prize. The Invasion Handbook (2002) is the first instalment of an epic poem about the Second World War. His latest collection is The Road to Inver: Translations, Versions and Imitations 1975-2003 (2004), which brings together work from four decades.His non-fiction includes Ireland and the English Crisis (1984), Minotaur: Poetry and the Nation State (1992), The Day-Star of Liberty: William Hazlitt's Radical Style (1998), a critical study of the nineteenth-century essayist and radical, and (with Amit Chaudhuri), D. H. Lawrence and "Difference": The Poetry of the Present (2003), a study exploring Lawrence's position as a 'foreigner' in the English canon.Tom Paulin is editor of The Faber Book of Political Verse (1986) and The Faber Book of Vernacular Poetry (1990). His plays include The Riot Act: A Version of Sophocles' Antigone, which toured Ireland in 1984, and All the Way to the Empire Room which was broadcast by the BBC in 1994. His latest books are The Secret Life of Poems (2007) and a translation of Euripedes' Medea.Tom Paulin lives in Oxford with his wife and two sons.
Critical perspective
A talented, zealous and prolific writer across numerous genres, Tom Paulin is perhaps as well-known for his estimable poems, plays and wide-ranging works of criticism as for his combative and often outspoken nature, evident in his regular appearances on BBC2's Newsnight Review and the controversy that surrounded 'In the Crossfire', a satirical, anti-Zionist poem addressing the Middle East conflict that prompted heated exchanges in the Observer's (and other publications') letters pages in 2001.
In fact, his poetry is often drawn to such overtly political themes, ranging from the dreary yet rewardingly subtle depictions of Northern Irish sectarian violence in his first collection, A State of Justice (1977), to the more recent, often aggressively black-and-white historical perspectives of The Invasion Handbook (2002), the first instalment in a lengthy poetic history of the Second World War. Paulin's literary criticism also reflects his political leanings, including Minotaur: Poetry and the Nation State (1992), a survey of the politics in Romantic, Victorian, post-war and contemporary British and Irish poetry, and recent essay collection The Secret Life of Poems (2007), which is less 'concentrated on sound, cadence, metre, rhyme [and] form' than Paulin claims, being more concerned – as the poet Nick Laird noted in the Telegraph – with 'the political landscapes in which poems [are] written'.
Like the work of his Irish contemporary Paul Muldoon, critics often divide Paulin's oeuvre-to-date into two: his widely acclaimed fourth collection of poems, Fivemiletown (1987), the turning point at which Paulin's fascination with, and use of, the vernacular spectacularly took off. Where the colloquial tones and occasionally unusual dialect of Paulin's taut and formal early lyricism are evident in poems such as 'In the Lost Province' from The Strange Museum (1980) and 'Descendancy' from Liberty Tree (1983), then, Fivemiletown sees Paulin adopt conversational free verse in order to fully explode the intellectual and emotional possibilities of his poetry. Unsurprisingly, the volume's publication quickly followed Paulin's editing of The Faber Book of Vernacular Verse (1986), collecting work by poets who have variously utilised dialectal and coined words and phrases in order to liberate, validate and further invigorate their writing. In the brusque, matter-of-fact speech of 'Peacetime' from Fivemiletown, for instance, the poet recalls how 'We moved house / in '63. // My brother cried / quietly in his room. // Stuff in the loft, / my dad said burn it. // I cut the brass buttons / from his khaki tunic, // sploshed petrol, / felt in the back pocket of the heavy trousers – ', while in 'An Ulster Unionist Walks the Streets of London', the sparse and gritty language conjures the scene vividly: 'I grabbed a fast black – / ack, I caught a taxi – / to Kentish Town, / then walked the streets / like a half-foreigner / among the London Irish. / What does it feel like? / I wanted to ask them – /what does it feel like / to be a child of that nation?'
Paulin's fifth collection, Walking a Line (1994), further develops the stylistic ambitions of previous work, radically exploiting the conversational vernacular and largely unpunctuated free verse that have helped consolidate Paulin's reputation as 'an incisively original and dedicated poet', as Edwin Morgan put it. It contains one of Paulin's best known poems, 'Klee/Clover', a witty depiction of the improvisatory Swiss artist Paul Klee sourcing canvasses from crashed biplanes during the First World War, and is more generally a lengthy book concerned with addressing and illuminating the various significances in everything from prisons, childhood landscapes, philosophy, birds and Irish politics to the mechanics of spoken and written language itself: 'the speechjolt' which is 'a kind of glitch / in what you're saying' ('Almost There'). Described in the Times Literary Supplement as 'a vitally important book […] for its compelling execution and vocal and historical imperatives', Paulin's sixth collection, The Wind Dog (1999), focuses even more intensely on the semantics, inherent instability and musicality of language, an exploration (even excavation) that takes the poet back to 'when I was young – about fifteen or so – / five or six pages in a Fontana paperback / on how the ear / is the only true reader / the only true writer' ('Sentence Sound'). This is most obviously expressed in the recurrent Muldoonian free association which pervades the book's poems, including the meandering thoughts of 'Fortogiveness', where the poet describes how 'I'm still at home in [Belfast's] speech / even though somewhere along the way / my vowels maybe got shifted or faked / so there's a salt rebuff as Larkin puts it', but also in the rich, sensory images of the poet's walk to work in 'Oxford':
'This morning I pass a big clump of purple buddleiaby the river and catch their honeyed scentand notice again how they're shaped like kulfi– like Indian icecreamthen as I walk towards the Bodleianthere's this old man finishing a yellow dream-like enormous watercolour of the RadcliffeCamera – perhaps he's a nephewof Charles Ryder? with that precious nostalgiawhich might be all this cavalier place is meantto mean though take that word cameraand you'll find it means room in Latin […]'
This style owes less to Muldoon and other contemporary poets, however, than it does to the 19th-century essayist and literary critic William Hazlitt, a major influence on Paulin's own prose and poetry, made evident in his lengthy study, The Day-Star of Liberty: William Hazlitt's Radical Style (1998). In fact, in a notable chapter on Hazlitt's final collection of essays, The Plain Speaker, Paulin describes how 'it [had] occurred to [Hazlitt] that it might be possible to combine the advantages of the literary and the conversational styles […] promising "greater variety and richness", and perhaps […] a "greater sincerity" than could be obtained by a "more precise and scholastic method"', something which can be seen to apply equally to Paulin's own robust, often energetic and admirably open-ended poetry and prose writing. Most recently, Paulin's lengthy latest collection of poems, The Road to Inver: Translations, Versions and Imitations 1975-2003 (2004), also collates the many translated works of a poet whose deft understanding of the rhyme, rhythm, assonance and alliteration that define the essence of any good poem ensures, as Stephen Romer described it in the Times Literary Supplement, for 'a remarkable book [in which] Tom Paulin's copious linguistic resources prove themselves up to the task in hand'. In his version of Rimbaud's 'Les Corbeaux', for example, Paulin reinvents the rhythmical structure and open, natural description of the poem with success and élan: 'Lord let the rooks – / those great clacky birds / sweep down from the clouds / onto fields and ridges / floppy crowd that bursts / into stony cries / the wind's bashing your nests!'
Alongside Paulin's Selected Poems 1972-1990 (1993), then, these two volumes make for essential and rewarding, if occasionally exhausting, reading for any poetry reader, especially those with a penchant for the witty and the provocative. Moreover, a future Collected Poems, which is surely on the horizon, will no doubt rank among the major publications to emerge in British and Irish poetry this coming decade: remaining testament to Paulin's prominence as one of the best of a great generation of Irish poets.
Ben Wilkinson, 2009
Bibliography
2007
The Secret Life of Poems
2007
D. H. Lawrence (Poet to Poet)
2005
Crusoe's Secret: The Aesthetics of Dissent
2004
The Road to Inver: Translations, Versions and Imitations 1975-2003
2003
D. H. Lawrence and Difference": The Poetry of the Present"
2002
The Invasion Handbook
2001
Thomas Hardy: Poems selected by Tom Paulin
2000
The Fight and Other Writings by William Hazlitt
1998
The Day-Star of Liberty: William Hazlitt's Radical Style
1996
Writing to the Moment: Selected Critical Essays 1980-1996
1993
Selected Poems 1972-1990
1992
Minotaur: Poetry and the Nation State
1990
The Faber Book of Vernacular Verse
1990
Seize the Fire: A Version of Aeschylus' Prometheus Bound
1987
The Hillsborough Script: A Dramatic Satire
1986
The Faber Book of Political Verse
1985
The Riot Act: A Version of Sophocles' Antigone
1985
The Argument at Great Tew: A Poem
1984
Ireland and the English Crisis
1983
A New Look at the Language Question
1975
Thomas Hardy: The Poetry of Perception
1975
Theoretical Locations