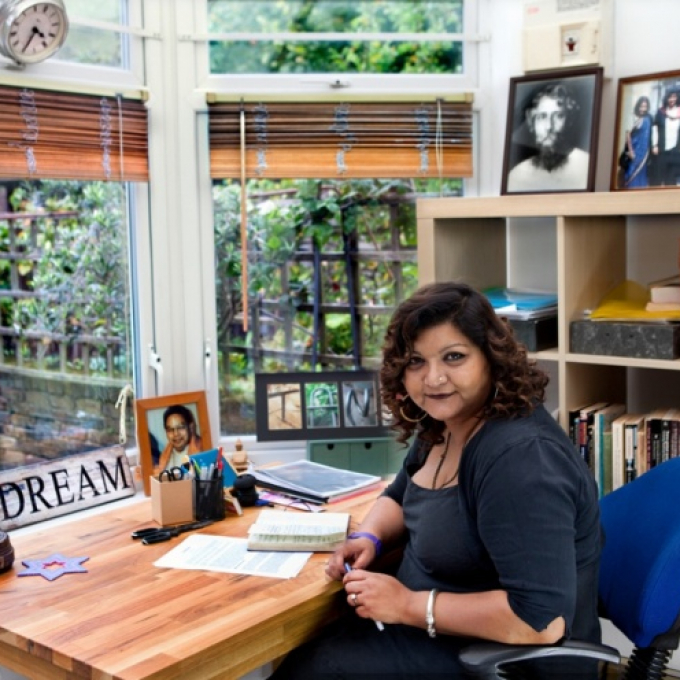 Biography
Tanika Gupta was born in 1963 in Chiswick, and is a British playwright of Bengali origin.
She read modern history at Oxford University, then worked for an Asian Women's Refuge in Manchester and as a community worker in London while beginning to write.
She has written for television, including for East Enders, Grange Hill, A Suitable Boy, The Bill, Crossroads, and adaptations and original radio plays for BBC Radio. She also wrote for the Asian network soap, Silver Street, and the BBC World Service soap, Westway.
Her work for theatre includes many stage plays, including Meet The Mukherjees (2008), performed at Bolton Octagon theatre. Her first stage play was Voices on the Wind, which was workshopped at the National Theatre Studio in 1995. It tells the story of her 19-year-old great uncle, Dinesh Gupta, who was an Indian freedom fighter and was hanged by the British as a terrorist in 1930.
Other plays include: Skeleton (1997) at Soho Theatre; an adaptation of Geeta Mehta's A River Sutra (Indoza 1997); The Waiting Room (2000) at the National Theatre; a translation of Brecht's The Good Woman of Setzuan (National Theatre Education 2001); Sanctuary (2002) at the National Theatre; and Inside Out (2002). Her adaptation of Hobson's Choice (2003) played at the Young Vic; Fragile Land (2003) at Hampstead; and Gladiator Games (2005) at Sheffield Crucible and Stratford East theatres. A group play, Catch (2006), was performed at the Royal Court Theatre, and White Boy (2008) at the National Youth Theatre/Soho.
Her most recent plays include 2 Young 2 LUV, Ananda Sanada and Brood in 2010. In 2011, she adapted Great Expectations for the stage, setting it in 1860s Calcutta.
Tanika Gupta was awarded an MBE in 2008.
Critical perspective
Included by Michael Billington as part of a 'new generation of black and Asian playwrights' alongside Kwame Kwei-Armah and Roy Williams, (The Guardian, 8 December 2009), Gupta has had much trouble with the limiting tendencies imposed by such categories. In an interview with What's On Stage, she offered the following comments:
'So do you reject the label of "Asian writer"?
Yeah, I do really. I don't like being seen as an Asian writer, in terms of being labelled in that I only write for Asians and that's the only thing I can do. I don't like that. I mean, you don't hear Tom Stoppard being referred to as a Czech writer or Harold Pinter as Jewish writer, so why should one be termed in that way?'
Thought often inundated with commissions to rewrite classic plays from the Western canon with an Asian twist, Gupta has nonetheless strived to eschew such stereotypes as much as possible and to regularly seek new themes. None is perhaps a better example than Sugar Mummies (2006). Her first effort for the Royal Court Theatre, Sugar Mummies is an innovative take on the subject of sex tourism, which turns the usually male-dominated scenarios on their head by looking at female sex tourism. The scene opens in Jamaica, where women travel to find younger men for short-term liaisons. This is a much under-discussed phenomenon which Gupta exploits to great effect, showing how the local men submit to these 'milk bottles' (as the white women are referred) in the hopes of marrying them and thus securing a means out of their poverty-stricken lives on the volatile island. Sober and perceptive to the delusions on both sides of the coin, Gupta examines the lives of Antonio, Sly and Reefie (the exotic gigolos) as well as the older and ruthlessly covetous Maggie and Kitty. Though not all the characters in Sugar Mummies are engaged in this sex trade, the script skews stereotypes and presents the audience with the commonplace human needs of its characters: aspirations and desires that fuel this Caribbean economy. Kate Kellaway called it a 'disturbing comedy' and drew parallels to Debbie Tucker Green's Trade (The Observer, 13 August 2006). Indeed, the play takes no prisoners: criticising both the black and white characters in an equally acerbic and light-hearted manner. After its initial run, it was later performed at the Bolton Octagon and Birmingham Rep. The play was adapted into a feature film by Company Pictures/BBC.
Gupta began her career in 1991 when she was a finalist in the BBC Young Playwrights festival. She left her career as a community worker in a London women's refuge behind definitively in 1995, when her mainstream play, Skeleton, was commissioned by the Soho Theatre. It was later published by Faber and Faber in 1997. A River Sutra followed that same year. During this period, Gupta was also a writer-in-residence at the Soho Theatre (1996-1998) and later presented The Waiting Room at the National in 2000, in a direction by Trevor Nunn. It won the John Whiting Award. Two years later, Gupta returned to the National with Sanctuary (2002) which was inspired by her honeymoon to war-torn Srinagar in Kashmir in 1988. Jenny, a vicar, is faced with the reality that her church is going to converted into a health club – a troubling prospect to those for whom the church is a sanctuary: Kabir, the Kashmiri gardener whose wife was raped and killed during the long conflict that has plagued the North Indian state; Sebastian, a Caribbean journalist and Michael – a preacher with a shady history. Praised for 'rubbing our noses in global reality' (The Guardian, 31 July 2002 13.32) Sanctuary is another graphic depiction of an indifferent society still functioning on outdated stereotypes.
Gupta's other efforts include an adaptation of Harold Brighouse's Hobson's Choice (2003) which is re-set in an Asian tailor's shop – and which was nominated for an Olivier Award. Her other adaptations include Wycherley's The Country Wife (2004) and Brecht's The Good Woman of Setzuan (1999). In 2008, the year she was awarded her MBE, Gupta's presented Meet the Mukherjees (2008): a 'pastiche of the film Meet the Fockers', which uses the somewhat clichéd plot device of an Asian girl bringing a black boyfriend home to meet her parents. The later part of Gupta's second decade as a full-time writer saw an interest in topical themes develop – such as with Gladiator Games (2005), a play about prisons and racism which was deemed to be a turning point in her work 'that marked her maturity' (L.G., The Guardian, 25 July 2006). Gladiator Games dramatises a real-life murder at a young offender's institution in 2000, and is the play that Gupta is most proud of. White Boy, which ran at the National Youth Theatre and Soho Theatre between November 2007 and February 2008 was part of the NYT's season on 'identity'. Unusually for Gupta, it is a very short play (it is an hour long) and revolves around two young boys: one black and one white. When the black boy is stabbed, Gupta uses the incident to explore racial tensions and notions 'white' identity – including the propensity of white kids to use black slang in order to fit into a certain kind of sub-culture. As with Gladiator Games, White Boy was based on a real murder which took place on the Holloway Road in London.
Gupta's most recent effort is a re-adaptation of Charles Dickens' Great Expectations (2011), which transports the classic Victorian tale to the Calcutta of the 1860s, during the time of the British Raj. Gupta is currently at work on The Empress for the Royal Shakespeare Company and an 'Untitled Musical' for the Stratford East Theatre. 
André Naffis-Sahely, 2011
Awards
2005
Amnesty International Media Award
2004
EMMA (BT Ethnic and Multicultural Media Award for Best Play)
2004
Laurence Olivier Award for Outstanding Achievement
2003
Asian Women of Achievement Award (Arts category)
1998
EMMA (BT Ethnic and Multicultural Media Award for Best Television Production)
Author statement
I have always been enamoured with the art of writing and wrote my first play when I was just eight years old -some friends and I performed it to our classmates. I grew up in a household steeped in Indian arts – my father was a singer and actor and my mother a classical Indian dancer, so having the ambition to become a writer was  encouraged by my parents. I dislike very much being labelled as an 'Asian' writer, preferring to be simply called a 'writer'. My work has spanned many different cultures and I don't just write on Asian themes. Sugar Mummies, for example, is set in Jamaica whilst White Boy is about contemporary British school children, the main character being an English white boy who speaks in a Caribbean accent. I deal with many different themes in my plays but if there are any themes which crop up again and again, I would say they tend to be stories about the dispossessed, about race, family dynamics and women's rights. Humour is very important in my work. But for me, it's not just about writing issue-based plays, but about telling a good story with real characters to entertain, move and engage an audience.