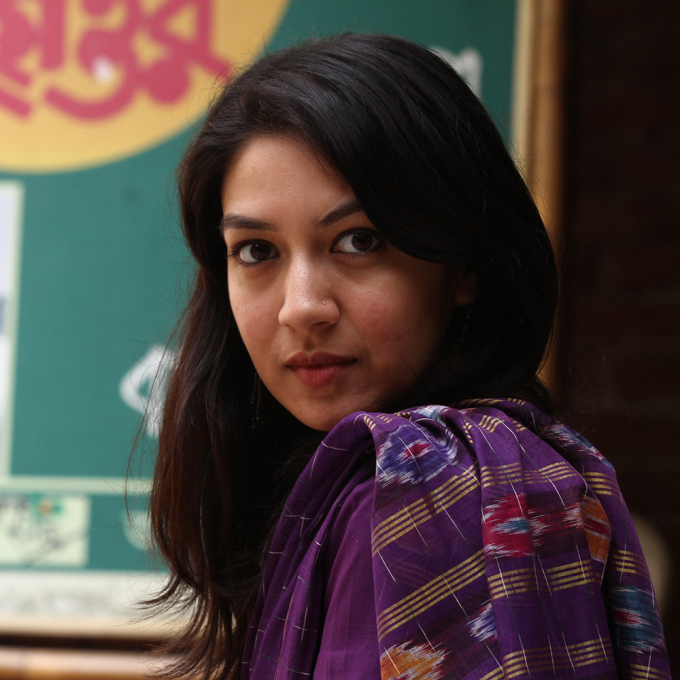 Tahmima Anam
Publishers:
Agents:
Biography
Tahmima Anam is the author of the Bengal Trilogy, which chronicles three generations of the Haque family from the Bangladesh war of independence to the present day.
Her debut novel, A Golden Age, was awarded the Commonwealth Writers' Prize for Best First Book. It was followed in 2011 by The Good Muslim. 'Anwar Gets Everything', published in 2013 by Granta magazine. 123 is an excerpt from the final instalment of the trilogy, Shipbreaker, which will be published by Canongate in the UK and HarperCollins in the US.
She lives in Hackney, east London.
Critical perspective
Trained at Harvard as a professional anthropologist, Tahmima Anam's historical novels about Bangladesh are works of intensive research and inspired ventriloquism.
Born in 1975 into the Bangladesh cultural elite and educated internationally, Anam is too young to have experienced her homeland's drive for independence and war with Pakistan in 1971. Her chosen mission in her two acclaimed novels to date has therefore been to present the story of her parents' generation for a new audience. The research for both her books comes partly from interviews she conducted with family members and Bangladeshis who experienced the conflict.
"I did lots of research for my first book which carried over to the second", Anam has stated, "I prefer to ask people who were there about their experiences; I don't like to use books, unless they're memoirs or testimonials. I ask people the little details, about what they wore, what brand of cigarettes they smoked, what music they listened to, maybe the car they drove. And then I try and forget the research, so the reader doesn't ever feel like I've just given a history lesson. I want the research to be in there, to be accurate, but not felt in a palpable way. I think the only time you notice research is when the illusion of the past gets broken, and I'm trying to avoid that." (Bookslut, July 2011)
The first fruit of this method was her debut A Golden Age (2007), which opens in 1959 with the words of a widow to her dead husband: "I lost our children today." Rehana Haque, a young woman from an aristocratic but impoverished Calcutta family, has entered into an arranged marriage with a businessman in Dhaka, only to see him die of a heart attack. With no money to fight her husband's rich brother, she temporarily loses custody of her two children, who are taken far away to Lahore, in the west. After a mysterious bit of luck with an investment in real estate, Rehana is able to bring them back, but has been marked by the loss. Although she builds an ordered life, her own dreams are sacrificed. When the civil war begins, the true scale of the events that are unfolding take time to resonate with her. Now in their late teens, her children react more decisively. Rehana's daughter, Maya, moves to Calcutta to write about the freedom fighters for a newspaper, and Rehana's son, Sohail, gets himself to a training camp for guerillas, eventually returning to hide a cache of arms in his mother's garden. At the same time, Rehana's hated brother-in-law comes to Dhaka as a member of the occupation.
The novel was immediately praised for both its breadth and its unique point of view. Kamila Shamsie in The Guardian wrote that "One of the novel's great strengths is its decision to show war from the perspective of the women who cannot join the armed resistance and must instead find a way to live in the limbo world of a city in curfew" (March 2007). The New Yorker was impressed by "a striking debut novel" that "deftly weaves the personal and the political, giving the terrors of war spare, powerful treatment while lyrically depicting the way in which the struggle for freedom allows Rehana to discover both her strength and her heart" (January, 2007).
This "sparseness" to the narrative is a key attribute to her fiction, both in its lack of details and in an abstract poetic quality to her descriptions, as in a characteristic moment that closes a key phase in the book:
"On the last day of April, it rained. Rehana watched the cotton clouds shout to a hungry, cracked earth. She imagined it raining on the human exodus … and falling on her Sohail and her friends as they picked through the spring prairie grasses, through the low paddy, the bleached stacks of wheat, as they searched for the war with only their wet-toothed smiles, their poems, their death-defying youth." This lyrical quality is cinematic but has not met with blanket approval. The New York Times bridled somewhat at Anam's style, which they argued  "doesn't help" readers' immersion in the historical moment. However, "once the war takes hold … the novel's language grows more confident, and history itself becomes an animating force … by its end this first novel has itself become a promising start" (January 2008). 
More broadly, there were some questions raised over the factual accuracy of the historical setting. Total fidelity was clearly an impossible task for any author. But it is an issue central to her fiction and one that Aman she has happily talked about in interviews. She was tutored and encouraged in London by mentors such as Andrew Motion, and recalls his advice on this topic with clarity;"'I remember the first week on the course he told me I 'didn't have to be so dutiful', and the phrase stuck in my mind. I had been feeling I had to tell the truth, and hearing that from him kind of liberated me," (Guardian, November 2006). Those stray anachronisms and periodic cultural errors are the price she has been willing to pay for such advice.
Following the success of this auspicious debut, Aman returned to the theme in The Good Muslim (2011), a sequel that picked up the siblings Maya and Sohail a decade after having been separated during the war. Maya has pursued her revolutionary ideals whereas her brother has become a charismatic religious leader. When Sohail decides to send his son to a madrasa, the inevitable conflict grows between brother and sister. Developing her focus from her debut in confident and interesting ways, the novel is notable for its nuanced depiction of the challenges of the nation-building process, and the realities of corruption and compromise. 
The novel managed to avoid the pitfalls that beset highly-anticipated contemporary novels. "This second novel" the Independent confirmed, "liberates its author from the mighty shadow cast by the success of her first" (May 2011). Similarly, to Aamer Hussain in the Guardian, this "powerful and ambitious" follow-up "more than fufills the promises" of A Golden Age, whilst becoming more "leisurely, dense and varied in its stylistic register… a darker and more reflective novel" (May 2011). Again, however, the somewhat austere nature of Anam's narrative style proved divisive. As the Huffington Post complained, "The virtues of 'pared down' writing are championed by many reviewers and critics these days and, indeed, it is used to great effect by many writers but Anam does so with limited results and often leaves one wondering what purpose the simplicity of style is serving" (May 2012).
In her acknowledgements to A Golden Age, Anam coyly declares that her work "is only what it is only because of the place that inspired it". And indeed, it a subject she intends to remain with, indicating that both novels are part of a projected trilogy on Bangadeshi history. Her immersion in this historical project has earned her a status as a respected and prolific commentator on global affairs in the British media.
But she is clearly more than a gifted spokesperson for recent history. In 2012, the Telegraph seemed to sum up an emerging British critical consensus that her richly evocative period pieces have made her "one of our most important novelists" (November 2012). With her inclusion as one of Granta's prestigious 'Best Young Novelists', the literary world has affirmed that her art can transcend the troubled and seismic events that she has made her own.
Dr Tom Wright, 2013