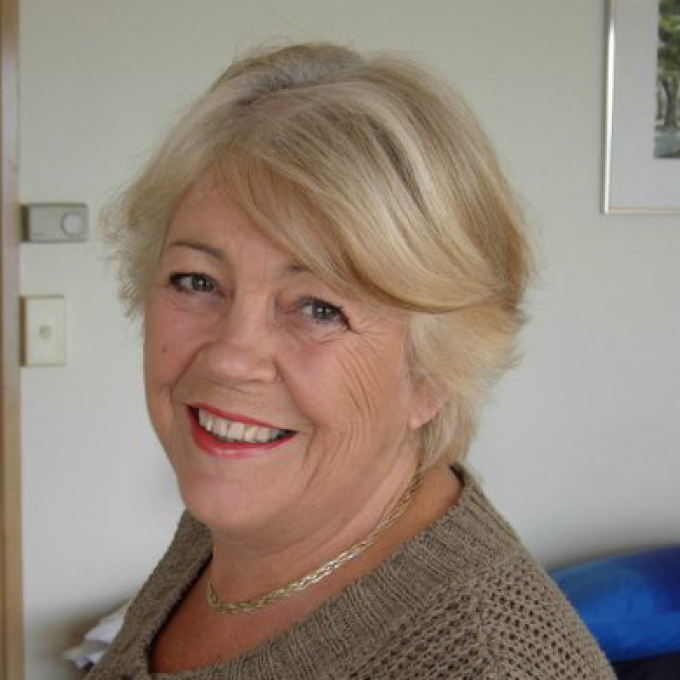 Susan Moody
Publishers:
Agents:
Biography
Susan Moody was born and brought up in Oxford. Her first crime novel, Penny Black, was published in 1984, the first in a series of seven books featuring amateur sleuth Penny Wanawake. She has written a number of suspense thrillers, and in 1993 introduced a series of crime novels with a new central character, Cassandra Swann.As well as a writer of crime fiction, Susan Moody is also the author of the romantic fiction title Love Over Gold (1993, writing as Susannah James) inspired by a television advertising campaign, and Misselthwaite (1995), a sequel to Frances Hodgson Burnett's The Secret Garden. Misselthwaite was shortlisted for the Romantic Novelists' Association Award in 1995. The Colour of Hope (2000), the story of a family struggling to cope with the loss of their daughter in a boating accident, was written under the name Susan Madison, as is her most recent title, Touching the Sky (2003). Susan Moody spent two years as Creative Writing Tutor at Bedford Prison and is a former Chairman of the Crime Writer's Association.
Critical perspective
The versatile Susan Moody writes crime and romantic fiction, as well as psychological suspense novels in which plot twists abound and tension is ratcheted up.
She has published the romances under differing names (Susan Madison and Susannah James), as though products of differing parts of her authorial identity. Susan Moody is actually another nom-de-plume. But most of her books across several genres share certain themes, a good deal of romantic sex – as well as violent deaths. Penny Wanawake and Cassie Swann, the feisty heroines of her two crime series, both have active if sometimes unsatisfactory sexual relationships. In the suspense novels, the unfolding story generally arises from the consequences of love having gone wrong in the family (usually many years in the past), or from dangerous adult passions.
Penny Wanawake makes her debut in Penny Black (1984), a murder mystery subsequently listed by the Crime Writers Association as number 56 in the top 100 Crime Novels of All Time. Penny is a tall beautiful photographer of mixed race (her father being an African diplomat, her mother an English aristocrat). The grim discovery is made at Los Angeles airport of the mutilated body of one of her friends: 'her face looked as though a tribal witch doctor had been experimenting with the placing of ceremonial scars'. Penny takes on the case, pursuing the killer across America to Washington DC. In Penny Saving (1990), the last of her seven action-packed adventures, she investigates the murder of a young British nanny working for an upmarket domestic agency.
The bridge-playing Cassie Swann is a more traditional amateur sleuth, operating in and around Oxford and the prosperous village of Bellington. She is pursued and flirted with by a variety of men, though preferring to conduct an on-off affair with married policeman Paul Walsh – and often withholding evidence from him until a case is solved. This is the case in Sacrifice Bid (1997), for example, when one of the elderly members of her bridge circle is found strangled. Cassie probes into the family background and the woman's working life as a journalist in Africa. She comes up with long-suppressed information about a massacre decades earlier and identifies a succession of suspects, only to find that the real killer is close at hand. Throughout these novels, strategic plot twists, revelations and red herrings are well choreographed. But what also makes them enjoyable is the innuendo-rich chatter amongst Cassie's circle of well-to-do female friends: ''sex is the most interesting subject there is', said Petra mischievously, 'Right Cassie?''
Sexual episodes occur within Moody's suspense novels, though the tortured psychological shifts in their characters make them far from erotic. The writing is lushly descriptive, the narratives typically split between Then and Now. In The Italian Garden (1994) Hannah Cartwright 'knows how dangerous love can be'. She is a middle-aged proprietor of an antique furniture shop, compelled to investigate the death of her daughter, presumed by the police to have committed suicide. She remains haunted by the events of a summer holiday 25 years earlier, at a villa in Umbria owned by the family of her 'oldest and dearest friend' Susie, when the unsolved bloody murder of a man (her somewhat Byronic secret lover) had taken place. Hannah discovers that a newly published book is based on these events, so she returns to Italy to confront the ghosts of the past – and find her daughter's killer. Meanwhile, after mysterious sightings and a series of cryptic messages, there appears to be a stalker pursuing her.
Falling Angel
(1998) is even more blood-strewn, full of twists and turns, its characters similarly burdened by traumas in the past and increasingly fearful. It opens (we subsequently learn) with Flora finding her sister brutally murdered, after which she takes on the care of her sister's baby daughter. The narrative doubles back to outline circumstances before the murder, and then moves forward to other deaths that occur in its wake. The underlying theme is one of relationships gone wrong. Flora, a successful illustrator of children's books, has unresolved childhood issues about her domineering mother and absent father. Her charismatic ex-husband comes back into her life and bed. But, she wonders, 'will she dare return to Paradise, risk another expulsion?'. There's also a more mysterious man in her life, a kind of guardian angel, turning up at moments of danger and seeming to offer her comfort. Even after the so-called 'Cotswold Killer' is caught, Flora has to 'bait the trap' for her sister's murderer.
There are thankfully no murders in Misselthwaite (1995), her continuation of the children's classic The Secret Garden, though there is death, sexuality and the inevitable disillusionments of adult relationships. Mary, Colin and Dickon are followed through the changes wrought by two world wars and failed marriages, their friendship at times placed under intolerable strains. Through a new generation, their secret garden is neatly revived at the conclusion, yet the characters have never found again 'how they had been as children together, inseparable, indivisible'.
Among the several Susan Madison romances is Touching the Sky (2003). Its leading lady is Vermont-based art gallery owner Melissa Sharman, an attractive widow who feels herself 'consumed by a corrosive sense of waste'. Experience has taught her that 'the hard part was what came after you found your true love'. She's intimately involved in the lives of her friends, however, especially young couple Ben and Lisa whom she comforts after they lose a baby. Her old friend Joanne suffers severe injuries while out walking with her, and mountaineer Ben is on hand to rescue them. Melissa and Ben begin a passionate affair. She must decide whether to continue her new happiness – or tell him to return to Lisa and save their marriage. Meanwhile, she prepares for an exhibition by temperamental painter Koslowski – the man whom she had loved and lost years before.
Susan Moody's new novel is Losing Nicola (2011). This returns to her murder-suspense mode, in which a woman must confront childhood events and their consequences in the present day. Siblings Alice and Orlando had their lives disturbed by the manipulative, precocious Nicola, a child found battered to death on Alice's 12th birthday. Many years later, Alice is determined to find out what happened. This sounds like precisely the kind of Then and Now scenario at which her books excel. First raising then discarding suspects, they lead readers on through a twisting maze of incidents and clues, to disconcert and enthral them.
Dr Jules Smith, 2010
Bibliography
2002
The Hour of Separation
1990
The Hatchards Crime Companion