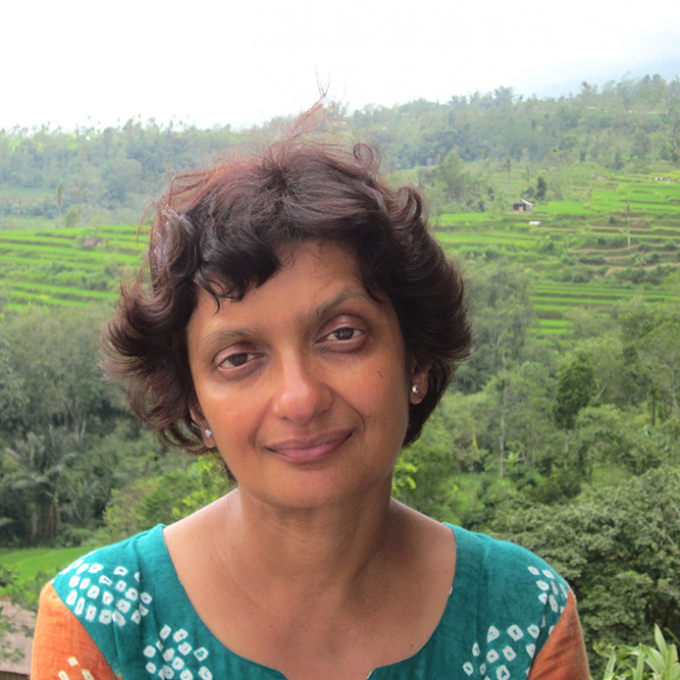 Biography
Sujata Bhatt was born in Ahmedabad, India, in 1956.
She grew up in Pune, India, and in the United States. She received her MFA from the Writers' Workshop at the University of Iowa, and now lives in Germany with her husband and daughter. She is the recipient of various awards, including the Commonwealth Poetry Prize (Asia) and the Cholmondeley Award.
Her long poem, 'Search for My Tongue', was choreographed by Daksha Sheth and in 1994 the UK-based South Asian Dance Youth Company performed it in nine cities across England and Scotland, under the title Tongues Untied. 'Search For My Tongue' was presented under the same title by the Daksha Sheth Dance Company at the Hong Kong Arts Festival in 1998.
She has published six collection of poems, including Monkey Shadows (1991) and Augatora (2000), both Poetry Book Society Recommendations; and A Colour for Solitude (2002), which deals exclusively with the life and work of the German painter Paula Modersohn-Becker. Her 2008 collection, Pure Lizard, was shortlisted for the 2008 Forward Poetry Prize for Best Poetry Collection of the Year. Her latest collection is Poppies in Translation (2015).

She has translated Gujarati poetry into English for the Penguin Anthology of Contemporary Indian Women's Poetry, and has also translated poems by Günter Grass and Günter Kunert. Her translation from the German, Mickle Makes Muckle: poems, mini plays & short prose by Michael Augustin, was published in 2007.
Sujata Bhatt has been a Lansdowne Visiting Writer at the University of Victoria, in British Columbia, Canada, and a Visiting Fellow at Dickinson College in Pennsylvania. More recently she was Poet-in-Residence at The Poetry Archive in London, (http://www.poetryarchive.org/poet/sujata-bhatt), where more information about her can be found. Her work has been widely anthologised, broadcast on radio and television, and has been translated into more than 20 languages. She is a frequent guest at literary festivals throughout the world.
Critical perspective
Sujata Bhatt's multicultural perspectives on language, culture, art and history surely originate in her own life experiences.
Born in India, with Gujarati as her mother tongue, she has studied in Britain and the USA (at the famed Iowa Writers Workshop), taught in Canada, travelled widely, and now lives and works in Germany. She is a meditative and philosophical poet: when reading her works out loud she has a measured delivery, a voice softly-spoken but insistent, exactly in keeping with them. In its quest for 'the difficult truths of experience', her work moves from home towards Europe and America, though India remains 'a necessary obsession'. Indeed, a preoccupation with cultural identity runs throughout her poetry about places, memories, paintings (especially those of Georgia O'Keefe and Paula Modersohn-Becker), science, politics, and eros. Above all as a poet, and translator of Gujarati poetry into English, she is concerned with language, or rather languages: 'What happened when the Gujarati and the Marathi and the Hindi / I spoke / made room for the English words?' she asks in Augatora (2000), and such rhetorical questions abound in her work. If this makes it sound over-earnest, think again: Bhatt's imaginative world is 'brightly coloured, richly scented' (Maura Dooley), and she has her full share of emotionally engaging scenes from a woman's life and loves.
In her first collection, Brunizem (1988), roughly half the poems are set in India, recalling her family as well as the sights, sounds and smells of village life: 'cow-dung and road-dust and wet canna lilies, / the smell of monkey breath and freshly washed clothes', though returning to her home city of Armedabad after ten years away brings mixed feelings. They draw upon Indian myths, deities, and especially animals: 'Here, the gods roam freely, / disguised as snakes or monkeys'; and goats, peacocks, lions, lizards, snakes, and elephants also play their roles. A young widow's dreams are 'lazily swishing their tails / in her mind like buffaloes / dozing'; and a 'wreck of a rhinoceros' in Delhi Zoo comes to symbolize philosophical conundrums of soul and body in 'Something for Plato'. There are a number of stirringly erotic poems, such as 'The Kama Sutra Retold', which invokes Yeats's famous swan to dramatize a 17- year-old girl's first act of love; while another describes 'the way I learned / to eat sugar cane ... suck hard with my teeth, press down / and the juice spills out' ('Sherdi'). Bhatt's metaphors give erotic play to language, though her preoccupation with it is also political. 'Which language/ has not been the oppressor's tongue? /.... And how does it happen /... [that] .. .grandchildren / grow to love that strange language' ('A Different History'). She reconciles English and Gujarati in one of her most memorable poems, 'Search for My Tongue'. Its opening question, 'what would you do / if you had two tongues in your mouth', arises from listening to a tape-recording sent by her mother from India, reaching her in Maryland, USA. Its sinuous lengthy progress makes extensive use of Gujarati, words translated within the poem, ending simply with the musical rhythms of the tabla, and the phrase 'I can't forget'.
Of Monkey Shadows (1991), Bhatt wrote in the Poetry Book Society Bulletin that her baby daughter was its muse, most of the poems being written during her first two years of life. In it, a new parent's protective anxieties are set in the wider context of issues affecting Europe and America. 'The Stare', however, is one of several charming poems still set in India, observing small children interacting with equally young animals, coming to consciousness in different ways and 'absorbing each other with intense gentleness'. 'Wine from Bordeaux' alludes to new dangers affecting Europe, its affected by fallout from the 1985 Chernobyl nuclear disaster. 'The Fish Hat' uses a Picasso painting seen in Amsterdam to describe a woman's experience of surgery. 'Walking Across the Brooklyn Bridge, July 1990' she describes as the sort of poem an immigrant would write; about the violence of America. 'What Does One Write When the World Starts to Disappear' is a view of the first Gulf War, in which the earth, as a woman, appeals to Shiva, the Hindu God of creation and destruction.
Augatora's title poem opens with a snatch of old High German: 'Windoge, vindauga, wind eye - / the hole, the opening, the opening out / into the wind, the hole. / The wind blowing into the house' - apt images for real and imaginary landscapes in Durban, Riga, New Orleans, Amsterdam, Jerusalem, and Barcelona. The remarkable 'The Hole in the Wind' is a long poem commissioned by BBC Radio; it visits the island of Juist, off the German North Sea Coast, a place of shipwrecks, where she summons up ghosts of the drowned sailors.
'I am the artist / who understands the light on your skin,' says the title poem of A Colour for Solitude (2002). In Brunizem and The Stinking Rose there are several poems about the German artist, Paula Modersohn-Becker. In these, Bhatt searches for her grave, imagines conversations between the painter and her friends, sculptor Clara Westhoff and Rilke (an early influence on Bhatt); even arguing with Paula about whether to put garlic in the soup. This had been pursued since Bhatt first saw her paintings in the Bremen Kunsthalle, near where she herself had come to live. It is a wonderful exercise in imaginative sympathy, a book-length sequence full of flowers, fruits, sculptures, birds, human figures, and light, set in the artists' colony of Worpswede; alternating viewpoints give the voices of Paula or Clara, responding to each other's works. The relationship between them proceeds alongside their development as artists, with Clara's husband often coming between them: 'Two girls, two sisters': 'that's what Rilke calls us, / ... open in our love without having to choose'. Some of the poems are in Bhatt's own voice, that of the contemporary wife and mother. Self-portrait is the dominant mode: not only for the painter but for Bhatt herself. Paula's uncertainties about her art, her marriage, her female friendships, the desire to have a child are also perhaps implicitly refracting Bhatt's own concerns. (A line from 'Self Portrait with a Lemon' notes 'the blue border / on the end of her sari'.) The sequence has a highly emotional trajectory for the reader, moving past Paula's own death in childbirth, forwards in time into the twentieth century, and concludes movingly with Bhatt's own meeting with Paula's daughter - an old woman surrounded by her mother's works, and her posthumous gift of a precious photograph.
Bhatt's volume of selected poems, Point No Point (1997), which draws on the first three books, would appeal to anyone wishing to enter an unusual imaginative world. She shows a great gift for empathy across cultures, enters the inner world of the artist, and dramatizes the experience of language and its multicultural meanings. Her particular achievement is to write poems in English that retain her Indian cultural richness: 'I never left home / I carried it away with me'. In her very internationalism she gives us attractive, thoughtful and always humane perspectives.
Jules Smith, 2003
Bibliography
2015
Poppies in Translation
2007
Mickle Makes Muckle: poems, mini plays & short prose/Michael Augustin
2002
A Colour for Solitude
1997
Point No Point: Selected Poems
Awards
2008
Forward Poetry Prize for Best Poetry Collection of the Year (shortlist)
2000
Tratti Poetry Prize (Italy)
1995
Forward Poetry Prize for Best Poetry Collection of the Year (shortlist)
1989
Commonwealth Poetry Prize (Asia)
1989
Commonwealth Poetry Prize for Best First Collection
1988
Alice Hunt Bartlett Award