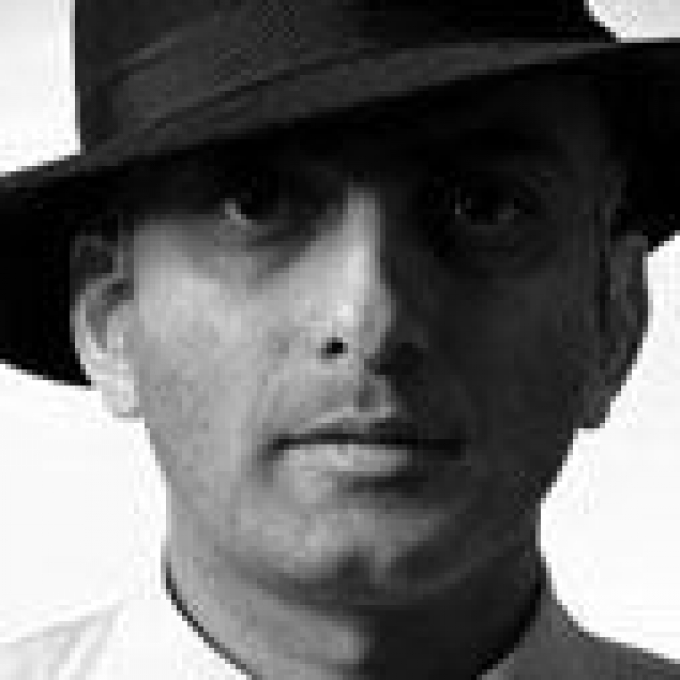 Suhayl Saadi
Publishers:
Agents:
Biography
Suhayl Saadi was born in Yorkshire in 1961 of Afghan-Pakistani parents, and grew up in Glasgow, becoming a medical doctor.
He is a widely published novelist, dramatist and poet, and the author of a short story collection, The Burning Mirror (2001), shortlisted for the Saltire Society Scottish First Book of the Year Award, one of the stories in the collection also being awarded second prize in the 1999 Macallan/Scotland on Sunday Short Story Compeititon.
His radio and stage plays include The Dark Island, broadcast on Radio 4 in 2004, Saame Sita (2003), The White Cliffs (2004), and The Garden of the Fourteenth Moon (2006).
He has written articles and essays for several national newspapers, and song lyrics for classical and folk-rock combos. He has co-edited three anthologies, and is co-director of an arts production company, Heer Productions Ltd., which established the Pakistani Film, Media and Arts Festival in the UK.
His novel, Psychoraag (2004), was shortlisted for the 2004 James Tait Black Memorial Prize (for fiction), and the 2005 National Literary Award (Pakistan), longlisted for the 2006 International IMPAC Dublin Literary Award and winner of a PEN Oakland Josephine Miles Literature Award. It was published in French in 2007.
His latest book is Joseph's Box (2009).
Critical perspective
Suhayl Saadi is without doubt one of the most prolific and innovative British Asian writers of the past decade.
Yet despite winning numerous awards for writing that spans the genres of novel, short story, novella, poetry, essay, theatre and music, he remains critically neglected. According to Saadi, the reasons for this are multiple, a combination of what he has termed in a different context 'class, corporate, metropolitan and ethnic power'. Writing only partly tongue in cheek in a letter to the New Statesman in 2008, he goes on:
'I'm surprised actually that I am even capable of writing these lines, since I am Muslim, male, middle-aged, of Pakistani origin, live 400 miles from London and didn't go to private school or Oxbridge - and as I've just come off a 17-hour shift at my "second job"'
As a Glasgow-based family man and a medic, Suhayl seems remote from the commodified British Asian fiction associated with 'Asian cool'. But it is more than simple demographics that distinguish Saadi from the scene he has elsewhere called 'Hyper-Hip Multicoloured London Oxbridge', and Suhayl has not simply been positioned on margins, it is also where he positions himself. Somewhat like Timothy Mo, Suhayl's writing seems to shun the literary market place by resisting the kinds of textual coherence and conformity that produces 'successful' brand identities. Even Saadi's Scottishness seems to crumble in the writer's hands. As he puts it in 'Being Scottish':
'I celluloid my forehead and hastily scribble: SCOTTISH. But that is inadequate, so I add: English, British, Pakistani, Indian, Afghan, Sadozai, Asian, European, Black(-ish), Minority Ethnic, Male, Non-resident, 21st Century person, 15th Century being, Glaswegian, Middle-class, Writer, Seeker, Lover, Physician, Agha Jaan, Son, English-speaking, Music-loving, Left-leaning … until I run out of space and time and ink. Scottishness becomes a metaphor through which I perceive other things. '
The same kind of defiance in the face of boxes and categorisation characterises his literary output more generally. Not only is Suhayl's generic waywardness an affront to the formal gravitation towards the novel within contemporary literary criticism, the subjects of his writing veer wildly and in ways that make it difficult to trace thematic or symbolic routes.
In his award-winning stories collected in The Burning Mirror (2001), we move from Asian Glaswegian gangsters to Catholic Evangelists. His first novel, Psychoraag (2004), is compressed into a radio studio in Glasgow and like some high modernist narrative, spends 438 pages on a six-hour shift. In contrast, his second and most recent novel, Joseph's Box (2009), knows no bounds, either of space or time, extending from ancient Eastern mythology to the Clyde and contemporary Glasgow. Meanwhile, Saadi's novellas shrug off even the most concerted efforts at cataloguing. Thus, following on the heels of the street-wise and frenetic white noise of Psychoraag, we have the apparent tranquillity of The Saelig Tales (2006) which describes an encounter between two men in the garden of a vicarage during one summer evening in southern England. Alternatively we have The White Cliffs (2004), which focuses on an equally unlikely encounter between a man and woman in a desolate out of season seaside café. If these remote and rural scenes seem unlikely, this is precisely the point, as Saadi elaborates below:
'In some senses, rural England, rich or poor, is perceived by many as a white enclave. Within this model, there has occurred the transformation from a reduced-but-active farming community to a mixture of impersonal agribusiness and bucolic pastiche. Sometimes, it is portrayed as a mythic never-never land of tolling bells and bicycling vicars, a pristine England which supposedly existed before emigration from the New Commonwealth changed forever the demographic complexion.'
What links all Saadi's writing to date is its exploration of the very character of storytelling, a process which see the materiality of words, sentences and word combinations thrust to the forefront of the fictional process. The reader seeking solace in the content of the fiction alone will ultimately be disappointed. It is the pyrotechnics involved in formal, linguistic and grammatical experimentation that provide the core pleasures of Saadi's prose. Here is the opening of Psychoraag:
'Salaam alaikum, sat sri akaal, namaste ji, good evening oan this hoat, hoat summer's night! Faee the peaks ae Kirkintilloch tae the dips ae Cambuslang, fae the invisible mines ae Easterhoose tae the mudflats ae Clydebank, welcome, ivirywan, welcome, Glasgae, welcome, Scoatland, tae The Junnune Show. Sax oors, that's right, sax ooors, ae great music, rock an filmi an weird, wye-oot-there happenins an ma rollin voice.'
The highly innovative, polygot prose of Psychoraag has led to it being hailed as the first Scottish Asian novel. There is no sense of timidity or trepidation in the pages of this audaciously experimental, formally fragmented and voluminous work. Sometimes reductively referred to as a cross between Salman Rushdie and Irvine Welsh, in many ways Psychoraag is closer to the hallucinogenic prose of the Guyanese magic realist, Wilson Harris, who did something similar for Scotland in his relatively neglected novel, Black Marsden (1972).
More recently, Saadi's Joseph's Box (2009) is notable for the way it exceeds compartments and categories of all kinds. A quest narrative, the novel opens with a woman, Zuleikha, fishing a box out of the River Clyde. Aided by Alex, these two unlikely anti-heroes embark on a surreal and seemingly boundless journey as they proceed to open box after box in pursuit of the cryptic clues they conceal. Described in The Independent as a work of 'imaginative excess', and in Jamesian terms as a 'large, loose, baggy, monster', Joseph's Box moves between Scotland, England, Sicily and South Asia, between the Second World War and the present. If the boxes of the novel are prized open and narratives dispersed at the level of content, at the level of form, even the boundaries of the book are breached through a dedicated website in which related narratives seep into and arise out of the printed pages of the text: http://www.josephsbox.co.uk/HTML%20pages/Main%20page.html.
Dr James Procter, 2009
Bibliography
2005
Freedom Spring: Ten Years On
2003
A Fictional Guide to Scotland
Awards
2005
National Literary Award (Pakistan)
2005
PEN Oakland Josephine Miles Literary Award (US)
2004
James Tait Black Memorial Prize (for fiction)
2001
Saltire Society Scottish First Book of the Year Award
1999
Macallan/Scotland on Sunday Short Story Competition
1999
Millennium Commission Award
1997
Bridport Short Story Prize
Author statement
I love telling stories, playing with words, making harmonies and melodies. Basically, it gives me an intellectual and emotional high. Sometimes, I feel like a conduit in the creation of new beings – albeit fictional ones! - and that seems like a great honour, so I suppose there's something hierophantic, bardic or shamanistic, but also essentially vicarious, about it. In my ideal life, I would have been either a musician or an experimental biochemist and so perhaps it is natural that in my work I gravitate towards the psychedelic, the nightmarish, the hallucinatory. I enjoy stretching myself, writing about what I don't know, experimenting, bucking trends and subverting narratives of power, and I find fulfilling the intricate discipline of attempting to perfect every note of a story through multiple drafts. There's also an element of catharsis, a sublimation of anger and a need to make connections with other people, both readers and other writers (whether the latter are alive or dead) as well as with ideas, rivers through time, space and spirit. Really, when one picks up the pen, one is attempting to discover another take on reality. The pen in some metaphysical way holds out the possibility of re-writing the world.