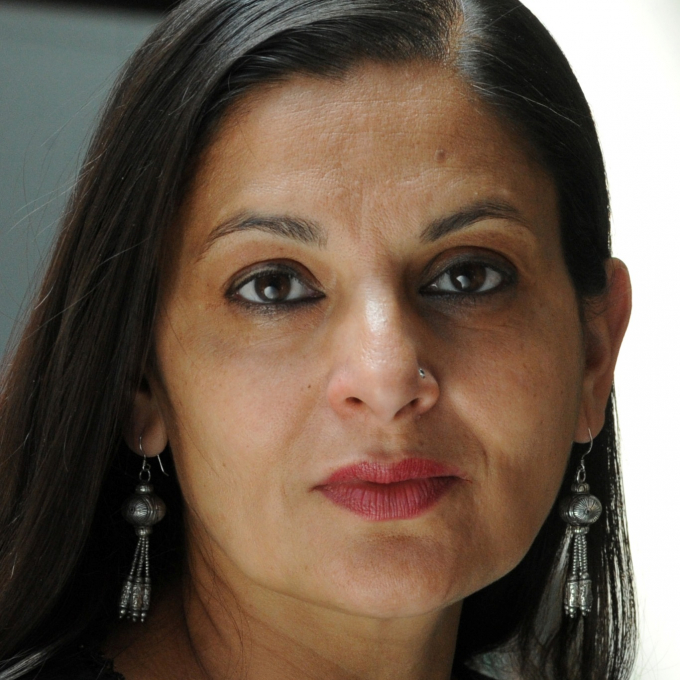 ©
Tamasha Theatre Company
Sudha Bhuchar
Publishers:
Agents:
Judy Daish Associates Ltd
Biography
Playwright and actor Sudha Bhuchar co-founded Tamasha Theatre Company in 1989 with Kristine Landon-Smith.
Her many acting roles include appearances in BBC television's Eastenders, BBC Radio 4's The Archers and on stage in an adaptation of Salman Rushdie's Haroun and The Sea of Stories at the Royal National Theatre. She writes widely for radio and the stage. The work she has written with Kristine Landon-Smith for Tamasha includes the award-winning Bollywood Musical Fourteen Songs, Two Weddings And A Funeral (2001), based on the Bollywood film Hum Aapke Hain Koun, Tamasha's Strictly Dandia (2004) and A Fine Balance (2007), based on the book by Rohinton Mistry. She has also written a children's play, Child of the Divide (2006) and The House of Bilquis Bibi, an adaptation of Lorca's The House of Bernarda Alba.
Sudha Bhuchar also writes with Shaheen Khan: Balti Kings for Tamasha and three series of Girlies for BBC Radio Four. Their television credits include an episode of Doctors and their original screenplay, House across the street, for BBC4.
With Kristine Landon-Smith, she won a Woman of Achievement Award for Arts and Culture in 2005, and a First Women Award (Tourism and Leisure) in 2010. In 2015, Bhuchar retired from her co-Artistic Director position at Tamasha and founded a new theatre company, Bhuchar Boulevard.
Critical perspective
For what began as a project by two friends in a Crouch End flat 21 years ago,  Tamasha Theatre Company – of which Sudha Bhuchar was both co-founder and arguably its leading actor and writer – has certainly come a long way.
Writing in Staging New Britain (2006), Anne Fuchs described the company as "a manifestation of a new British cultural heritage" whose commitment to re-adapting the European classics, as well as introducing British Asian themes to their diverse audiences, has made this company one of the most respected names in theatre. Bhuchar's own thoughts on her experience are revealing: "We have put a mirror to our communities and shown stories that weren't always palatable and certainly, while sometimes having to guide them, we have never let them off the hook" (The Guardian, 24 April 2008).
Although their greatest commercial success has undoubtedly been Ayub Khan-Din's East is East, 1996, whose film adaptation later become a smash hit at the box office, Bhuchar began her career with Untouchable (1999), which she adapted from Mulk Raj Anand's classic novel. A forthright and unsettling exposé of India's harijans, Bhuchar's adaptation faithfully follows a day in the life of Bakha, a toilet-cleaner attempting to break the bonds and miseries of his caste. In Untouchable, we hear a cacophony of voices: those of Christian missionaries, Gandhi, and both educated and uneducated Indians in the final days of the British Raj. The play, which was well received, was a portent of things to come. Later, after House of the Sun (1999), it was with A Tainted Dawn (1999) that Tamasha achieved one of its greatest original successes. Partly adapted from short stories and partly improvised, A Tainted Dawn was written to mark the fiftieth anniversary of India's traumatic Partition, where millions of people found themselves on the wrong side of new political, ethnic and religious divides. In this play, an orphan, a medical student and a civil servant, among others, question those events and bring to light painful memories:
"RAM NATH: I only came to see my neighbourhood and my friends. You must take me to my house.
LATIF: Bhai Sahib – it will only bring back bad memories.
RAM NATH: I live with my memories every day. It was my misfortune that I left here before my Satish and his family. If I'd stayed back, I would have shared their fate. Instead I survive to mourn them. I can't go back without seeing my house.
LATIF: You really want to see it? Here is your house.
RAM NATH: That rubble?
LATIF: Your house was burnt down during the troubles."
Ian Shuttleworth found much to praise in the play: "with only eight actors, [Bhuchar and Landon-Smith] manage to convey at least a microcosm of the terrible scale of human displacement as even the supposedly enlightened middle classes came to abandon hope in the ideals of secularism" (the Financial Times, 15 August 1997). Violence is everywhere: the nine stories revolve around deaths, riots, and fragmented families and communities; none of which, perhaps, are more powerful than that of Pali, a Hindu boy separated from his parents and raised by Muslims, who, when he later attempts to re-integrate into his old community, is made an outcast by his 'tainted' upbringing. While Landon-Smith co-wrote and directed the play, Bhuchar also served as its producer.
Balti Kings in 1999, Bhuchar's first full original effort, was the culmination of months of research in various Birmingham restaurants. Shahab, whose ailing father owns a once-fashionable restaurant, has come up with a plan to resuscitate the business – "curryoke nights", where the seemingly alluring combination of cheap buffets and the presence of Bollywood film stars begins to place a great strain on the restaurant's kitchen staff. As is to be expected, chaos soon sets in. The actors refuse to turn up, sexual tension erupts as two members of staff fight over a girl, and the chef repeatedly threatens to leave, unravelling Shahab's ambitious schemes. Though there were various attempts to film the play, the final scene from Balti Kings was eventually made into a short film, Midnight Feast in 2004, for which Bhuchar also co-wrote the screenplay. In the meantime, Bhuchar worked on Ryman And The Sheikh in 2002 and Strictly Dandia (2004) – as well as The Trouble with Asian Men in 2005.
A year later, in 2006, Tamasha staged one of its most successful adaptations: A Fine Balance (2007), from Rohinton Mistry's best-seller. The plot centres around Dina Dalal, a Parsi widow attempting to avoid being married off for a second time. Set during the 'Emergency' declared by Indian prime minister Indira Ghandi in 1975, the play attempts to unravel the social implications of slum poverty and the Indian government's controversial 'clearances' which routinely see a great number of people forcibly relocated to ever-worsening situations. Bhuchar's most recent play, The House Of Bilquis Bibi adapted in 2010 from Federico García Lorca's, The House of Bernarda Alba, transports Lorca's setting from the Spain of the 1930s to present day Punjab, where we are introduced to Bilquis, a daunting matriarch who, faced with diabetes and a senile mother, has an even greater challenge on her hands: five unmarried daughters, and their affections for the same man.
As Michael Billington put it, Tamasha "always come up with bright new ideas" which shift quite comfortably from such diffuse themes as "India's Partition and pastiche Bollywood musicals" (The Guardian, 15 January 2000). Despite Tamasha's hectic touring schedule, which has seen them perform their plays the world over, Bhuchar has helped her company forge links with other troupes, such as Pakistan's Ajoka. In 2015, Bhuchar retired from her co-Artistic Director position at Tamasha and founded a new theatre company, Bhuchar Boulevard. Aside from her work with Tamasha, with whom she is now virtually synonymous, Bhuchar also recently travelled to Frankfurt, where she contributed to a conference on the subject of surrogacy from India. 
André Naffis-Sahely, 2010
Bibliography
2010
The House of Bilquis Bibi
2001
Fourteen Songs, Two Weddings and a Funeral