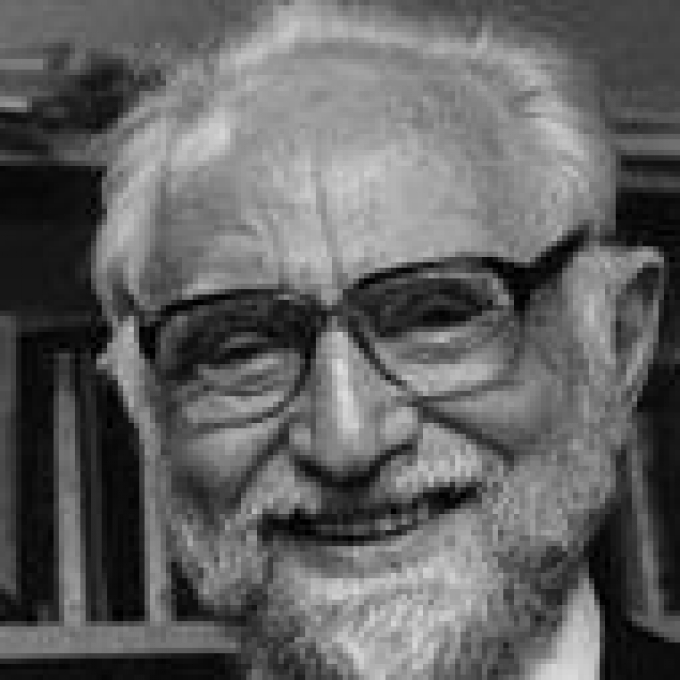 Stanley Wells
Publishers:
Agents:
Sheil Land Associates Ltd
Biography
Born in 1930, Stanley Wells is a renowned authority on Shakespeare and other writers of his time.
He has published many books and articles on the subject and lectured all over the world. He gained his doctorate at the Shakespeare Institute of the University of Birmingham in 1962, and taught there until 1978, and then again from 1987 when he became Professor of Shakespeare Studies, until 1997. He is now Emeritus Professor of Shakespeare Studies of the University of Birmingham in Stratford-upon-Avon. He holds honorary doctorates from Furman University and from the Universities of Munich, Hull, and Durham. He is General Editor of the Oxford and the Penguin editions of Shakespeare. He edited the annual Shakespeare Survey for Cambridge University Press for 19 years.
Stanley Wells is Chair of the Shakespeare Birthplace Trust, Honorary Governor Emeritus of the Royal Shakespeare Company, and member of the Board of Directors of the Globe Theatre. In 2007, he was awarded a CBE.
Recent books include Shakespeare, Sex and Love (2010), Great Shakespeare Actors (2015). With Paul Edmondson, he has also edited The Shakespeare Circle (2016), an alternative biography that casts new light on Shakespeare through consideration of his relatives, friends and collaborators and fellow-actors. 
Critical perspective
In the preface to his lavishly illustrated survey Shakespeare for All Time (2002), Professor Stanley Wells relates how, as a student in London during the post-war period he saw 'unforgettable performances' by great actors such as Laurence Olivier, John Gielgud, Edith Evans, Michael Redgrave and Alec Guinness.
And throughout his writings he frequently refers to being an eye-witness to significant Shakespearean occasions, for instance remarking that 'no one who saw the Peter Hall/John Barton production of 1963 [Henry VI, Part Three] will forget the controlled ferocity with which Peggy Ashcroft's Margaret [of Anjou] verbally attacked Donald Sinden's tethered York as she unleashed her fury at him, or his counter-attack'. And indeed his engagement with Shakespeare over more than five decades has not only contributed greatly to scholarship but has always sought to appeal to the general reader. His detailed recollections as an eyewitness over the years complement his unbounded enthusiasm for his subject; whether he is writing about Shakespeare's historical context or popularizing new approaches to the works themselves.
Wells has been particularly active internationally, lecturing in many countries over the years, alert to the multifarious ways in which Shakespeare has permeated world culture. As an important scholar and prolific writer and editor, Wells has been an experienced collaborator on a number of major projects, notably William Shakespeare: The Complete Works (1986; revised edition, 2005). Over the course of a decade, he and his team mainly worked from original printings, while also making the important decision that 'it seemed proper to give priority to the revised versions representing the plays as acted'. He co-edited the Oxford Companion to Shakespeare (2001), and was General Editor of the Penguin and Oxford editions. By contrast, he has also produced short popular guides such as Is It True What they Say about Shakespeare? (2007). His style is warmly accessible, with a nice mix of scholarly information - and scepticism about the numerous myths and half-truths that have surrounded Shakespeare's life and career - as well as many entertaining anecdotes.
Shakespeare for All Time has been hailed as the best book on Shakespeare for a generation, and is certainly the most comprehensive overview of the subject that anyone is likely to require. In its chronological survey of all things Shakespearian, Wells tells just what is and isn't known about Shakespeare's life ('how he got to London is a mystery'), theatrical career, editions of his plays and poetry, the opinions of his contemporaries – and the emergence of Shakespeare as England's national bard. The account of Shakespeare's origins and professional life is fascinating; he calls him 'our first great literary commuter', moving between property-owning in Stratford and his crowded theatrical life in London. The chapter on 'Shakespeare the Writer' is the longest and most demanding chapter in the book, examining his command of verse forms as well how in his plays he mostly adapted and added to pre-existing sources. Wells discourses learnedly about two lost plays – Cardenio and Love's Labours Won - and about the late plays such as The Tempest 'whose very generic indeterminacy sums up the comprehensiveness of his vision'.
Among the most interesting historical discussions are those about the foibles of previous adapters, editors, and the subsequent forgers and expurgators of Shakespeare. He rightly points out the artistic virtues of at least some of these, pointing out, for example, the sheer popularity of adaptations made by Nahum Tate, David Garrick, and even Colley Cibber (the latter influencing Olivier's film of Richard III). But Wells reserves particular scorn for what he calls 'the strangest aberration of Victorian scholarship', and more recent conspiracy theorists, who insisted that Shakespeare's works were written by someone else. In its concluding pages, Wells details how Shakespeare has emerged 'as a truly global writer, aided by the increasing use of English as an international language'. And, as he points out, 'The English language is permeated with expressions derived from and relating to his works … There is no holding him back'.
In Shakespeare and Co (2006), Wells presents Shakespeare 'not as a lone eminence but as a fully paid-up member of the theatrical community of his time … and one who, like most other playwrights of the age, actively collaborated with other writers, not necessarily always as a senior partner'. The book sets the scene with an account of the London social conditions at the time of the first production of Hamlet at the Globe theatre ('in 1600 or 1601'), with their contemporary perils of fire and plague. The play was 'a high-water mark' in the 37-year-old playwright's career, it is argued, and essentially the work that made him stand out as pre-eminent among his contemporaries. There follows detailed accounts of the social status and careers of the most famous actors of his company, the King's Men, that he will have worked with and written for – comedians such as Will Kemp and tragedians like Edward Alleyn. But the book is in essence about the interaction with his 'rivals', from Christopher Marlowe and Ben Jonson to the less well-known Thomas Dekker, Thomas Middleton, John Fletcher and others. The sheer extent of his likely collaborations with some of them – on Titus Andronicus, Pericles, Henry VIII, perhaps even Macbeth - may come as a surprise to many readers. Wells explains this as a normal theatrical activity of the time, partly due to his 'other duties' as an actor and shareholder. He also suggests the dictates of theatrical fashion in his later years, which could have 'required him to work with a colleague who was more in touch with the demands of the public'. 
Wells does sometimes buttress his arguments with informed speculation, for instance when he notes that Shakespeare stopped writing within months of the Globe theatre fire in June 1613, and wonders: 'could this disaster have broken his spirit?' He also trusts his 'hunch' about Thomas Middleton's involvements with Shakespeare as an 'apprentice' and as a collaborator on Measure for Measure. Wells is a supremely knowledgeable guide and interpreter, always explaining obscure words and concepts. He frequently draws upon contemporary documents, including court cases, to illuminate the controversial origins of many of these dramas. Shakespeare was 'deeply immersed in the world around him', he concludes, 'and to see him as one among a great company is only to enhance our sense of what made him unique'. Distinguished as a scholar, editor, and popularizing writer, Stanley Wells has added greatly to the perennial renewing of Shakespeare's appeal – today and for the future.
Dr Jules Smith, 2008
Bibliography
2016
The Shakespeare Circle
2015
Great Shakespeare Actors: Burbage to Branagh
2013
Shakespeare Beyond Doubt (ed. with Paul Edmondson)
2010
Shakespeare, Sex and Love
2007
Nineteenth-Century Shakespeare Burlesques
2007
Is It True What They Say About Shakespeare?
2006
Searching for Shakespeare
2006
Shakespeare and Co.: Christopher Marlowe, Thomas Dekker, Ben Jonson, Thomas Middleton, John Fletcher and the Other Players in his Story
2004
Shakespeare's Sonnets
2004
Looking for Sex in Shakespeare
2003
Shakespeare: An Oxford Guide
2002
Shakespeare for All Time
2002
The Cambridge Companion to Shakespeare on Stage
2001
Shakespeare and Sexuality
2001
The Oxford Companion to Shakespeare
2001
The Cambridge Companion to Shakespeare
2000
Shakespeare and Race
1998
William Shakespeare: The Quiz Book
1997
Shakespeare in the Theatre: An Anthology of Criticism
1994
Shakespeare and the Moving Image: The Plays on Film and Television
1994
Twelfth Night: Or, What You Will
1994
Shakespeare: A Dramatic Life
1989
Shakespeare: A Bibliography
1988
Shakespeare and Revision: Hilda Hulme Memorial Lecture
1987
William Shakespeare: A Textual Companion
1986
William Shakespeare: The Complete Works
1985
Shakespeare's Sonnets: and A Lover's Complaint
1984
Re-editing Shakespeare for the Modern Reader
1979
Modernizing Shakespeare's Spelling: With Three Studies of the Text of Henry V
1978
Shakespeare: The Writer and his Work
1978
Shakespeare: An Illustrated Dictionary
1975
English Drama: (Excluding Shakespeare)
1972
The Comedy of Errors
1970
Literature and Drama with Specific Reference to Shakespeare and his Contemporaries
1969
King Richard the Second
1969
Shakespeare: A Reading Guide
1967
A Midsummer Night's Dream