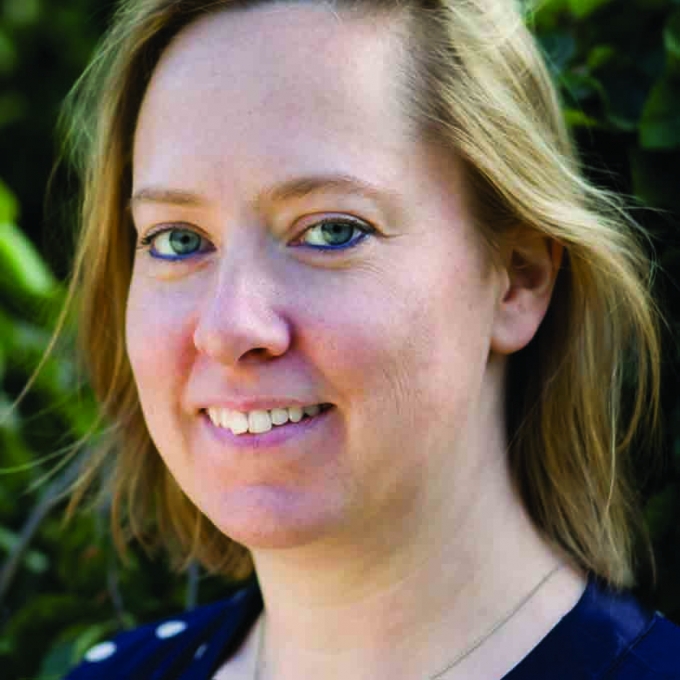 Biography
Sarah Wardle was born in London in 1969, and studied Classics at Oxford University and English at Sussex University.
Her poems have been published in a variety of magazines, newspapers and anthologies, and broadcast on radio and television. In 1999, she won the Geoffrey Dearmer Memorial Prize. Her first collection of poetry, Fields Away, was published in 2003, and was shortlisted for the Forward Poetry Prize (Best First Collection). Other collections include A Knowable World (2009) and Beyond (2014).
She has written articles and reviews for magazines and newspapers such as Poetry Review, Writing in Education, the Times Higher Education Supplement, the Times Literary Supplement and The Observer. She was also Poet in Residence for Tottenham Hotspur F.C.
Sarah Wardle is a lecturer at Middlesex University and a Royal Literary Fund Fellow. She lives in London.  
Critical perspective
Sarah Wardle's wittily inventive style of verse has led, perhaps misleadingly, to some comparisons with Wendy Cope.
She certainly has the latter's skill with rhyme, and sometimes shares her satirical view of male attractions as well as pretensions: 'I first heard him transmitted live / from a car boot sale this side of Hythe / …. broadcasting living's shakes and knocks / like a twentieth-century populi vox' ('Modern Poet'). Some of the references may be topical, or taken from football, but overall the serious subjects of her work make it far from being Light Verse. Among her mentors was the late Michael Donaghy, while Hugo Williams has praised her 'miracle of unforced musicality'. Like them, her work is highly literary, with classical, mythological and Shakespearian allusions scattered throughout. She particularly admires those poets who unaffectedly combine formalism with popular and high culture, such as Tony Harrison and Simon Armitage - her latest book Score! (2005) is surely titled in emulation of the latter's debut Zoom!
Two rather different life-changing experiences have given her the essential subject matters of her poetry. She has suffered from schizophrenia, which first affected her during the emotional strain of her Finals exams at Oxford (as described in her poem 'Breakthrough'), and then came through the process of treatment and recovery from mental illness. On a happier note, she was appointed poet in residence at Tottenham Hotspur football club in North London, and has subsequently not only become a fervent supporter of the team but has been involved with the educational activities at the Spurs Study Support Centre. Some of the poems she has been inspired to write as a result have appeared on the Spurs website and even on Sky Sports News. The opportunity to observe the fans, players and management at close quarters has resulted in some thoughtful pieces about football's importance to a community and within individual lives. Having a poet involved with a football club was nothing new: Ian McMillan, at his beloved Barnsley F.C., was the first such poet in residence. But Sarah Wardle brings a female perspective to bear upon the otherwise male-dominated professional game. During an interview on the Radio Four 'Woman's Hour' programme, in April 2004, she expressed the fan's viewpoint that 'it's all about passion and emotion'.  
Fields Away (2003) was short-listed for the Forward Poetry Prize (Best First Collection). It is unusually prolific, containing over eighty poems. Many are clearly apprentice pieces, such as 'Word-tasting' and 'Underground', or the parody 'After Blake': 'I will not cease from working late, / nor shall my mouse sleep in my hand, / till we have built suburbia / in England's green and pleasant land'. Playful literary allusions are indeed much in evidence, more successfully in 'On Westminster Bridge', commemorating Wordsworth's famous sonnet and freezing the contemporary scene so that we can view Big Ben, passing cars and The London Eye. Her classical education surfaces in certain pieces, sometimes tragically and sometimes in the light-hearted 'Socrates to Descartes', as the Greek philosopher tells us: 'Since the hemlock, I've put emphasis / on experience, not universals'. Childhood memories and the family inform poems poised between anguish and nostalgia such as 'Solitaire', and 'Magic' in which a girl calms a rearing pony and finds 'Happiness, that trust I mean'.

But easily the most memorable poems are those that describe the hellish experience of schizophrenia, when 'I was Aeneas in Hades, the nurses were ghosts' ('Psyche'). In them, the classical and Shakespearian references really work with a deeper emotional resonance. 'On Rereading King Lear' states that 'language, like an exile, can take flight / from sense', sowing 'the seeds of fear and doubt'; then it brings the reader up close and personal: 'I know because I once played Lear myself, / and wandered far inside a foreign land'. Other poems rationalize the experience of mental illness ('like Greek gods and goddesses, / fooling with the lives of us, some cruel and some propitious') and treatment. But eventually, in true Romantic vein, more comfort is to be found in the natural world. In 'Flight', she sympathizes with a blackbird's panic at being trapped inside a house: 'I cup the bird gently in my hands, like water, / carry her out, as if a Section order / has been lifted, give her to the air, / then watch her spread her wings and soar'.
Score! has an action photograph on its cover, of the Irish star player Robbie Keane (subject of a clever tribute, parodying a poem by Seamus Heaney). What is noticeable about her 'Spurs Poems', mostly located in an opening sequence 'In Memoriam Bill Nicholson', is that they are celebratory, even in the elegy for a late great manager: 'you're the father in the sky Keane salutes'. The misery of a fan's obsession, or the reaction to defeat – such as we find in that classic account of supporting Arsenal, Nick Hornby's novel Fever Pitch – is almost nowhere to be found. As observers, the poems take us into the 'Injury Room', and the 'Bill Nicholson Suite', where a football signed by the Double-winning side is 'staring back like an idol's head, / still worshipped now as much as then'. The emotional importance of the game in people's lives is a theme that she develops well. Hearing a football result brings back to her 'the Proustian rush of childhood weekends', and in 'Against Metaphor' she observes: 'Here, character doesn't lead to tragedy / and human heroism is life not art'. An after-match scene muses that 'Some things can't be bought / but go deeper, like a father and son now, / walking along Love Lane' ('At White Hart Lane'). 
The book also contains the sequence 'X Poems', ten pieces that move from Spurs ('I'm with Jol's army') to another site commemorating mostly male endeavours, the Imperial War Museum. There's a good deal of uneasy meditation on war and its meanings, religious symbolism, and a cockerel (Spurs emblem) is 'crowing like three knocks to a door'. She recalls that this is the site that 'was once Bethlem' (the 18th-century lunatic hospital), and remembers 'stepping from a white van / with my hands up'. In 'A Poetry Political Broadcast', poetry itself becomes 'the voice inside your head', and 'the daimon solving our dilemmas / in questions of survival, love and war'. Among the concluding poems, an elegy for Michael Donaghy stands out, as does a strange celebration of London, 'Maybe It's Because'. Visiting the Embankment Gardens, then leaving Charing Cross station, she is 'startled / into pleasure by smacks of life, a birdcall'. The poet and critic Gillian Beer has rightly drawn attention to Wardle's 'feeling for the detail of dark occasions'. She balances this with literary playfulness, a compassionate eye, and skills that will deepen her work still further.
Dr Jules Smith, 2006
Author statement
I write because I enjoy writing and it has become a habitual pleasure. I think it matters to convey enlightened feelings and pool general experience. I try to translate feelings into speech, whether emotional or thought perceptions, and whether into rhetoric or conversational rhythms. I often write for an imagined audience and am influenced by the passion of the stage alongside the personal space of open fields, the forum, football pitch, theatre or park. I think poets should communicate themes and particulars and be accessible.