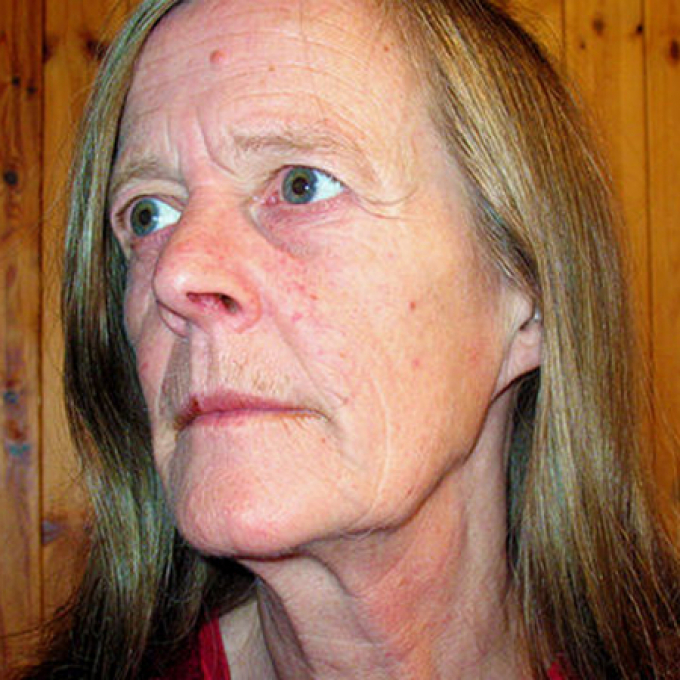 Biography
Sara Maitland is a novelist and short story writer.
Born in 1950, she grew up in Galloway, studied at Oxford University and currently tutors on the Distance Learning MA in creative writing for Lancaster University and is the Mentor Co-ordinator for Crossing Borders. She has undertaken writer residencies at HMP Ashwell and at Lincoln Cathedral.
Her first novel, Daughters of Jerusalem, was published in 1978 and won the Somerset Maugham Award. This has been followed by several more novels including Three Times Table (1990), Home Truths (1993) and Brittle Joys (1999), and one co-written with Michelene Wandor – Arky Types (1987).
Her non-fiction on religious subjects includes A Big-Enough God: Artful Theology (1994), Novel Thoughts: Religious Fiction in Contemporary Culture (1999), and Awesome God: Creation, Commitment and Joy (2002). She has also written Vesta Tilley (1986) and, with Peter Matthews, a book about gardening  – Gardens of Illusion (2000). Her most recent books of non-fiction are A Book of Silence (2008) and Stations of the Cross (2009). 
Her short stories are regularly broadcast and collections include Telling Tales (1983); A Book of Spells (1987); On Becoming a Fairy Godmother (2003), a collection of magical realist tales about middle age; and Far North (2008). A film based on the title story, Far North, has been released, directed by Asif Kapadia and starring Sean Bean and Michelle Yeo.
Sara Maitland also writes reviews and articles. She is currently working on a new book exploring connections between the forests of Britain and traditional fairy stories.
Critical perspective
On the page there is compelling drama enough; with a murderous sexual triangle between an old woman, a young woman, and the handsome hunter who arrives unexpectedly at their home, 'in the land of the long night'. It moves inexorably to a bloody conclusion, and is in certain ways representative of Maitland's fiction. Firstly, it's based on a myth (in this case from the Inuit, though more usually she draws upon Greek myths, The Bible, and fairy stories). And secondly its themes: female friendship and rivalry, the savagery of sexual desire, jealousy, and their consequences. 'The Tale of the Valiant Demoiselle', an earlier story, similarly placed its scenario of female desire and violence in the frozen north, and is also based on a pre-existing narrative. In the latter, its heroine survives the Canadian winter only to be attacked by voices: 'WITCH. SLUT. ANIMAL. IN THE SILENCE WE WILL KILL YOU. YOU ARE DAMNED'. But she resolves to 'live and praise my God', achieves 'perfect' silence in her head – and is rescued.
These concerns – with feminism, sexuality, and religion – have energized Maitland's writing over the years, whether in the short story form, her novels, and several works of theology or cultural studies. In her latest non-fiction work, A Book of Silence (2008), she combines both strands, theology and cultural history, binding them together with autobiographical thread – as she explains how she came to be currently living the contemplative life in a purpose-built house in a remote part of Scotland. And yet Maitland, as she explains, had previously led a crowded life. Coming from a close-knit 'noisy' family, she was socially gregarious as an Oxford student and afterwards raised her children as a busy Anglican vicar's wife. She had begun writing as part of a 1970s London-based group of feminists, including her friends Michele Roberts and Micheline Wandor; they were involved with Spare Rib and other magazines as well as Virago Press. Nevertheless, as she admitted as an aside in her commentary on The Martyrdom of Perpetua (1996), 'It is hard being a Christian feminist'.
Her first novel, Daughter of Jerusalem (1978), dramatizes some of the difficulties of reconciling the 'women's struggle' with actual lives and experiences. It is the story of an infertile couple desperate to conceive a baby. But it is also about the confusing complexity of social roles in 1970s literary London. Liz is seeing a fertility doctor who disapproves of her feminist lifestyle; her partner is homosexual and occasionally violent. Interpolated among contemporary scenes are passages of Biblical language and 'flashbacks': to Palestine in A.D. 70, Samson and Delilah, and Deborah the Prophetess (whose bloody actions, assisted by Jael, appear in a later short story). Brittle Joys (1999), has some of the same elements in that its heroine Ellie, an artist glassmaker with an unsatisfactory husband, has a host of gay and lesbian friends. But by this time the dark shadow of AIDS has fallen over such relationships; she has to watch a friend die, and hold the hand of another when he takes an HIV test. Again, the human stories are counter-pointed by the Biblical and the spiritual. Ellie becomes aware of 'Angel', a voice who guides her – and argues with her. But it ends upbeat when one of her employees becomes pregnant; Ellie agrees to be the baby's 'fairy godmother'.

Maitland found her true métier in writing short stories throughout the 1980s and 1990s, later characterizing them (in her commentary on the martyred Christian mother Perpetua) as 'blood-strewn tales of madness and badness done to and by women, in a timeless space between the boundaries of myth and history'. This certainly applies to the wonderfully macabre 'Siren Song', in which we learn the cold-blooded reasons for the Sirens' revenge on drowning sailors as well as their poignant desire to be freed from the curse: 'for our malice is not without cause; our cruelty is small payment for men's lust'. Women Fly When Men Aren't Watching (1993), included 'Far North' and 'The Tale of the Beautiful Princess Kalito'. Rather Angela Carter-like - exotic, horrifying and sardonic - it ends with the 'shrivelled old Beautiful Princess' unbinding her rotten feet and attempting to walk: 'the screams did not finish … and they have not finished yet. I told you it was long, long ago and far, far away, but that might not make it any easier'. 
As Maitland explains in A Book of Silence, she had difficulty in finding a publisher for On Becoming a Fairy Godmother (2003), perhaps because of its original subtitle: 'Role models for the menopausal woman'. Yet this connecting theme inspired a rich range of strange scenarios. There is Eve, trying to get back into the Garden of Eden, and a 60-year-old Helen of Troy keeping ageing at bay with aerobics. We also hear of a woman who finds a small singing mermaid in her toilet; competitive sisters whose mother becomes a pirate; and another view of Cinderella ('The Wicked Stepmother's Lament'). Sexual desire is either tragic ('Loving Oedipus') or joyous when the long-delayed lust of Guinevere and Lancelot is finally consummated ('Foreplay'). And it can be light-hearted, as in 'Having Sex with a Saint', or a woman seducing her friend's son ('Bird Woman Learns to Fly').      
A Book of Silence was perhaps still more difficult for publishers, and yet – like its subject – it is strangely rewarding. She writes that she had found herself 'falling in love with silence' in a desire to 'explore my own spirituality'. She connects this to a life crisis – her marriage breaking up – but also to a crisis in her writing: 'I no longer had the simple confidence in narrative, in storytelling'. What follows is her account of pursuing silence (on a Scottish island, in the Sinai Desert and elsewhere) as well as the internal effects of isolation on her mind and spirit, sometimes resulting in hallucinations and panic attacks, but also new insights into the self. In the process, she managed to renew her creativity, with some new stories taking silence as their subject or featuring silent characters. In 'The Swans' for instance, the Young Queen who refuses to speak and save herself from burning until rescued by her swan brothers. Saint Cuthbert of Lindisfarne, in 'After Life', keeps quiet while his incorruptible body is carried around and examined over the centuries, eventually entering – in the arms of the storm woman – 'the ocean of silence'.
Sara Maitland's writings span unusual genres, making - perhaps unfashionable – connections between art and religion. She is one of Britain's leading short story writers, her prose memorable and 'as liquid and potent as a witch's brew' (Publishers Weekly).   
Dr Jules Smith, 2009 
Bibliography
2009
Stations of the Cross
2003
On Becoming a Fairy Godmother
2002
Awesome God: Creation, Commitment and Joy
1999
Novel Thoughts: Religious Fiction in Contemporary Culture
1997
Virtuous Magic: Women Saints and their Meanings
1996
The Martyrdom of Perpetua
1995
Angel and Me: Short Stories for Holy Week
1994
A Bit-Enough God: Artful Theology
1993
Women Fly When Men Aren't Watching
1988
Very Heaven: Looking Back at the 1960s
1984
Weddings and Funerals
1983
Walking on the Water: Women Talk about their Spirituality
1983
A Map of the New Country: Women and Christianity
1978
Daughter of Jerusalem