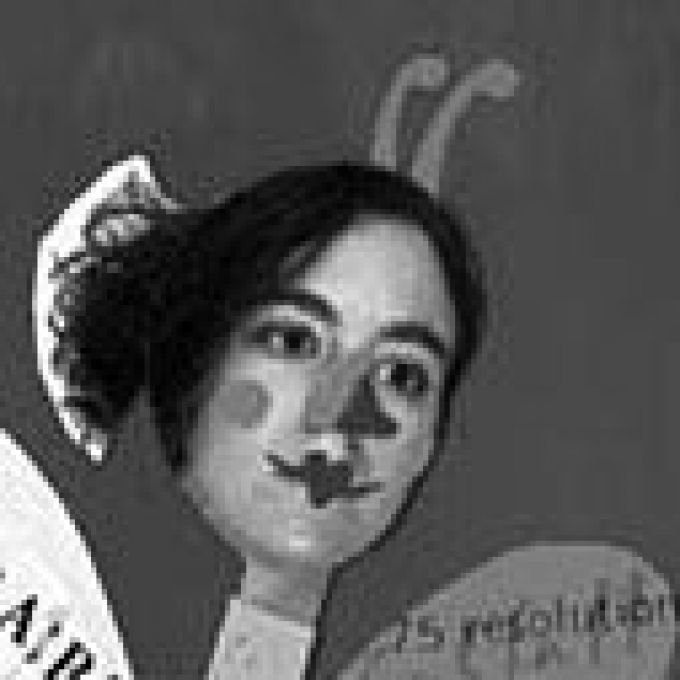 Biography
Sara Fanelli was born in 1969 in Florence, where she studied for a Diploma di Maturita at the Liceo Classico Michelangelo before coming to England, where she studied at the City and Guilds of London Art School, Camberwell School of Art, and the Royal College of Art, London.
She has undertaken illustration work for various publications, including the New York Times, the Independent on Sunday and the New Scientist. Her clients include The Royal Mail, BBC Worldwide, and Tate.
During her second year at Camberwell School of Art, her book, Button (1994), won the 1992 Macmillan Prize for Children's Picture Book Illustration. Her later books Wolf! (1997) and It's Dreamtime (1999) were shortlisted for a National Art Library Illustration Award, and in 2004, her illustrated translation of Pinocchio won this award.
Recent projects include a new book for Tate Publishing entitled Sometimes I think, Sometimes I am (2007), with introductions by Marina Warner and Steven Heller. This is a book of images inspired by World Literature. 
In 2006 she was elected an Honorary RDI (Royal Designer for Industry), the first woman illustrator to receive this honour. 
Critical perspective
Born in Italy, of an Italian architectural historian father and an American art historian mother, and artistically trained in Britain, Sara Fanelli is one of the new generation of experimental children's book illustrators.
Despite being relatively young, she already has an impressive number of publications to her credit. She was selected by Quentin Blake as one of the top 13 children's book illustrators currently working in the UK in the British Council exhibition 'The Magic Pencil: Book Illustration Today', and she was winner of the 2004 National Art Library Illustration Award, Britain's premier book illustration prize (for  her artwork on the sumptuous translation by Emma Rose of Collodi's original, unabridged text of Pinocchio, 2003). She sometimes writes her own texts, often inspired by her classical roots (Mythological Monsters of Ancient Greece, 2002, for example, is dedicated to the teachers who initiated her love of the classics at the secondary school she attended in Florence). At other times she revisits traditional stories such as Pinocchio and Cinderella, seeing them in a new way. On other occasions she illustrates the work of others, such as in The New Faber Book of Children's Verse (2001), edited by Matthew Sweeney. 
One of her earliest published works, My Map Book (1995), is almost totally pictorial: it is a series of the maps that make up the everyday life and imagination of a young child: there is a Treasure Map, a plan of My Bedroom, and a diagram of My Family, My Tummy, and even My Dog and My Heart. The book contains bright, colourful illustrations on white or monotone backgrounds in primary colours such as Mediterranean blue, grass green or pillar box red, with hand written annotations. Fanelli has the original idea in this book of making a feature of the dust jacket, that can be unfolded to reveal a thick, shiny, double-sided poster, with space for children to do their own maps (parents beware, you may never again be able to persuade you children to leave the dust jackets on their books!).
In her more recent works, we see her experimenting with more text and new techniques, such as collage, and we detect a very personal style emerging. As before, she usually works on coloured backgrounds, but in much more subtle colours, such as ochre, misty blue or orangey red, often using pieces of paper torn from exercise books, graph paper and wallpaper, frequently stained or marked in some way. On these backgrounds she sticks fragments cut from photographs – eyes are a common motif, as are pictures of herself as a child – pieces of fabric, details seemingly randomly cut from prints of old masters, music and snippets of newsprint, often mixing print in several languages including English, Italian, French and even Chinese. She flirts with different typefaces, superimposing pieces of print on top of her illustrations, or using them as part of a drawing – the body of a butterfly, for example. The use of historical typeface, such as pieces giving price tags in old pounds, shillings and pennies, give an old-fashioned look to the work and hint of influences from Duchamp and other Dadaists. She often draws or prints in black ink on top of these collages, using doodle-like scribbles, which pull the focus of the work back from the adult world to the realms of childhood.
Fanelli's inside covers are often a special, integral part of an illustration project and they frequently include an exercise for the reader to complete. In First Flight (2002), a simple story of a butterfly's first venture into the air, she has asked her friends, who range on the age-scale from Max, aged two, to Linuccia, aged 93, to draw their ideas of butterflies on the inside cover of the book. The inside cover of Mythological Monsters of Ancient Greece has illustrations of monsters such as Medusa the Gorgon, the One-Eyed Cyclops and The Minotaur, with dotted lines where readers can fill in the name of each mythological creature after they have read the text. There is a short description of each monster inside the back cover and a number of questions the reader can answer: 'Who needs nine scarves?' (The Hydra) Who has bad breath?' (The Harpies). The frontispiece of the same book announces in a Disney-like fanfare 'Watch out for their huge teeth. Beware their many heads. Count their eyes. Imagine their powers … if you dare!' and goes on to explain that 'All monsters are fictitious and any resemblance to real persons, family, or friends, is purely coincidental'. 
Fanelli's style is playful and inventive: she shares some of the tongue-in-cheek attitude and seemingly doodle-like style of other contemporary British illustrators such as Lauren Child, creator of the Clarice Bean stories. She often looks back to her own childhood for inspiration – sweet papers, kitchen utensils, buttons, the moon, even her old dog Bubu are common themes – so that you have the feeling you often get with the best children's illustrators, that she has never grown up, or at least has never lost touch with her childhood self. It is indeed easy to get an insight of Fanelli's character from her work, to imagine her as a sociable being, with a need to surprise and spellbind her audience, be they adults or children, and a tendency perhaps towards scribbling, doodling, note and journal writing, and the hoarding of treasures.
Her figures - people, insects, and animals - are childlike in form but show a debt to oriental art: Monty Python, British Pop and American artists such as Jean-Michel Basquait. In the New Faber Book of Children's Verse and in some of the illustrations for Pinocchio, the figures are simple stick-like sketches that have an elastic calligraphic quality and seem to skitter across the page. In other works, the sketches are worked upon using collage and physical materials (pasta and sugar, for example) to give depth and texture, so that each page becomes a jewel, a masterpiece in its own right, to the point where one feels that Fanelli's work might be as much a tactile as a visual experience. It has often been argued that book illustration is as much a 'fine art' as painting and sculpture: such an argument seems to find ample proof in Fanelli's works, particularly those of more recent years.   
Amanda Thursfield, 2004 
Bibliography
2007
Sometimes I Think, Sometimes I Am
2002
Mythological Monsters of Ancient Greece
2001
Alphabicycle Order by Christopher Reid
2001
The New Faber Book of Children's Verse edited by Matthew Sweeney
1997
Dibby Dubby Dhu: And Other Poems
1996
Cinderella: Picture Box
1996
Pinocchio: Picture Box
Awards
2014
Phoenix Picture Book Award
2006
Honorary Royal Designer for Industry
2004
Victoria and Albert Museum Illustration Award
2004
National Art Library Illustration Award
2003
Bologna Ragazzi Prize (Italy)
2001
Bologna Ragazzi Prize (Italy)
2000
National Art Library Illustration Award
1998
National Art Library Illustration Award
1997
National Art Library Illustration Award
1995
National Art Library Illustration Award
1992
Macmillan Prize for Children's Picture Book Illustration
1991
Macmillan Prize for Children's Picture Book Illustration