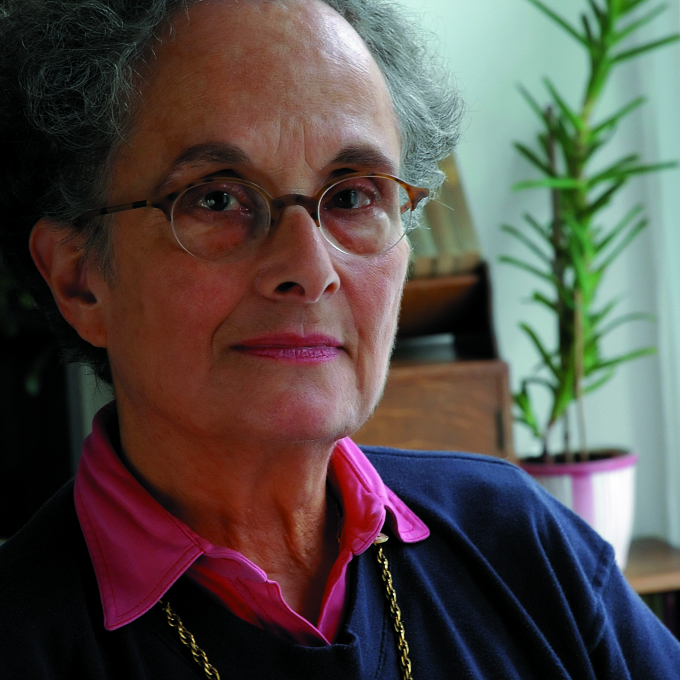 Ruth Fainlight
Publishers:
Biography
Ruth Fainlight was born in New York City in 1931. She was educated in the United States and England, and studied for two years at the Birmingham and Brighton Colleges of Arts and Crafts. She has lived in England since the age of 15. Her first poetry collection, Cages, was published in 1966. She was Poet in Residence at Vanderbilt University, Nashville, Tennessee, in 1985 and 1990. She was Writing Tutor (for libretti) at the Performing Arts Labs, International Opera and Music Theatre Labs in the UK in 1997-9.
Her collections of poetry include To See the Matter Clearly (1968); Sibyls and Others (1980); The Knot (1990); Selected Poems (1995); Sugar-Paper Blue (1997), shortlisted for the Whitbread Poetry Award; and Moon Wheels (2006). A New & Collected Poems was published in 2010.
As a poet, short-story writer and translator, Ruth Fainlight is a contributor to many anthologies. Her own work has been translated into Portuguese, French, Spanish and, most recently, Italian, and she has herself published translations from the Portuguese of the poetry of Sophia de Mello Breyner Andresen. She has also written three libretti: The Dancer Hotoke (1991), a chamber opera with music by Erika Fox, performed as part of the Royal Opera's 'Garden Venture' in 1991 and shortlisted for the Laurence Olivier Award for Outstanding Achievement in Opera; The European Story (based on Fainlight's poem of the same title, 1993), also commissioned by the Royal Opera House; and Bedlam Britannica, which was commissioned by Channel 4 Television for the series 'War Cries' in 1995.
Ruth Fainlight completed a new translation of Sophocles' Theban plays in 2009, which was published in the US. She was made a fellow of the Royal Society of Literature in 2007. She was married to the British writer Alan Sillitoe and has a son, David and an adopted daughter, Susan. She lives in London.
Critical perspective
The hallmark of Ruth Fainlight's poetry is its intense self-scrutiny. By focussing on life's seeming minutiae, it finds a quasi-religious sense of the numinous, even the mystical, within the everyday. Her wish is 'to see the matter clearly'; a brooding, restrained and cerebral sensibility measured changes in the scenes around her, subtle shifts in relationships, and heightened awareness of the natural world. In such ways her poetry has grown ever more distinctive as she herself has got older, appropriating the Sibyl as her own ambiguous female figure of agonised wisdom: 'I am the seer who reads her own entrails/… My cries of pain are heard as prophecies' ('Hand-out before the Show').
Fainlight's transplanted identity is surely significant. Born in New York to European Jewish parentage, she came to Britain at the age of 15, and the heritage of her mother's family has become an increasingly urgent concern. Indeed, consciousness of the Jewish historical experience, especially the Holocaust, forms the subtext to much of her work; 'At first it seemed a swaying field of flowers / windblown beside a railway track, but then / I saw it was the turning heads of men / unloaded from the cattle trucks at Auschwitz' ('Archive Film Material').
Ruth Fainlight had a friendship with Sylvia Plath in the late 1950s - like her, an expatriate American married to an already well known English writer (Fainlight was married to Alan Sillitoe until his death in 2010). Plath in fact dedicated a rather menacing 1962 poem 'Elm' to her and at least some of her work takes up Plath's intense manner, though far less histrionically. Her poems similarly exhibit a sense of psychological pressure, with subjects both domestic and mythic; dream versions of parents or children, and habitual invocations of the moon. For Fainlight it is an object of life-long fascination, 'from thinnest crescent into ripeness', though it also serves as a symbol of depressive femaleness: 'My moon shines obdurate as scar tissue, / A circle cut from steel sheeting … / In the hollow of a dead black sky' ('One Phase of the Moon').
Fainlight's Selected Poems (1987, revised 1995) illustrates a very particular body of work. 'Her voice can be cutting as well as lyrical' observed Helen Dunmore when reviewing the book, especially when examining 'the apparatus of femininity'. 'The crescent' looks at her mother's lipstick, worn away to a crescent, finding her own lipsalve taking the same shape: 'the eternal smile / of her survival through me'. As Dunmore notes, Fainlight is terrific on the subject of ageing. 'Divination by Hair', for example, finds a woman pulling out white hairs before the mirror that becomes 'a superseded altar, / the secret place of panic, rage, and grief'.
A collection such as This Time of Year (1993) is typical in its autobiographical lyrics, but they contrast with an entirely cerebral poem such as 'The Fish' which contains an image for thought itself, that 'makes my brain convulse and twist in my / skull like a fish in a net, with a fish's vigour'. Fainlight's guarded homage is to religion as 'the few surviving rituals / of a lost tradition'. 'New-born', the most remarkable poem in the book, takes up imagery of ancient Egyptian tombs to describe the self-sacrificing life-cycle of the Pacific octopus, its eggs in the circling current, 'like souls departing for eternity / or new-born gods'. A sardonic sequence of 'Twelve Sibyls', accompanied by the artist Leonard Baskin's woodcuts, revisits Sibyls and Others (1980). Fainlight has written dozens of poems about these ambiguous figures, bridging religion, classical and Biblical settings, femininity and modernity. One of them concludes: 'I am no more conscious of the prophecies / than I can understand the language of birds /…let the simple folk praise you, / keep you safe as a caged bird, / and call you a sibyl'.
Sugar-Paper Blue (1997) was short-listed for the Whitbread Poetry Award. Its title refers to the colour of the walls in the room below the Leningrad flat occupied by the Russian poet Anna Akhmatova, who Fainlight met there in 1965. Memory takes an ever-increasing prominence, reaching back to flowers recalled from a wartime childhood, 'the long wicks of white pith packed inside / the clumped hard green stems of rushes' ('Evacuee'), and adult observation of 'Anomalous bright blossom / in late afternoon shadow' ('Autumn Crocus'). For Fainlight, the other side of memory is mortality: 'I have passed the gate / of flesh. Now, the wait - how long? - / to learn the final task, before / I am let through the gate of earth' ('The Gates').
A further collection is Burning Wire (2002); the title image seems to stand for mental illumination, its tension and release: 'Rein back from thought until / you are its medium - or / force mind forward like / a burning wire into the core / of question …'. Whether reflecting on transience or the passage of time, it is deeply sunk in memories. A girl hears 'La Traviata' on the radio at her aunt's house in New York during the war' a mature woman recalls her mother and father, and she pores over a group family photograph in 1920s Montevideo. The lunar imagery remains: 'a full moon could still keep me awake, / restless, excited, / all through a summer's night, like the old days…/ my role and fate: to be / a watchful, solitary sister of the moon' ('Insistence'). The lengthy sequence 'Solomon and Sheba' incorporates Jewish tradition and Biblical myth within her own - Sheba is seen as a Sibyl, prophesying the coming of Christ.
Fainlight's short stories are excellent, and are generally undervalued. They range from strict realism to folklore or feminist fables such as 'The Fish-Scale Shirt', and even erotic fantasy. The title story of Dr Clock's Last Case (1994), in which a confused young woman has sex with her psychiatrist, was actually first published in Penthouse magazine. A young girl's social embarrassments in wartime America are symbolised in her party dress made out of a curtain; subsequent stories depict her different sexual maturing, and the disturbing attentions of men. There are more contemporary settings. Some concern the feckless lives of hard-drinking expatriates; and terrorists hold a professor and his wife captive in their own home. Several stories revolve around disturbed psychological states, eating disorders and sexual tensions within the family. In 'June and Nelly', for example, a glamorous domineering mother takes over her daughter's fiancée. 'My Little Sister' is a sinister tale of voyeurism and sexual control between two siblings. Perhaps the most memorable story is 'Another Survivor', in which a middle-aged accountant has an apparition of his mother, a victim of the Holocaust. He starts to reassemble the family home as it was in 1933 - and dresses his daughter in his mother's clothes. Like her poetry, Fainlight's fiction is precisely observed, often poignant, full of passions below its intellectual surface, and at times genuinely disturbing.
Dr Jules Smith, 2003
Bibliography
2010
New & Collected Poems
2008
Selected Poems/Mendiola
1994
Dr Clock's Last Case and Other Stories
1986
Marine Rose: Selected Poems/Sophia de Mello Breyner Andresen
1983
Navigations/Sophia de Mello Breyner Andresen
1979
The Function of Tears
1973
The Region's Violence
1971
Daylife and Nightlife: Stories
1971
Penguin Modern Stories
1969
All Citizens Are Soldiers
1968
To See the Matter Clearly
Awards
1997
Whitbread Poetry Award
1992
Laurence Olivier Award for Outstanding Achievement in Opera
1987
Hawthornden Fellowship
Author statement
'I try to keep the words of a poem close to the feelings and sensations that inspired it, in the hope that it will inspire the same sense of recognition, feelings and memories in its reader. In this way, he or she becomes involved in its reality, even a participant in its creation - because reading is an active relationship between reader and writer. But writing is a relationship between writer and language. A poem develops organically from the first inspiring phrase. That phrase, or cluster of words, includes every essential element of the poem, and the poet's work is to allow all its potential of sound and meaning to realise itself. And like every other living organism, its development is a unique combination of unassailable laws and the entirely unexpected.'