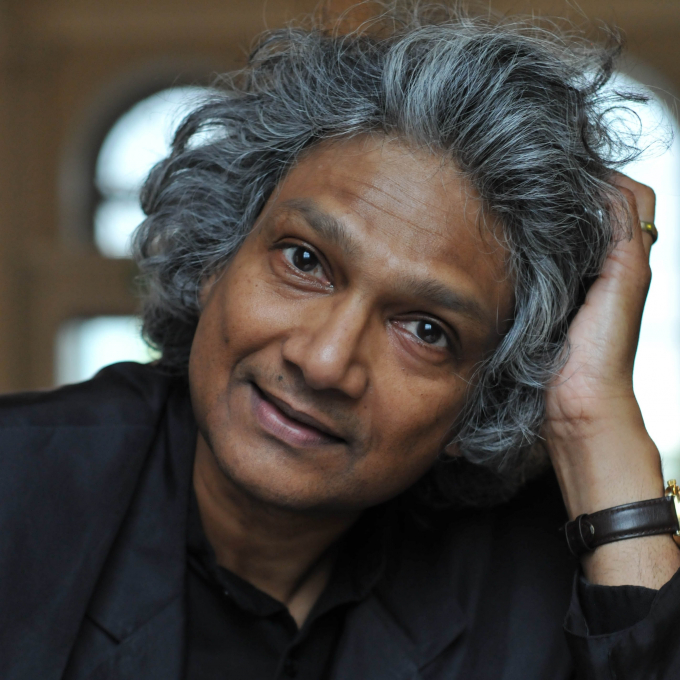 Romesh Gunesekera
Publishers:
Agents:
Biography
Romesh Gunesekera was born in 1954 in Colombo, Sri Lanka. He grew up in Sri Lanka and the Philippines, moving to England in 1971. He gained an Arts Council Writers' Award in 1991. His first book, Monkfish Moon, a collection of short stories reflecting the ethnic and political tensions that have threatened Sri Lanka since independence in 1948, was published in 1992.
Reef (1994), his first novel, won a Yorkshire Post Book Award (Best First Work) and was shortlisted for both the Booker Prize for Fiction and the Guardian Fiction Prize. The book is narrated by a young Sri Lankan boy named Triton who is sent to work for a marine biologist, Mister Salgado. Forced to leave Sri Lanka by the worsening political situation, they move to London where Triton opens a restaurant.
The Sandglass (1998), his second novel, centres on the character of Prins Ducal, a Sri Lankan businessman, and his search for the truth about his father's death. It was awarded the inaugural BBC Asia Award for Achievement in Writing and Literature. His novel, Heaven's Edge (2002), is set on an island in the near future.
His latest works include The Match (2006), The Prisoner of Paradise (2012) and Noon Tide Toll (2013). 
Romesh Gunesekera lives in London, but travels widely for festivals, workshops and British Council tours. In recent years he has held writing residencies in in Hong Kong, Singapore and Denmark, and in 2004 he was elected a Fellow of the Royal Society of Literature. 
Critical perspective
Born in Sri Lanka in 1954, Romesh Gunesekera has been living in Britain since the early 1970s. Both a poet and a writer of fiction, Gunesekera's first collection of short stories Monkfish Moon brought him public and critical acclaim in 1992.
The collection is a powerful one combining a precise vision of the lives of individuals living in a particular place at a particular time with the poetic nuances and understatement of a narrative lens that reflects the imaginative vision of a writer who explores 'home' through the migrant frame of memory. As in Reef, published in 1994 and short-listed for the Booker Prize, the various stories in Monkfish Moon focus their attention on the turmoils and remembrances of individual lives (whether in Sri Lanka or Britain) which have been indelibly marked by the political catastrophes of the passage of history.
On the closing page of Gunesekera's haunting and elegiac novella Reef, Mister Salgado warns Triton that 'we are only what we remember, nothing more… all we have is the memory of what we have done or not done'. In many senses Reef is a novel of remembering whose preoccupation is as much with the fragments of memory, the recollection and naming of things past, as about Sri Lanka itself, the beleaguered 'island' where it is set during the 1960s to 1980s, a period of brewing political, ethical and religious turmoil. Like Mister Salgado, Triton, the narrator, now lives in London and shares with his old master and mentor what he calls a 'refugee' existence, separated both from history and a 'far-away house of sorrow'. But whereas Ranjan Salgado, a marine biologist, returns to the island after several years in Britain, summoned by a desire to hold on to a lost dream and the memory of a lost love, Triton his one-time adopted house boy and a culinary artist (whose assumed name echoes the sea-god of ancient mythology), remains behind. Alone in London, 'without a past, a name' he remains wedded to survival and transforms his makeshift existence by an alternative dream: to turn his small snack shop into a Sri Lankan restaurant and become a restaurateur in Earl's Court.The lines from Shakespeare's The Tempest 'Of his bones are coral made' which preface the novel, signal metaphysical concerns that are apparent in all of Gunesekera's published work to date. Namely, a preoccupation with the effects of the passage of time, of loss and the role of the imagination in the transformation of human lives. Yet the novel's location, at a particular moment of turbulence in Sri Lankan history, unobtrusively extends the metaphor of the universal permeability of the human body to that of the colony and the newly independent island nation, which is riven within and without by internal contradictions and ethno-political conflict. The reef of the novel's title then becomes a suggestive symbol for forces not only of irreparable human loss, but also of connection and reconstitution acting as a fluid vessel for individual stories of transformation and rebirth that characterize a diasporic past. 'You see' says Salgado at one point:
'This polyp is really very delicate. It has survived aeons, but even a small change in the immediate environment… could kill it. Then the whole thing will go. And if the structure is destroyed, the sea will rush in. The sand will go. The beach will disappear…. You see, it is only the skin of the reef that is alive. It is real flesh: immortal. Self- renewing.'
As Gunesekera demonstrates, the umbilicus of language, symbolic vessel of the human imagination, is like the skin of the reef itself, a delicate container not necessarily punctuated by arrivals or departures, or by willed acts of emigration or immigration, whether from the histories of diasporas lived within or imagined outside his native Sri Lanka.
Gunesekera's preoccupation in his fiction with creating a 'home' in language built through the architecture of the imagination has been read cynically by some as the evocation by a 'migrant' writer of yet another to 'imaginary homeland' (to use Salman Rushdie's well-known phrase). However, as is apparent from The Sandglass (1998) and his novel Heaven's Edge (2002), it is less productive to read Gunesekera's fiction as a romantic or nostalgic attempt to come to terms with the loss of a homeland, or the parallel need to generate fictional forms of imaginative return, than as a sensitive and painstaking unravelling of the ways in which the discontinuities of time past and time present collapse spatial and temporal boundaries, creating as T. S. Eliot once put it, 'the still point of the turning world'. It is a point however, which for Gunesekera has multiple anchorages, whether historical, cultural, religious or linguistic. It exists on a constantly shifting axis driven both by a narratological desire to constantly reshape whilst exposing again and again the inevitable and perhaps intrinsic fictionality of all 'homes'. 'Home' then is expressed as much by a mental geography in Gunesekera's work as through the representations of a physical landscape, the writing process itself becoming an implicit attribute of the literary 'homes' he creates. Although this process may be intensified by Gunesekera's mixed cultural background and the 'double time' of his migrant location – as a Sri Lankan who has lived in Britain since 1972 and who sees himself as a British writer—the question of location is not the major issue. What is more significant is the mode of the telling and the discovery of fictional voices, tones, moods, landscapes, of a language which can re-angle the material realities of the present (whether 'here' of 'there'), still leaving the many questions of life open. As he has said, 'For me', writing is 'a bit like making a sculpture. It's only through writing that you discover a way of seeing the world, a way of living if you like'.
The Sri Lankan setting of many of the stories in Monkfish Moon, or his rewriting of the island from a different perspective in Reef (a concern which reappears, despite the London base of the narrator again in The Sandglass) is not 'necessarily a physically real place, but [rather] the imaginative equivalent of all those other places that you can go to without moving your feet'. It may in recent times have become convenient for contemporary critics or literary historians to attempt to 'place' stories in their search for signs of cultural authenticity or racial signatures—yet the 'best stories' Gunesekera argues, do not necessarily belong anywhere, rather there are 'invented' and sometimes recognizable 'places' that exist in them.
Gunesekera's recent fiction has developed many of these ideas further and as one of what we might call a post-Rushdie generation of migrant writers, he has extended the parameters of home defined in the 1980s by the panoramic scope of novels such as Midnight's Children. In The Sandglass, for example we move well beyond the stereoscopic vision of a narrative of reclamation as its Sri Lankan immigrant narrator, Chip, attempts to piece together the debris of Pearl's fragmented past and enters into an exploration of the deceptions of memory combined with a subtle analysis of the process of writing itself. As we are told at one point 'Writing, I guess like reading, is about stopping time. Only then do we realize that we do live forever, in a way, as our consciousness rushes in to fill the black hole of a rounded full stop'. Whilst with much of Gunesekera's fiction, the novel seems to ostensibly be about the corrupt histories of two post 1948 families in Sri Lanka and the rooms of memory they have spawned, it is more fundamentally concerned with a need for constant deferral, the need in other words to constantly question its own terms of reference, its own stories and makings of history caught as they are by the novel's central metaphor of the 'sandglass' of time. Interestingly, the two elements of sand and glass, elements which appear initially to be in opposition, are interconnected like the stories themselves. As Gunesekera has put it 'sand is freemoving, opaque and porous… glass is hard, transparent and non-porous. But there is a point, albeit at a different melting point when they are one and the same'.
Gunesekera has returned once more to the question of exposing the artist's dilemma in writing and reconstructing the rooms of memory in his most recent novel Heaven's Edge which, unlike his previous works, is set now in an unnamed 'island' space once close to heaven's edge but presently destroyed by the conflicts of war. It is a space, which both contains and releases the memories of a grandfather and the journey back of a grandson in search of a lost father.
Romesh Gunesekera lives and works in London.
Susheila Nasta, 2002
Bibliography
2012
The Prisoner of Paradise
Awards
2005
Sri Lanka Ranjana (Sri Lanka)
1998
BBC Asia Award for Achievement in Writing and Literature
1997
Premio Mondello Five Continents Asia Prize
1994
Booker Prize for Fiction
1994
Guardian Fiction Prize
1994
Yorkshire Post Book Award (Best First Work)
1991
Arts Council Writers' Award
Author statement
'The world being what it is I write to redress the balance, at least in my own mind. I want to keep an inner life alive and, with luck, somebody else's too. Imaginative writing, to me, is a way of discovering who we are, and what we have to contend with; discovering what is out there, and also what is not there. It enables me to think and explore and make something new with language, while trying to make sense of our lives.'