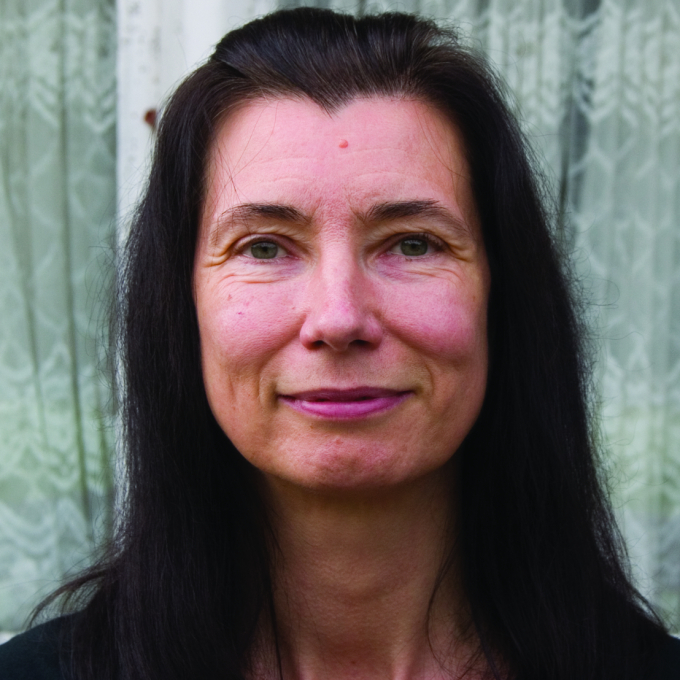 Biography
Robyn Bolam (formerly published as Marion Lomax) was born in Newcastle in 1953 and grew up in Northumberland in the north of England. Educated at Newcastle upon Tyne Polytechnic and the University of Kent, she gained her doctorate from the University of York in 1983 and is now Professor of Literature at St Mary's College, Strawberry Hill, where she has taught since 1987. She began publishing as Robyn Bolam in December 2000.
Her publications include Stage Images and Traditions: Shakespeare to Ford (1987), a study of Elizabethan and Jacobean drama, and she is the editor of a collection of four plays by John Ford, published in 1995, as well as the New Mermaid edition of The Rover by Aphra Behn. She was awarded an Eric Gregory Award by the Society of Authors in 1981, and also won the Cheltenham Prize. Her libretto for Bennett Hogg's opera Beyond Men and Dreams was performed by the Royal Opera House Garden Venture in 1991, and she held a Hawthornden International Fellowship in 1993. Her first book of poetry, The Peepshow Girl, was published in 1989, and her second, Raiding the Borders, in 1996. She is a regular contributor of poems and reviews to periodicals including the Times Literary Supplement and Poetry Review, and has given poetry readings at venues throughout the world. Her poems have also been published in numerous anthologies and broadcast on radio and television. She recently edited Eliza's Babes, an anthology of four centuries of poetry by women writers. Her most recently published poetry collection is New Wings: Poems 1977-2007 (2007).
Critical perspective
Robyn Bolam is a sensitive poet of emotional candour, northern landscapes and literary reference, whose reputation has developed steadily since her first two collections (published under her former married name, Marion Lomax), The Peepshow Girl (1989) and Raiding the Borders (1996).
A volume of new and selected poems, New Wings: Poems 1977-2007 (2007) has made this work available once again. By occupation an academic, she is Professor of Literature at St Mary's College, Strawberry Hill, in London (though currently a Royal Literary Fund Fellow at Southampton University). She specializes in Renaissance Drama, but also teaches creative writing. As editor of the anthology Eliza's Babes (2005), covering four centuries of women's poetry from c1500-1900, she made a considerable contribution to feminist literary scholarship.
Her first book, Stage Images and Traditions: Shakespeare to Ford, was published by Cambridge University Press in 1987. This study of Shakespeare's stagecraft and that of his contemporaries John Webster, Thomas Middleton, John Ford, Thomas Kyd and others aimed 'to explore the traditions behind the ideas which they dramatised'. She first considers the idea of spectacle and special effects to enthral audiences, such as the statue of Hermione coming to life in A Winter's Tale. She notes the ways that Shakespeare 'gives elements from pageantry, masque and tournament a voice in his drama'. There is also 'symbolic staging', for instance the blood-stained handkerchiefs in Othello and The Spanish Tragedy, which it is suggested may be traced to representations of the Holy Shroud in medieval religious plays. Similarly she argues the symbolic origins of much of the notoriously gory incidents within Jacobean drama. Alongside her scholarly arguments are photographs of play productions she has seen, along with her own accounts of them.
'A Jacobean Fragment', from her first volume, The Peepshow Girl, seems to allude to images from these plays. The spirit of the drama, a 'Juggler of / Memento mori', speaks to us: "I am a dagger in / A dark corner / Searing silk. // I am the layer of / Dust on a / Poisoned book'. 'I grin across the ages', it concludes, 'Moon's skull in / A clouded sky'. Another dream-like poem, 'Ghosts', is less macabre but also disconcerting. 'The room felt full of people', hovering around a bed and 'moving closer. Becoming clearer'. One might assume that these are deceased loved ones, however, 'She did not know them'. Yet throughout the collection there are reminders of those she has loved and lost, especially her late father – glimpsed on a bus and 'just out of reach', then 'One glance / Changes the familiar frame into a stranger' ('Just Another Commuter'). 'Blencathra', a heartfelt poem of love and landscape, confides: 'As a child, when relatives died, I searched / For their features in the clouds. Not long ago / My father smiled above Blencathra'. In 'Tethera' and 'Topsoil', her native Northumbrian moors ('The wind's runways') form an emotional landscape, 'where purple flowers / Tongue a late summer bell / Pealing low blue notes'.
The focus of personal loss in Raiding the Borders is a series of poems about the death of her mother, although she also mourns the ending of her marriage. The title poem is a marvellous conflation of family history with the wider historical background of the northeast. It traces the reivers [raiders] who 'rode after Lammas / when nights were longest', and how 'centuries later feuds were buried'. It then moves forward to discuss her relationship with her late mother, 'the need we have to put up walls' and 'the fear we make / for each other by warring raids / which haste us to that last border'. After selling the family home, she dreams of five generations of her ancestors, who 'waved to me, walking down the path'. It concludes, 'If we can't defend we are forgiven'. Her scholarly self reappears in two poems in the voice of 'Gruoch', the Scottish queen on whom Shakespeare based the character of Lady Macbeth. The first is in Scots, as she considers her fatal marriage. The other, in English, makes clear the sexual charge between her and Macbeth: 'his huge hands stroking my hip-length hair, / grasping it in his fists, drawing it taut / either side of my arms in ropes, / staked like a tent'. And in 'Beyond Men', sensuality is evoked by swimming, with images of  'sleek, salt tongues of weed' licking neck and nipples, and 'the sea's moans' making women yearn 'for something beyond the love of men'.
The anthology, Eliza's Babes, her introduction informs us, took 'many years to complete' and no doubt involved a great deal of archival library research. The result is a rich tapestry of women's poetry from over four centuries and a number of cultures. It weaves together well-known figures and the previously obscure, convincingly arguing for an identifiable female poetic heritage. Conspicuous among the earlier writers is Aphra Behn, best known for her plays - notably The Rover (an edition of which Bolam edited in 1995). Behn is revealed as a poet of considerable wit, as 'when she adopts the persona of a tree, felled to make the stays in women's corsets'. Bolam makes a point of listing these poets' many and varied occupations, as aristocratic ladies, professional writers, actresses, domestic servants and of course mothers of families. Inevitably, the most distinctive poetic voices appear from the mid-nineteenth century, with Christina Rossetti, Emily Dickinson, the Brontes, Elizabeth Barrett Browning and (a nice discovery) the plaintive verses of Lizzie Siddall, the Pre-Raphaelite model: 'Oh never weep for love that's dead / Since love is seldom true' ('Dead Love'). There are plenty of things to savour, whether satirical squibs by Jane Austen or feminist calls to 'Live! Dare! Be alive!'
The concluding section of New Wings contains Bolam's newer poems. These show a continuity of concerns with earlier work – remembering loved ones and memorializing her marriage – as well as further developments to her poetic licence. 'Cacti and Love', for instance, develops its analogy more directly: 'Cacti reminded me of my mother - / difficult to touch without injury to each other'. And it's more explicit: 'We both needed love: I still need it now, / and hope is everywhere in a desert'. This stated need for love is reflected in several poems describing the hesitancies of a new relationship, though also its joys: 'he asked if she was herself, to her face - / she would not reply until their mouths met/ and he recognized her lips for himself' ('Kiss'). On a trip to Australia, sightseeing above Sydney Harbour makes her think of 'the Quayside back home', and the similarly designed bridge across the Tyne. 'We need / to keep climbing high enough to see in perspective', she concludes. Robin Bolam's own literary perspectives - on life, love, loss, the arts of poetry and Renaissance drama – are always attractive and persuasive.
Dr Jules Smith, 2010
Bibliography
2007
New Wings: Poems 1977-2007
2003
Eliza's Babes: Four Centuries of Women's Poetry in English
2002
The Cambridge Companion to Shakespeare's History Plays
2000
A Companion to English Renaissance Literature and Culture
2000
The Rover/Aphra Behn
1995
'Tis Pity She's A Whore and Other Plays / John Ford
1995
The Rover/Aphra Behn
1992
New Worlds: the 1992 Berkshire Literature Festival Anthology
1987
Stage Images and Traditions: Shakespeare to Ford
1985
Time Present and Time Past: Poets at the University of Kent at Canterbury, 1965-1985
Author statement
'I feel healthier and happier when I can write poems: for me, writing poetry is associated with surviving and moving towards fulfilment. I sometimes adopt a persona in my poems - usually someone trying to survive in a difficult situation. I write poetry to try to make sense of the world and my place in it - I also write it for others. My poems are often concerned with divisions (emotional, physical, sexual, and social). I try to express how we struggle to overcome these or are able to find ways of living with them. The greatest physical and emotional division we all experience is often the loss of those we love through death. In writing about this, I find I believe that, like so many apparent divisions, even death is not an absolute barrier.'