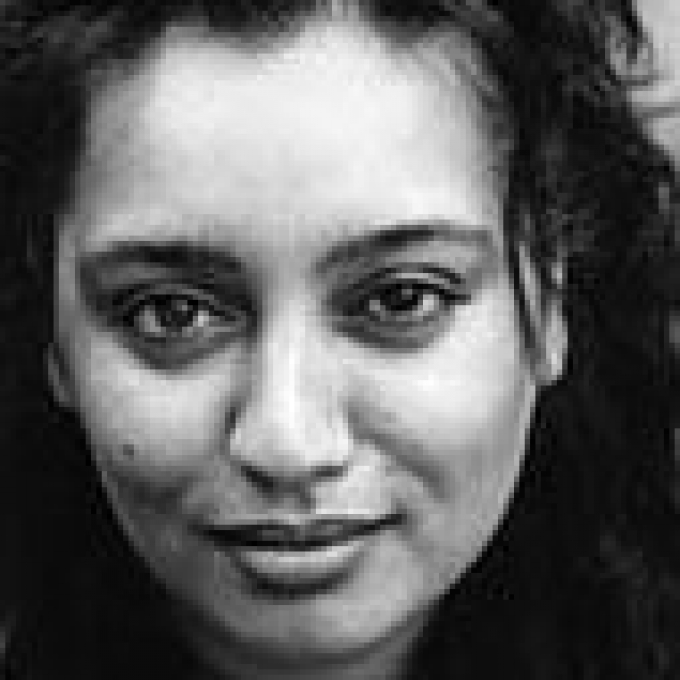 Raman Mundair
Publishers:
Biography
Raman Mundair is a writer and artist.
She was born in India and raised in Manchester and Leicester and lives in Scotland. She is the author of two volumes of poetry: A Choreographer's Cartography (2007) and Lovers, Liars, Conjurers and Thieves (2003); and the play, The Algebra of Freedom (2007), produced to great acclaim by 7:84 Theatre Company. In 2006 she also collaborated with the National Theatre Scotland and Òran Mòr - A Play, A Pie, A Pint on Side Effects, a one-act play. As an artist she makes work that represents text and narrative in a visual form. Her work has been exhibited at the Gallery of Modern Art, Glasgow, City Art Gallery, Leicester and Kevin Kavanagh Gallery, Dublin.
In 2009, Raman was chosen as one of two British writers to participate in the Word Express, Literature Across Frontiers project. Word Express takes 20 young writers from 12 European countries by train through South-East Europe to Turkey where they will spend five days reading, exploring the city, meeting young Turkish writers and taking part in the Istanbul Tanpinar Literature Festival and the Istanbul Book Fair. In 2008 Raman was nominated for the prestigious Rolex Mentor and Protégé Award, in 2007 won a Robert Louis Stevenson Memorial Award and in 2006, was runner up in the Penguin Decibel Prize (Short Fiction).
She has also been awarded the prestigious Arts Council England International Fellowship at the India International Centre in Delhi and several Scottish Arts Council Fellowships. In 2008 she was appointed as a Scottish Poetry Library Poet Partner for East Dumbarton and a Robert Louis Stevenson Fellow at the Hotel Chevillon in Grez-sur-Loing, France.
Critical perspective
Mundair's first collection of poems, Lovers, Liars, Conjurers and Thieves (2003) sets the scene for much of her later work in its combination of the personal and the political: transient love poems appear alongside polemical statements on the post-colonial condition, lyrics on the body drift into reflections on the body politic.
In interview Mundair has denied that the poems of her debut collection are about alienation, preferring to see them instead as meditations on the outsider:
'My mouth toiled to accommodate
the rough musicality of Mancunian vowels

and my name became a stumble
that filled English mouths 


with a discordant rhyme, an exotic
rhythm dulled, my voice a mystery


in the Anglo echo chamber –
void of history and memory.'
Mundair followed her father from India to Manchester as a young girl and she spent her formative years in that northern city between the ages of four and fifteen. In the lines above from 'Name Journeys', the poet lingers on language, accent and dialect (both Indian and Mancunian), as itself unhomely. Unable to accommodate or communicate, language twists tongues and falls upon deaf ears in these lines. In other poems, Mundair reveals an (albeit qualified) affinity for the city, and her attachments to the north are pursued more fully in her next book.
A Choreographer's Cartography (2007) manages to bring together the brash beauty of Blackpool pleasure beach with the stunning shores of the Shetland Isles. The poems of this collection seem on one level unconstrained by space and place, but it is fair to say that Scotland constitutes the primary inspiration in the volume. For example, in 'Shetland Muse' (the opening poem of the collection) the wild weather outdoors drives the poet's hand as it '… casts spells / that appear garbled on the page'. The book begins with a brave and bold sequence: 14 poems flirting with Shetland dialect. Many of these poems dwell on what the locals call the 'shoormal', or the liminal space between land and sea, and Mundair has said of the collection more generally that it is 'about the transcendence of boundaries and boundary crossing'. Repeatedly, the poems of A Choreographer's Cartography confront the borders of language, landscape, identity and nation:
'These are not tentative steps 
on terra infirma, this woman
feels the ground beneath

her feet. Read this 
as a new dance.
Improvise – find free

ways to flow, stretch and claim terrain,
inhabit all regions of your body,
set forth and stride with natural grace.

Mark this ascent
in 16-beat time: Ek, do, teen, 
char, panch, che, satt, ath, 


no, dus, gyarh, barah, terra, 
chaudah, pandrah, sola
– solar rhythms spin,'
In these opening lines taken from the title poem 'A Choreographer's Cartography', language becomes rhythm and rhythm becomes music; English becomes Hindi, and poetry becomes dance. Ultimately, cartography becomes choreography in a poem more broadly concerned with unbounded movement, a journeying liberated from the inhibitions of visas and passports. 'A Choreographer's Cartography' is a claim to fully inhabit both body and landscape, and as such seems to overturn some of the dominant images of the uprooted migrant subject within contemporary literature. (If 'the ground beneath her feet' in Salman Rushdie's novel of that name is always shifting and unstable, in this poem the speaker suggests a confident contact with 'terra infirma' in what amounts to what Louise Bennett might call 'colonisation in reverse'.)
Mundair is recognised as a poet of the stage as much as the page, and so it is no coincidence that she has dabbled in drama (see her Side Effects 2006), and that her latest work departs from poetry into theatre. The Algebra of Freedom (2007) was produced by the legendary 7:84 Theatre Company. The play focuses on the post-9/11 world, and more precisely the reverberations surrounding the so-called 'war on terror' when a Brazilian is shot dead on the London Underground. As the review in The List put it at the time:
'It's not often we're called upon to be sympathetic to the police officers who mistakenly killed Jean Charles de Menezes on the London Underground in July 2005. Nor are we expected to find time for those fundamentalists who prefer the bomb to the ballot box. But in her new play … Raman Mundair asks us to step beyond our knee-jerk reactions, to accept that bad stuff happens and to ask whether forgiveness, reconciliation and progress might be possible.'
The play revolves around three men: an Asian taxi driver, the radicalised Parvez, who is haunted by his dead wife, Sara; and policemen, Jack and Tony, who are each caught up in the bungled shooting of the de Menezes figure. Somewhat like Parvez, Tony ends up haunted by the dead man, and it is in this sense that The Algebra of Freedom asks its audience to balance a seemingly unsolvable equation.
Raman Mundair was reviewed recently in The Independent as 'a rare breed: a poet whose writing works on the page and the stage. Her readings reveal the secret music of the poem'. Along with emergent British poets like Dorothea Smartt, Mundair looks set to inform a new generation of black and South Asian poetry in this country that draws equally on script and sound.
Dr James Procter, 2010
Bibliography
2014
Incoming: Some Shetland Voices
2014
Archipelagos, writing the north project
2012
Conversations About Empires
2012
The Harper Collins Book of English Poetry
2011
ImagiNation, Stories of Scotland's Future
2011
The New Shetlander, Yule Issue
2011
These Island We Sing
2009
One Poem in Search of a Translator: Re-writing 'Les Fenêtres' by Apollinaire
2007
A Choreographer's Cartography
2007
The Algebra of Freedom
2006
Addicted to Brightness
2003
Lovers, Liars, Conjurors and Thieves
2000
The Redbeck Anthology of British South Asian Poetry
1998
The Fire People: A Collection of Contemporary Black British Poets
1998
Bittersweet: Contemporary Black Women's Poetry