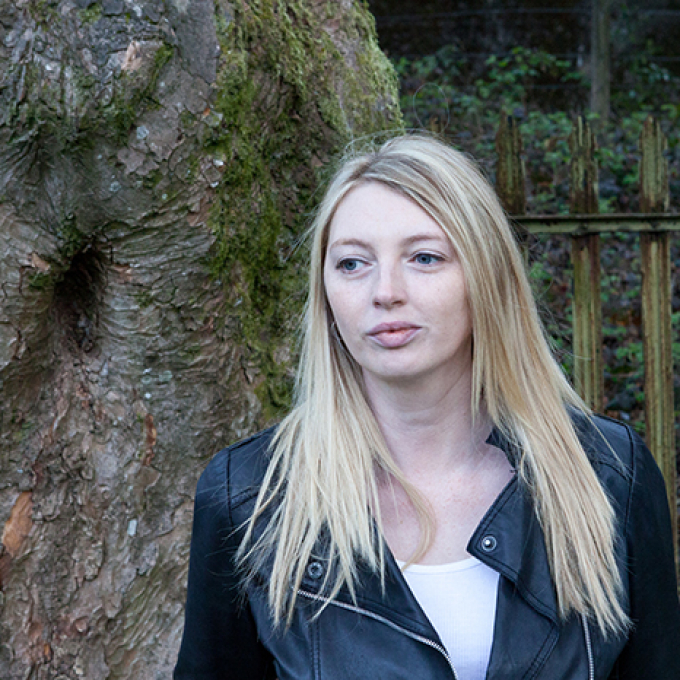 Rachel Trezise
Publishers:
Agents:
Biography
Rachel Trezise was born in the Rhondda Valley, South Wales, in 1978.
At 16, she produced and edited a local music fanzine, Smack Rupunzel, and went on to study journalism and English at Glamorgan University, graduating in 2000.
Her first book, In and Out of the Goldfish Bowl, was published in the same year, and is an autobiographical novel about growing up in the valleys of South Wales. It led to Rachel being selected for the Orange Futures list - a list of 21 young female authors for the 21st century. She went on to become a freelance journalist, writing features on music and the arts for Big Issue Cymru and the New Welsh Review. Her essay on Neale Howells was published in Sideways Glances, and further fiction has appeared in many Welsh anthologies.
Fresh Apples (2005), her second book, is a collection of 11 short stories celebrating youth, and won the inaugural EDS Dylan Thomas Prize. Her third book, Dial M for Merthyr (2007) is a music documentary and travelogue about Midasuno, a rock band of young people from Merthyr, with whom she toured in summer 2005, on their bus, 'Black Betty'.
She also wrote the script for I Sing of a Maiden, performed in Chapter Arts Centre in 2007, a conversation exploring teenage pregnancy through the eyes of a 16-year-old named Abby. In 2008, her first radio play, Lemon Meringue Pie, was broadcast on BBC Radio 4.
Rachel Trezise lives in the Rhondda Valley and New York. Recent works include the novels Sixteen Shades of Crazy (2010) and Cosmic Latte (2013).
Critical perspective
Since bursting onto the literary scene at the age of 22, and immediately being included on the Orange Futures List, Rachel Trezise has established herself as one of Britain's most outstanding and original young writers. Most of her writing is marked by her harrowing experiences growing up in the Welsh valleys, but there is a lot of diversity in the work she has published so far, and she has proved herself an extremely versatile writer of both fiction and non-fiction. Her output during her first decade of publishing includes a semi-autobiographical novel; a collection of short stories; a documentary book; drama; and a large number of journalistic articles on music and the arts.
In and Out of the Goldfish Bowl (2000) is a semi-autobiographical novel based on Trezise's brutal and traumatic childhood. The novel is a frank and shocking account of poverty, alcoholism, child abuse and rape - and, most importantly, the resilience and ultimate survival of the protagonist, who begins to heal herself through writing. Trezise's prose is notable for what it leaves out, leaving the reader to fill in the horrifying details. Her insight is acute and perceptive, and though she depicts the dark and harrowing side of life, her writing is also pervaded by razor-sharp wit. Isobel Montgomerycomments: 'Trezise's debut ... has plenty of grit ... She rants, she sulks, but she remains defiant and touchingly cynical. You guess immediately that she is a survivor' (The Guardian, 10 November 2001). The epilogue of In and Out of the Goldfish Bowl is particularly poignant, and reveals Trezise's lack of self-pity: 'I am surprised at how quickly my past has dissolved, how quickly it isn't mine anymore. And what a relief it is, to give an unwanted gift to someone who needs it more than I. And suddenly my mind holds itself together. I do not want superstardom. I am not scared. Suddenly my life is not a precocious baby's id.'
Presenting In and Out of the Goldfish Bowl as a fictional novel, rather than straight autobiography, sets it apart from the large number of memoirs of abusive childhoods that currently flood the market. It was also immediately clear that Trezise is an extremely talented 'literary' writer, and she has been acclaimed as such, rather than simply being one of many memoir-writers. Trezise's writing, in both this and subsequent works, also offers valuable social history, with insightful depictions of life in the post-industrial Welsh valleys. She is, therefore, a writer who observes the 'bigger picture' of the world around her, and places her own personal story within a wider social context. In and Out of the Goldfish Bowl is recognised as a significant piece of literature, and is now studied at most Welsh universities.
After the immediate success of In and Out of the Goldfish Bowl, the reading public had to wait five years before Trezise's next book, though it was worth the wait: Fresh Apples (2005), a collection of short stories, equalled Trezise's first work in literary skill and critical acclaim, and was awarded the Dylan Thomas Prize. Like Goldfish Bowl, the 11 stories in Fresh Apples are perceptive, dark and gritty, but also sharply humorous. This time, Trezise moves away from the subject-matter of her own life and writes instead about a variety of different characters, though many of the experiences depicted in Fresh Apples are similar to those in Goldfish Bowl: adolescent sexual experiences; drugs; alcohol; finding one's way in the world. Once again, Trezise presents the murky side of life while celebrating the strength of the human spirit, particularly in young people: the publisher's blurb describes Fresh Apples as 'Eleven wry and defiant stories on the power and beautiful transience of youth'. Andrew Davies, chairman of the judges of the Dylan Thomas Prize, acclaimed Trezise's maturity and individuality: 'It is remarkable for such a young writer to be so much of herself and not easily influenced in her work. The confidence, coolness and maturity of tone in Fresh Apples is exceptional.'
Alongside writing fiction, Trezise has also carved out a journalistic career for herself, with a particular emphasis on music. She has written a large number of features and articles on music, literature and the arts for publications such as The Big Issue, New Welsh Review and Urban Welsh. After the publication of Fresh Apples, Trezise spent several months touring with a Welsh rock band, Midasuno, on their tour bus 'Black Betty'. The experience provided the material for her third book, Dial M for Merthyr (2007), a non-fiction work which incorporates journalistic reporting of the band and their music with a memoir of her own experiences and, once again, insightful social commentary.
Trezise has also written drama: I Sing of a Maiden, which premiered in the Chapter Arts Centre in 2007, is a poignant exploration of teenage pregnancy, through the story of 16-year-old Abby. It is presented in an innovative multi-media style, as a dialogue between the ancient and the modern, interspersed with folk songs and performed in front of a filmic backdrop. Lemon Meringue Pie, Trezise's first full-length radio play, was first broadcast on BBC Radio 4 in September 2008 - again, it features teenage pregnancy, with a particular emphasis on the relationship between the teenage girl and her mother.
In 2010, Trezise published Sixteen Shades of Crazy, her fourth book but only her second novel. Once again drawing on the harshness of life and the lack of opportunities in the Welsh valleys, it is set in the claustrophobic village of Aberalaw, 'where nobody ever arrives and nobody ever leaves'. The novel centres on three women, Ellie, Rhiannon and Sian, the wives/girlfriends of a local wannabe punk band, whose lives have become dull and frustrating since the local police force cracked down on recreational drugs. As the women's lives are suddenly turned upside-down by the arrival of a newcomer - a dark, seductive drug dealer - Trezise's sharp insight offers a shrewd exposé of Welsh small-town social mores. She skilfully combines her frank and biting social commentary with her usual wit and a genuinely compassionate - though brutally honest - depiction of self-destructive characters trapped in dysfunctional lives and a hopeless and stultifying society. Trezise's second novel once again proves her to be a master of tragi-comic fiction.
Elizabeth O'Reilly, 2010
Bibliography
2010
Sixteen Shades of Crazy
2000
In and Out of the Goldfish Bowl