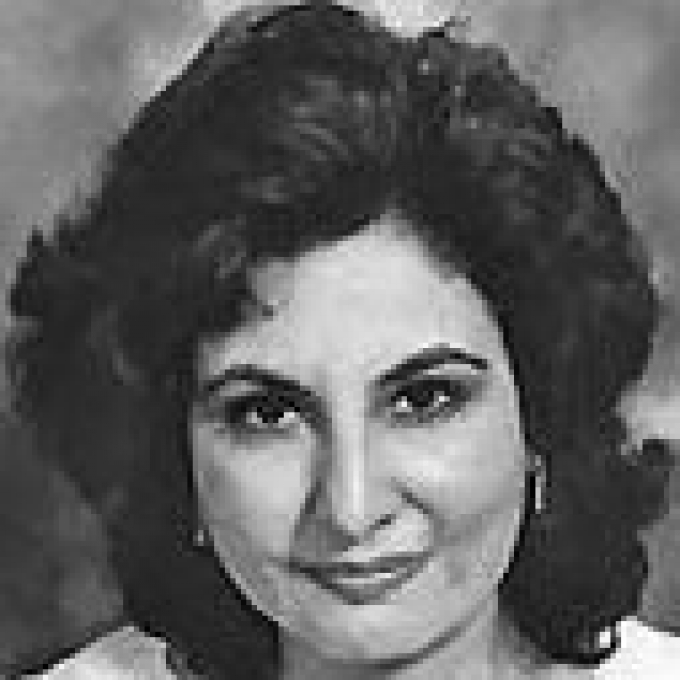 Qaisra Shahraz
Publishers:
Biography
Qaisra Shahraz is a prize-winning and critically-acclaimed novelist, scriptwriter, peace and gender activist. She is the Founder, Curator and Executive Director of MACFEST, Muslim Arts and Culture Festival. Qaisra was born in Pakistan and has lived in Manchester since childhood. She studied English and Classical Civilization at the University of Manchester and went on to gain two Master Degrees at the University of Salford - in English and European Literature and in Scriptwriting for Television and Radio.
Qaisra is a Fellow of the Royal Society of Arts, a literary judge, a former Director of Gatehouse Books. She is an advisor for the University of Lancaster for a three-year writing project entitled 'Mediating Marginalities', International Journal IJRHS and Asia Pacific Writers and Translators. Qaisra has lectured at many international universities on her literary work and gender and peace issues. She has hosted and led many workshops and seminars in creative writing, abroad and in the UK.
As a freelance journalist, she has contributed features and articles to various magazines and newspapers, including in 'She' and 'The Times'. She has also written plays for radio and television, including a screenplay adaptation of her first novel. Her award-winning drama serial Dil Hee To Hai (The Heart Is It) was broadcast on Pakistani Television and on Prime Television in 2003. A second serial, Tauheen (Insult), is in production.
Her novels, The Holy Woman, Typhoon, Revolt and collection of short stories, A Pair of Jeans and other stories and The Concubine & The Slave Catcher - stories from around the world, have been translated into several languages including Mandarin. Her book, Holy Woman won the Bradford Waterstones' title of 'Best Book of the Month' and has been a bestseller for 15 years in Indonesia. Her novels and stories including A Pair of Jeans are studied in schools and universities. A critical analysis of her works has been done in a book entitled 'The Holy and the Unholy: Critical Essays on Qaisra Shahraz's Fiction' (2011). 
Qaisra has enjoyed a successful career in education as an Ofsted inspector, a quality manager, assessor, education consultant and international teacher trainer including working under the auspices of the British Council. She is highly committed to promoting community and social cohesion through her roles as MACFEST Director, a trustee of Manchester Multi Faith Centre, Co-Chair of Faith Network 4 Manchester' Co-Chair of 'We Stand Together,' Executive Member of Manchester Muslim-Jewish Forum and a UK partner with New York's Foundation for Ethnic Understanding.
Critical perspective
Qaisra Shahraz is first and foremost a wonderful story teller – whether it be through novels, short stories or television dramas.
 Her works introduce her readers and viewers to the captivating, interwoven narratives of three dimensional characters whose lives unfold in worlds marked by contradiction and cultural contrast.
Qaisra Shahraz's début into the world of literature began with her short stories.  Many of her earlier stories are based on her experiences while growing up in the United Kingdom.  Her first, 'A Pair of Jeans', has been published many times in a number of countries, notably in Germany where it is studied as a literary text in schools.  It currently appears in many German anthologies including One Language Many Voices and The Many Voices of English, which explore cross-cultural issues, questions of identity and the generation gap.   'The Elopement' (in Invitation to Literature), 'The Visiting Grandmother', 'The Discovery' and 'New Horizons' and 'New Spheres' present sympathetic portrayals of cross-cultural conflicts. Her later stories are set in other countries, in particular rural Pakistan.  Her main characters are reminiscent of Thomas Hardy in that they are often victims of society and circumstance.  The village simpleton in 'The Gunga' is the butt of ridicule; an old man from a village in 'The City Dwellers' is rejected by his best friend when he comes to stay in the city; a young woman in 'The Malaysian Host' becomes a victim of her brother's tyranny, whilst in 'Perchanvah', a mother suffers from discrimination because of her miscarriage.
Qaisra Shahraz's first novel: The Holy Woman (2001) is the compelling drama of Zarri Bano – a glamorous, passionate, intellectual young woman who falls in love with Sikander, a Karachi businessman.  Her father takes a jealous, irrational dislike to the man and uses the sudden death of his son to break up the relationship.  He resurrects an ancient family tradition of forcing his daughter to remain celibate by becoming his clan's 'holy woman'.  From the opening pages, the reader's attention is held by the heroine's depth of personality as she undergoes a spectrum of experiences.  The book has many cleverly interwoven plots which open a window onto the dust, heat and passion of rural Pakistan, as well as taking us on journeys to other Muslim lands: Egypt, Saudi Arabia and Malaysia.  The western reader is not excluded, however.  Apart from incorporating a stay in England into the story, the author deftly explains many of the cultural terms and practices without being patronising.  The novel features a range of interesting characters, especially the proud 'queen' of the village, Chaudharani Kaniz, whose personality is defined by her relationship with her life-long enemy Fatima, the 'washerwoman'.  This ambivalent figure who simultaneously arouses both the reader's abhorrence and empathy, bears witness to Shahraz's skill in characterisation – making Kaniz one of the gems of modern literature.  Even the minor characters in The Holy Woman have interesting lives – in particular the two sparring friends, Kulsoom (the village matchmaker) and Naimat Bibi (the cook).
Shahraz's second novel, Typhoon (2003), told through the voice of a strong, omniscient, female narrator, is equally tightly structured and covers the events of four days whose implications stretch over 20 years. The power of the story is captured by short, fast moving scenes focusing on the outcomes of two key events: the first when a strange woman is seen in the arms of another woman's husband.  This causes a storm which culminates in the second powerful scene: a public trial or kacheri.  At the heart of the narrative are the anguish of betrayal and the effects of a triangular relationship involving the sacrifice of one woman to another.  Some of the characters from Shahraz's earlier novel return to the pages of Typhoon, bringing the village of Chiraghpur to life.   The book's rich imagery and highly visual descriptions offer a landscape of contrasts between palatial villas and humble side-street houses, while the interactive dialogue immerses the reader in the characters' daily preoccupations.
Shahraz is equally at home in her television dramas, using them as vehicles to explore issues by raising awareness and challenging society.  She handles subjects such as illiteracy and domestic violence with a sensitivity that both informs and entertains.  This was the case in her award-winning fourteen episode drama serial Dil Hee To Hai (The Heart is It), shown both in Pakistan and around the world, where she dealt with dyslexia.  In her new drama serial, Tauheen (Insult), she focuses on cancer.
Shahraz's work interweaves symbolism, themes and contemporary issues.  For the western reader, her stories offer a rare insight into the complex interface between long-standing village traditions, family relationships, women's rites of passage and Islamic customs.  As such, they provide an original perspective on the confrontation between old and new, male and female, East and West.  Further, the author is fascinated by the continued prevalence of social class and its hierarchy within tight-knit village communities which mirror wider tensions in society and the world as a whole.  In particular, Shahraz's later stories and novels provide the reader with an understanding of the condition of women in contemporary Pakistani culture.  Her fiction is peopled with strong female characters, subjugated by patriarchal tyranny or their social situations.  In The Holy Woman, the lives of Zarri Bano, her mother Shazada and her grandmother Zulaikha are stifled by their menfolk, that of Chaudharani Kaniz by her hidden past and those of the village cook and washerwoman by their class – in different ways and to different extents, the characters rise above these constraints and are triumphant at the end.
A number of challenging themes therefore recur throughout Qaisra Shahraz's literature.  In Typhoon, shame cloaks the two heroine's lives, one for being labelled as a whore and the other for having been raped and thereby condemned to living in self-disgust at her 'unclean body'.  In Insult, the main character is ashamed to show her bruised and cancer-ridden flesh to the medical staff.  Love is another powerful element in Shahraz's work: the passionate, doomed relationship of Zarri Bano and Sikander in The Holy Woman, the poignant, middle-aged relationship spanning some twenty years between Kaniz and Younus Raees in Typhoon, and the turbulent partnership in The Heart is it of Dr Farrukh and his wife Saleha, both still caught up with their past partners.  Clothes too take on symbolic significance, becoming emblems of social and cultural behaviour, morals and etiquette; from Miriam's jean-clad, western garb in 'The Pair of Jeans' causing havoc in her household to the all enveloping burqa of Zarri Bano in The Holy Woman, which she at first loathes, but later feels naked without.  As she says in a dignified plea for respect from a Western journalist: 'We are just women who like to dress in a modest fashion and believe in covering ourselves well'.
As a recent academic reader of Qaisra Shahraz noted: 'The linear intercutting of plot and sub-plot, the use of flashback, the range of finely drawn characters and the variety of settings offer an engagingly unpretentious blend of nineteenth century Victorian realism translated to the Indian sub-continent and a non-judgemental analysis of present-day moral issues'.* No matter which of Shahraz's works is taken down from the shelf, the reader is assured of an enjoyable read.
John Shaw, 2005
*Robert Crawshaw of Lancaster University's review of two novels by Qaisra Shahraz: The Holy Woman and Typhoon
Bibliography
2017
The Concubine & the Slave-Catcher: Stories from Around the World
2013
A Pair of Jeans and Other Stories
Awards
2004
Pakistan Television Awards
2003
Muslim News Awards for Excellence (Arts category)
2002
Asian Women of Achievement Awards (Arts category)
Author statement
Wanting to write at the age of 14 was really strange – for I was still struggling to master the English language. Reading Thomas Hardy' s Far from the Madding Crowd for 'O' level, and later other 19th-century novels, had me hooked and therein began my journey into creative writing and world literature. Writing is about living, having a dialogue and falling in love with one's characters. Parting with some is so difficult – hence quite a few in The Holy Woman insisted on entering Typhoon and making it into a sequel.
Mother of three sons, I very much liken the creative writing process to the cycle of motherhood: you conceive ideas and characters. These grow and live inside you. You deliver them. Finally you learn to step aside - to watch how they fare in the big wide world of readers and audiences.
I love writing – the most natural thing to do, but never quite have enough time. It still remains a snatched activity; a constant juggling act between my family (and the extended family!) and the other career. At times I envy full-time writers – but then shudder at the thought of leaving the world of education and learners.
I love working in the two genres - script and novel writing - often simultaneously. It is fun but there are pitfalls. Scenes get mixed up with chapters and characters mischievously slip from one to the other! 
Above all, writing is about discussing and exploring issues that matter to me. My commitment to empowering women has influenced both the content of my work and the genre I prefer to use. Writing for television is an excellent medium to entertain and educate, and you can reach millions! However there is the added challenge - the duty of writing responsibly and with humility. For you are placed in a unique situation of shaping lives via the powerful images. I often find myself asking 'What right have I to espouse these ideas? What values do they have?'
My strong links with my country of origin and a passion for books about foreign lands have spurred me to set my work in Pakistan and other countries.