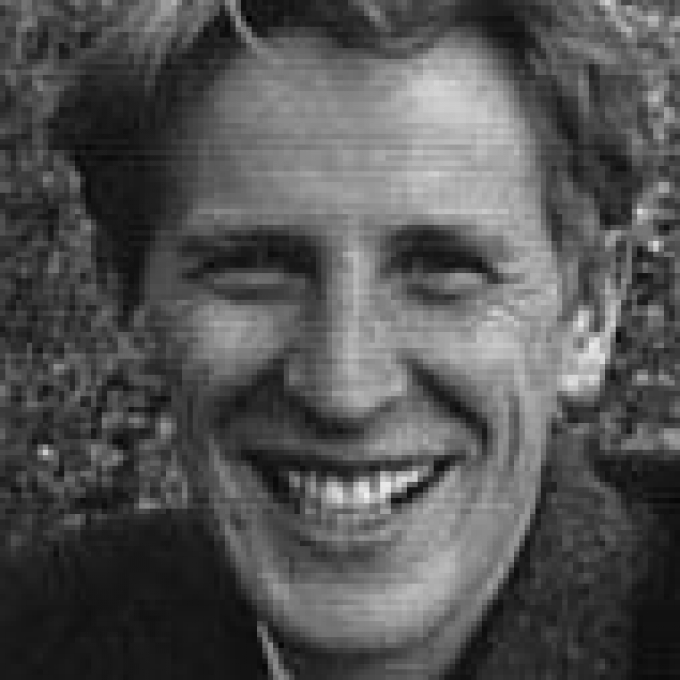 Biography
Philip Reeve was born and brought up in Brighton, and has since lived in Devon and Dartmoor.
He worked for many years in a bookshop, while involved with amateur film making and theatre.

Since 1994, he has earned his living as a cartoonist. His drawings are well known from three series of books for school children: Murderous Maths; Horrible Histories; and Dead Famous. He has provided illustrations and jokes for over forty books.

His first novel was Mortal Engines (2001), a thrilling fantasy adventure story with traditional elements and moral conundrums, set in a futuristic landscape where cities move across the globe, gobbling other towns and cities as they go. It opens: 'It was a dark, blustery afternoon in spring, and the city of London was chasing a small mining town across the dried-out bed of the old North Sea.' Mortal Engines won the Nestlé Smarties Book Prize (Gold Award) in 2002 and was also shortlisted for the Whitbread Children's Book Award. Its sequel, Predator's Gold, was published in 2003, followed by the third and fourth books in the series, Infernal Devices (2005) and A Darkling Plain (2006). A Darkling Plain won the 2006 Guardian Children's Fiction Prize.

Philip Reeve has also had short stories published in various magazines, and is the author of the children's series of books about Buster Bayliss - far-fetched but hilarious tales for younger readers. He has also written a musical with Brian P Mitchell, 'The Ministry of Biscuits'.
Larklight (2006), is a Victorian space adventure for children. Its sequel, Starcross, was published in 2007, and a third book in the same series - Mothstorm - in 2008. His novel Here Lies Arthur (2007), was shortlisted for the 2007 Booktrust Teenage Prize, and winner of the 2008 Carnegie Medal.
Recent novels include Fever Crumb (2009), a prequel to the Mortal Engines (otherwise known as Hungry Cities) quartet; and No Such Thing as Dragons (2009). His novel Railhead (2015) was shortlisted for the Carnegie Medal.
Critical perspective
When Philip Reeve wrote Mortal Engines (2001), the first of his highly acclaimed and successful Hungry Cities quartet, he did not regard it particularly as a children's book, and envisioned that its readership would be early teens and upwards.
However, the novel and its sequels proved to have a wide appeal, and are read and enjoyed by all ages – younger children, teenagers and adult readers – though Reeve is generally regarded as a writer for children and teens. Reeve's influences include some of his own childhood favourites – the work of Rosemary Sutcliff, Tolkien's Lord of the Rings, Asterix and Tintin, amongst others. He is also an avid reader of Dickens, whose influence pervades Reeve's work – one critic describes the Hungry Cities quartet as 'sci-fi Dickens' (Frank Cottrell Boyce, The Guardian, 27 June 2009). Reeve was formerly an amateur film-maker, and he comments on the way in which his love of film intertwines with his fiction writing: 'I made very elaborate movies. I still think that way when I'm thinking of a story. I see it as a film that I run in my head ...' (Rick Margolis, School Library Journal, 1 November 2006). Consequently, Reeve's fiction is highly visual and cinematic, and the alternative worlds he creates are vivid, energetic and abundant with detail and action, as Julia Eccleshare comments: 'Reeve seems effortlessly able to whisk up entirely credible cities with ladders and walkways, unfurling sails and dangling ropes, as well as complicated dramas and cascading subplots' (The Guardian, 30 September 2006).
Mortal Engines was originally intended as a stand-alone novel, but was soon followed by Predator's Gold (2003), Infernal Devices (2005) and A Darkling Plain (2006), which together became the Hungry Cities quartet. The stories are set in an imaginary future in which civilisation as we know it has been destroyed by the 60-minute war. The universe now operates on the basis of 'Municipal Darwinism', in which traction cities move about through the 'Great Hunting Ground': the larger cities devour the smaller ones, consuming their resources and taking people captive as slaves. Reeve was inspired partly by modern urban development, in which cities expand and take over countryside and smaller towns - this may not sound like the stuff of exciting fantasy stories, but in Reeve's skilful and imaginative hands, the quartet takes this rather mundane aspect of modern life and transforms it into a highly original and dynamic adventure tale.
The central characters, who are teenagers in Mortal Engines and middle-aged by A Darkling Plain, are Tom Natsworthy and Hester Shaw. Tom is a naive engineering apprentice who falls off his home city of London and lands in the 'other world' where he meets Hester, who is plotting to avenge the deaths of her parents. Reeve's humour is apparent in his choice of names – Chrysler Peavey, Nutella Eisberg, Lurpack Flint – along with references to archaeological items from the time of the 'Ancients' (the twenty-first century): a circular 'seedy' and rumours about an 'eye-pod'. Yet the humour is combined with complex storylines and moral dilemmas and conundrums. Reeve is clear about his intention to avoid predictability and simplicity: 'Anything with a prophecy, I instantly want to stop reading. It irritates me in a fantasy that everyone is black or white and you know how they will end up' (The Guardian, ref. above). Consequently, the characters and the morality of the novels are complex and often ambiguous – there are no black-and-white answers, and most characters display a combination of positive and negative qualities.
In 2009, Reeve published Fever Crumb, a prequel to the Hungry Cities quartet, set several centuries earlier. Through the story of a young orphan girl named Fever Crumb, readers learn about the events that would lead to traction cities and Municipal Darwinism. Unusually for a prequel, Fever Crumb has received almost the same level of critical acclaim as the original quartet – it offers an extra dimension to the Hungry Cities novels, yet also stands as a story in its own right, with Reeve's usual dynamic and fast-paced narrative, engaging characters and combination of wit and moral complexity.
Larklight (2006) is the first of a trilogy which includes Starcross (2007) and Mothstorm (2008). These tales of space-travel are lighter and more cheerful in tone and subject-matter than the Hungry Cities quartet, for Reeve was by now aware that his readership included younger children:
'I was aiming the Hungry Cities series at children 12 and upwards [...] But I do find that a lot of much younger children are reading it, and I worried slightly that it's too bleak and violent for them. So I thought it would be nice to do something that I wouldn't be worried about if it gets into the hands of 7-year-olds.'                             
(School Library Journal, ref. above)
Once again, Reeve creates a vivid fantasy world – this time it is a parallel Victorian England in which the British Empire encompasses not just large parts of Earth but extends into outer space. Young adventurers Art Mumby and his sister Myrtle live in Larklight, a ramshackle house which orbits the moon and is invaded, in the first novel, by a spider named Mr Webster who wears a bowler hat. The intertwining of science-fiction with Victoriana makes for a delightfully original trilogy, and, as in the Hungry Cities quartet, readers (both child and adult) have been enraptured by the imaginative and inventive detail with which Reeve conjures up an alternative universe.
The Larklight trilogy invites comparisons with Star Trek, The Hitchhiker's Guide to the Galaxy and the work of H.G. Wells, although Reeve's inventive style and skilfully crafted stories enable him to stand alone as a highly original writer in his own right, and one of the best contemporary writers of fantasy and science-fiction. These qualities were recognised when he received the 2008 Carnegie Medal for Here Lies Arthur (2007), a re-telling of Arthurian legend which is Reeve's first stand-alone novel. The narrator is Gwyna, who recounts her childhood in which she was in service to Myrddin (Merlin) who required her help to transform his protégée, Arthur, into a warrior-king. In contrast to traditional magical stories of Arthurian legend, Reeve's Arthur is not glorified or romanticised, but depicted as fully human with many flaws, including brutality and selfishness. Myrddin, meanwhile, is a skilful propagandist who creates the rose-tinted legend of Arthur. The novel thus comments implicitly on contemporary politics, offering an insightful exploration into the morality of power, propaganda and hero-culture.
Reeve's second stand-alone novel is No Such Thing as Dragons (2009). Set in medieval times, it tells the story of Ansel, whose father sells him to Brock, a traveller who claims to be a dragon-slayer. There are echoes of Myrddin's spin-doctoring in Here Lies Arthur when Brock admits that it is all a scam, making money from villagers who are taken in by the stories of myths and legends. However, Reeve gives his story a further twist when one of Ansel's and Brock's 'dragon-slaying' expeditions brings them face to face with real terror. No Such Thing as Dragons is less sophisticated then the Hungry Cities quartet and the Larklight trilogy, but nonetheless it is abundant with Reeve's usual inventive detail and makes an enjoyable read.
Elizabeth O'Reilly, 2010
Bibliography
2009
No Such Thing As Dragons
2003
Horatio Nelson and His Victory
2003
Buster Bayliss 4: Custardfinger
2002
Buster Bayliss 2: The Big Freeze
2002
Buster Bayliss 1: Night of the Living Veg
2002
Buster Bayliss 3: Day of the Hamster
Awards
2017
Carnegie Medal (shortlist)
2007
Booktrust Teenage Prize
2006
Guardian Children's Fiction Prize
2004
WH Smith People's Choice Award
2003
Blue Peter Book Award: The Book I Couldn't Put Down
2002
Nestlé Smarties Book Prize (Gold Award)
2002
Whitbread Children's Book Award