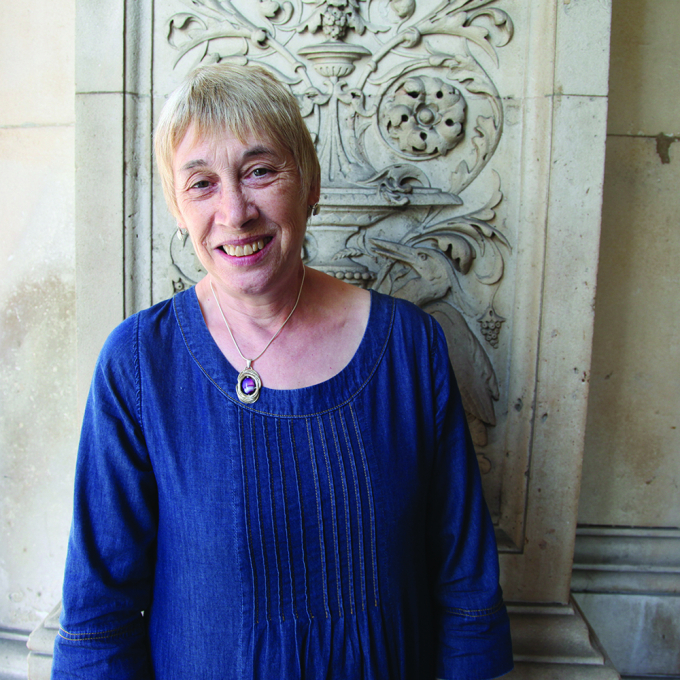 Penelope Shuttle
Publishers:
Agents:
Biography
Penelope Shuttle was born in 1947 in Middlesex, and has lived in Falmouth, Cornwall since 1970, a place which often inspires her current work.
Her husband, Peter Redgrove, died in 2003, and her latest poetry collection, Redgrove's Wife (2006), is a book of lament and celebration about his life and death, and the loss of her father. Redgrove's Wife was shortlisted for the 2007 T. S. Eliot Prize and the Forward Poetry Prize (Best Poetry Collection of the Year).
She received an Eric Gregory Award in 1974, and her first full-length poetry collection was The Orchard Upstairs (1980). This has been followed by several further collections, including: The Lion from Rio (1986); Taxing the Rain (1992); Building a City for Jamie (1996); and A Leaf Out of His Book (1999). A book of her Selected Poems: 1980-1996, was published in 1998. Three of these collections have been Poetry Book Society Recommendations.
She is also the author of five earlier novels, including All the Usual Hours of Sleeping (1969); and The Mirror of the Giant (1980). With her husband, she published two non-fiction books: The Wise Wound: Eve's Curse and Everywoman (1978), dealing with the psychology and creative aspect of menstruation and its part in redefining the role of women; and its sequel, Alchemy for Women: Personal Transformation Through Dreams and the Female Cycle (1995).
Penelope Shuttle received a Cholmondeley Award in 2007. She reads her poetry throughout the UK and is an experienced poetry tutor. Her latest book is a further collection of poetry, Sandgrain and Hourglass (2010).
Critical perspective
The poetry of Penelope Shuttle, spanning a successful 30-year writing career, conjures a world where the ordinary and the everyday are realised and enlivened through myth, magic and fantasy.
Her first collection, The Orchard Upstairs (1980), demonstrates the decisively imaginative qualities of her work from the outset, figuring hyacinths as 'green havoc', 'their odour a guttural equilibrium / settling everything once and for all' ('Cupboard Hyacinths'), whilst elsewhere, a downpour becomes a near-destructive and threatening mantle: 'The rain stand[ing] miles apart from all the bibles / overcoming words with its own saturated argot' ('Rain'). The collection also reveals Shuttle's longstanding fascination with the human (and in particular, female) body, as several poems explore the various stages of pregnancy with a deft combination of heightened sensitivity and an almost shamanic mysteriousness. 'The Conceiving' captures the moment of conception in near-supernatural terms:
'in the wit of my hands
in the smear of my shadow
in the armada of my brain
under the stars of my skull
in the arms of my womb
Now you are here
you worker in the gold of flesh'
The vivid metaphors of the poem are as much a celebration of physical processes as a marrying of them with the workings of artistic creativity. In some respects, this can be seen to place Shuttle in lineage with Sylvia Plath, both poets sharing an interest in the complex relations between writing, womanhood and maternity; the child's 'name suggest[ing] its syllables' in Shuttle's 'Expectant Mother' echoing the 'handful of vowels' in Plath's 'Morning Song'. For as her later collections The Child-Stealer (1983) and The Lion from Rio (1986) affirm, Shuttle's poetry wears the influence of early modernist European poets such as Rainer Maria Rilke and Federico García Lorca to a much greater extent than the hardy realism of the characteristically British Movement (taking in such writers as Philip Larkin, Donald Davie and Thom Gunn). This is perhaps most evident in the recurrence of elemental forces within Shuttle's work, as earth, water and lightning crackle and flow through many of her poems, not only lending them their intense rhythmical and phonetic effects, but energizing their characters and subject matters. In the case of 'The Weather House', a poem about marriage, a thunderstorm is described as electrifying both landscape and the love between man and wife:
'How the clouds crush us under huge pigeon-grey feet
before releasing their naked furnaces of rain on us,
till we are like fountains kissing!
How the storm aches with its own fame, its long steps
pouncing to reach us!
Electricity wires us, it shoots its fix into our veins
and our dreams lengthen into flooding weather, the sweet breath
of downpour, the waterfall gasp of it.'
With her fourth collection, Adventures with my Horse (1988), Shuttle's poetry begins to deal more overtly with human sexual awareness, prompting Peter Porter to describe the book in The Observer as containing 'her most audacious poems to date'. This was also a topic she had explored extensively in prose works beforehand: The Wise Wound: Eve's Curse and Every Woman (1978), written with her late husband, the poet Peter Redgrove, being a thoughtful and provocative treatise on the previously taboo subject of menstruation, and its sequel Alchemy for Women (1995), both of which Philip Hobsbaum described in The Independent as 'hav[ing] had a currency greater than the poems produced by either of them.' Whether or not this statement rings true, however, cannot diminish the fact that Shuttle's later poetry is significantly more accomplished and assured, combining narrative concerns with a much-honed and crystalline lucidity. 'Thief', perhaps Shuttle's most successful, and indeed most memorable, poem to date, explores emotional depression with a colloquial tone and lightness of touch that is all the more harrowing for it:
'He has robbed you before, a hundred times.
You have never seen him but you know him.
You know his vermin smell without smelling him,
you know his smile of learning without seeing it,
you feel his shadow like deprival weather, grey, oppressive.'
Given Shuttle's early propensity towards prose, it is perhaps unsurprising that her poetry has developed and expanded upon its narrative tendencies. Her first novel, All the Usual Hours of Sleeping (1969), was published when she was only 21, leading to four further acclaimed novels, including Rainsplitter in the Zodiac Garden (1977) and The Mirror of the Giant (1980). In her fifth and sixth poetry collections, Taxing the Rain (1992) and Building a City for Jamie (1996), imaginative and often fantastical narratives crop up repeatedly: from the former's 'Honeymoon' and its beautiful, attentively described scenes, to the latter's title poem; a sequence that combines emotional depth and seriousness with a deceptive simplicity and inviting clarity of voice.
A Leaf Out Of His Book, Shuttle's seventh poetry collection, appeared in 1999. As John Greening noted in the Times Literary Supplement: 'At a point in her career where other poets might be wondering where their next poem is coming from, her fecundity is astonishing - 150 pages of vigorous and various abundance.' Shuttle's productivity is indeed incredible: the focus of the collection may remain with the magical and elemental, but many of the poems also make innovative and startlingly athletic strides; the witty and racy humour of 'Herbal Warfare' and 'Waterstone Whispers', for example, adding a new dimension to Shuttle's ever-expanding oeuvre. But it is in her latest collection, Redgrove's Wife (2006), that Shuttle's poetry finds its truest and most fully realised voice. Shortlisted for both the Forward Poetry Prize (Best Poetry Collection of the Year) and the T.S. Eliot Prize, the book is a series of moving elegies for the late Redgrove, combining bare-faced honesty and a winning intelligence to produce life-affirming verse that resonates and surprises. Like Ted Hughes's Birthday Letters, then, the collection constitutes both a public, literary and a private, personal mourning, but it is also a documentation of Shuttle's fighting spirit and belief in humanity's resilience: the bereaved who 'weep in Tesco, / Sainsburys / and in Boots // where they give […] / medicine for grief', eventually becoming 'the last straw / that mends the camels back, // sails us both / through the needle's effortless eye'. Perhaps, then, as Neil Roberts suggested in a recent issue of The North, the collection will go on to become Penelope Shuttle's 'classic': recognition of a poet whose resourcefulness, dexterity, and impressive imagination rarely fail to make for less than fascinating work.

Ben Wilkinson, 2007  
Bibliography
2010
Sandgrain and Hourglass
1999
A Leaf Out of His Book
1998
Selected Poems, 1980-1996
1996
Building a City for Jamie
1995
Alchemy for Women: Personal Transformation Through Dreams and the Female Cycle
1988
Adventures with My Horse
1980
The Orchard Upstairs
1980
The Mirror of the Giant
1978
The Wise Wound: Eve's Curse and Everywoman
1977
Rainsplitter in the Zodiac Garden
1976
Four American Sketches
1974
Photographs of Persephone
1974
The Songbook of the snow and other poems
1974
The Terrors of Dr. Treviles
1974
Autumn Piano, and other poems
1973
The Hermaphrodite Album
1973
Wailing Monkey Embracing a Tree
1969
All the Usual Hours of Sleeping
1968
Nostalgia neurosa and other poems
Awards
2007
Forward Poetry Prize (Best Poetry Collection of the Year)
1972
Greenwood Poetry Prize
Author statement
TREES = UMBRELLAS
Without writing (and reading) life would be a drifting chaos for me, a series of losses and forgettings. My sense of being would have no meaning, no inner or outer geography.
With writing (and reading) active in my life, I can concentrate on the chaos, hold experience steady.  I can explore, enjoy, mourn, comprehend within my own limits, and keep pushing them as far as I can.
Language is a key that unlocks the gates of paradise and the gates of hell.  It is bliss and danger.  It transforms feeling and experience into poetry.  Poetry then becomes the mirror where self and world find a place to begin, a journey to continue – through the  vivid and living reflection of language.
Wallace Stevens says that 'the whole world is material for poetry' and that 'all of our ideas come from the natural world: Trees  = umbrellas.'
I can't argue with that!