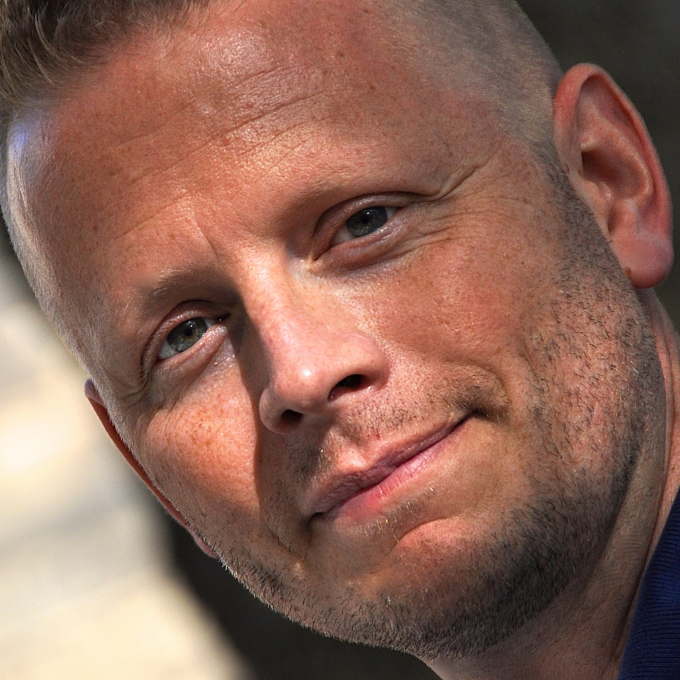 Biography
Patrick Ness was born in the US in 1971, living in the western states of Hawaii, Washington and California, before moving to England in 1999.
He read English Literature at the University of Southern California, and worked as a corporate writer at a cable company, before the publication of his first novel, The Crash of Hennington, in 2003.
His second book was a collection of short stories, Topics About Which I Know Nothing (2004).
In 2008, he published the first in his 'Chaos Walking' trilogy for young adults, The Knife of Never Letting Go. It is set in a dystopian world where everyone can hear everyone else's thoughts. This book won the 2008 Guardian Children's Fiction Prize and the Booktrust Teenage Prize, and was shortlisted for the 2009 Carnegie Medal. In 2009, the second book in the trilogy, The Ask and the Answer, won the Costa Children's Book Award. The third book, Monsters of Men, was published in 2010.
Later books include A Monster Calls (2011), based on an idea by Siobhan Dowd, which won the Carnegie Medal in 2012 and was adapted into a film, with a screenplay by Ness, in 2016; More Than This (2013), The Rest of Us Just Live Here (2015), and Release (2018), all shortlisted for the Carnegie Medal; and a novel for adults, The Crane Wife (2014).
Patrick Ness has taught Creative Writing at Oxford University, and written journalism and criticism for the Sunday Telegraph, the Daily Telegraph, and the Times Literary Supplement. He currently reviews books for The Guardian.
He has also been a Fellow of the Royal Literary Fund, and in 2009 was the first Writer in Residence for Booktrust.
Critical perspective
'Chaos Walking' is Ness's acclaimed and prizewinning trilogy for teens, an epic dystopian fantasy in which he pits the resources of his two heroes, straight-talking Todd Hewitt and indomitable Viola Eade, against the plans of arch-villain Mayor Prentiss.
The trilogy's first two books – The Knife of Never Letting Go (2008) and The Ask and The Answer (2009) – have won the pick of awards for children's literature, including the Booktrust Teenage Prize, Guardian Children's Fiction Prize and Costa Children's Book Award, while Monsters of Men (2010) 'triumphantly concludes … [an] outstanding literary achievement' (Robert Dunbar, The Irish Times, 5 June 2010). The trilogy forms a set of 'gripping, thrilling, hurtling stories in which… brilliant ideas serve a great plot and strong characters' (Daniel Hahn, The Independent, 2 May 2010).
All three books are set on the same new planet, primitively settled within living memory. In The Knife of Never Letting Go, Todd, a young and orphaned adolescent, comes of age when he is forced to flee his unhappy existence in Prentisstown. Viola arrives in a scout ship ahead of a new wave of settlers, but a crash landing kills both her parents. Soon she and Todd are on the run towards Haven, away from the crazed preacher Aaron and sinister David Prentiss, leader of a men-only community of outcasts. The Ask and the Answer sees Viola and Todd parted as they reach Haven, where Mayor Prentiss – now President Prentiss – has deposed the town's mayor and seized power. Now he blackmails Todd, the son he never had, into helping to suppress the indigenous Spackle people. Viola, recovering from injury, is co-opted by expert healer Mistress Coyle, leader of guerrilla group The Answer, to undermine their efforts. In Monsters of Men, the ever-cunning Prentiss takes on Coyle's forces and the massed Spackle, while Todd and Viola strive, with the help of a new scout ship, to make peace.
Critics praise Ness's 'genuinely original vision' (Nicholas Tucker, The Independent, 12 December 2008), storytelling strengths and wealth of invention. For Ness, the trilogy is a Trojan horse, carrying a hoard of carefully thought-through ideas. Central to all three books is the notion of The Noise, a germ that broadcasts the thoughts and feelings of every man, which Frank Cottrell Boyce sees as 'an illuminating transformation of something very familiar … the static [of information overload] that interferes when we try to tune into our own thoughts' (The Guardian, 14 June 2008).
In the face of constant noise, Todd struggles with the tension between needing to escape and wanting to connect with Viola. The trilogy's love story is both poignant and masterly in its restraint; Todd and Viola's romance is consummated with a single kiss. 'The greatest victory you can have is connecting with another person,' says Ness (The Guardian, 27 September 2008). Freedom to discover truth subjectively is another theme. While isolation can provide fertile ground for extremists, a frontier enables you 'to make of yourself what you want without anything holding you back'.
Beyond this, 'Chaos Walking' distinguishes itself through its creation of sophisticated moral complexities. As Dunbar remarks, it avoids 'sentimentality and simplification', allows 'no easy assumptions about good and evil' and scrutinises 'notions of redemption'. The trilogy also succeeds in capturing 'that transitional teenage experience' (Hahn) through Todd's endearing and typographically original vernacular, its tone likened to that of another literary adolescent, Huck Finn. In December 2008, a newspaper commentator criticised Ness for writing about a teenager with a knife. He responded, in a piece for The Guardian, that teenagers ('body chemistry in violent disarray, emotions running high') respond best to an art that is 'repetitively cathartic'. Ness has also named influences such as Russell Hoban's sci-fi hero Riddley Walker, and Peter Carey's mastery of 'different voices and … whole new visions of reality' (Lovereading4kids.co.uk).
Ness's fiction for adults, less known and fêted than his more recent work for teen readers, is equally and differently impressive, though arguably less accessible. He published his first short story in 1997 and two years later moved to London, from his home in the US, to finish his debut novel, a work of literary fiction entitled The Crash of Hennington (2003). In 2004 he published a book of short stories, Topics About Which I Know Nothing, and since then he has worked variously as a literary critic, teacher of creative writing, fellow of the Royal Literary Fund and Booktrust's first online writer-in-residence.
The Crash of Hennington, a remarkable, witty, humane, sometimes shocking novel, is 'surreal in the manner of J G Ballard … a curious blend of love story and political satire' (Kirkus UK, www.amazon.co.uk); a book which, says Mireille Quivy, 'gradually deconstructs assumed perspectives until it rides the surf of the absurd (Cercles, June 2004). The novel introduces multiple parallel plot lines driven by a spectrum of characters: from seamy businessman Thomas Banyon and bisexual mayor Cora Larsson to smooth Tybalt 'Jon' Noth and the religious zealot Theophilus Velingtham. Ness's flair for invention is obvious, but so too are his other talents: for subtle, delightful description, snappy dialogue and superb plotting. As Quivy puts it, 'Ness surprises us continuously without ever leaving us stranded in the mesh of his intrigues'.
On one level, The Crash of Hennington is a comedy of manners that explores the question of 'what it is to lead and what it is to follow' (Patrick Neate, www.amazon.co.uk, 11 June 2003). But Ness reaches further, resurrecting Ionesco's rhinos as the eponymous 'crash', a herd that roams the streets of Hennington followed by its lamentable human herder, Maggerty. This character becomes representative of Ionesco's 'blind forces… opposed in a despairing conflict' between man and the universe he no longer understands. 'What are [the rhinos] there for? Are they deep? Are they symbolic?' asks Nicholas Lezard (The Guardian, 19 March 2005). 'Ness isn't saying: they're just deadpan, and as the novel has plenty of other things to concern itself with - sex, drugs and apocalypse, to mention but three - they can almost be said to constitute a kind of normality.'
Topics About Which I Know Nothing, a collection of ten short stories, showcases Ness's talents differently again, illustrating his 'creative, unpretentious and pleasingly bonkers' imagination and reveling in 'the preposterous, the weird and the downright daft' (Lloyd Evans, The Daily Telegraph, 9 May 2004). What might seem a rather disparate collection is, argues Lezard, underpinned by Ness's 'substantial' intelligence. With formats as varied as an academic paper, family letters and a newspaper report, he explores a no-less-varied range of themes, from what Evans calls his 'distinctly edgy examination of paedophilia' ('The Way All Trends Do') to the way in which 'talent can be a poisoned chalice as well as a horn of plenty' ('The Gifted'). 'Ness lays into conventions with the abandon of an incorrigible vandal,' says Evans. 'There are no taboos'.
With his 'Chaos Walking' success, Ness is much in demand as a writer. One of his own priorities is to find 'joy' in his work. 'I look for a writer having a great time, who wants to share [that]' (The Independent, 2 May 2010). In 2010 he was asked to complete a project begun by the writer Siobhan Dowd, who died from breast cancer in 2007. 'The idea was so good, I started to get my own ideas about how I would write the story… I've taken the baton from a really great writer,' comments Ness. A Monster Calls, about a boy whose mother is ill, is published in 2011.
Rachel Thackray Jones, 2010
Bibliography
2018
And the Ocean Was Our Sky
2015
The Rest of Us Just Live Here
2009
The Ask and the Answer
2008
The Knife of Never Letting Go
2004
Topics About Which I Know Nothing
2003
The Crash of Hennington
Awards
2018
YA Book Prize (shortlist)
2018
Carnegie Medal (shortlist)
2016
Carnegie Medal (shortlist)
2013
Carnegie Medal (shortlist)
2009
Booktrust Teenage Prize
2009
Carnegie Medal (shortlist)
2009
Costa Children's Book Award
2008
Booktrust Teenage Prize
2008
Guardian Children's Fiction Prize
2008
James Tiptree Jr. Award