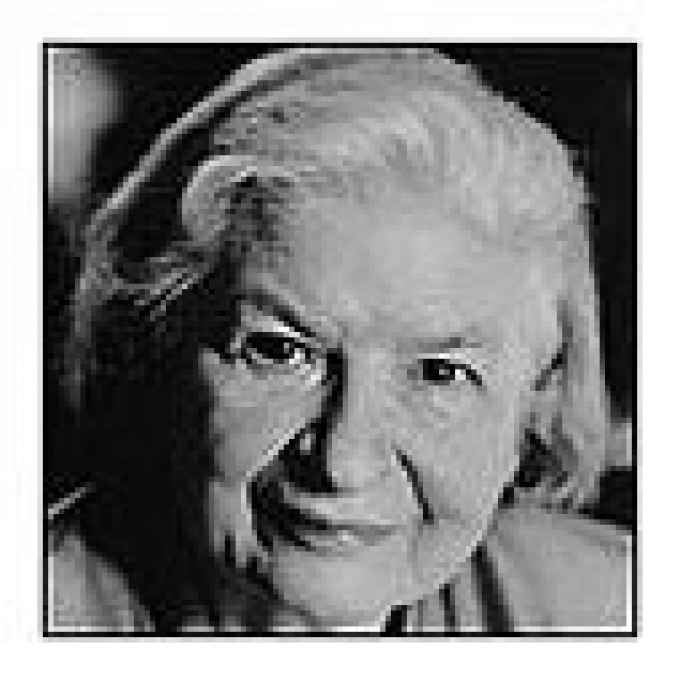 Baroness James of Holland Park P. D. James
Publishers:
Agents:
Biography
Crime novelist P.D. James was born in Oxford on 3 August 1920, the eldest daughter of an Inland Revenue Official. The family moved to Cambridge when she was 11, where she attended the Cambridge High School for Girls. She worked for the National Health Service (1949-68) and the Civil Service until 1979 when she began to work as a full-time writer. She was a Governor for the BBC (1988-93), and Chairman of the Literature Advisory Panel at both the Arts Council of England (1988-92) and the British Council (1988-93). She was awarded the OBE in 1983 and created a Life Peer (Baroness James of Holland Park) in 1991. Baroness James is also a Fellow of the Royal Society of Literature and a Fellow of the Royal Society of Arts, and chaired the Booker Prize Panel of Judges in 1987. She has been President of the Society of Authors since 1997. She has received the following honorary degrees: Doctor of Letters from the Universities of Buckingham 1992; Hertfordshire 1994; Glasgow 1995; Durham 1998, Portsmouth 1999. Doctor of Literature from the University of London 1993; Doctor of the University, Essex 1996. She was made an Associate Fellow of Downing College, Cambridge (1986) and an Honorary Fellow (2000). She is also an Honorary Fellow of St Hilda's College, Oxford (1996) and of Girton College, Cambridge (2000).
Her novels include a series of books featuring the Scotland Yard policeman Commander Adam Dalgliesh. Her latest Commander Dalgliesh mystery is The Private Patient (2008). In 2009, she won an Edgar Award for Talking About Detective Fiction (2009), a book exploring the genre.
P. D. James has been awarded major prizes for her crime writing in Great Britain, America, Italy and Scandinavia. In 1999 she received the Mystery Writers of America Grandmaster Award for long term achievement. She is published widely overseas including the USA, Canada, France, Germany, Italy, Spain, Japan, Holland, Norway, Denmark, Sweden, Finland, Portugal, Hungary, Czechoslovakia and Argentina.
P.D. James died in 2014.
Critical perspective
P.D. James was one of the most successful detective novelists working in Britain today. Her writing has been praised for its sophisticated narrative techniques and its complex and multifaceted characters. These are features not usually associated with such popular literary genre as the detective story. James has actually declared that she prefers the term 'crime novel', thus advocating renewed literary dignity for the genre. Over the years, James claimed, the conventions of the detective story shifted away from their original 'in the past, psychological truth was too often sacrificed to the demands of plot' so that the detective story was often classified 'as a subliterary form'. Yet, according to James, 'The modern detective story has moved away from the earlier crudities and simplicities. Crime writers are as concerned as are other novelists with psychological truth and the moral ambiguities of human action.' Influenced by such diverse writers as Jane Austen, George Eliot, Anthony Trollope, Dorothy L. Sayers, Margery Allingham, Ngaio Marsh, Josephine Tey, and G. K. Chesterton, James's fiction is designed to blend 'a genuine mystery with the novel of social realism'. Her literary production also includes the dystopian novel The Children of Men (1992), the autobiography Time to Be in Earnest (1999) and The Maul and the Pear Tree: The Ratcliffe Highway Murders, 1811 (1971), co-authored with T. A. Critchley.
Such combination is evident in the author's description of the generic formula behind detective stories in her non-fiction work, Talking About Detective Fiction (2009): 'What we can expect is a central mysterious death, usually murder; a closed circle of suspects, each with motive, means and opportunity for the crime; a detective, either amateur or professional, who comes in like an avenging deity to solve it; and, by the end of the book, a solution which the reader should be able to arrive at by logical deduction from clues inserted in the novel with deceptive cunning but essential fairness." The formula is, of course, behind James's own novels which are always marked by a stunning awareness of place and characters' psychology. In her novels, crimes occur within isolated communities of people such as a nurses' training school (Shroud for a Nightingale, 1971), a publishing house (Original Sin, 1994), a theological college (Death in Holy Orders 2001), a museum (The Murder Room, 2003), an off-shore island used as a VIP hideout (The Lighthouse, 2005) and an expensive private clinic (The Private Patient, 2008). The distorted relationships within these claustrophobic locales, which function as a microcosm for society as a whole, are as thoroughly investigated by the narrator as are the murders that have affected them by the detective. The victims, generally scheming and ruthless characters, always bring about their own murder because of their sinful lives. Because of her social realist vein, setting is particularly important for James and she has repeatedly acknowledged its importance in creating the atmosphere of menace and suspense required in a crime novel.
Immediately after giving such a clear and fitting definition of detective fiction, however, James admitted that it seems 'unduly restrictive and more appropriate to the so-called Golden Age between the wars than it is today.' On the contrary, James found it fascinating how authors of detective fiction played with conventions, thus celebrating the power of an apparently fixed literary form to liberate creative imagination. What James has added to this Golden Age formula is an increasing moral and emotional uncertainty. The solution of the mystery does not necessarily remove the causes of the crime and, rather than assurance, P. D. James's narratives often close with the reinforcement of moral dilemmas. This avoidance of easy reassurance comes to P. D. James as a mirror of the times. According to her, we may be about to experience a second Golden Age of the detective genre as 'the theory is that the mystery flourishes best in times of acute anxiety and depression, and we're in a very depressed state at the moment.'
Two central protagonists recur in James's fiction: Adam Dalgliesh, a professional Inspector, and Cordelia Gray, a private working-class investigator. Because Cordelia Gray only appears in two novels, An Unsuitable Job for a Woman (1972) and The Skull Beneath the Skin (1982), James is not often credited with the writing of the first modern novel to feature a female detective. An Unsuitable Job for a Woman combines the characterisation of the hard-boiled novel with the structure of the bildungsroman. As the protagonists in the stories by Hammett, Chandler and Spillane, Cordelia is estranged from society and her role as a detective is often contested. Contrary to what characterised the hard-boiled genre, however, such repeated challenges derive uniquely from Cordelia's gender, as the title underlines. This is apparent from the very start of the novel when Cordelia's partner commits suicide leaving her the unique proprietor of Pryde's Detective Agency. The policeman who first questions her about Bernie Pryde's death takes it for granted that she was simply his secretary. Female characters are equally sceptic about Cordelia's chances to succeed in her job. When she breaks the news of the suicide to the owner of the pub where she used to go with Bernie, the landlady comments: 'You'll be looking for a new job, I suppose? After all, you can hardly keep the Agency going on your own. It isn't a suitable job for a woman ... I shouldn't think your mother would approve of you staying on alone'.  Thus, her achievements celebrate her development into a professional detective from the amateur status she has at the beginning of the novel. After such a determined start, feminist critics were disappointed to see Cordelia Gray dropped for ten years and revived only in The Skull Beneath the Skin, where she appears inept and unsuitable for her job. At the end of this second novel, Cordelia is hired to find a lost Siamese kitten: ' ... she had a job waiting for her ... she didn't despise its simplicities; almost she welcomed them. Animals didn't torment themselves with the fear of death, or torment you with the fear of their dying. They didn't burden you with their psychological problems ... They didn't try to murder you.' Such a conclusion seems indeed to state that investigating murders is an unsuitable job for a woman. In her essay 'Gray Areas: P. D. James's Unsuiting of Cordelia', Nicola Nixon has claimed that James's belittling of Cordelia is the result of the author's own distancing from feminism. Yet, many of the mysteries centring on inspector Dalgliesh also feature Detective Inspector Kate Miskin, a working-class woman from a disadvantaged social background.
Contrary to Cordelia, the widower Adam Dalgliesh rises ever higher in his career through novels, attaining the status of Commander and even of published poet. In spite of his clever intuitions, Dalgliesh is fully conscious of his fallibility and James is careful not to romanticise the figure of the detective. 'Detectives,' she argues, 'are far less creatures of fantasy or romantic wish-fulfilment. They tend to be professionals doing a difficult job in a modern world.' In the most recent novels, Dalgliesh also enjoys a satisfying private life with Cambridge don Emma Lavenhamand, and, in The Private Patient, he seems about to ask her to marry him. Yet, it is not love that fuels his poetry, as we are clearly told in The Lighthouse: 'The best of his verse had its roots in the pain, horror and pathetic detritus of the tragic and broken lives, which made up his working life.' The same interest can be detected in P. D. James's fiction and Dalgliesh also embodies the principles that his author particularly values: 'High intelligence, sensitivity but not sentimentality — which I loathe — compassion, courage and reticence.'
While Dalgliesh is a liberal agnostic, P. D. James has made no secret of her Christian and conservative views which have grown stronger with the years and that, some critics claim, put her out of touch with the contemporary society she is so eager to portray. In his review of The Murder Room, Mark Lawson has pointed out that 'when reading James, you do find yourself nostalgic for crack cocaine, anal sex and people calling each other "mutha"'. It has also been noted that, while James usually refrains from mentioning contemporary controversial events, when she does so (as with the murder of the black teenager Stephen Lawrence in Death In Holy Orders), it is to impose a conservative moral on them. Yet, masked under P. D. James's genteel settings and dialogues, her novels explore the darker and disturbing instincts of the human mind with a complexity that defies political partisanship. James conforms to the definition of her homonym Henry that the purpose of a novel should be 'To help the human heart to know itself'. However, to her, such knowledge entails the disturbing admission that the human heart regards murder with fascination.
Luca Prono, 2010
Bibliography
2011
Death Comes to Pemberley
2009
Talking About Detective Fiction
2001
Death in Holy Orders
1999
Time to Be in Earnest: A Fragment of Autobiography
1982
The Skull beneath the Skin
1977
Death of an Expert Witness
1972
An Unsuitable Job for a Woman
1971
Shroud for a Nightingale
1971
The Maul and the Pear Tree: The Ratcliffe Highway Murders, 1811
Awards
2009
Edgar Award for Best Critical/Biographical Work
2006
British Book Awards Crime Thriller of the Year
2006
Crime Writers' Association Short Story Dagger
2005
British Book Awards Crime Thriller of the Year
2002
WH Smith Literary Award
1999
Grandmaster Award, Mystery Writers of America
1987
Crime Writers' Association Cartier Diamond Dagger
1986
Crime Writers' Association Macallan Silver Dagger for Fiction
1986
Mystery Writers of America Best Novel Award
1975
Crime Writers' Association Macallan Silver Dagger for Fiction
1973
Mystery Writers of America Best Novel Award
1971
Best Novel Award, Mystery Writers of America
1971
Crime Writers' Association Macallan Silver Dagger for Fiction
Author statement
'All fiction is an attempt to create order out of disorder and to make sense of personal experience. But the classical detective story does this within its own established conventions; a central mystery which is usually but not necessarily a murder, a closed circle of suspects, a detective, either professional or amateur, who comes in like an avenging deity to solve the crime, and a final solution which the reader should be able to arrive at himself by logical deduction from the clues. This apparent formula writing is capable of accommodating a remarkable variety of books and talents. Within the formal constraints of the detective novel I try to say something true about men and women under the stress of the ultimate crime and about the society in which they live.'