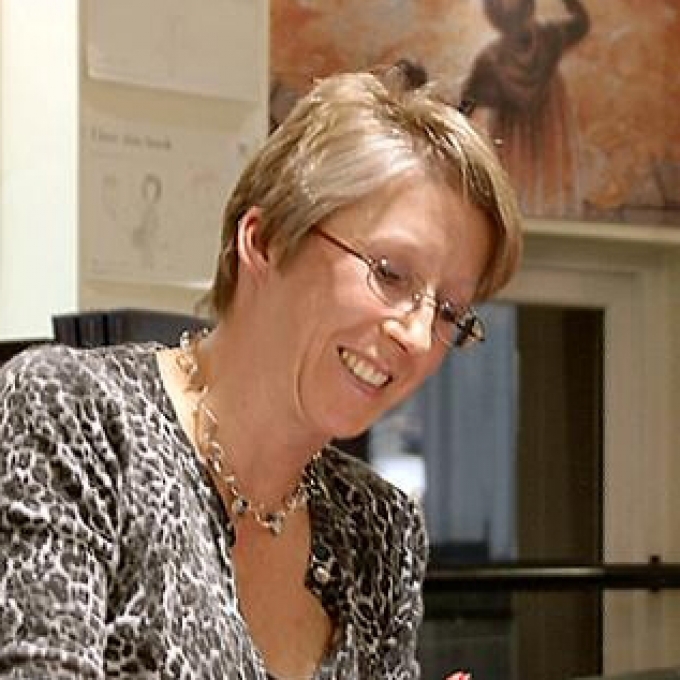 Biography
Nicola Morgan was born in 1961. She studied Classics and Philosophy at Cambridge University, then became a teacher of English, specialising in reading and writing difficulties.
In 1994, she set up 'Magic Readers', an organisation to help 3-5 year olds with reading and writing. This later became the website, The Child Literacy Centre, which provides information for parents to help them with their children's learning.
She has written a range of educational books for children aged 3-11, including workbooks and readers, many of them in the I Can Learn series published by Egmont. Some of these books are best-sellers in their field.
She began to publish teenage fiction several years ago, her first book being Mondays Are Red (2002). This has been followed by other novels, including Fleshmarket (2003), set in the 1820s; Sleepwalking (2004), which won the 2004 Scottish Arts Council Children's Book of the Year Award; The Highwayman's Footsteps (2006), a historical adventure influenced by Alfred Noyes' poem, The Highwayman;. a sequel, The Highwayman's Curse (2007);  and Deathwatch (2009). Her latest novel is Wasted (2010), winner of the 2011 Scottish Children's Book Award (Older Readers).
Blame My Brain (2005) is a non-fiction book, about the workings of the teenage brain, and was shortlisted for the Aventis Prize for Science Books (Junior). She has also written The Leaving Home Survival Guide (2005); Know Your Brain, showing how brains work differently and how to help your brain to work well (2007); and Reality Check: Curses (2008). Her latest book of non-fiction is a book for writers entitled Write to be Published (2011).
Nicola Morgan is an active visitor to schools, champion of reading, and is Chair of the Society of Authors in Scotland. She lives in Edinburgh.
Critical perspective
Nicola Morgan's novels for teens are not run-of-the-mill teen 'issue' novels. They range from historical to modern-day to sci-fi futuristic settings, and the subject matter is equally diverse: serious medical conditions; government corruption; brainwashing cults; 18th-century highwaymen; the dangers of the internet.
Most of the novels are gripping psychological thrillers, and Morgan's protagonists (most of whom are teenagers) are usually in dramatic, life-changing and dangerous circumstances. Morgan therefore offers readers a challenging but satisfying read, with thought-provoking novels that teenagers can get their teeth into. There is also a cross-over appeal that attracts adult readers.
Mondays Are Red (2002) is a highly original and acclaimed novel with an unusual storyline: 14-year-old Luke wakes from a coma caused by meningitis to discover he has synaesthesia, a rare condition in which sensory perceptions become heightened and mixed, for example, hearing colours or tasting sounds. The title and opening section reveal Luke's new-found perception of the world: 'Mondays are red. Sadness has an empty blue smell. And music can taste of anything from banana purée to bat's pee.' While some of his experiences are enchanting and mesmerising, Luke's confused, hallucinatory mind also causes him to experience a frighteningly altered sense of reality - and most frightening of all is the existence of Dreeg, a strange presence in Luke's mind who encourages him to commit evil actions. Morgan thus crafts a modern-day Faustian tale in which Luke is in awe of the power that Dreeg offers him, and initially unaware of the way in which this power is corrupting him and reeking havoc on those around him.
The style of this remarkable and ambitious novel helps to convey the altered sense of reality. Luke's experiences are presented in a vivid, multi-sensory prose which has been highly acclaimed: Mondays Are Red has a 'striking style' (The Bookseller) and 'hallucinogenic imagery' which is 'well conceived and sophisticated' (School Library Journal). Yet, while the novel depicts a surreal psychological experience, Morgan also makes her protagonist real and sympathetic to readers by grounding the story in a more recognisable reality: for example, Luke also suffers from more ordinary adolescent problems such as falling in love and sibling rivalry.
Morgan's second novel, Fleshmarket (2003), also has a medical basis and a teenage boy struggling with his inner demons, though this is where the similarities end. Set in 19th-century Edinburgh, Fleshmarket is based on the true story of pioneering surgeon Dr Robert Knox, and it explores the moral dilemmas of medical research. Morgan's story, which is both heart-rending and chilling, centres on teenager Robbie, who lost his mother several years earlier when Dr Knox performed a brutal mastectomy, in pre-anaesthetic days. The novel's opening scene depicts the terrifying operation and the woman's dying days afterwards - Morgan, as always, does not shy away from candid descriptions of both physical and emotional horror, using her linguistic dexterity to paint a vivid picture of the family's suffering:
'On the fourth day, she did not know [her husband's] name. Did not recognize her trembling son with his eyes so wide and wet. Could not care about her baby's hungry cries. Threw her sweat-soaked blankets off, rattled with bone-deep cold, screamed at the snakes writhing before her eyes, vomited, clawed moaning at the blackening rash that crept over her body.
On the fifth day, she died.'
Robbie, convinced that Dr Knox exploited his mother for experimental research, spends his teenage years bent on revenge - but eventually gets to know the man and finds that he possesses a genuine wish to help others. The novel, which combines accurate historical research with a gripping, stomach-churning story, follows Robbie's development from the trauma of losing his mother, through years of anger and psychological torment, to eventual forgiveness and understanding - leading to Robbie becoming a surgeon himself, as an adult with deep compassion and an acute understanding of human suffering.
Subsequent novels continue to explore the psychological development of teen characters who find themselves in harrowing circumstances: Sleepwalking (2004) and The Passionflower Massacre (2005)both explore brainwashing, though in very different ways. Sleepwalking, which draws on 1984 and Brave New World, is a sci-fi novel set 150 years into the future: 'Citizens' are drugged into submissive obedience by the government, while the 'Outsiders', who live in the countryside away from the authorities, stage a revolt led by four teenagers. The Passionflower Massacre, set in the present time, explores the disturbing psychological power of a religious cult: Matilda is spending the summer working at a fruit farm, and revels in the freedom she experiences after a difficult and restrictive upbringing. Desperately in need of love and nurturing, she is seduced by the kindness of the people who live there, unaware that she is being drawn into a dark and sinister organisation.
Morgan returns to historical drama with The Highwayman's Footsteps (2006) and its sequel, The Highwayman's Curse (2007),which are set in the eighteenth century and inspired by Alfred Noyes' poem, The Highwayman. Like Fleshmarket, these novels are carefully researched and integrate historical detail with a dramatic story - this time it is a fast-paced, exciting tale of high adventure. The characters, as always, are well-drawn and multi-faceted: upper-class Will runs away from home to escape family conflict, and consequently meets Bess, the 14-year-old orphaned daughter of a highwayman. The two join forces, and while feisty Bess is already adept at surviving alone and taking care of herself, gentle Will gradually learns to develop the qualities of self-sufficiency, resilience and emotional strength.
Deathwatch (2009) returns to present-day society, exploring a very modern phenomenon: the dangers of social networking sites on the internet. Cat is being terrorised by a stalker, and has unwittingly fuelled the situation by revealing too much about herself on a Facebook-type site. Deathwatch is skilfully crafted as tension is built up layer by layer, and, as in previous novels, this chilling and terrifying story is combined with more everyday teenage concerns - such as conflict with parents - and a convincing lead character. In Wasted (2010), Morgan explores the philosophical issues of fate, destiny and free will: Jack makes his decisions by tossing a coin and trusting fate, and when fate brings Jess into his life he encourages her to do the same. This complex and spellbinding novel has a highly innovative structure: the narrator is strongly present and the story is punctuated by 'what ifs' as the narrator contemplates alternative scenarios. In the final section, readers must participate actively by choosing between alternative endings.
Elizabeth O'Reilly, 2010
Bibliography
2012
Write a Great Synopsis
2011
Write to be Published
2008
Reality Check: Curses
2007
The Highwayman's Curse
2006
The Highwayman's Footsteps
2005
The Leaving Home Survival Guide
2005
The Passionflower Massacre
Awards
2011
Coventry Read It Or Else Award
2011
Grampian Children's Book Awarde
2011
Manchester Book Award
2011
North East Book Award
2011
Red Book Award (USA)
2011
Scottish Children's Book Award (Older Readers)
2009
Essex book Award Best Fiction Prize
2006
Aventis Prize for Science Books (Junior)
2006
Lancashire Primary Schools Book Award
2006
Leicester Primary Schools Book Award
2006
Royal Mail Award for Scottish Children's Books
2005
Scottish Arts Council Children's Book of the Year Award
2005
South Lanarkshire Book Award
2005
Stockport Schools' Book Award
2004
North East Book Award
2004
Scottish Arts Council Children's Book of the Year Award
Author statement
In one way, I write because I can't not write. But also, I simply love messing around with words, and writing is the medium which allows me to do that, to experiment and, perhaps most of all, to experience a sense of power. I love the way that a specific choice of a word changes the meaning slightly, and therefore paints a different picture in the reader's mind.  A writer has enormous power  -  to change the thoughts and internal world of a reader. That's what I'm trying to do. www.nicolamorgan.com