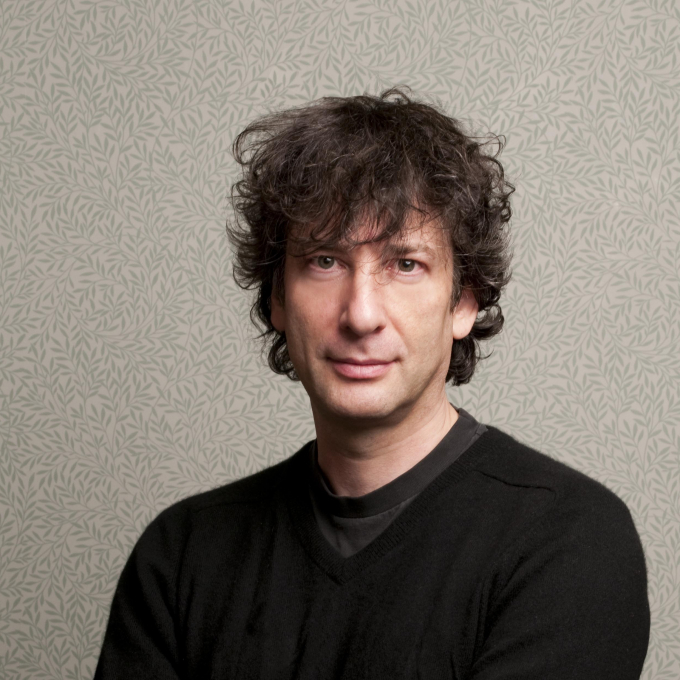 Biography
Neil Gaiman was born in Hampshire, UK, in 1960 and since 1992 has lived in the United States, currently residing near Minneapolis.
Following the publication of his groundbreaking series 'Sandman' (1989-1996) he has become established as  one of the creators of modern comics, as well as an author whose work crosses genres and reaches audiences of all ages.  He is listed in the Dictionary of Literary Biography as one of the top ten living post-modern writers and is a prolific creator of works of prose, poetry, film, journalism, comics, song lyrics, and drama.
Gaiman is active as a television and screenwriter. He wrote the screenplay for the original BBC TV series of 'Neverwhere' (1996); the feature film, 'Mirrormask' (2005), the script to Robert Zemeckis's 'Beowulf.' He has written and directed two films: 'A Short Film About John Bolton' (2002) and 'Statuesque' (2009). An animated feature film based on his book 'Coraline,' directed by Henry Selick and released in early 2009, secured a BAFTA for Best Animated Film and was nominated for an Oscar in the same category. His 2011 episode of Doctor Who, "The Doctor's Wife," caused the London Times to describe him as "a hero."
He is also an established writer for children. His work for young readers, The Graveyard Book was published in 2008 and won the UK's Booktrust Prize for Teenage Fiction and the Newbery Medal, the highest honor given in US children's literature, as well as the Locus Young Adult Award and the Hugo Best Novel Prize.  The awarding of the 2010 UK CILIP Carnegie Medal makes Gaiman the first author ever to win both the Newbery Medal and the Carnegie Medal with the same book.
Gaiman's 2013 novel The Ocean at the End of the Lane was voted Book of the Year in the British National Book Awards and was a New York Times Best Seller. A film adaptation of the novel is planned. 
Neil Gaiman is married to the musician Amanda Palmer, they have a son, Anthony, together. 
Critical perspective
As one of the world's most famous cult writers, Gaiman has a paradoxical kind of fame. As the Telegraph have recently observed, "you're either a Gaiman fan, in which case you know absolutely everything about him, or you've never heard of him" (Telegraph, 2005). Pointing to the same quirk of the modern literary world, the London Times recently referred to him as "the most famous writer you've never heard of." (Times, 2008).
The success of his graphic fiction works, his novels, and his screenplays, have seen him evolve into one of Britain's most prolific and durable literary exports. But for his own part, Gaiman denies that he's ever really become common property as a writer.  "I don't think I'm mainstream." He told the Guardian in 2013, "I think what I am is lots and lots of different cults. And when you get lots and lots of small groups who like you a lot, they add up to a big group without ever actually becoming mainstream."
His reputation rests on his role in the decisive emergence of the modern comic book. With his groundbreaking Sandman series (1989-1996), Gaiman joined the other acclaimed mavericks of the 1980s graphic novel such as fellow British visionary Alan Moore as they collectively transformed the possibilities and literary potential of the comic book form.
Since the 1990s, however, Gaiman has developed beyond the confines of this mode of expression, forging an impressive profile as a novelist and writer for the screen. His blending of horror, fantasy, fairy tale, folklore and science fiction has proved to lend itself just as readily to the page as to the graphic storyboard. And his gift for collaboration and for making off-kilter fantasy worlds world leap into life has proved a perfect fit for the media of television and film projects, both completed and in production.
As a result of the breadth of work in his prolific career, what follows gives only the broadest sense of the reputation Gaiman has acquired, focusing on three key works: The Sandman series, the novel American Gods and the children's work The Graveyard Book.
Genre 'Stew'
Throughout this career as a so-called 'genre writer', Gaiman has maintained a useful infidelity to the ideas of clearly-defined categories. He is fond of quoting his fellow fantasy superstar and occasional collaborator on this topic: "Genre fiction, as Terry Pratchett has pointed out, is a stew. You take stuff out of the pot, you put stuff back. The stew bubbles on." This philosophy is also tied up with misgivings on the limitations of the publishing business: "my theory on genre," he told one interview in 2010, "is that while there are people out there who believe that genre tells people what to read, actually I believe that genre exists as a marketing tool to tell you what to avoid." (Prospect, 2010)
Gaiman's stew uses tropes of fantasy and mythology to hold together disparate ingredients. As a major New Yorker profile by Dana Goodyear argued in 2010, "In addition to horror, he writes fantasy, fairy tales, science fiction, and apocalyptic romps, in the form of novels, comics, picture books, short stories, poems, and screenplays. Now and then, he writes a song. Gaiman's books are genre pieces that refuse to remain true to their genres … His mode is syncretic, with sources ranging from English folktales to glam rock and the Midrash, and enchantment is his major theme: life as we know it, only prone to visitations by Norse gods, trolls, Arthurian knights, and kindergarten-age zombies." (New Yorker, 2010).
The Sandman Series (1989-1996)
After beginning his career contributing to publications such as 2000AD and Future Shocks, Gaiman emerged as a distinctive voice with Black Orchid, which he wrote with Dave McKean for DC Comics in 1987.  In retrospect, though, this was merely preparation for the major work of The Sandman, which began in 1989 as the result of a commission to revive old DC characters. As graphic novels scholar Bernice Murphy explains, "One of Gaiman's ideas was to do something with an obscure character from the D.C. universe. Eventually he decided upon using the Sandman character, last seen as a minor member of The Justice League of America during the 1960s." (www.litencyc.com)
This idea flourished into a work that would stretch over 75 issues, involving a number of illustrators, and which was to prove Gaiman's masterpiece. "I had these mad grandiose schemes of making comics that were art," he recalls, "and I did." (Guardian, 2013). His scheme became one of the most respected series in comic history. Though the series officially ended in 1996, it is a work that is still unfolding. Endless Nights (2003) became the first Sandman collection in 7 years and the first graphic novel to make the New York Times bestseller list.
The plot of Sandman spirals outwards from a simple premise. It chronicles the story of Dream, a mythical personification of imaginative powers, also known as Morpheus. At the start of the series, Morpheus is captured by an occult ritual and held prisoner for 70 years, only to escape in the modern day to seek revenge and rebuild his kingdom, which has declined in his absence. As Gaiman glosses it, the essential narrative kernel at the heart of the saga is that "The Lord of Dreams learns that one must change or die, and makes his decision." (Endless Nights, 2004).
Drawing upon a medley of narrative modes and multiple literary traditions, the series helped set a new bar for sophistication in the graphic novel.  To comics historian Les Daniels, the Sandman was "astonishing … mixture of fantasy, horror, and ironic humor such as comic books had never seen before." (DC Comics: Sixty Years…, 1995). As Murphy adds, part of its achievement was its ability to transcend its origins: "Even though the comic is clearly rooted in late 1980s subculture, with Dream and Death subscribing to a "goth" aesthetic, The Sandman explores much broader issues, such as the functions of dreams, myths and storytelling and what it means to be human." (www.litencyc.com)
Gaiman had no idea about whether this breadth would work. As he later recalled: "All that I hoped for…was to become a mild critical success. Bear in mind that this was 1987, when a critical success and a commercial failure were synonymous. I had sort of planned this huge, arching epic, but what I also expected was that we would be cancelled right off." (Austin Chronicle, 1999). In fact, his reach and range helped shape an irresistible popular triumph and make Sandman one of the major bestsellers in the history of comic fiction.
Moreover, it has enjoyed a remarkable critical reception among those not typically drawn to graphic novel art. Norman Mailer famously hailed the series as a "comic strip for intellectuals". Among scholars in general the series has proved fertile ground for analysis. Stephan Rausch has read the series in terms of the search for 'modern myth' and the comparative religion of Joseph Campbell. Annalisa Castaldo has explored the intertextual Shakespeare borrowings of the Sandman series, and taken up the problem of Gaiman's "uneasy relationship with the material he has borrowed/obscured". Those wanting an in-depth resource on the series are served well by Hy Bender's The Sandman Companion, which combines reading and interviews with Gaiman, with material from his artists and editors.
American Gods (2001)
Even before the Sandman series concluded, Gaiman had begun to diversify his output to more conventional literary form. In 1990, he published Good Omens, a comic novel collaboration with Terry Pratchett.  However, it was American Gods (2001) that was to prove Gaiman's largest and most ambitious novel. The book took the form of road-trip, with Old World mythological deities transplanted to the landscape of the United States, in which new Gods, more fitting to American obsessions with celebrity, fame, drugs and technology now dominate.
The book received a great deal of critical praise and numerous fantasy and mainstream awards.  As John Mullan has recently noted, the novel "is a version of that most American genre, the road narrative. The author sends his protagonist, Shadow, by car and sometimes by Greyhound bus on long journeys criss-crossing the midwest of the United States. Though all the book's characters are American – even the re-embodied Norse gods – the narrative is a way for a non-American (Gaiman originally comes from Hampshire) to explore the eccentricities of his adopted land. Like Vladimir Nabokov in Lolita … [he] charts the peculiarities of small-town USA with a foreigner's relish and curiosity." (Guardian, 2011).
Some thought that Gaiman's eye was less than keen in its hasty analysis of his adopted country. Reviewing the book for Salon, however, Laura Miller thought that "the slightly off-skew take on the U.S. doesn't really matter much, for American Gods is a crackerjack suspense yarn with an ending that both surprises and makes perfect sense, as well as many passages of heady, imagistic writing." As of 2013, the book's transition to the small screen in the form of a HBO series was well underway, and Gaiman continues to hint at a sequel that he may be writing.
The Graveyard Book
Seven years later, Gaiman released an extremely well-received novel for children, The Graveyard Book (2008).  The plot is typically outlandish and ghoulish. After the grisly murder of his entire family, a toddler wanders into a graveyard where the ghosts and other supernatural residents agree to raise him as one of their own. This toddler becomes Nobody 'Bod' Owens, a normal boy who just happens to live in a sprawling graveyard, being raised and educated by ghosts, who warn him about leaving the cemetery.
Gaiman has said that the setting of the book is partly inspired by the gothic and ramshackle Abney Park cemetery in North London. But it was also the product of a long gestation. As he recalls, some years ago he "lived in a little Sussex town in a tall house across the lane from a graveyard. We didn't have a garden, and our 18-month-old son loved riding a tricycle … round and round the gravestones. As I watched him happily toddling I would think about how incredibly at home he looked. I thought that I could do something like The Jungle Book with that same equation of boy, orphaned, growing up somewhere else, but I could do it in a graveyard. I had that idea when I was 24 years old. I sat down and tried writing it and thought, 'This is a really good idea, and this isn't very good writing. I'm not good enough for this yet, and I will put it off until I'm better." (www.neilgaiman.com)
Most critics agreed that Gaiman's delay had been worth it, and that this modern update on Kipling was both innovative and daring.  As Patrick Ness observed in his Guardian review, "We are deep in Neil Gaiman territory here, and it's hard to think of a more delightful and scary place to spend 300 pages," adding of the rhythm of the book's structure that "Gaiman's narratives tend toward the episodic, and there are chapters of The Graveyard Book that could stand alone as discrete short stories. All the better for reading at bedtime, though, and what's lost in forward momentum is more than made up for by the outrageous riches of Gaiman's imagination. Every page is crowded with invention, both funny and scary" (Guardian, 2008).
The New York Times thought it "by turns exciting and witty, sinister and tender" and a work that showed Gaiman as the mature novelist was operating "at the top of his form … In this novel of wonder, Neil Gaiman follows in the footsteps of long-ago storytellers, weaving a tale of unforgettable ­enchantment." (New York Times, 2009). The Graveyard Book duly won America's prestigious Newberry Medal for children's writing in 2009.
With so many creative plates in the air, Gaiman's career shows little sign of slowing down. The danger this poses is not lost on the author. "There's always that fear of writing too much if you're a reasonably facile writer" he told the New Yorker in 2010, "and I'm a reasonably facile writer." This is certainly borne out by his legendary online presence, where as blogger and twitter commentator, he has become one of the most visible and engaged British writers on the web. It has helped him cultivate what can rightly be called a rock star mystique, and anticipation surrounding his every project that unifies his "lots of different cults" into a devoted audience.
Tom Wright, 2013
Bibliography
2013
The Ocean at the End of the Lane
2013
Fortunately, the Milk
2010
Stories: All New Tales
2008
The Dangerous Alphabet
2008
Odd and the Frost Giants
2008
The Facts In The Case Of The Departure of Miss Finch
2006
Fragile Things: Short Fictions and Wonders
2005
Now We Are Sick: An Anthology of Nasty Verse
2005
The Alchemy of Mirrormask
2004
Gothis: Ten Original Dark Tales
2004
Creatures of the Night
2003
Sandman: Endless Nights
2003
The Wolves in the Walls
2002
A Walking Tour of the Shambles
2002
Adventures in the Dream Trade
2001
Spawn: Angela's Hunt
2001
The Quotable Sandman
2001
Bento: The Story Art Box
2000
Batman: Black and White
2000
Legend of the Green Flame
2000
Only The End of the World Again
1999
Smoke and Mirrors: Short Fictions & Illusions
1999
Sandman: The Dream Hunters
1999
The Sandman Companion
Awards
2015
Goodreads Choice Award
2013
National Book Awards Book of the Year
2012
Hugo Award for Best Dramatic Presentation
2011
Shirley Jackson Award
2010
Kate Greenaway Medal
2009
Booktrust Teenage Prize
2009
Kate Greenaway Medal
2009
Locus Young Adult Award
2009
World Fantasy Award for Best Novel
2006
Mythopoeic Fantasy Award for Adult Literature
2005
Quill Book Award (US)
2004
Bram Stoker Award for Illustrated Narrative
2004
British Science Fiction Association Award
2003
Mythopoeic Award for Children's Literature
2002
Bram Stoker Award for Best Novel
2002
Bram Stoker Award for Best Work for Young Readers
2002
Mythopoeic Fantasy Award for Adult Literature
2002
World Fantasy Award for Best Novel
2001
British Science Fiction Assocciation Award
1999
Bram Stoker Award for Best Collection
1999
Macmillan Silver Pen Award
1999
World Fantasy Award for Best Short Story
1998
Mythopoeic Fantasy Award for Adult Literature
1998
Mythopoeic Fantasy Award for Adult Literature
1996
British Fantasy Award
1996
World Fantasy Award for Best Collection
1994
World Fantasy Award for Best Short Story
1991
World Fantasy Award for Best Novel
1991
World Fantasy Award for Best Short Story