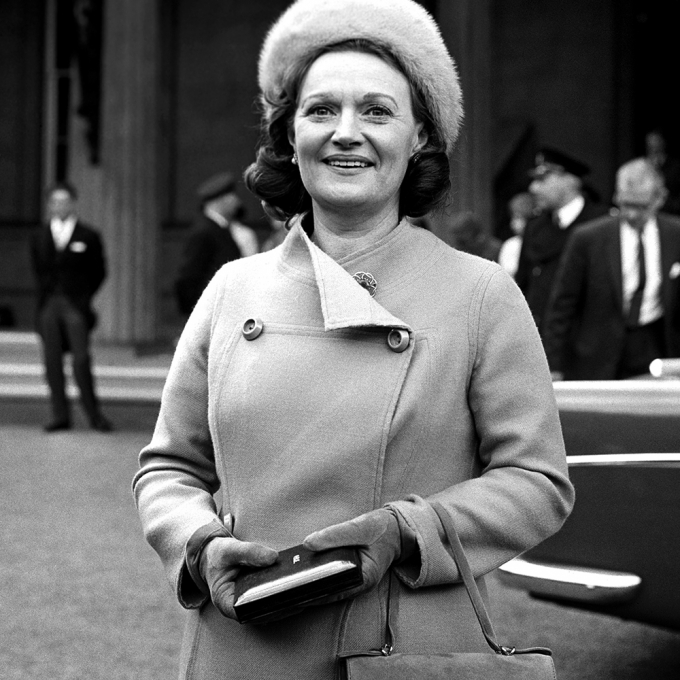 Dame Muriel Spark
Publishers:
Agents:
Biography
Dame Muriel Spark was born in Edinburgh in 1918.
  On leaving school, she studied précis writing at Heriot Watt College while teaching in a private school, later finding employment as a personal secretary.
In 1937, she went to Southern Rhodesia to marry, returning to England in 1944 after her divorce. She then entered the Political Intelligence department of the British Foreign Office and worked on various forms of subtle propaganda.
Her first interest was in poetry, and after World War II she became General Secretary of the Poetry Society and Editor of Poetry Review. Her own Collected Poems 1 was published in 1967.  In 1951 she won a short story competition run by The Observer and from then on also wrote fiction.  Her first novel, The Comforters, was published in 1957.
She published many novels, most notably The Prime of Miss Jean Brodie (1961), which was made into a film starring Maggie Smith.  Two other novels, The Driver's Seat (1970) and The Abbess of Crewe (1974), were also made into films, starring Elizabeth Taylor and Glenda Jackson respectively, and three into series for TV, one of which was The Girls of Slender Means (1963), a novel about being young and poor in wartime London.  The Ballad of Peckham Rye (1960) was adapted for radio as a musical, winning the 1962 Prix Italia, and Memento Mori, as well as being made into a TV series and adapted for the stage, was broadcast by the BBC.  Her play, Doctors of Philosophy, written in 1962, was staged in London at the Arts Theatre, and in Scandinavia, where it was produced by Ingmar Bergman.
Some of Dame Muriel Spark's novels focus on unusual crimes and turns of fate, most notably Territorial Rights (1979), about a crime of passion; The Hothouse by the East River (1973); and Not to Disturb (1971), set on the shores of Lake Geneva.  Satire was also an important part of her work. The Abbess of Crewe (1974), for example, is a send up of the Nixon-Watergate scandal.
She studied the lives and works of Mary Shelley, the Brontë sisters and John Masefield.  Her earliest book, Child of Light (1951), was a critical biography of Mary Shelley, written to celebrate the centenary of her death. This was followed by biographies of Emily Brontë and John Masefield, and in 1993, The Essence of the Brontës was published, an anthology of her writings on the family.
Her own autobiography, Curriculum Vitae, was published in 1992 and her novel, Aiding and Abetting, was published in2000.  Also a writer of children's books and many short stories, The Complete Short Stories was published in 2001. Her last novel was The Finishing School (2004).
Dame Muriel Spark travelled widely, and lived in Italy until her death.  She received several honorary degrees, some in Oxford and London, and many in Scotland, and was elected a Companion of Literature by the Royal Society of Literature and an Honorary Member of the Royal Society of Edinburgh. She was also an Honorary Member of the American Academy of Arts and Letters and Commandeur de l'Ordre des Arts et des Lettres. She was made a Dame of the British Empire in 1993.
Dame Muriel Spark died on 15 April 2006.
Critical perspective
Dame Muriel Spark had an active literary life as poet and biographer before she turned, in 1951, to fiction.
It was not until 1957, after conversion to Catholicism, that she published her first novel, The Comforters, a book of extraordinary originality that won the applause of Graham Greene and Evelyn Waugh - not because they were also Catholic authors but because of the skill and depth of her writing. Four more novels followed in the next three years, all of high and varied interest, but it was the fifth of them, The Prime of Miss Jean Brodie (1961), that introduced her work to a large popular audience, especially when it was turned into a successful play and later  filmed.
The Prime of Miss Jean Brodie is probably the funniest of Spark's books, but like all the others it is far from being trivial. Technically it is remarkably advanced.  Spark seems to imagine her stories as complete from the beginning; she has no need to place what happens later in the narrative from what is happening at the moment. The order of telling may appear to be almost random, as, in The Prime of Miss Jean Brodie attention moves from 1931 to the post-war period and points between the beginning and the end of the tale. In this respect she is developing techniques earlier used and recommended by Ford Madox Ford and Conrad, but she is so far from being a slave to literary influence that it is easy to understate her originality. Some of her devices would be hard to find in any other modern novelist - for example, the repeated use of the same expressions to characterise Miss Brodie's girls, especially Sandy, with her piggy eyes - was a trick better known to Homer than to twentieth-century novelists. All the girls are famous for one quality or another, and are meant to play their part in what might be called 'The Transfiguration of the Commonplace'. Sandy the betrayer, later Sister Helena of the Transfiguration, will become famous for her book on the subject.  'Transfiguration'  describes the intention and the achievements of art as well as of those of sanctity. Sandy's control of other lives, and her own, takes a course she could not have predicted; she differs in this respect from Calvin's God. Miss Brodie, on the other hand, liberal-minded but fatally affected by Edinburgh Calvinism, tries and fails to predetermine the futures of her girls.
The Girls of Slender Means (1963), is another beautifully crafted fable. It deals with the lives of a group of young women in post-war London, a time of poverty and apparent good will, and hints at a kind of moral theology, with transfiguration and religious conversion again a theme.
The Mandelbaum Gate (1965) is Spark's longest novel. The title derives from what was at the time the dividing line across Jerusalem, a street symbolising all the divisions, religious and racial, of that city and of human society in  general.  These divisions were of much interest to Spark, a Catholic of Jewish ancestry, and the book was written with all her usual intensity, especially in the pages about the trial of Eichmann; though it may be that she came to understand that the shorter forms suited her best. She herself said that she would never again write a long book.

A series of short novels followed: The Public Image (1968), a dark story set in the world of Italian publicity, charts the degradation, and the moral recovery, of its central figure, a glamorous movie star. The Driver's Seat (1970) is regarded by some readers, including its author, as her finest single achievement. Written throughout in the present tense, with some reference to the French nouveau roman, it tells of a young woman's frantic search for the man who must murder her. We have come a long way from the relative gentleness of The Prime of Miss Jean Brodie.
The next novel, Not to Disturb (1971), is a brilliant research into the very nature of fiction. The butler in a Gothic mansion seems able to ignore the differences between past, present and future. Since the future is as accessible as the present, he can practise predestination. Like some novelists - perhaps, in some degree, all novelists - he has a passion for connectedness, correspondence, for what 'pertains', what 'symmetrises' - all this expressed in the context of a Gothic tale.
Four more novels followed in the seventies, first The Hothouse by the East River (1973), probably begun some years earlier and related to the novelist's sojourn in New York, here represented as a somewhat unreal city, where ghosts may accost the passer-by. Reality is somehow drained out of life as shadows usurp the light. More and more the world is thought of as wicked and absurd, in desperate need of a renaissance of intelligence and irony.  The Abbess of Crewe (1974), a lighter work, describes the election contest in a nunnery, carried on with dirty tricks reminiscent of the Nixon White House, and with unexpected allusion to the thirteenth-century philosophy of Joachim of Fiore. The Takeover (1976) and Territorial Rights (1979) are longer novels, both set in Italy and less lucid, made more complicated by their interest in large political issues: capitalism, communism, terrorism.
In Loitering with Intent (1981), Spark returns to her life in the London of her earlier career, and once again examines the processes of fiction. It is a theme which finds her most at ease, most varied and humorous, and this book is a valuable asset to students who want to explore the real basis of her art. The Only Problem (1984) represents another return, this time to the central question, why evil exists in a world made by a good God, and to the story of Job's sufferings. The central image is of Georges de la Tour's painting of Job visited by his wife. Distinctively plotted, this is among the most perfectly conceived of Spark's novels.
A Far Cry from Kensington (1988) is in a sense a sequel to Loitering with Intent, another return to the novelist's earlier life.  It was followed by Symposium (1990) and Reality and Dreams (1996), in both of which she reverts to the manner of such earlier books as The Public Image. Spark's last novel, Aiding and Abetting (2000), is based on the real story of Lord Lucan. In fact we encounter two Lord Lucans, or claimants to the name. As the story opens one of them is conversing with a famous female French psychiatrist.
Sir Frank Kermode, 2003
For an in-depth critical review see Muriel Spark by Bryan Cheyette (Northcote House, 2000: Writers and their Work Series).
Bibliography
2001
The Complete Short Stories
1994
The Collected Stories of Muriel Spark
1993
The French Window and the Small Telephone
1993
The Essence of the Brontës
1988
A Far Cry from Kensington
1985
The Stories of Muriel Spark
1982
Going up to Sotheby's and Other Poems
1982
Bang Bang You're Dead and Other Stories
1981
Loitering with Intent
1973
The Hothouse by the East River
1963
The Girls of Slender Means
1962
Doctors of Philosophy
1961
The Prime of Miss Jean Brodie
1960
The Ballad of Peckham Rye
1951
Child of Light: A Reassessment of Mary Wollstonecraft Shelley
Awards
2005
Man Booker International Prize
2005
WH Smith Literary Award
2004
Saltire Society Scottish Book of the Year Award
2002
Boccaccio Prize for European Literature (Italy)
1998
PEN International Gold Pen Award
1996
Scottish Arts Council Book Award
1992
Ingersoll Foundation T. S. Eliot Award (USA)
1991
Sunday Times Award for Literary Excellence
1987
Prix du Meilleur Recueil de Nouvelles Etrangères (France)
1987
Saltire Society Scottish Book of the Year Award
1966
James Tait Black Memorial Prize (for fiction)
1951
Observer Short Story Prize
Author statement
I have always found writing the most pleasant form of expression. I know that I have a talent for giving pleasure with my writing. It has become my constant profession, and through the written word I have realized my life and livelihood. I have drawn the greatest possible happiness from the pursuit, especially of creative work.
I write by hand as I have always done, and enjoy opening an empty notebook waiting to be filled in.